The second quarter of 2020 has seen a record inflow of new traders and investors – many of whom have capitalised on massive market volatility. New traders are also entering at a golden time when it comes to trading costs, with brokers such as eToro making 0% commission stock investment in almost every country where the platform is available.
Introduction
When it comes to trading costs, today small investors have it better than ever. Low-cost ETFs, 0% commission stock trading, and fee compression on trading products like options have ushered us into a new era of low-cost market access.
Zero commission trades were first introduced to the market in 2015. But the gradual shift to offer 0% commission stock trading to clients became a deluge in October 2019, when Charles Schwab – one of the industry's largest asset managers – made the move. Suddenly it seemed as if everyone had to offer 0% stock trading to remain competitive. Industry stalwarts were playing catch-up to newer players like Robinhood and eToro, which had already introduced 0% commission stock trading.
That's good news, especially for smaller investors and traders. Under the old model where a single trade might incur a fee of say $6.95 both when buying and selling, such fees could be a significant drag on profits. There are also other benefits, such as being able to reinvest dividends as soon as you receive them, rather than waiting for them to add up into a larger amount to save on fees.
Of course, brokers aren't charities and still have a variety of fees and charges in place in order to keep the lights on. That includes fees for options, commission on Forex and cryptocurrency trading, interest on margin trading lending and withdrawal and even monthly fees. Other ways that brokers can profit include earning interest on cash sitting in users accounts and payment for order flow (PFOF) – the latter being a somewhat controversial practice.
eToro, the popular social trading platform, has seen massive growth in stock trading in 2020, and stock trades have risen sixfold throughout 2019 and in the first quarter of this year.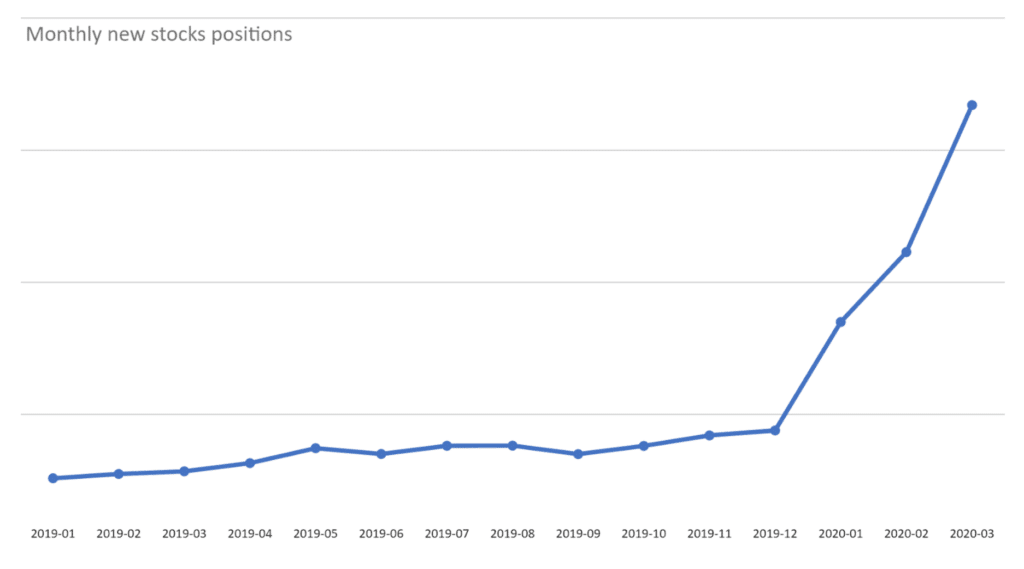 That follows a series of business decisions that proved popular shifting in Europe away from contracts for difference (CFDs) to actual ownership of the underlying stock back in April 2018, and then rolling out 0% commission trading the following year. Now, traders that are based in Europe can own the underlying stocks listed on any one of the global exchanges available on eToro, while Australian users can enjoy 0% commission on stocks traded on the major US exchanges. In May 2020 0% commission for Wall Street-listed stocks was rolled out for Asia Pacific users as well.
And with volatility spiking on equity markets around the world due to uncertainty created by the coronavirus pandemic, there's been a dramatic increase in stock trading on eToro. In the first quarter of this year, one third of eToro trades were in stocks. In May, eToro announced it had hit the milestone of 13 million users worldwide, as well as a 427% jump in new users making their primary deposit across January-April, compared with the same period in 2019.
Are you paying too much in fees for trading in stocks? Check out these brokers which offer 0% commission stock trading.
eToro – The Market Leader When it Comes to 0% Commission Trading
eToro, the social trading and multi-asset brokerage company, has seen stratospheric growth in the number of stock trades on its platform since introducing 0% commission. Additional features include its popular copy trade option, where novice traders can copy more experienced traders – while also using risk management tools to protect against drawdown. Successful traders can also earn additional income if their trades are being copied. When summing everything up we can name eToro as the current best choice when it comes to zero commission trading in 2020.
Robinhood
The grandfather of 0% commission stock trading, Robinhood was founded in 2013, and launched in 2015. This year it's seen massive customer growth as many new investors have flocked to the market to take advantage of the high volatility or begin building their portfolio. The platform is popular with millennials and younger traders – 31 is the median age of a trader on Robinhood. But it has also made some well-publicised missteps: on March 2, a day where the Dow Jones Industrial Average had one of its largest ever daily point gains in history, for nearly the whole day Robinhood's 10 million users were locked out of their accounts and unable to close-out losing positions, causing large losses for some.
Fidelity
While the 0% commission stock trade movement is a boom for smaller traders, for traders with larger position size there may be other more important factors that can impact their trading costs and efficiency. Brokers publish statistics on factors such as execution speed, the percentage of an order that can be executed at current market quote, and average savings per order. According to Fidelity, investors save an average of $18 per order for a 1,000-share equity order, whereas the industry average is just $3.48. The broker also says it does not take order flow payments for stock and ETF trades.