Bitcoin hits resistance at $9k amid the possibility of a pullback
Bitcoin's repeated failure to break the resistance at around $9,000 was followed by a pullback in prices, as shown in the technical charts.
The short-term bullish reversal was signaled on Tuesday when the cryptocurrency surpassed the $9000 mark. Nevertheless, BTC trading range remained inside the area between $8700-$9200 according to Coindesk's Bitcoin Price Index.
The price hike above 9,000 was in line with the latest Tether's token issue. The number of newly issued tokens reached almost $300 million, meaning the company printed almost $850 million new USDT in a year. The release of new tokens triggered a prospect of a rally, according to comments on social media.
However, the bitcoin price moved sideways followed by a pullback. At the time of writing the price is testing the support levels at around $8500.
The surplus of sellers on the market is not surprising as BTC prices moved upwards steadily without an evident correction coming from the low of $7,335 on March the 18th. The key resistance levels are in the $9,200-9,500 range. Should the price breach those levels, there could be another rally.
Furthermore, the upside is currently capped by the descending 100-day moving average according to the 4-hourly chart.
The 200-day SMA (simple moving average) still has an underlying upward trend. Since the last major drop to 6,000$, the price has never reached an oversold area. As the current longer trend still classifies as a correction, it is possible that the price will head down to a closer point to 200 SMA before a more significant bounce with more aggressive buys.
Currently, the BPI (Bitcoin Price Index) stands at $8,587. The global average price, shown by Coinmarketcap is based at $8,646,
According to chart analysis, there is a possibility of a further pullback if the support at $8,350 doesn't hold.
The hourly chart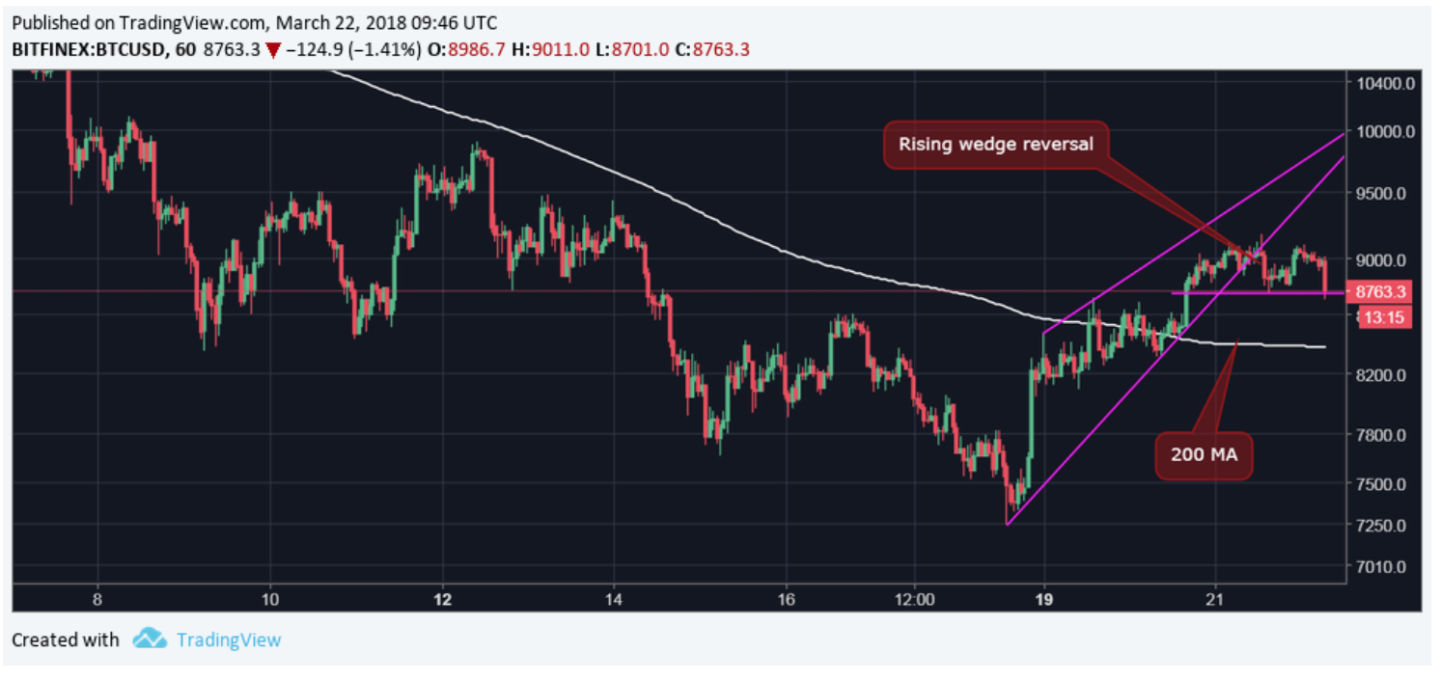 At the time of writing, the hourly chart (prices as per Bitfinex) is showing a rising wedge reversal (a bearish continuation pattern) and a double top pattern with a neckline support at 8,550$. The price dropped to a 200-hour MA (moving average) at 8,377$ before bouncing back slightly.
The daily chart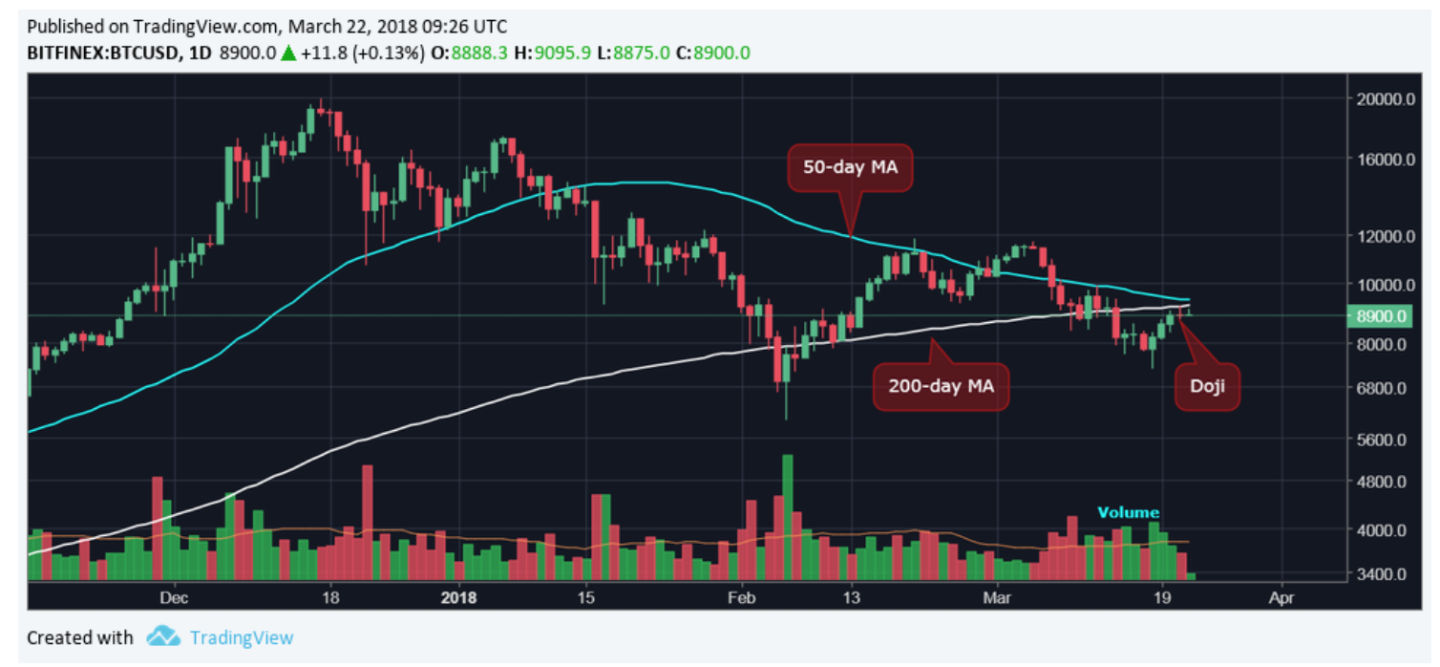 As shown on the daily chart, Bitcoin created a doji candle yesterday at the 200-day MA resistance, signaling some indecision among investors. The corrective rally from the low of $7,240 has ended as the price dropped below the previous day's low of 8,752, meaning there is a possibility of a pullback to recent lows below $7,300. Should there be a more bullish scenario, the price would have to break the resistance levels at $9,500.