Is eToro better than AvaTrade? Over the past months, we tested the top 30 forex brokers, and these two kept coming to the top of the list. But which is better? From our evaluation, eToro comes out on top because of its industry-leading copy-trading features for the more than 1,900 instruments they offer (including cryptocurrencies and CFDs). For all its strengths, eToro is on the pricier side.
All trading involves risk. More than 68% of investors lose money in Forex and CFD trading. As these complex instruments allow for the use of leverage, there is a high risk of losing more money than you have deposited. Before attempting to participate in spread bets and CFDs, consider how well you understand them and if you can afford to lose your money.
AVAtrade
eToro
Open account
Read review
79% of retail investor accounts lose money when trading CFDs with this provider. You should consider whether you can afford to take the high risk of losing your money. eToro AUS Capital Ltd ACN 612 791 803 AFSL 491139. OTC Derivatives are speculative and leveraged. Not suitable for all investors. Capital at risk. See PDS and TMD
Side-by-side comparisons of forex brokers is not a simple task to perform. Preparing for this annual broker review took hundreds of hours of research, testing, and direct communication with each of the 30 brokers.
Lowest Priced Broker
While this seems like it should be an easy question to answer, it isn't. Forex and CFD brokers are notoriously vague about the details of their fees and pricing structures.
To gauge the real costs, we opened the same series of positions at both brokers and compared the total fees charged. In our comparison, AvaTrade came out the winner with lower overall pricing for traders.
Safest Broker
Without question, the most important question when choosing a broker is the safety of your funds. At Business24, we accessed 21 international regulator databases to track each CFD and forex broker. Would you like to know what we found out?
eToro holds 2 global Tier-1 licenses, while AvaTrade holds 3. eToro holds 1 global Tier-2 licenses, while AvaTrade holds 3. When the quality of each regulator is considered and averaged together, eToro earns a Reliability Score of 91% while AvaTrade earns a Reliability Score of 93%.
Best Trading Platform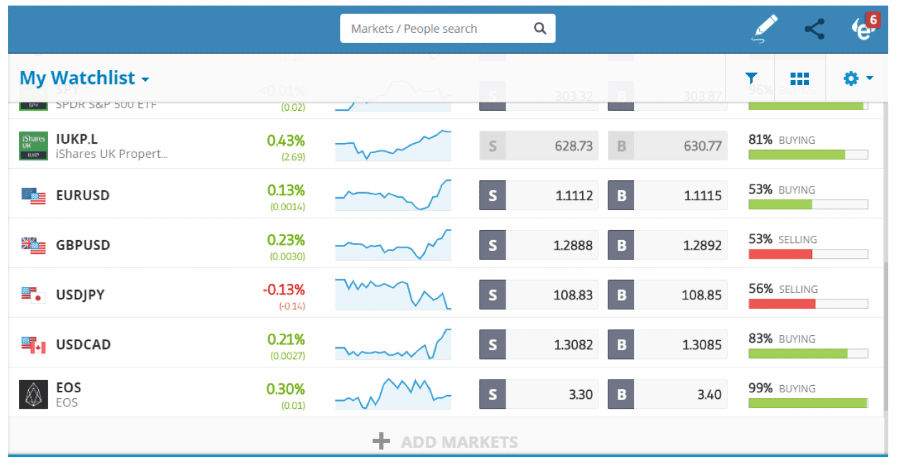 This is another difficult question to answer, as there are so many factors to consider when comparing trading platforms. But across the three main areas of mobile apps, research capabilities, and trading tools, eToro provides a better experience each time. That means, based on our evaluation, that eToro has a better trading platform.
However, if you are a trader who requires the use of MetaTrader 4 because of your trading style or other factors, then AvaTrade is the better broker for you. eToro does not offer MetaTrader 4.
Copy Trading
Both AvaTrade and eToro offer social trading for both forex and CFDs.
Most Complete Offering
The answer to this question depends on your trading focus and style. eToro offers 47 currency pairs (e.g., USD/EUR), compared to AvaTrade's 60 currency pairs. So, if you focus on trading the largest number of currency pairs possible, then AvaTrade is your best option. However, AvaTrade only offers 681 CFDs, while eToro provides access to over 1,980 CFDs. That means you have nearly 1,300 more CFD possibilities with eToro!
Verdict
Based on our research, evaluation, and testing, eToro is the better forex broker.
eToro compared to other brokers:
eToro review