Best Online Trading Platform in UAE
This is our list of the best online trading platforms in UAE based on several factors: traders score, commodities you can trade, trading platforms, funding methods, islamic account enabled, minimum deposit and welcome bonus:
IQ Option
eToro
Plus500
Forex.com
Olymp Trade
FXCM
OandA
TRADING PLATFORMS
WHAT CAN YOU TRADE?
TRADING PLATFORM
FUNDING METHODS
ISLAMIC ACCOUNT
BONUS
MINIMUM DEPOSIT
OPEN A DEMO ACCOUNT


- Forex, Metals
- Oil, Commodities
- Indices, Stocks
- ETF's, Gold
- Cryptocurrencies
+ Mobile App
+ Web Trader
- Credit Card
- Wire Transfer
- Skrill, Qiwi
- WebMoney
- CashU
YES
/
$10




- Forex
- Indices
- Stocks
- Cryptocurrencies
- Commodities
- ETF's
+ Mobile App
+ Web Trader

- MT4

- Credit cards
- Paypal
- Bank transfers
YES! SWAP FREE
/
$200


- CFDs
+ Mobile App
+ Web Trader


- Credit cards/debit cards
- Paypal
- Bank transfers
- Skrill
YES!
/
$100


Your capital is at risk


- Forex
- Indices
- Stocks
- Crypto
- Commodities
- ETF's
+ Mobile App
+ Web Trader
- Credit /debit cards
- Paypal
- Bank transfers
YES!
/
$1


- Forex
- Indices, Energies
- Stocks/ Live Stocks
- Cryptocurrencies
- Commodities
- ETF's, Bonds
- Precious metals
+ Mobile App
+ MetaTrader 4
+ MetaTrader 5
+ WebTrader

- Credit cards/debit cards
- eWallets
- Wire transfers
YES!
$30 - No deposit required
$5


Forex
- Indices
- Stocks/Live Stocks
- Cryptocurrencies
- Commodities
- Shares, Bonds
- Metals, Energies
+ Mobile App
+ MetaTrader 4
+ MetaTrader 5
+ WebTrader
- Credit /debit cards
- Bank transfers
- Skrill, Nether
YES!
100% super charge bonus
$5


- Forex
- Indices
- Stocks
- Cryptocurrencies
- Commodities
- ETF's
+ Mobile App
+ Web Trader
+ MT4
- Credit /debit cards
- Paypal
- Bank transfers
- Skrill
YES!
40%
$100


- Forex
- Cryptocurrencies
- CDF's
+ Mobile App
+ Desktop Trader (Mac + Windows)
+ MT4
- Credit /debit cards
- Bank transfers
- Skrill, Neteller
YES!
10%
$20


- Forex
- CFD's
+ MetaTrader 4
+ KeyStock
+ Webtrader
- Credit/debit cards
- Bank transfers
- Skrill, Nether
YES!
/
$100


- Forex
- CFD's
- Stocks
+ WebTrader
- Credit /debit cards
- Bank transfers
- Skrill, Nettled
YES!
/
$100


- Forex
- Stocks
- Cryptocurrencies
+ Mobile App
+ MetaTrader 4
+ WebTrader

- Credit cards/debit cards
- Bank transfers
- Skrill
YES!
/
N/A


- Forex, Indices
- Stocks/Live Stocks
- Cryptocurrencies
- Commodities
- ETF's, Bonds
+ MetaTrader 4
+ MetaTrader5
+ Webtrader
- Credit cards/debit cards
- Bank transfer
YES!
/
$100


/
/
/
/
/
Our TOP Picks in Review:
1. IQ Options (Best Binary Options Trading Company)
IQ Options has a long trading services history. The company started operating in 2013. Having their main quarters in Limassol, Cyprus, they are authorized and regulated by the Cyprus Securities and Exchange Commission (CySEC) only. IQOPTION LTD is registered at St. Vincent and Grenadines, this entity is not regulated.
IQ Options index brand has been recently updated to make sure the UAE clients get the same advanced tools and platforms, internationally available to other customers. They provide an improved in-house advantage platform different from the most known Metatrader 4/5 platform.
Those powerful tools are available without any risk – you can open a demo account with no limitations. $10,000 in virtual currency is also provided for you to practice with and is not limited in any way.
IQ Options has won many awards due to the quality of their services. IF you are looking for a solid platform you don't have to look any further.
RISK WARNING: YOUR CAPITAL MIGHT BE AT RISK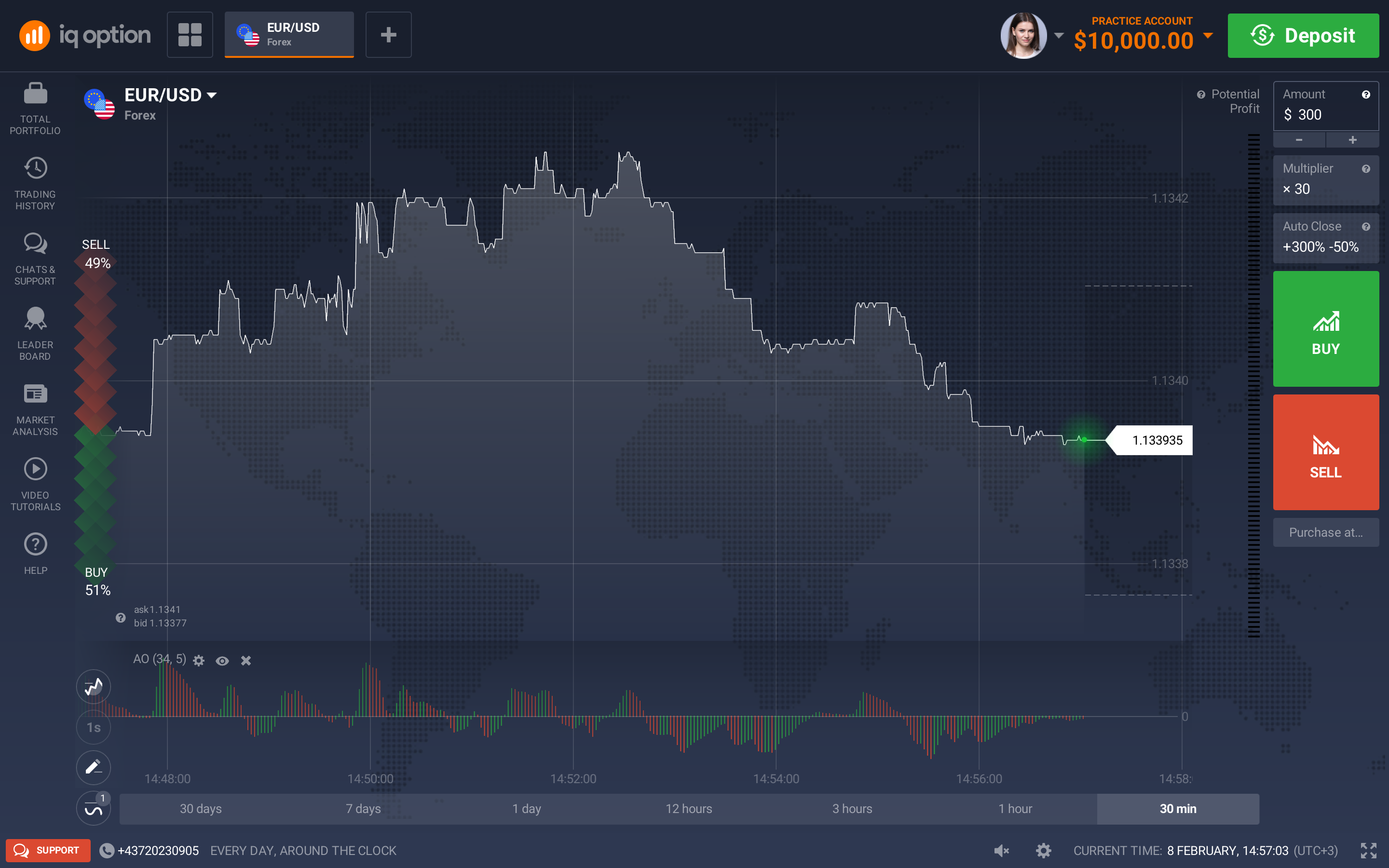 2. eToro (Best Social Trading Platform)
eToro is an established social trading company, operating since 2007. It is an FCA regulated entity when operating in the UK, an Australian entity in Australia, and a Cypriot entity for international customers.
eToro is considered to be a trustworthy platform as it is regulated by an established regulator while being a well-recognized startup as well. Its main operation is based around CFDs. CFDs are complex instruments that include leverage, so they come with a higher risk.  
eToro has been awarded as the best social trading platform – social trading means you can follow other traders and copy their investment strategies.
Great support in Arabic language: Monday till Friday 24h/day
Copy trading feature – copy the best trading secrets
Solid online trading platforms (mobile app, web trader MT4)
Safe and fast deposit options and withdrawals
Strong regulations and security by FCA (UK)/ ASIC (AUS)/CySEC (EU)
47+ currency pairs available
Trade: FX, Stocks, Cryptocurrencies, Commodities, Indices, ETF's
Competitive spreads
3. Plus 500 (Recommended for experienced traders looking for an easy-to-use platform, with great user experience)
Plus 500 is a quality CFD's provider and operates around the world via its subsidiaries: Plus500AU, AFSL #417727 issued by ASIC, Derivatives issuer licence in New Zealand for NZ clients, FSP No. 486026; Financial Services Provider # 47546 in South Africa. Plus500UK Ltd is authorised and regulated by the Financial Conduct Authority (FRN 509909).
Plus500 CY Ltd authorised and regulated by the Cyprus Securities and Exchange Commission (Licence No. 250/14).
Plus500SG Pte Ltd (UEN 201422211Z) holds a capital markets services license from the Monetary Authority of Singapore for dealing in capital markets products (License No. CMS100648-1).
Client Money is held on trust, separated from Business Money. Should Plus500 go into liquidation client money would attract all the legal protections afforded to trust money.
Plus 500 has one of the most user-friendly platforms that allow instant access to variousmarkets, including commodities, indices, shares, andoptions. Every asset is availableto buy or sell as CFD's, with leverage up to 1:300, commission-free.
Many other featuressuch as stop, limit, andtrailing stop are all present on the platform. Customers can also enjoy trading in a free unrestricted demo account that imitates real action. The platform has a lot of news, market information, training tools and comes with solid customer support. Everything is available in the Arabiclanguage, including customersupport.
4. The IG Group (Recommended for traders aiming for a great and easy-to-use trading platform)
IG market Ltd. is one of the world's leading provider of online services and a world leader in the field of CFD's provision (contracts for difference).
They have many accomplishments under their belt. They were the first online trader in 1998 and the first to enable iPhone trading in 2008. IG enables traders to access many different assets, such as FX, indices, various equities and commodities, and ETFs. All in all, they are connected to more than 15,000 worldwide markets.
The company is regulated by one of the most renowned regulatorson the planet – Financial Conduct Authority (FCA). They also have a local oversight of their Dubai part of the business in the Dubai Finacial Services Authority.
IG is chosen by many traders because their website is availablein Arabic, and include excessive market information and educational content. They provide quality customer service, that includes a Dubai-based telephone line and Arabic email support.
They also offer some of the most powerful trading tools and many device apps, along with MetaTrader 4.
To sum it up…
Best Trading Platform for Day Trading 2019
IQ Option: Best for Binary Options Trading and CFD's
eToro: Best for Social, Copy Trading and for trading beginners
Plus500: Most trusted and best forex and CFD broker overall
Forex.com: Best Forex Broker for Advanced Traders
Olymp Trade: Best for Forex and CFD trading
FXCM: Best Technical Tools and analysis
OandA: Best API options and Great Technical Tools
IG: Most Trusted Broker Overall, Best for CFDs and forex
Exploring the UAE Financial Market
The UAE is a diverse landscape made up of seven uniqueemirates. Although each environment has its ownbenefits to offer, it's safe to say that there are two financial centresof the country that lead the way for investors, Dubai and Abu Dhabi.
Before the UAE discovered oil in the 1950s, much of the country's economy was drivenby pearl diving, fishing, nomadic farming, andeven date palm cultivation. However, since then, the economy has grown drastically. According to the 2015 Economic Report, the UAE's GDPR was £330 billion. Today, that number has risen to 382.6 billion.
The two primary financial security exchange platforms in the UAE are the Dubai Financial Market, or the DFM, and the Abu Dhabi Securities Exchange, ADX. The two organisationsoperate under the regulation and strict rules of the Securities and Commodities Authority (SCA). Through each exchange, it's possible to deal in a range of financial products including bonds, futures, equities, securities, commodities, metals, derivatives, stones, and more.
Investment Opportunities
Located within the heart of Abu Dhabi, the ADX was initially foundedin 2000, with the aim of delivering new investment opportunities and funds to the Emirates. The DFM was also established as a public institution during the same year, but it became a Public Joint Stock company five years later in 2005, with 20% of all shares delivered into a public offering.
The DFM was a pioneering development for the UAE, because it was the first of its kind in the region, and the first market to comply with Sharia rules. The group generally deals with debt instruments, ETFs, equity instruments, and the borrowing or lending of securities. Additionally, alongside the two Emirati exchanges mentioned here, Dubai also has 7 additional exchanges where investors can explore trading opportunities, these include:
NASDAQ Dubai
The Dubai International Financial Centre
The Dubai Multi Commodities Centre
The Dubai Pearl Exchange
The Dubai Diamond Exchange
The Dubai Gold and Commodities Exchange
The Dubai Mercantile Exchange
Trading Specialties
For FX traders, the dirham is the most recognisable UAE currency. Otherwise known as the "AED,"the currency has been leveraged against the dollar since 1978, with a fixed rate of 3.6725 AED to every dollar since 1997. Only minor fluctuations have ever been seen around this rate.
National property and oil prices are usually the main things moving the UAE economy. Despite a rather significant fall of approximately 25% in the Dubai stock market, and a glut within the real-estate spate for 2018, non-oil GDP remained similar to the previous year. The Abu-Dhabi stock index achieved a strong performance throughout 2018.
The financial securities market in the UAE operates underneath theregulation of the Securities and Commodities Authority (SCA). Founded during 2000, this group offers Emiratis a chance to invest funds and savings alike into commodities and securities that support the needs of the national economy. The agency also secures the integrity and accuracy of transactions that determine fair prices in the market. As a regulator, they are committed to improving investment awareness through objective studies and recommendations too.
Another regulatory group – the DFSA, or Dubai Financial Services Authority – regulates and supervises 624 entities alongside 490 authorised firms. Online brokers are generally controlled by the DFSA.
How to Trade
If you're looking for an opportunity to trade online in the UAE, you'll need an online broker that's regulated, and has a strong reputation among their clients. Online brokers typically offer a wide variety of trading accounts, including:
FX trading: This is the process of exchanging one currency for another. Because exchange rates fluctuate, it's possible to make money off the differences in value between currency. The popularity of Forex trading has grown significantly in recent years, perhaps because the Forex market is one of the largest and most liquid in the world.
CFD trading: Contracts for Difference or CFD trading involves making transactions in derivative financial instruments. Thisallows traders to speculate on the future of underlying assets, such as a currency pair, stock index, or stock.
Demo accounts: Demo accounts are fundedwith virtual money rather than real finances. Usually, these accounts are used to practice trading or develop trading strategies. They can also help offeran insight into a trader's platform.
Islamic accounts: These accounts are specifically designedfor traders who want to use an account that conforms to the demands of Sharia law.
When it comes to stock trading, if you want to trade listed securities on the Dubai Financial Market, you will need to apply for a NIN investor number. This number will open you up to trading on the ADX and DFM exchanges. After you get your NIN number, you'll also need to find a broker that can list stocks on either of the two exchanges. Remember that transactions for securities in the UAE are settledin AED.
Trading Opportunities
The UAE can offer an exciting opportunity to investors due to a range of benefits like a supportive regulatory environment, low taxrate, andpolitical stability. What's more, many cryptocurrency exchanges have made UAE their home, thanks to the strength of the Fintech sector in the area. The UAE is one of the countries standardisinginitial coin offerings.
Regarding the practicalities of doing business, the UAE also ranks favourably among many Middle Eastern Countries, ranked at 1stand 7thon the World Bank's list. Additionally, the UAE is the 25thbest location for starting a business, and 15thbest for finding and protecting minority investors.
Challenges of Trading in the UAE
Of course, while there are many opportunities available when trading in the UAE, it's worth noting that there are challenges too. One recent development in the UAE was the implementation of a new VAT of five percent which reduces consumer spending. Lower stock values and high-interestrates have led to a change in economic prospects.
Additionally, disputes between the UAE and Qatar have had a significant impact on the economies in both areas too. With the disputecontinuing for so long, there's a chance that this issue will continue to overwhelm trades.
What's more, the UAE isn't necessarily the best place to apply for credit. It's 44thin the world at applying for credit, and 98thfor trading across borders. Thismeans that it's not the best place for businesses starting import/export firms.
Finishing Thoughts
Trading in the UAE can offer a range of opportunities for people who are looking to diversify their investment portfolio through real estate, stocks, derivatives and more. However, it's worth remembering that there are challenges to any financial market.
While some people believe that there will be a rebound in the stocks in UAE as well as a change in CFD trading and binary options trading opportunities, the real potential may lie with the cryptocurrency market. As the government continues to make the UAE more attractive for crypto exchanges, now is the time to get involved.
Disclaimer: By trading with securities you are taking a high degree of risk. You can loose all of your investment money. You should start trading only if you are aware of this risk. Business24-7 is not providing any investment advice, we only help you find the best broker based on your needs and preferences. Business24-7 is free for everyone, but earns commission from some of the brokers. We get commission with no additional cost for you.
If you liked this article than also read: