Financial advisors are experts who understand clients' economic situations and help them achieve commercial goals. Financial advisors analyze the current financial positions of clients and create a fitting investment plan for their needs. Due to the growing number of reliable and unprofessional financial advisers in UAE, it can be challenging for clients to choose the optimal service for their financial goals.
Evaluating, comparing, and reviewing different services can help investors select a financial advisor with acceptable fees, a high level of transparency, experience, and a great reputation.
This guide assesses 29 financial advisors in UAE for users to review and find the ideal platform for their needs. To help them make an informed decision, a list of the best financial advisors in the UAE is shared below, followed by detailed reviews and comparisons.
Best Financial Advisors in UAE
Holborn Assets
Finsbury Associates
Mondial
AES International
Skybound Wealth Management
Top 5 Financial Advisors in UAE Reviewed
The highest ranked financial advisors in UAE are listed and reviewed below.
1. Holborn Assets
Holborn Assets is a leading financial advisory company in Dubai. It provides independent solutions for clients by creating the right investment portfolios. The firm has international offices. The team of certified financial planners satisfies clients with tailor-made financial solutions.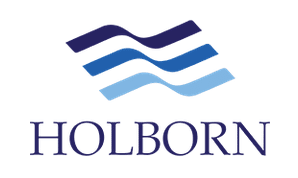 Year Est: 1998
Services: Financial Planning, Investment Management, Retirement Planning
Address: Level 15, Al Shafar Tower 1, Barsha Heights Tecom, Dubai
Website: www.holbornassets.com
Phone: +971 4 457 3800
Email: info@holbornassets.com
---
2. Finsbury Associates
Finsbury Associates is a Dubai based financial and wealth management firm. It is a CISI qualified financial advisor that provides custom financial solutions. The UAE Insurance Authority licenses the firm, and it has License 92. Finsbury Associates only employs qualified advisors. Its customized approach attracts widespread recognition and awards.

Services: Wealth Management, Financial Planning, Investment Planning
Address: 16th Floor, Ubora Tower, Business Bay, Dubai
Website: www.finsbury-associates.com
Phone: +971 4 567 4500
Email: info@finsbury-associates.com
---
3. Mondial
Mondial uses the motto "Slow and Steady Wins the Race" in financial planning. The Securities and Commodities Authority (SCA) regulates the firm. Mondial is the oldest established financial advisory firm with CISI certified advisors in Dubai. Its advisors create financial solutions to meet your goals.
Mondial is regulated by the Emirates Securities Commodity Authority.

Year Est: 1988
Services: Financial Planning, Investment Management
Address: Office 110, Pinnacle Building, Dubai
Website: www.mondialdubai.com
Phone: +971 4 382 0300
Email: enquiries@mondialdubai.com
---
4. AES International
AES International is a team of financial advisors that help their clients with investment decisions. In 2011 it was Britain's fourth fastest-growing business and today it operates globally. AES International is regulated by the UAE Insurance Authority and registered with the Dubai International Finance Centre and the UAE Ministry of Economy.

Services: Wealth Management, Financial Planning, Investment Planning
Address: Level 2, Exchange Tower, Al Mustaqbal Street (Future Street), Dubai [Show Map]
Website: www.aesinternational.com
Phone: +971 4 559 4900
Email: hello@aesinternational.com
---
5. Skybound Wealth Management
Skybound Wealth Management provides lifestyle financial planning to clients worldwide. They offer customized wealth management solutions to clients by considering even the smallest detail. The solutions provided are transparent, simple and within the budget. The award-winning advice provided by Skybound Wealth Management gained them a wide range of recognization all over the world.

It is regulated by the United Arab Emirates Insurance Authority, the Securities and Commodities Authority, and the UK Financial Conduct Authority.

Year Est: 2000
Services: Retirement Planning, Financial Planning, Investment Planning
Address: Unit 301, Opal Tower, Business Bay, Dubai
Website: https://www.skyboundwealth.com/
Phone: +971 4 450 9700
Email: dubai@gwm-intl.com
---
How to Find The Ideal Financial Advisory Firm in UAE?
Criteria to consider to find the optimal financial advisors in UAE are listed and explained below.
1. What services do you need?
You must determine what kind of services would help your financial life. You need to explain your money management requirements and your financial goals to your advisor. Look at your financial needs, and choose the best services.
2. How much does it cost?
Financial advisory firms don't have a universal fee structure. Fees depend on the services and products they offer. Financial advisors in Dubai might take advantage of you when offering commission-based products. We recommend that you think about your own best financial interest.
3. Can you trust the financial advisor?
Ensure that your financial advisor is trustworthy. Check their credentials before signing up. Look for reviews online so you know that you make the best choice.
Top Financial Advisors in UAE Compared
Key features of the top rated financial advisors in UAE are compared in the table below.
| | | | | | |
| --- | --- | --- | --- | --- | --- |
| Financial Advisor | Holborn Assets | Finsbury Associates | Mondial | AES International | Skybound Wealth Management |
| Regulator | Central Bank of UAE | UAE Commercial Licence | SCA | Central Bank of UAE | SCA |
| Licence Number | 180 | 241819 | 608007 | 189 | 608018 |
| Services | | | | | |
| Finacial Planning | Yes | Yes | Yes | Yes | Yes |
| Retirement planning | Yes | Yes | | Yes | Yes |
| Money management advice | Yes | Yes | Yes | Yes | Yes |
| Tax planning | | Yes | | Yes | Yes |
| Second citinzenship solutions | Yes | Yes | | | |
| Investment portfolio management | Yes | Yes | Yes | Yes | Yes |
| Offshore real estate investments | Yes | | | | Yes |
| Insurance | Yes | | | Yes | Yes |
| Mortageges | Yes | | | | Yes |
| Employee benefits | Yes | | | Yes | |
| Reviews | | | | | |
| TrustPilot/Glassdoor score | 4,7 | 4,4 | 4,9 | 4 | 4,8 |
How To Choose The Right Type Of Financial Advisors?
Clients can choose between robo-advisory, online planning services, and traditional in-person financial advisors. The different types of financial advisors in UAE are listed and examined below.
1. Robo-advisors
Robo-advisors are automated trading programs that use algorithms to set up and manage your investment portfolio. They are cheaper than in-person financial advisors but can only trade the financial markets for you.
2. Online Financial Planning Services
Online financial planning services provide investment management solutions based on your personal financial goals. You will speak with professional financial advisors via video meetings, which is cheaper than hiring a personal financial advisor that you meet in person. The advantage of this compared to Robo-advisors is that you will receive personal financial advice. Some online financial planning services also offer Robo-advisors to complement their services.
3. Traditional In-person Financial Advisors
Wealth managers, registered investment advisors, brokers, and CFPs fall under this category. Wealth managers provide financial management services for high-net-worth individuals. Registered investment advisors offer financial advice, including investment portfolio advice, on a commission basis. Brokers buy and sell financial instruments on your behalf on a commission basis and are registered with regulatory bodies like the Dubai Financial Services Authority. CFPs are financial advisors that are certified by the Financial Planner Board of Standards and have followed extensive education in finance and passed exams in this field.
For more detailed information, read this guide that will help to choose a financial advisor in UAE.
Not Sure When To Contact a Financial Advisor? Here Are Some Of The Most Common Reasons For UAE Citizens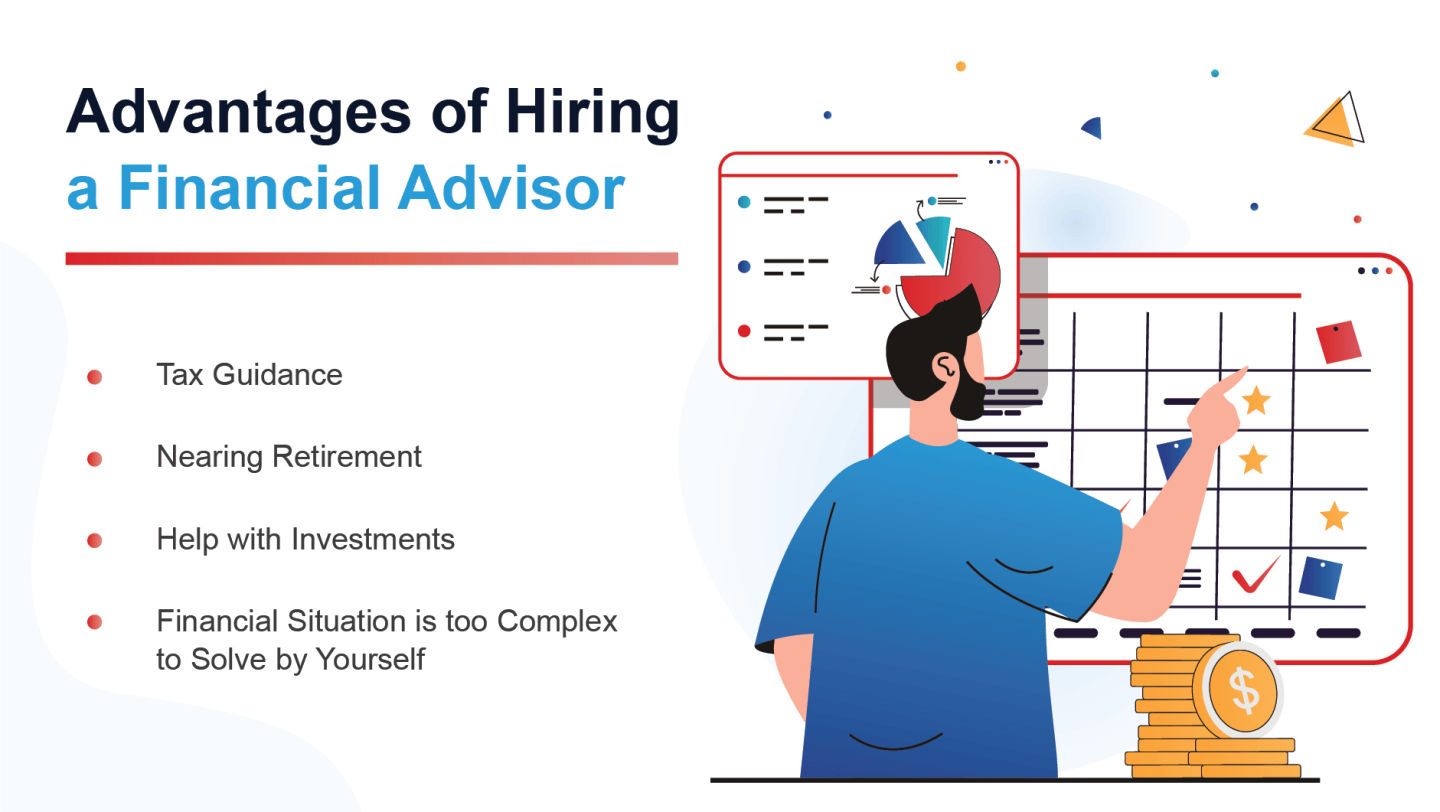 Retirement Planning – Financial advisors can help you with your retirement planning. They provide multiple options and products to help you retire stress-free.
Money Management Advice – Financial advisors can assist you in how to manage your money more efficiently. This can be done by investing in real estate, the financial markets, clearing debts, opening high-yield savings accounts, and other methods.
Tax Planning – A financial advisor can assist you with tax-efficient investment strategies.
Second Citizenship Solutions – Financial advisors can provide you with second citizenship solutions that don't require traveling or marrying. You can obtain citizenship in certain countries through investing.
Offshore Banking Solutions – If you want to keep your savings in a different country than where you are living, financial advisors can assist you with this.
Family Protection – Financial advisors can aid you with life insurance and other forms of estate planning to keep your family's financials safe in case something happens to you.
Offshore Real Estate Investments – A financial advisor can help you invest in real estate outside of the UAE without having to leave the country. You can buy, sell, and rent out properties via them.
Investment Portfolio Management – Financial advisors can help you manage your investment portfolios and trade the markets on your behalf.
How much do financial advisory services cost in UAE and Dubai?
UAE and Dubai financial advisory firms offer a range of services at different prices. A client's needs and assets determine the costs.
Financial advisors sell investments or financial products and receive payments via commissions. Firms manage assets and charge a fee. Dubai financial advisors have flat fee subscriptions for advisory services. Hourly rates are also available.
We made this table for you to understand how a financial advisory firm charges for its services. Rates will vary depending on the financial advisor you choose.
Fees
Different Fee Structures
UAE Rates
Commission-Based Fees
3% to 5% – per year for insurance products
0.25% to 1% – per year for mutual funds
1% to 4% – per year for annuities
Assets Under Management Fees
1% to 2% – per year depending on the client's net assets
Flat Annual Fees
7000 AED to 28000 AED on retainer
Hourly Rates
700 AED to 1500 AED
Conclusion
With the various financial advisors in UAE offering different services and conditions, it can be hard to find the ideal choice for individual needs. Analyzing and comparing the services of different providers requires time and knowledge.
This guide does the hard work by evaluating top offers for different types of clients. The results of our analysis and comparison of the best financial advisors in UAE are wrapped up in the table below.