With the increasing interest in investing and trading with Ripple in UAE, finding a crypto exchange with a transparent and safe trading platform is essential. There are 29 crypto exchanges in UAE offering Ripple with different trading conditions, making it tough for investors to select the best option for their needs.
Market volatility, lack of regulation, and limited investor protection features make it important for potential investors to understand Ripple trading platforms' advantages and disadvantages, considering the risk of investment loss in case of exchange bankruptcy.
To help users make an informed decision, key information to choose the best Ripple trading platform in UAE is wrapped up in the list of top choices, in-depth reviews, comparisons, and FAQ.
Best Ripple Trading Platforms in UAE
Best Trading Platforms in UAE For Ripple Reviewed
Exchanges with the best Ripple trading platforms in UAE are reviewed below.
1. eToro – Best User-Friendly Ripple Trading Platform
2. Binance – Best Customer Support For Ripple Trading
3. Coinbase – Best Ripple Trading Platform For Professional Traders
4. Coinmama – Best Ripple Trading Platform For Traders At All Levels
How To Choose The Ideal Trading Platforms For Trading and Investing in Ripple? 
Criteria to find a crypto exchange with the best Ripple trading platform in UAE are listed below.
Competitive Trading Fees
High liquidity/ Trading Volume for Ripple (XRP)
Transparent Proof Of Reserves (1:1)
Wide Range of Security Features
Great Regulation and Reputation
Diversified Deposit & Withdrawal Options
Intuitive Trading Interface
Ripple Exchanges in UAE Compared
Key features of top exchanges for trading and investing in Ripple are compared in the table below.
current details as things may have changed.
| Broker | Number of Available Cryptocurrencies | XRP Trading Fees | Liquidity/Spot Trading Volume | Trading Platforms | Customer Service | Regulators |
| --- | --- | --- | --- | --- | --- | --- |
| eToro | 79 | 2.45% | High | Web, Mobile app | 24/7 Support Chat, Ticket System | FCA, CySEC |
| Binance | 400+ | 0.0001 XRP | Very High | Web, Desktop, Mobile app | 24/7 Support, Live Chat, Ticket System | Multi-region |
| Coinbase | 250+ | 1.49-3.99% | High | Web, Mobile app | 24/5 Live Chat, Ticket System | FinCEN |
| Coinmama | 9 | 3.9%* | Moderate | Web Basedapp | Live Chat, Ticket System | FinCEN, AUSTRAC |
How To Open A Trading Account With eToro? 
eToro is the leading platform to trade Ripple. It offers excellent social trading services and trading platforms. Traders buy Ripple XRP with a minimum trade requirement of $10. The minimum deposit fee at eToro is $200. There are four simple steps to open a trading account with eToro.
Step 1: Access the eToro official website
Go to the eToro official website. Click on this link: https://www.business24-7.ae/etoro-crypto-start.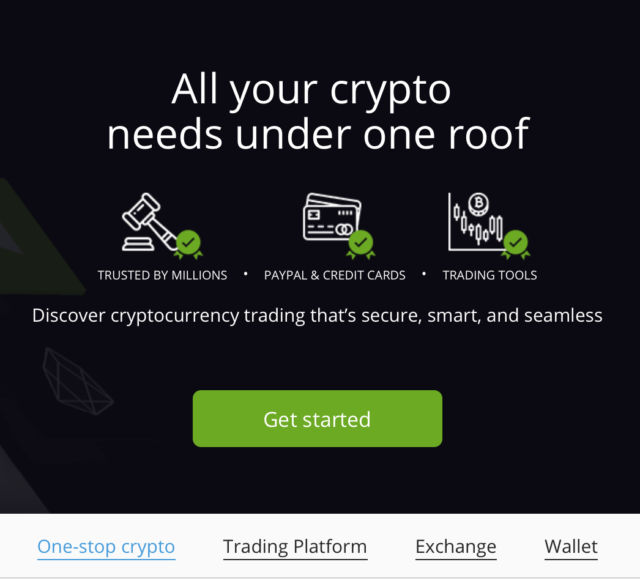 Step 2: Click on the Get Started button
Next, you have to click on Get Started. This button will redirect you to a new page for setting up new accounts.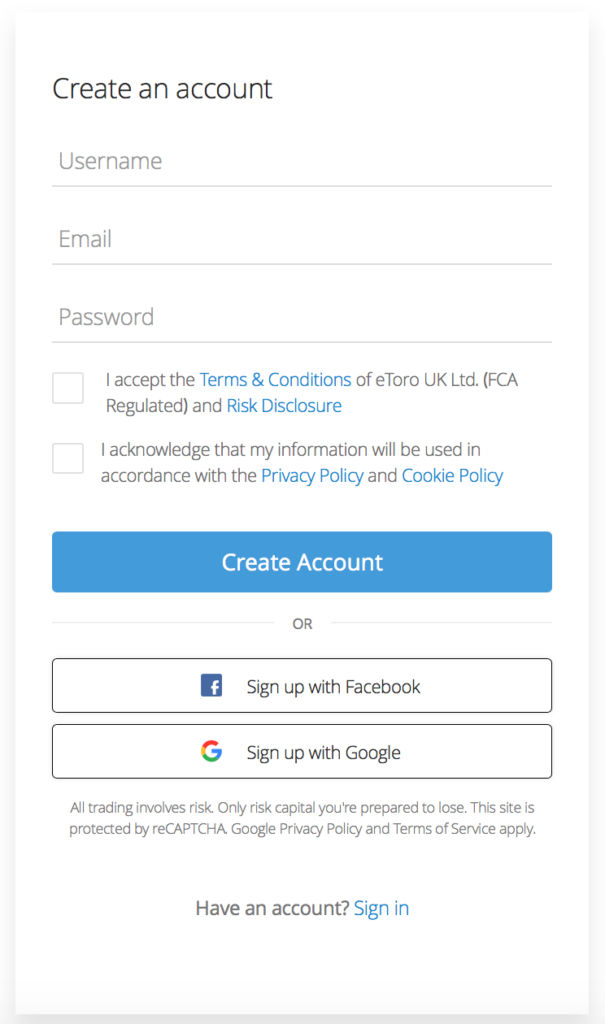 Step 3: Create and verify your account
To buy Ripple through eToro, you have to sign up, verify your account and make a first-time deposit. The system will let you buy, hold, and sell Ripple and other cryptos.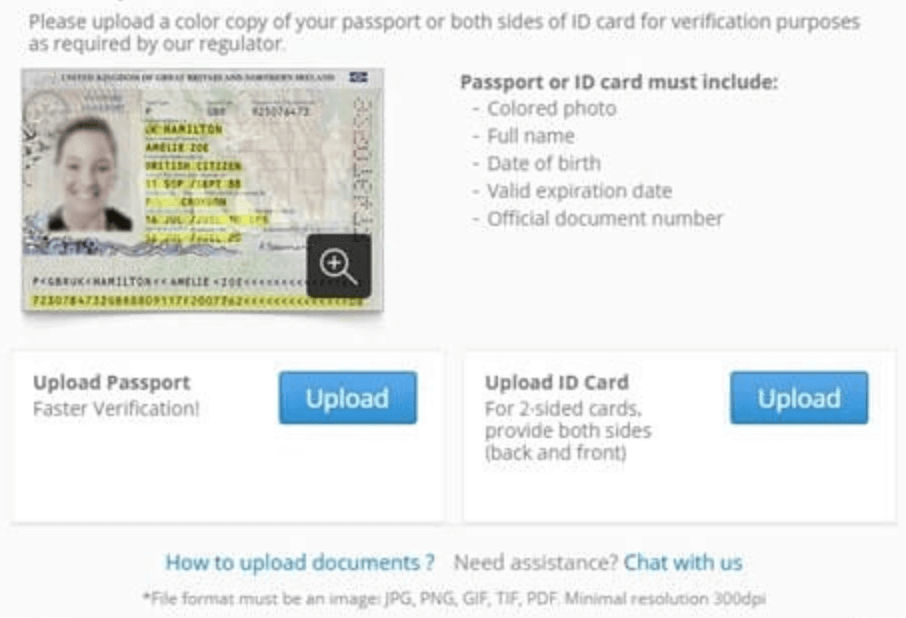 Step 4: Buy Ripple (XRP)
eToro account holders buy, hold, and sell fractions of Ripple. To own Ripple XRP, you don't need to buy a full XRP coin. A 0.000001 bit of XRP is referred to as a "drop" and is the smallest tradeable unit of Ripple XRP. Customers trade all cryptocurrencies available at eToro with fractional of the total coin.
Conclusion
Trading with Ripple is a popular investment in UAE to achieve financial gains. However, with the rising number of exchanges, potential traders must compare and evaluate key information to choose the ideal trading platform for their needs.
This guide does the hard work to keep users informed by comparing, evaluating and reviewing the services of available crypto exchanges. The Business24-7 experts have previously removed scam offers to guarantee informed decision-making. The assessment results in a list of the best Ripple trading platforms in UAE, wrapped up in the table below.
FAQ
Who Created Ripple?
Ryan Fugger is the software developer who founded the Ripple network in 2005. XRP is the native coin of Ripple. Traditional financial institutions prefer using Ripple XRP for settlement between currencies. It has increased in popularity, growing in adoption with the larger cryptocurrency networks. XRP trading is popular in 2022, especially with retail investor accounts.
Is Ripple Available In The U.S.?
U.S. traders have difficulties accessing Ripple trading platforms. An SEC lawsuit against Ripple trading makes it difficult to trade XRP in the U.S.
Is A Crypto Wallet Necessary For Trading Ripple?
Yes. Traders invest in XRP only via a wallet. An XRP wallet offers private and public keys to sign transactions and manage your funds. Read our in-depth reviews to learn more about crypto trading and wallets.
Which Is The Simplest Way To Create A XRP Wallet?
The best steps to take when creating a digital wallet are: – Select a Ripple exchange account to buy/sell cryptocurrency; – Choose a hot wallet to hold small to medium amounts of digital assets; – Choose a cold wallet for larger holdings and long-term investments.
Is There A Minimum Transaction Fee To Trade Ripple XRP?
Yes. The minimum transaction fee on the Ripple blockchain is 0.000010 XRP, also known as 10 "drops." This fee is charged by the network, not by the banks or eToro.