Coinbase UAE is a trustworthy cryptocurrency exchange best known for its intuitive trading app and platform. Coinbase has a user-friendly platform and a versatile portfolio with access to many digital coins. We recommend this exchange to beginner and intermediate traders.
Review Summary:
Coinbase is a secure exchange to invest and trade with cryptocurrencies.
It offers access to many cryptocurrencies, including Bitcoin and Ethereum.
It has a beginner-friendly interface and an easy account opening process.
Coinbase Pro offers lower fees and useful trading features.
Coinbase Overview
Coinbase is a cryptocurrency exchange with an excellent track record. It is one of the largest exchanges in the world. Coinbase offers services for both professionals and beginners.
Coinbase is a platform for sending and receiving Bitcoin founded in 2012. It has grown to support many cryptocurrencies. Coinbase is a leading decentralized company with no main headquarters. It is available in 100+ countries with a powerful crypto ecosystem.
Coinbase has two separate trading platforms and a crypto wallet service. The main advantages of this platform include:
It is a beginner-friendly crypto trading exchange. Coinbase has a website and a mobile app with an easy-to-use interface.
It supports many cryptocurrencies, including Bitcoin, Litecoin, and Ethereum.
It offers opportunities to earn interest on eligible balances. Coinbase Earn gives traders the chance of receiving a small amount of new currency.
It offers Coinbase Pro with a competitive pricing structure. All users might choose to use Coinbase Pro. It is an active trading platform with premium features and low fees.
This marketplace is popular with traders at all levels. But it has some disadvantages, too:
It has high transaction fees. Coinbase has a transparent fee structure with expensive fees on the central platform. Coinbase Pro offers lower pricing.
It has average reviews for customer support. For example, users complain that customer support doesn't offer a prompt answer in case of serious account security problems.
It has an impressive list of currencies, but many are missing. Coinbase has no access to leading altcoins.
We recommend Coinbase to traders at all levels. The Coinbase basic service is straightforward, but it is challenging to track fees. Coinbase Pro offers professional services and a transparent fee structure.
Trading Experience
Coinbase offers two platforms, Coinbase and Coinbase Pro. These are secure and allow traders to buy, sell, and trade cryptocurrencies. Each platform has unique features to suit all trading styles.
Coinbase
Coinbase is a beginner-friendly platform with easy-to-use features. It has a web interface, an Android app, and iOS apps. This cryptocurrency market operates 24/7, allowing you to trade at any time. It is an excellent choice for traders at all levels. The account offers immediate access to everything you need to invest in cryptocurrencies.
Coinbase Pro
Coinbase Pro is a great choice for professional traders. It is available to anyone with a Coinbase account, and it offers access to more features. Coinbase Pro offers advanced trade types, including limit and stop orders unavailable on the main platform.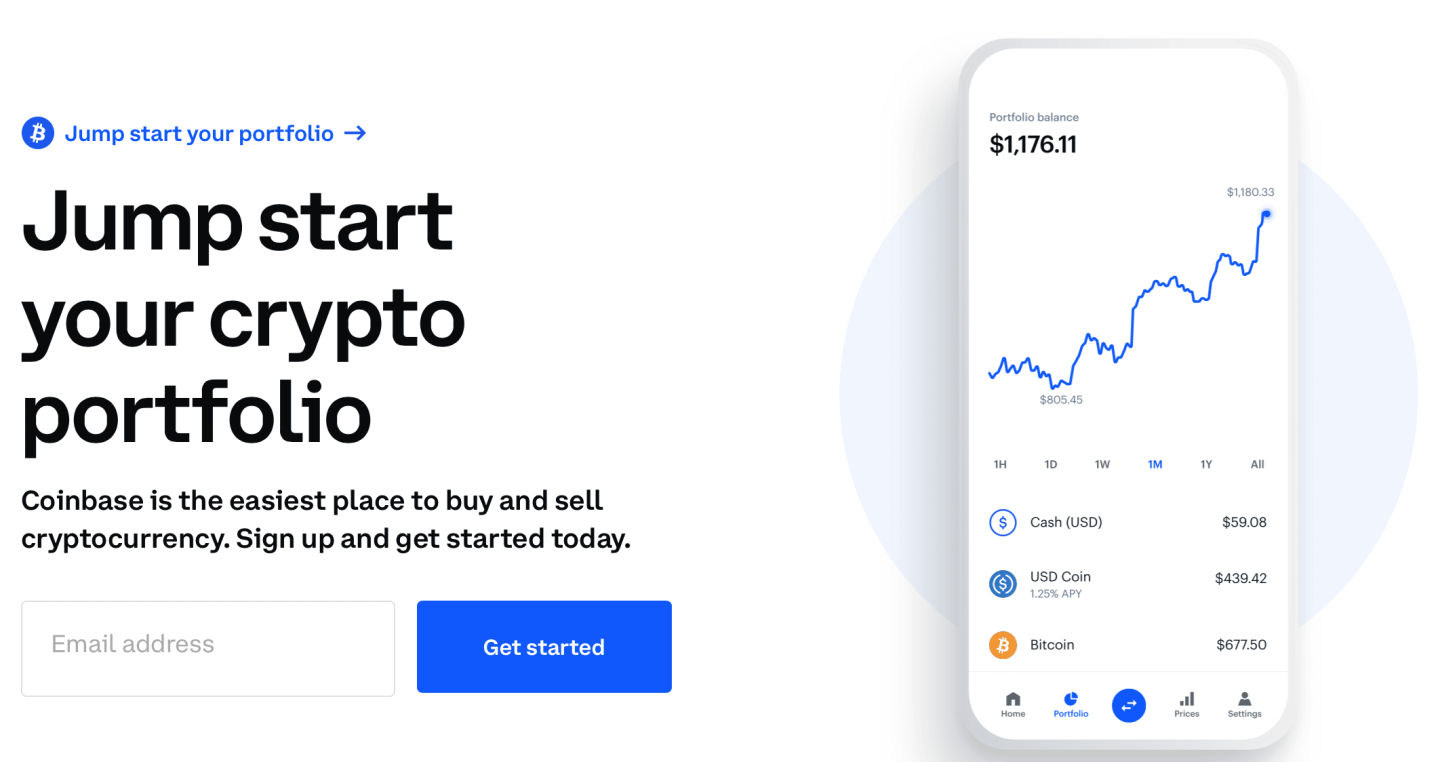 Cryptocurrencies Available
Coinbase supports more than 50 different digital coins. It offers popular cryptocurrencies, including Bitcoin, Ethereum, Bitcoin Cash, Dogecoin, and Litecoin. This is the rest of the popular currencies also offered by Coinbase:
Cardano (ADA)
Solana (SOL)
USD Coin (USDC)
Polkadot (DOT)
Litecoin (LTC)
Shiba Inu (SHIB)
Uniswap (UNI)
Algorand (ALGO)
Polygon (MATIC)
Stellar Lumens (XLM)
SushiSwap (SUSHI)
DAI (DAI)
Related content: best cryptocurrencies to invest in 2021
Fees
Coinbase has higher fees than similar cryptocurrency exchanges. A cryptocurrency transaction on Coinbase comes with a spread and a Coinbase fee. The spread represents the difference between the market price and the price a trader pays for a buy or sale. Coinbase's spread is around 0.50% of a crypto sale and buy. It might vary depending on the market and the asset you choose to invest in. Coinbase's fees vary depending on the payment method, location, and other factors.
Fees
| Trade Size | Coinbase Fee |
| --- | --- |
| $10 or less | $0.99 |
| $10 to $25 | $1.49 |
| $25 to $50 | $1.99 |
| $50 to $200 | $2.99 |
Trades above $200 have a percentage-based fee rather than a flat fee.
Coinbase transactions are subject to many fees. Traders pay different fees depending on the specific funding and withdrawal methods. Some of the less common fees include:
Payment Method Fee
| Payment Method | Coinbase Fee* |
| --- | --- |
| Bank Account | 1.49% |
| USD Wallet | 1.49% |
| Debit/Credit card | 3.99% |
| ACH Transfer | Free |
| Wire Transfer | $10 incoming, $25 outgoing |
| Crypto Conversion | 2% |
*Fees were confirmed through a test trade
Regulation & Reputation
Coinbase is a secure cryptocurrency exchange that uses industry-leading security practices. It stores 98% of customers' crypto offline in cold storage. The exchange offers an insurance policy to protect crypto holdings. This insurance policy doesn't cover losses that result from unauthorized access to your account. Even though it is helpful to store cash on Coinbase, it might be good to consider other options.
Coinbase is a well-known cryptocurrency exchange. Account holders receive access to many safety features. Coinbase uses some of the best security measures, including 2-step authentication. It offers biometric logins and data encryption. Read our in-depth reviews to learn more about cryptocurrency trading and safety.
Account Opening
Opening a Coinbase account is straightforward. You'll submit a picture of your ID to confirm your identity. When your account passes verification, you'll receive access to the platform. Buying and selling cryptocurrency is possible up to your Coinbase account limits.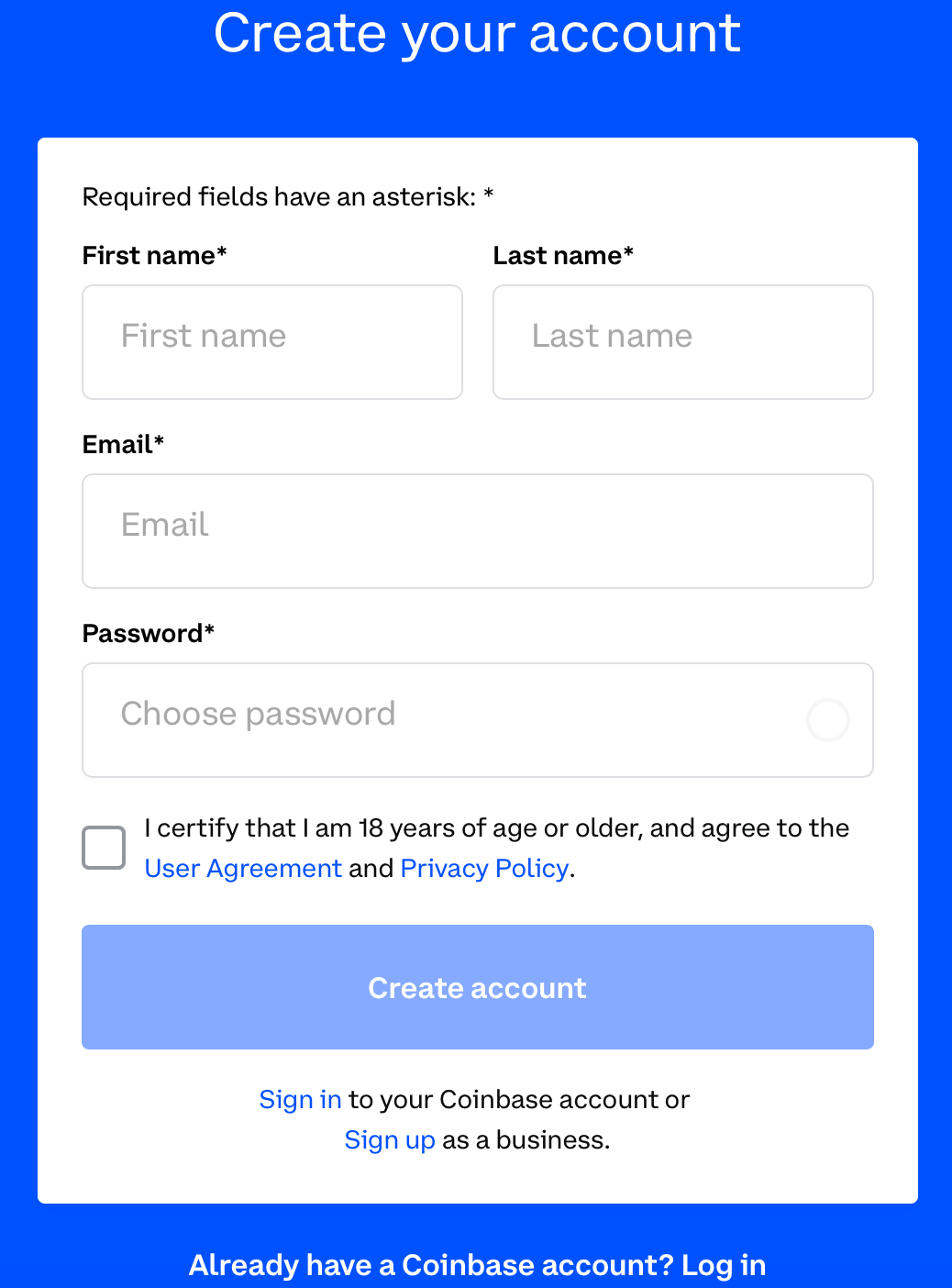 To create a Coinbase account, follow the steps below:
Access Coinbase.com from a PC or download the mobile app.
Click on Get Started.
Submit personal data, including full name, email address, and State.
Agree to the User Agreement and Privacy Policy.
Click on Create Account.
Verify your email address and phone number.
Complete ID verification.
Link a payment method and start using your Coinbase account.
Customer Support
Customer support is a central focus of our reviews. Coinbase has average customer service, as it is difficult to reach one of their team members. This exchange offers a FAQ page, email support, a chatbot, and an automated phone system.
Coinbase Vs. Other Cryptocurrency Companies
Coinbase is a leading marketplace with major competitors like Gemini, Binance, Kraken, FTX, and KuCoin. Crypto enthusiasts use many exchanges and digital wallets to access different coins.
Gemini
Gemini has a beginner-friendly platform. It offers many educational resources, being a top choice for new crypto traders. It has never been subject to a major hack. Gemini stands out because of its robust insurance and security.
Gemini is the direct competitor of Coinbase. Both providers offer excellent services, but there are some main differences worth considering:
Gemini offers a fixed fee structure, while Coinbase has spread pricing.
Both are US-based companies that function under the FinCEN (Financial Crimes Enforcement Network.)
Coinbase and Coinbase Pro are like Gemini and Active Trader platforms.
Coinbase offers up to 5% interest on selected coins. Gemini offers interest on almost all available coins with rates up to 7.4%. Read our in-depth reviews to learn more about the services available at Gemini.
Binance
Binance is a low-fee exchange with many features. It is a top choice for active traders and professionals. Binance offers some reliable learning tools for new traders. It has a minimum trade of $10.
Binance is another competitor of Coinbase. Both exchanges offer top services, but they differ in some key aspects:
Binance has average reviews for its customer service team. Coinbase has negative reviews because of the response times.
Binance offers exchange services and OTC options for high-net-worth clients and institutions.
Binance has a competitive fee structure with fees as low as 0.10%.
Binance is a popular cryptocurrency exchange with different services. Coinbase stands out as a trustworthy Bitcoin exchange platform. Read our in-depth reviews to learn more about the services available at Binance.

Related content: Binance US Review
Kraken
Kraken is an interesting exchange available in 185 countries. It is a top choice for individual and institutional traders. Kraken has an excellent fee structure and safe services. It offers two platforms for traders at all levels. Kraken supports 50+ altcoins, including Dogecoin.
Kraken is another competitor of Coinbase. Both exchanges offer excellent services, but they differ in some aspects:
Kraken has beginner-friendly services and top active trading platforms. Coinbase offers a user-friendly interface and straightforward services.
Kraken Pro is a premium active trading platform. It is similar to Coinbase Pro and focuses on professional traders.
Kraken Pro has lower fees than the main Kraken platform and other cryptocurrency exchanges.
Kraken is a top cryptocurrency exchange in many countries. It has many services for both beginners and professionals. Coinbase is its direct competitor, as it has a beginner and professional platform. Read our in-depth reviews to learn more about the services available at Kraken.

Related content: Kraken Review
Summary
Coinbase is the leading cryptocurrency exchange. It has an easy-to-use interface and strong security features. Coinbase is a top choice for traders looking to invest in cryptocurrencies. It has a versatile crypto portfolio with access to 50+ digital coins.
FAQ
Is Coinbase Safe And Legit?
Cryptocurrency trading is risky, and digital coins remain speculative assets. Coinbase is a secure exchange to use for traders at all levels. It has an outstanding reputation because of its industry-leading safety measures. Read our in-depth reviews to learn more about cryptocurrency exchanges and safety.
How Do I Get My Money Out Of Coinbase?
Withdrawing your money from Coinbase is simple and requires two steps: 1. Sell your cryptocurrency on the exchange. (The money from the sale will show in your USD Wallet on Coinbase.) 2. Set up a withdrawal of the USD from your Coinbase account to your bank account. Another way to withdraw funds from Coinbase is by withdrawing to a digital wallet. Check our in-depth reviews to read more about withdrawing funds and fees.
What Is Coinbase Earn?
Coinbase supports new traders with access to a dedicated learning hub. It has beginner guides and valuable information on how to use digital coins. Coinbase Earn is a great way to incentivize traders to learn through this exchange. It offers short videos and quizzes about altcoins. When a trader uses the Coinbase learning resources, Coinbase deposits a small amount of that coin into the user's wallet as a reward.
Which Is The Main Competitor Of Coinbase?
Another leading cryptocurrency exchange is Gemini. Both Coinbase and Gemini are US-based firms with access to many coins. Coinbase offers up to 5% interest on specific coins. Gemini pays interest on almost all currencies with a rate up to 7.4%. Gemini is a reliable cryptocurrency exchange for traders at all levels. Read our in-depth reviews to discover more information on Gemini.
Related:
Crypto.com Review
Binance US Review
Kraken Review
Coinbase UAE Review
BitOasis Review
Cex.io Review
Bittrex Review
Bitfinex Review
BitPanda Review
Bitstamp Review
Gemini Review
Coinmama Review
HitBTC Review
Kucoin Review
Huobi Review
Uniswap Review
Gold Age Review
Liberty Reserve Review
CoinSpot Review
Coinjar Review
Coinfloor Review
CoinCorner Review
FTX Review
Bitso Review
BitMex Review
BitFlyer Review
BitClout Review
Bittylicious Review
Poloniex Review
Shapeshift Review
Coin Nerds Review
CoinSwitch Review
Cryptopia Review
Changelly Review
CoinMena Review
Luno Review
Mercatox Review
Okex Review
Paxful Review
VirWox Review