Saxo Bank is an excellent online forex and CFD broker, known for their intuitive SaxoTraderGO platform, competitive pricing, 40,000 trading instruments and outstanding customer service. We recommend this broker to traders at all levels from beginners to advanced.
Review Summary
Our top findings from Saxo Bank review:
Saxo Bank operates multiple regulated banks. They hold six tier-1 jurisdiction licenses. Their trust score is exceptionally high. They are a safe, low-risk broker for forex and CFD trades.
Saxo Bank opening deposits are high. Their trading platform SaxoTraderGO is excellent. It includes everything traders need to navigate the market.
The overall trading experience is brilliant. Investors trade 40,000 instruments. Saxo Bank offers outstanding and reliable customer service. Their pricing is excellent, inactivity fee is high.
Saxo Bank is a great online broker for traders in Forex and CFDs. They offer a feature rich and easy-to-use trading platform. Saxo Bank has low trading fees and great customer support. Traders access 40,000 trading instruments through 3 different account types. Their services are accessible in 15 different countries including Denmark, Singapore, and the United Kingdom.
Saxo Bank is regulated by top tier financial regulators including: Australian Securities & Investment Commission (ASIC), Japanese Financial Services Authority (JFSA), Securities Futures Commission (SFC) and Swiss Financial Market Supervisory Authority (FINMA).
Saxo Bank minimum deposit is above industry average. Their transaction pricing is competitive. The overall user experience is great.
Investment Offerings
Saxo Bank is a reliable forex broker for traders and investors. Users can trade over 35,000 symbols electronically in several international markets. Saxo Bank trades an extra 5,000 offline bonds with a total of 40,000 tools. They are ranking 'Best in Class' for asset classes. Users can deposit money via credit card, debit card or bank transfer.
Assets
| | |
| --- | --- |
| Feature | Name |
| Forex Spot Trading | Yes |
| Currency Pairs (Total Forex Pairs) | 182 |
| CFDs – Total Offered | 35,000 |
| Social Trading / Copy Trading | Yes |
| Cryptocurrency traded as actual | No |
| Cryptocurrency traded as actual | No |
Commissions and Fees
Saxo Bank is the number one broker in the industry for CFDs and forex trading. They earned first place in the Fees and Commissions category for active traders and those with large account balances.
Saxo Bank lets investors choose between three account types:
Classic account: entry-level account requires a minimum deposit of USD $10,000
Platinum account: recommended for active traders requires a minimum deposit of USD $200,000
VIP account: this account convinced us to award Saxo Bank the Best VIP Client Experience award. This account comes with the greatest advantages for traders, including significant price savings. It is for top investors who bring a minimum deposit of USD $1,000,000.
Minimum Deposit Exceptions: Singaporean or UK traders can open the Classic account for a minimum deposit of SGD $3,000 or GBP £500, respectively.
Saxo Bank provides traders with excellent all-around pricing. For active traders and those with large account balance traders, Saxo Bank offers the lowest industry pricing.
Saxo Bank Pricing summary: In August 2020, Saxo Bank's average EUR/USD spreads were 0.8, 0.7, and 0.6 pips, for the Classic, Platinum, and VIP accounts, respectively. The Classic Account pricing is in-line with industry averages. The Platinum and VIP accounts rank among the most prominent for forex brokers.
Upgrades: Investors receive upgrades to the next account tier by earning volume-related loyalty points through Saxo Bank's Loyalty Program. If an investor trades $40M+ worth of forex, they can earn 120,000 points. That upgrades the trader from Classic to Platinum for 12 months. Traders with at least $167M in forex volume receive a similar upgrade to the VIP account. VIP accounts also receive exclusive access to events and Saxo Bank analysts.
Commission-free: Saxo Bank is commission-free. They earn their money solely off the spread. The only exception is for investors trading less than 50,000 units (half of one standard lot) per month. In those cases, they are charged a ticket-fee of $3 per side. The low spread price combined with no commissions makes this broker an optimal choice for active traders.
Best execution: Saxo Bank is part of the FX Global Code. This code is an evolving interbank standard implementing 'best practices' and improving disclosure methods. The goal is to promote the integrity and transparency of each forex broker across global exchange markets.
Commissions and Fees
| | |
| --- | --- |
| Feature | Saxo Bank |
| Minimum Deposit | $10,000 |
| Average Spread USE/EUR | 0.6 |
| All-in Cost USD/EUR | 0.6 |
| Active or VIP Discounts | Yes |
SaxoTraderPRO: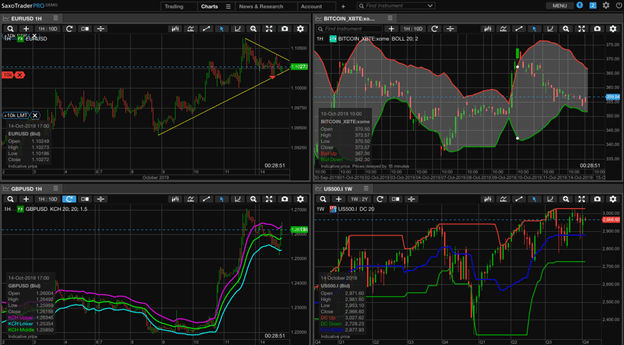 This is Saxo Bank's flagship desktop platform. It provides access to several professional tools including Level 2 streaming order books, streaming news, supports up to six monitors, Trade Signals, Auto Chartist, algorithmic orders, and more. (Traders must purchase extra subscriptions to use all the tools available.) These additional subscriptions are common for VIP level traders.
SaxoTraderGO (web):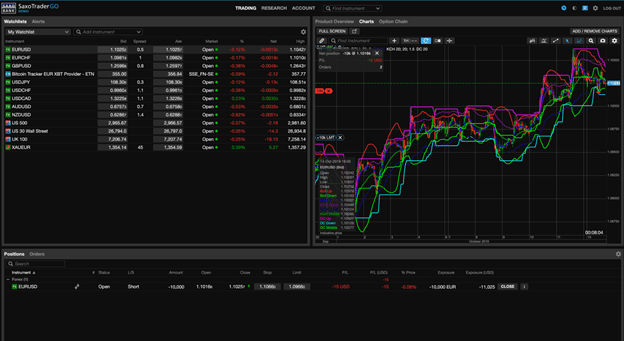 This is the Saxo Bank standard web-based platform. There is a consistent focus on simplicity. It provides access to useful features including 55 indicators and up to 20 drawing tools.
Saxo Bank MetaTrader: Traders can choose between MetaTrader and SaxoTraderGO. This is not an affordable choice. Saxo Bank lets investors use MetaTrader in exchange for a minimum deposit fee of $20,000. Traders must cover an additional $2,000 per month due to their minimum spend requirement.
Platforms
| | |
| --- | --- |
| Feature | Name |
| Virtual Trading (Demo) | Yes |
| Proprietary Platform | Yes |
| Desktop Platform (Windows) | Yes |
| Web Platform | Yes |
| Social Trading / Copy-Trading | Yes |
| MetaTrader | Yes, but an extra $20,000 deposit is required |
| cTrader | No |
| DupliTrade | No |
| ZuluTrade | No |
| Charting – Indicators / Studies (Total) | 58 |
| Charting – Drawing Tools (Total) | 20 |
| Charting – Trade From Chart | Yes |
| Chart types | 9 |
Research and Education
Saxo Bank combines high-quality in-house research with top-tier third-party providers to offer an outstanding research experience.
Saxo Bank offers a diverse set of tools across its website and platforms. Content formats include video, articles, and podcasts. There are daily analyst updates from in-house analysts through their Market Analysis section. News headlines stream from Dow Jones, NewsEdge, and RanSquawk.
Usability: Saxo Bank centralizes its research in both the SaxoTraderGO and SaxoTraderPRO platforms. They obtain third-party trading signals and analysis from Autochartist.
Saxo Bank Video content: Video research is integrated into Saxo Bank's website and platforms. The Saxo Bank's Fintech Unfiltered series is quite useful. They also include YouTube playlists. Many of Saxo Bank's videos are purposely unlisted and difficult to find because their focus is on integrating their websites and trading platforms instead of YouTube.
Reports: Saxo Bank's research team delivers quarterly outlooks and yearly forecast reports in pdf form. These often include videos. The reports help traders and investors take theme-based positions based on quality research.
Saxo Bank Third-Party Tools: There are nine chart types. They all sync with the mobile version. The charts are quite versatile. Swapping between instruments is a breeze and traders can find related news and trade signals from Autochartist in the 'Product Overview' section. It delivers advanced trading capabilities. The watch list, screener, and alerts work together in union.
Research and Education
| | |
| --- | --- |
| Feature | Name |
| Daily Market Commentary | Yes |
| Forex News (Top-Tier Sources) | Yes |
| Weekly Webinars | No |
| AutoChartist | Yes |
| Trading Central (Recognia) | No |
| Delkos Research | Yes |
| Social Sentiment – Currency Pairs | Yes |
| Economic Calendar | Yes |
Customer Service
Saxo Bank rates exceedingly high in customer service when compared to other brokers.
The Saxo Bank Customer Service ranking comes via a partnership with a professional customer experience research team, Customerwise. They helped them conduct a thorough phone test from multiple locations around the United Kingdom. Our Saxo Bank review uses the data compiled from 330 customer service tests done over six weeks.
Customer Service
| | |
| --- | --- |
| Feature | Name |
| Average Connection time | <1 minute |
| Net Promoter Score | 7.8 / 10 |
| Average Professionalism Score | 7.9 / 10 |
| Overall Score | 8.21 / 10 |
| Ranking | 7th (22 brokers) |
Mobile Trading
The Saxo Bank mobile platform is like its web version. Traders access market news, research content, and economic calendars. They also benefit from pattern recognition analysis offered by AutoChartist.
Research and Trading: Saxo Bank provides professional and useful research and trading tool in its mobile app. It complements the experience with their web platform, SaxoTraderGO.
Saxo Bank Charting: is well-designed within the mobile platform. Traders use several customization features, indicators, and drawing tools. The mobile trading experience at Saxo Bank is like the web version of the platform.
Mobile Trading
| | |
| --- | --- |
| Feature | Name |
| Android App | Yes |
| Apple iOS App | Yes |
| Trading – Forex | Yes |
| Trading – CFDs | Yes |
| Alerts – Basic Fields | Yes |
| Watch List | Yes |
| Watch List Syncing | Yes |
| Charting – Indicators / Studies | 58 |
| Charting – Draw Trendlines | Yes |
| Charting – Trendlines Moveable | Yes |
| Charting – Multiple Time Frames | Yes |
| Charting – Drawings Autosave | Yes |
| Forex Calendar | Yes |
Saxo Bank UAE
Saxo Bank is available to UAE traders with no limitations. They are licensed by the Danish Financial Supervisory Authority (DFSA) and operating in UAE under license issued by the Central Bank of the UAE. They are under regulation of the top tier financial regulators in the MENA region including the DFSA and the Central bank of UAE. Saxo Bank has its local representative office in the Dubai International Financial Centre (DIFC).
UAE citizens are offered to trade in compliance to the Sharia law by using an islamic account. Support is available is Arabic language by email or direct in the local offices.
Conclusion
Saxo Bank is an outstanding broker with superb desktop, mobile, and web platforms. Their customer experience is exquisite. The research capabilities and tools are one of a kind. Saxo Bank offers a useful package for traders who cover their high minimum deposit. The pricing is rated 'Best in Class' for Platinum and VIP account holders.
Saxo Bank is a trusted, global brand that understands traders. Traders feel assured investing with a trustworthy, global bank. Saxo Bank is rated 'Best in Class' across 9 categories, including first place for Platform & Tools, Offering of Investments, and Research (something no other broker comes close to accomplishing).
Saxo Bank compared to other brokers: