This guide helps users to find the best MT4 forex brokers in UAE. MetaTrader 4 is a popular trading platform among UAE retail and institutional forex traders because of its advanced charting features, multiple order types, range of custom indicators and automated trading capabilities. Due to its popularity, there are various online brokers with MT4 platform integration, making it tough for traders to select the ideal provider for their trading goals and preferences.
By conducting proper research, comparison and background checks on different providers, traders can avoid selecting a broker with limited customisation options, charting features, order execution options and trading tools.
This guide assesses 78 online brokers in UAE for users to review and find the ideal provider for their needs. To help them make an informed decision, a list of the best MT4 forex brokers in UAE is shared below, followed by detailed reviews and comparisons.
Best MetaTrader 4 Brokers in UAE
Top MT4 Forex Brokers in UAE Reviewed
The 5 highest rated online brokers in UAE with MT4 platform integration are reviewed below.
1. Capital.com – Best for Mobile Trading
2. AVAtrade – Best For Forex and CFDs
3. IG Trading – Best For Beginners
4. IC Markets – Best For Active Traders
5. Swissquote – Best For Investors
How To Find The Ideal MetaTrader 4 Broker and Trading Platform in the UAE?
Factors that need to be considered when choosing an online broker with MetaTrade 4 platforms for forex trading are listed below.
Regulation
You should only consider trading at a regulated broker. There are many jurisdictions and regulatory bodies that oversee brokers. The most respected financial regulators are:
UAE: Dubai Financial Services Authority (DFSA)
Europe: Cyprus Securities and Exchange Commission (CySec), UK Financial Conduct Authority (FCA)
Asia: Australian Securities and Investment Commission (ASIC), Financial Services Agency of Japan (FSA)
USA: National Futures Association (NFA), Commodity Futures Trading Commission (CFTC)
Available Financial Instruments and Asset Classes
MetaTrader 4 allows you to trade asset classes like forex, stocks, commodities, indices, ETFs, and cryptos. Good traders diversify their portfolios by investing across many asset classes. We recommend trading with a broker that offers many asset classes. With the best MetaTrader 4 brokers, you have access to thousands of financial instruments. Use this to your advantage to spread your risks and investments. You can view all available assets by logging in to your MetaTrader 4 account and clicking Market Watch at the top of your screen.
Trading Commissions and Fees
You should always be aware of the commissions and fees your broker charges. These commissions and fees hurt your profits so it's best if they are as low as possible. You want your broker to be transparent in their pricing and not overcharge you for their services. Most of the time you can check the fees your broker charges on their website. Note that some brokers offer commission-free trading, but they will charge higher spreads on your trades.
Trading Tools and Features
As a trader, you want access to as many trading tools and features as possible. This helps you beat the market and grow your portfolio. We have considered that all of the brokers from our list of recommended platforms offer trading tools and features that you can use on MT4. MetaTrader 4 itself also offers all sorts of tools and features you can use. Some of them are free, but most of them you need to buy on the MetaMarket. Brokers like AvaTrade and PepperStone offer free MT4 plugins like Autochartist and Alarm Manager. We recommend you make use of these free plugins to enhance your trading.
Automated Trading and Copy Trading
The best MetaTrader 4 brokers offer copy trading and allow you to use auto trading software. These trading systems work with the MetaTrader 4 trading platform. MetaTrader 4 offers signal provider services itself as well, but not all these features are free. We recommend trying out copy trading and automated trading systems on a demo account. This way you can check if they work before you apply them to your real money trading account.
Customer Service
It is important that you trade with a broker that offers top-notch customer service. You want someone to be able to talk to when you have any questions about your trading account. The best MetaTrader 4 brokers all offer 24/7 customer service. Traders can access these customer services by live chat, email, and by phone. We recommend trading with brokers that have customer service available in your own language. This removes any language barriers and makes it easy to solve problems.
Top MetaTrader 4 Brokers Compared
Key features of the top rated online brokers with MT4 integration are compared in the table below.
| | | | | | |
| --- | --- | --- | --- | --- | --- |
| Broker | Capital.com | AVA Trade | IG Trading | IC Markets | Swissquote |
| Forex | 129 | 59 | 205 | 61 | 80 |
| CFDs | 3700+ | 150+ | 12000+ | 800+ | 380+ |
| Account | | | | | |
| Min deposit | $20,00 | $200 | 5500 | $200 | $0 |
| Swap free account | No | Yes | Yes | Yes | Yes |
| Max leverage | 1:500 | 1:400 | 1:500 | 1:500 | 1:400 |
| Cent Account | No | No | No | No | No |
Fees Compared
Fees of the top rated MT4 online brokers are compared in the table below.
| | | | | | |
| --- | --- | --- | --- | --- | --- |
| Broker | Capital.com | AVA Trade | IG Trading | IC Markets | Swissquote |
| Std. Account Spread (in points) | From 7 | From 6 | From 10 | From 6 | From 14 |
| ECN Account Commision | – | – | $1,20 | $3,00 | – |
| Inactivity Fee | No | Yes | Yes | No | No |
| Funding Fees | No | No | No | No | Yes |
Tools Compared
Trading tools of the top rated MT4 online brokers are compared in the table below.
| | | | | | |
| --- | --- | --- | --- | --- | --- |
| Broker | Capital.com | AVA Trade | IG Trading | IC Markets | Swissquote |
| MT4 mobile | Yes | Yes | Yes | No | Yes |
| MT4 web | Yes | Yes | Yes | No | Yes |
| Social Trading | Mql5.com | Ava Social, DupliTrade, Mql5.com | Mql5.com | IC Social, ZuluTrade, Myfxbook AutoTrade, Mql5.com | Myfxbook AutoTrade, Mql5.com |
| VPS | No | Yes | Yes | Yes | No |
Research Options Compared
Research tools of the top rated MT4 online brokers are compared in the table below.
| | | | | | |
| --- | --- | --- | --- | --- | --- |
| Broker | Capital.com | AVA Trade | IG Trading | IC Markets | Swissquote |
| Trading Signals | No | No | Yes | No | No |
| Educational Resources | Yes | Yes | Yes | Yes | Yes |
| Webinars | Yes | Yes | Yes | Yes | Yes |
| In-depth Market analysis | Yes | Yes | Yes | Yes | Yes |
Advantages and Disadvantages of the MetaTrader 4 Trading Platform
MetaQuotes launched the MetaTrader 4 trading platform in 2005. After that, they released MetaTrader 5 in 2010, but that didn't take off as much as MT4. MetaTrader 4 is still the most popular trading platform worldwide today. It is available on Windows, Mac, and Linux systems and iOS and Android mobile devices.
Pros:
Indicators – MetaTrader 4 offers traders 30 indicators to help spot investment opportunities.
Timeframes – Traders can view charts in 9 different timeframes ranging from 1 minute to 1 year.
Real-time prices – The prices of all tradable assets are live.
Signals and Algorithmic Trading – MetaTrader 4 allows traders to use signal providers, expert advisors, and automated trading systems.
MetaTrader Market – Traders can shop the MetaTrader market for over 1,500 auto-trading scripts and technical indicators. It is also possible to sell your own trading scripts and bots.
Cons:
Hard for Beginners – MetaTrader 4 offers loads of customization options, and anyone who wants to use it will have to set it up themselves. When you start using the platform, it won't have all the tradable assets listed, and you will also have to create your own layout. Even veteran traders complain about charting features, like the Fibonacci charts, and that it is difficult to change their preferences.
Lacks Support – The support offered for MetaTrader 4 is lacking, and it is an old platform. While brokers do offer some support to traders using MT4, the proprietary platform brokers use is better supported. Also, MT4 is decades old, and this limits features, like interfacing with modern trading algos.
Getting Started with the Best MetaTrader 4 Broker
Now you know everything about the best MetaTrader 4 brokers for UAE traders, it is time to get started trading. Follow the steps below to get started with Capital.com, the best MetaTrader 4 broker in the UAE.
1.Open a Capital.com Trading Account
Go to the Capital.com website and click on the 'Trade Now' button in the middle of the screen. Now you fill in your email, choose a password and click 'Register an Account'.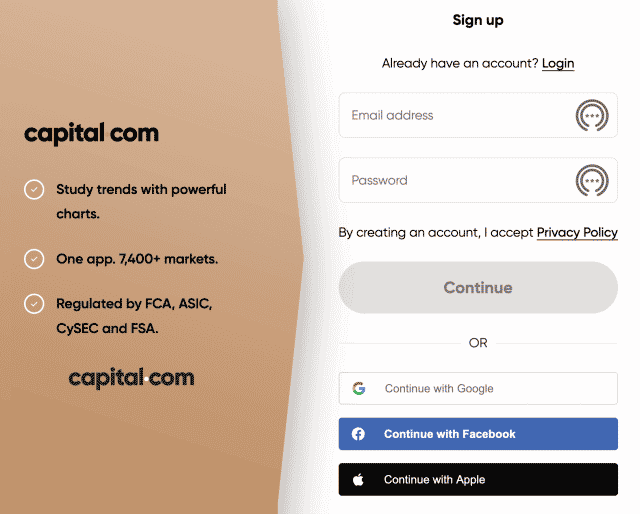 2. Verify your Identity
Capital.com will ask you to verify your identity. Upload a photo of your driver's license, passport, or national ID card. You will also need to prove your residency by uploading a recent utility bill or bank statement.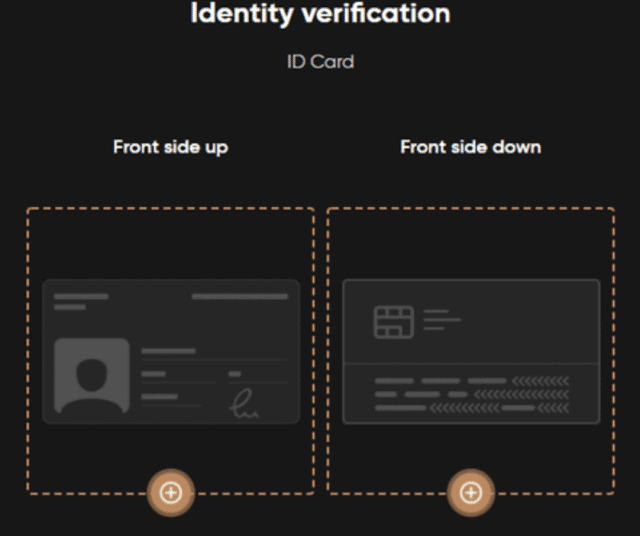 3. Fund your Account
After you verified your identity you can fund your Capital.com account. You can use a wide variety of payment methods like credit cards, e-wallets, and bank transfers to fund your account. The minimum deposit at Capital.com is only $20 or 75 AED.
4. Download MetaTrader 4
Open the Capital.com client portal area by clicking on your account icon. From here you select MetaTrader 4 under the available software to download. Make sure you download MT4 for the right operating system. You will be able to see your MT4 login credentials on this page.

5. Trade
You can now log in to MetaTrader 4 with your credentials and open your first trade.
Conclusion
The various online brokers in UAE offering different MT4 features and add-ons make finding the ideal choice for individual needs difficult. Comparing and evaluating the services of different providers requires time and effort.
In this guide, our experts worked hard by evaluating top brokers for different types of traders preferences. The results of our analysis of the best MT4 forex brokers and platforms in UAE are wrapped up in the table below.
Based on the findings from our reviews and comparison, we consider Capital.com as the best MT4 broker in UAE. They offer access to the full MT4 trading platform suite for desktop and mobile, extensive research tools, and great educational content.
FAQ
Why MT4 should be used for forex trading?
MetaTrader 4 is a great forex trading platform offering a wide range of charting tools, customisation options, automated trading possibilities (EA's) and customer support.
Can MetaTrader 4 be used directly without a broker?
No, MT4 can only be used through a online brokers that offer access to the MetaTrader 4 platform.
How much does MetaTrader4 costs?
MetaTrader 4 can be downloaded and used free of charge. Users may get charged by online brokers in the form of trading fees (spreads and commission), as well as additional fees for certain add-ons (EA's, custom indicators).
Does MetaTrader 4 charge trading fees or commission?
MetaTrader 4 does not charge any trading fees from the user. However, trading fees might be charges by the broker which offers MT4 integration.
Is MetaTrader 5 better than MetaTrader 4?
MetaTrader 5 is newer (upgraded) version of MetaTrader 4 offering better executions speed and additional features including market depth. It is important to note, that many traders still prefer using MetaTrader 4 over MetaTrader 5.
Can I use auto trading systems with MetaTrader 4?
MetaTrader 4 supports automated trading systems like DupliTrade and ZuluTrade. Users also have access to stomated systems developed by other traders. MetaTrader 4 is among the top choices for algorithmic trading in UAE.
Is it possible to use MetaTrader 4 for copy trading?
Copy trading with MT4 is available through third-party plugins (DupliTrade, ZuluTrade) and their own Signals feature.
Can I make my own trading script with MetaTrader 4?
Users can generate their own trading scripts by using the MetaEditor and coding in MQL4.
Is MetaTrader 4 available in Arabic?
No, at the moment MetaTrader 4 is available in English, Spanish, French, Japanese, Portuguese, Russian and simplified Chinese.
Is MetaTrader 4 regulated in the UAE?
MetaTrader 4 is a trading platforms and charting provider and is therefore not subject to regulation in UAE. Online brokers that offer access to MT4 are regulated by the SCA, DFSA and ADGM.
How does the MetaTrader 4 suite differs between brokers?
Online brokers offer different set of features and add-on for the MetaTrader platform.