The increasing interest in trading with altcoins in UAE makes finding a transparent and safe platform to invest in digital assets important. The growing number of reliable and scam cryptocurrency exchanges in UAE, makes selecting the ideal option for investors' needs challenging.
With the cryptocurrency market being volatile, uncontrolled and missing out on investor protection features, potential investors and traders need to understand the pros, cons and key features of trading platforms, considering their exposure to investment loss in case of exchange bankruptcy.
This guide compares and reviews 174 exchanges available in UAE to help users find the ideal option for their needs. Crypto exchanges with the best altcoin trading platforms in UAE are listed below, followed by in-depth reviews and comparisons.
Best Altcoin Trading Platforms In The UAE
Top Altcoin Crypto Exchanges in UAE Reviewed
Crypto exchanges with the highest rated platforms for altcoins in UAE are reviewed below.
1. eToro – Best Overall Altcoin Trading Platform
2. Binance – Best Exchange With Low Fees And A versatile Altcoin Portfolio
3. Coinbase – Best Altcoin Crypto Exchange For Dubai Residents
4. Kraken – Best Selection Of Digital Assets For UAE Traders
How To Chose The Ideal Cryptocurrency Exchange in UAE For Trading With Altcoins?
The most important criteria for finding an exchange with the ideal platform for trading and investing in altcoins are listed below.
Fees:  A transparent fee structure adds to an impressive trading experience. Some altcoin platforms in the UAE have a simple fee structure, others don't. Verify our in-depth reviews to read more about crypto exchange fees and trading platforms.
Account:  Each UAE altcoin crypto trading platform has different account tiers. Some crypto trading platforms request a minimum deposit fee. Others won't request an initial deposit for new accounts. Some offer retail investor accounts. Others don't. Check our in-depth reviews to learn more about account tiers and platforms.
Withdrawal and deposit:  Funding your account must be simple. Depositing funds takes longer with some brokers than with others. Bank transfers have additional fees for UAE traders. Read about withdrawing and depositing funds options in our in-depth reviews.
Market and products:  Each online platform has different assets and market coverage. You should choose an altcoin platform with a versatile portfolio. Check our in-depth reviews to learn more about crypto exchanges, altcoin platforms and markets.
Trading platform:  A trading platform with a user-friendly design contributes to an outstanding trading experience. Choose a crypto trading platform with an intuitive interface and design. The platforms in our review are secure, but some might be challenging for beginners. Read our in-depth reviews to discover which crypto trading platform is best for your cryptocurrency trading needs.
Customer support:  Customer service is essential for your online trading success. Reliable platforms offer phone support, email, and live chat.
Safety:  A trustworthy altcoin platform in the UAE has top-tier licenses. It offers industry-leading safety measures for all accounts. Check our in-depth reviews to read more about online trading, safety, and crypto exchanges.
Top Altcoin Exchanges Compared
Key features of altcoin exchanges with the top rated platforms in UAE are compared in the table below.
| Broker | Available Altcoins | Trading Fees | Proof of Reserves Ratio | Liquidity | Other Crypto Products | Trading Platforms | Customer Service | Regulators |
| --- | --- | --- | --- | --- | --- | --- | --- | --- |
| eToro | 25+ (Including Bitcoin, Ethereum, Ripple, etc.) | Spread-based (From 0.75% to 5% based on the coin) | N/A | High | Crypto CopyPortfolio | Web, Mobile | Live Chat, Ticket System | FCA, ASIC, CySEC |
| Binance | 350+ (Including Bitcoin, Ethereum, Binance Coin, etc.) | 0.1% per trade (tiered discounts for higher volume and BNB holders) | 1:1 | Very High | Futures, Options, Staking, Savings, DeFi | Web, Desktop, Mobile | Live Chat, Ticket System | Not consistently regulated globally |
| Coinbase | 100+ (Including Bitcoin, Ethereum, Litecoin, etc.) | 1.49%-3.99% per trade | 1:1 | High | Staking, Savings, DeFi, Coinbase Pro | Web, Mobile | Email, Extensive FAQ and Guide Section | FCA, FinCEN |
| Kraken | 60+ (Including Bitcoin, Ethereum, Ripple, etc.) | 0.16% – 0.26% per trade | 1:1 | High | Futures, Staking, Margin trading | Web, Mobile | Live Chat, Email, Extensive FAQ | FinCEN |
How To Open A Trading Account With eToro?
eToro is the leading altcoin trading platform in the United Arab Emirates. It has excellent platforms and social trading tools. UAE traders have a minimum trade requirement of $10. The minimum deposit fee at eToro is $200. UAE traders have to follow four simple steps to create an eToro account.
Step 1: Go to eToro's official website
The first step to creating an account with eToro is to access their main website. Click on this link: https://www.business24-7.ae/etoro-crypto-start.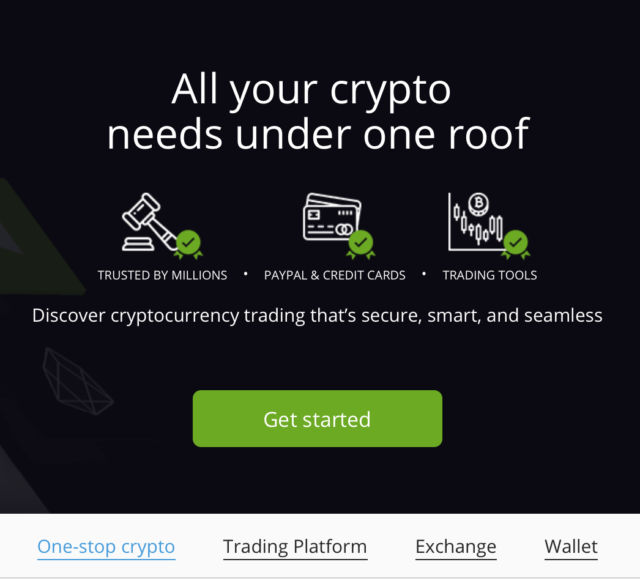 Step 2: Click on the Get Started button
Next, you have to click on Get Started. This will redirect you to a new pager for opening new UAE accounts.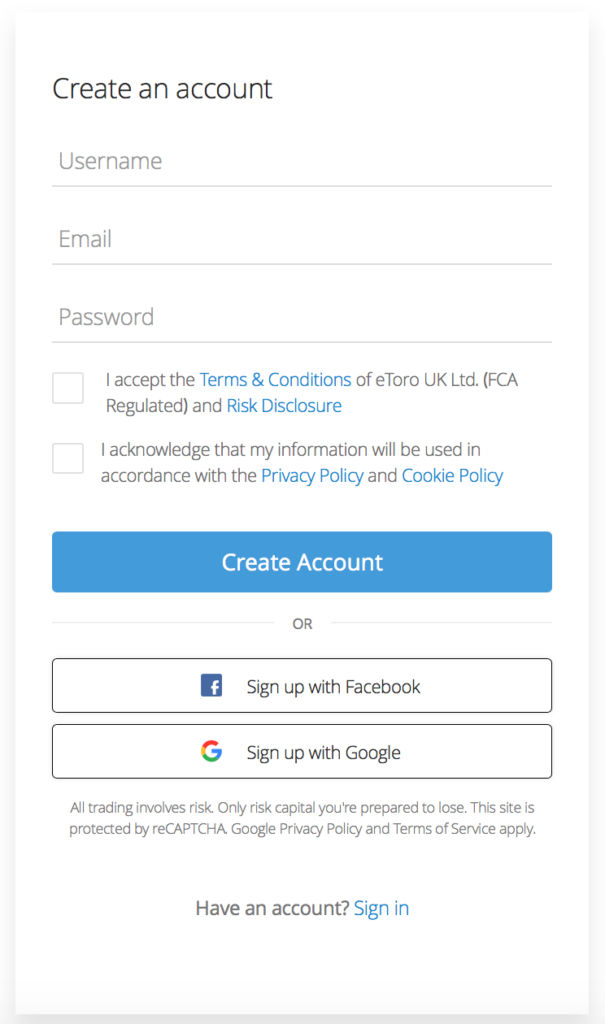 Step 3: Set up your account and pass verification
UAE traders have to sign up, verify their accounts, and make a first-time deposit. This will let traders use eToro to buy, hold, and sell altcoins.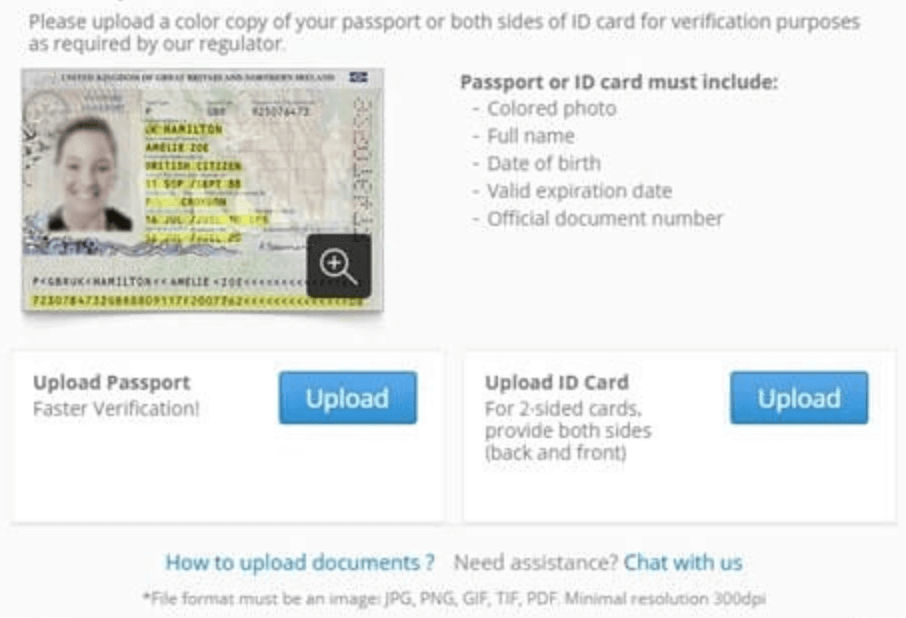 Related: how to buy Bitcoin, How to buy Ripple, How to buy Ethereum
Step 4: Start trading
After your eToro account is verified, you'll be able to start trading. eToro accounts are a top choice for buying, holding, and selling crypto assets.
Conclusion
Trading with altcoins is a commonly used investment in UAE to achieve financial gains and grow wealth. However, with the rising number of exchanges, potential traders are forced to analyze, compare and evaluate key information to choose the ideal service for their needs.
This guide does the hard work to keep users safe and informed by comparing, evaluating and reviewing the services of different exchanges. The Business24-7 expert teams previously removed scams and unreliable offers lacking security features to guarantee informed decision-making. The assessment results in a list of the best altcoin exchanges in UAE, wrapped up in the table below.
FAQ
Is Online Trading Legal In The UAE?
Online trading in the UAE is legal. Traders select brokers with top-tier licenses from a foreign authority. The FCA, CySEC, and ASIC are top regulators for trading platforms. All platforms in this review are secure and follow strict regulations.
How Do I Know If An Altcoin Trading Platform Is Regulated?
Checking a platform's regulation is straightforward. You should verify its regulatory status with its legal name and country. Check the information on the appropriate regulator website. Our in-depth reviews discuss which the safest altcoin providers are.
Which Are The Best Altcoins To Trade?
It depends on your trading experience and skills. Popular altcoins include Tether, Ethereum, Binance USD, and Ripple. Read our in-depth reviews to learn more about the best crypto exchanges and altcoins available in the UAE.
Is It Necessary To Have A Crypto Wallet To Trade Altcoins?
Yes. All UAE traders must have a crypto wallet to store their crypto assets. These digital wallets protect funds from unwanted access.