The best DeFi trading platforms in the UAE are eToro, Binance, and Coinbase. eToro is an excellent altcoin trading platform with access to social trading services. Binance is a top DeFi trading platform for small-cap pairs. Coinbase has an impressive selection of the best crypto assets. 
Each platform has advantages and disadvantages. This article discusses the best DeFi platforms in UAE.
Related: here is out list of the best crypto exchanges
Best DeFi Trading Platforms In The UAE: 
eToro – is the best altcoin platform in the UAE with access to eToro crypto exchange
Binance – is a top crypto exchange and offers the best DeFi trading platform for small-cap pairs
Coinbase – is one of the leading crypto exchanges that offers an excellent portfolio with access to many digital coins
Top 3 DeFi Trading Platforms In The UAE – Reviewed
1. eToro – Best Platform For Altcoin Trading In The UAE
Min Deposit: $200
Fees: 4.8
Assets available: 4.8
Total Fees:
Open account
Read review
79% of retail investor accounts lose money when trading CFDs with this provider. You should consider whether you can afford to take the high risk of losing your money. eToro AUS Capital Ltd ACN 612 791 803 AFSL 491139. OTC Derivatives are speculative and leveraged. Not suitable for all investors. Capital at risk. See PDS and TMD
eToro is the leading social trading platform with a transparent fee policy. It offers access to intuitive platforms and a proprietary eToro wallet. eToro users receive access to popular coins, including Bitcoin and Ripple. It has many account tiers, including retail investor accounts.
eToro is a trustworthy platform for altcoin trading. It offers access to 16 different coins and excellent brokerage services. Social trading with digital coins at eToro is like social trading with forex. Traders search for an investor's portfolio and copy it to their portfolio on a percentage basis. We recommend eToro for traders at all levels who want access to a secure platform.
2. Binance – Best DeFi Platform For Small-Cap Pairs

Min Deposit:
Fees: 4.9
Assets available: 5.0
Total Fees:
Binance is a reliable and trustworthy crypto exchange worldwide. It offers excellent services for UAE traders. Binance offers 100+ different trading pairs, including fiat currency and fiat-to-crypto pairs. This platform is a top choice for small-cap pairs. Binance offers many digital coins, including Bitcoin and Ripple.
Binance is a good UAE crypto exchange for advanced traders. Binance account holders receive access to instant buy features with a debit card. This cryptocurrency exchange offers excellent customer service with knowledgeable answers. Binance has limited learning materials and research features.
3. Coinbase – Best Portfolio With Access To Popular Coins For UAE Traders

Min Deposit:
Fees: 2.7
Assets available: 3.6
Total Fees:
Coinbase is the best crypto exchange with an attractive portfolio. It has a competitive fee structure and access to popular cryptos. Coinbase has a straightforward main platform and a professional service, Coinbase Pro.
This crypto exchange offers custodial wallets. These allow Coinbase account holders to secure their coins. The Pro platform is free and provides professional services. Coinbase offers many investment solutions for traders at all levels. It has 80+ digital assets, including Litecoin and Bitcoin. We recommend it for professional UAE traders.
How We Choose The Best DeFi Trading Platforms?
At Business24, we help smart traders make the best decisions with their capital. We understand that the word "best" is subjective, which is why we focus on sharing both strengths and weaknesses of DeFi trading platforms. We use 105 criteria to analyze platforms, digital coins, and crypto exchanges.
We review the best crypto platforms with real accounts and money. The main aspects of selection include fees, safety, and trading tools.
Fees:  A transparent fee structure contributes to a great online crypto trading experience. Some DeFi trading platforms have a simple fee structure, others don't. Check our in-depth reviews to learn more about fee structures and platforms.
Account:  Each trading platform offers distinct account tiers. Some DeFi trading platforms have a minimum deposit fee. Others won't request an initial deposit for opening new accounts. Some offer retail investor accounts. Others don't. Read our in-depth reviews to learn more about accounts and DeFi platforms.
Withdrawal and deposit:  The funding process must be transparent and straightforward. Depositing funds takes longer with some providers than with others. Withdrawing funds comes with additional fees. Read about deposit and withdrawal policies in our in-depth reviews.
Market and products:  Each DeFi trading platform has its own market and asset coverage. We recommend you choose a platform with a versatile portfolio. Verify our in-depth reviews to discover more information about DeFi markets and assets.
Trading platforms:  A reliable crypto trading platform has an intuitive interface. Choose a DeFi platform with an easy-to-learn design. The platforms in our review are secure, but some might be challenging for beginners. Check our in-depth reviews to discover which platform is best for your trading experience.
Customer support:  Support is vital for beginner cryptocurrency success. Centralized platforms offer live chat, email, and phone support. We recommend centralized platforms for beginners, as they need to receive support. Decentralized platforms do not offer customer service. Professional traders get lower fees at decentralized providers even though there is no support.
Safety:  A trustworthy centralized platform has top-tier licenses. It offers excellent safety measures for all its accounts. Decentralized platforms don't follow the rules of any regulatory body. Read our in-depth reviews to learn more about crypto exchanges and safety.
How To Open A Trading Account With eToro?
eToro is the best crypto trading platform for UAE traders. It has excellent social trading services and platforms. UAE traders have a minimum trade requirement of $10. The minimum deposit fee at eToro is $200. To sign up with eToro, you have to follow four simple steps.
Step 1: Go to eToro's main website
The first step you need to take to create an account is to access the eToro official website.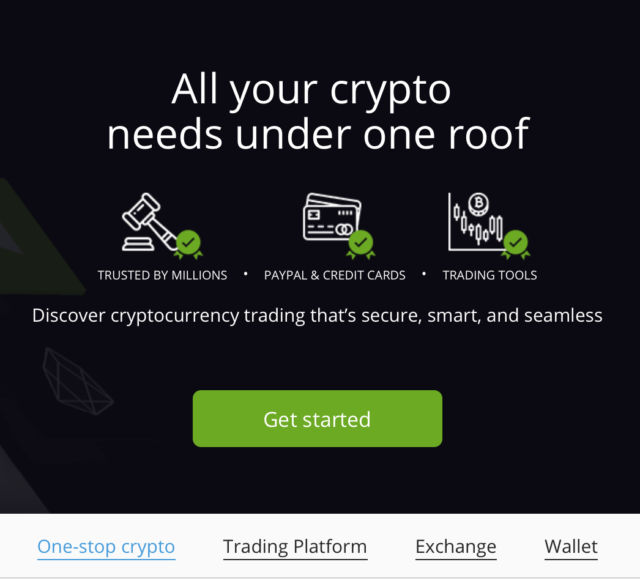 Step 2: Click on the Get Started button
Next, you'll have to click on Get Started. This will redirect you to a dedicated page for creating new accounts.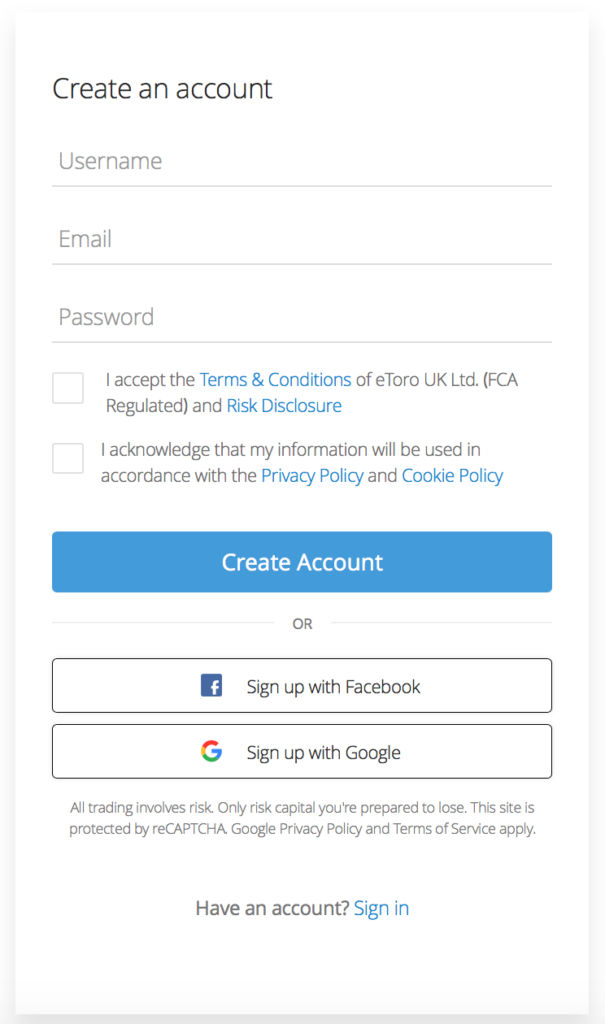 Step 3: Set up your account and pass account verification
To buy digital assets with eToro, you have to sign up, verify your account, and make an initial deposit. This process will allow you to use your eToro account to buy, hold, and sell cryptos.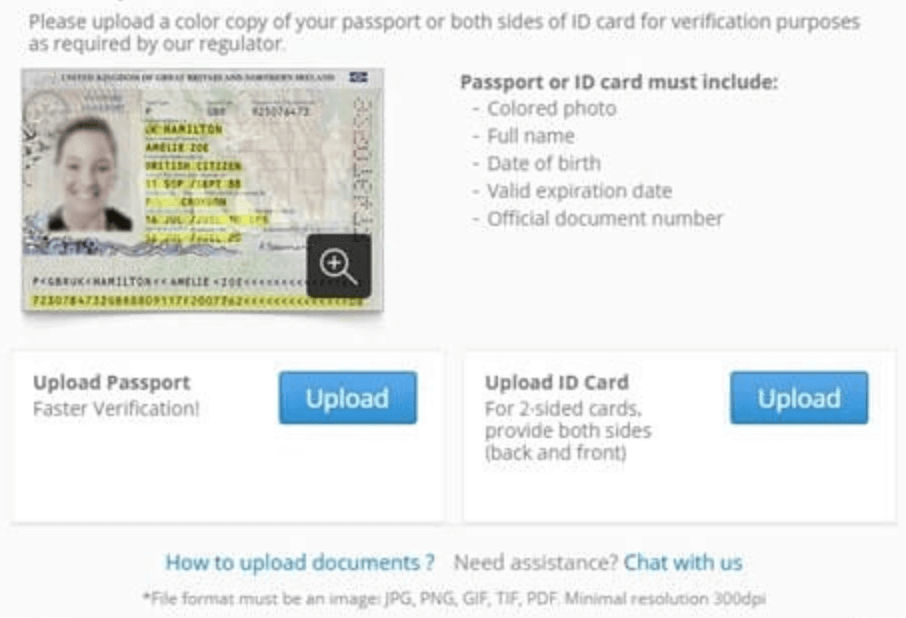 Step 4: Buy digital coins
eToro accounts are a top choice for buying, holding, and selling fractions of digital coins. For example, you don't have to buy a full BTC coin to own BTC. This applies to all crypto assets available at eToro.
Related: how to buy Bitcoin in UAE
Summary
eToro, Binance, and Coinbase are the best DeFi platforms in the UAE. All have strengths and weaknesses depending on your trading experience and skills. eToro is our top pick because of its industry-leading social trading services. Binance is a secure DeFi crypto trading platform for traders at all levels.
FAQ
What Is DeFi?
DeFi is the acronym for "decentralized finance." It refers to financial applications used in crypto and blockchains to disrupt financial intermediaries. DeFi uses the blockchain to enable complex financial transactions.
Which Are The Best DeFi Cryptocurrencies For Trading?
The best DeFi crypto coins to trade are OX, DAI, Uniswap, and Chainlink.
Do I Need A Crypto Wallet To Trade With DeFi?
Yes. All DeFi protocols need a DeFi wallet to store your funds. Crypto wallets offer a secure and intuitive interface for storing your DeFi purchases. Read our in-depth reviews to learn more about crypto trading and wallets.
Is There A DeFi Trading Bot?
Traders are allowed to use trading bots with DeFi. There are no restrictions on this.