This guide helps users to find the best HFX trading platforms in UAE. With the rising number of online brokers that offer high-frequency trading, it can be hard for traders to select the optimal platform for their trading goals and preferences.
Doing detailed research, comparison, and due diligence on available services can help traders to avoid selecting a platform lacking in order execution speed, reliability, trading tools & features, and availability of assets.
This guide assesses 58 online brokers in UAE for users to review, compare and find the ideal platform for their needs. To help them make an informed decision, a list of the best HFX trading platforms in the UAE is shared below, followed by detailed review sections and comparisons.
TOP 5 HFX Trading Platforms UAE
The Best HFX Brokers In UAE Reviewed
Online brokers with the highest rated HFX platforms in UAE are reviewed below.
1. IC Markets – Best Fees
2. Capital.com – Best For Mobile Trading
3. AVAtrade – Best For Forex overall
4. IG Trading – Best Trading Platform
5. ETX Capital – Best Speed of execution
Top Brokers For HFX Trading Compared
Key features of online brokers with top rated platforms for HFX trading are compared in the table below.
| Broker | Assets | Low Latency | Algorithmic Trading | APIs and Integrations | Access to High-Quality Real-Time Market Data | Risk Management Tools | VPS Servers | High Reliability and Server Uptime |
| --- | --- | --- | --- | --- | --- | --- | --- | --- |
| IC Markets | Forex, CFDs, Bonds, Indices, Futures, Stocks, Cryptocurrencies | Yes | Yes | Yes | Yes | Yes | Yes | Yes |
| Capital.com | Forex, Indices, Commodities, Cryptocurrencies, Stocks | Yes | No | Yes | Yes | Yes | No | Yes |
| AvaTrade | Forex, Commodities, Indices, Stocks, Bonds, ETFs, Options, Cryptocurrencies | Yes | Yes | Yes | Yes | Yes | No | Yes |
| IG Trading | Forex, Indices, Commodities, Stocks, Bonds, ETFs, Options, Cryptocurrencies | Yes | Yes | Yes | Yes | Yes | No | Yes |
| ETX Capital | Forex, Indices, Commodities, Stocks, Cryptocurrencies | Yes | Yes | No | Yes | Yes | No | Yes |
How To Find The Best HFX Trading Platforms and Brokers in UAE?
Factors that need to be considered to choose the best suited platform for HFX trading are listed below.
Assets: HFX trading requires access to multiple asset classes. Make sure your broker offers: stocks, ETFs, commodities, futures, forex, indices, mutual funds, bonds, and cryptos.
Mobile Trading: You can use mobile trading platforms to trade from anywhere a smartphone operates. Make sure your HFX system works with the mobile platform you choose.
Research & Education: Your broker should include market research and educational assets with your account. Look to see what kind of materials the broker includes, and get the most from your account.
Customer support: HFX trading systems need a fast API to operate with trading platforms, so make sure your broker has a full time support service to troubleshoot any issues you have.
Fees: Trading fees impact HFX trading profits, and you need to find the best broker for your needs. Look for brokers that have low, or 0% trading fees, so your trades make the biggest profits possible.
Trading platforms: The trading platform is a vital part of any HFX trading operation. Make sure your broker supports HFX trading and gives you the execution times and data you need to trade.
Deposit & Withdrawal: There is no need to pay for deposits and withdrawals, and you should look for a broker that has payment methods you like.
Regulation: Only trade with a broker regulated by the FCA, CySEC, and ASIC. With so many compliant brokers in the UAE, there is no need to trust your money to an unregulated broker.
*Islamic Accounts: Brokers in the UAE have account options compliant with Sharia law. Our guide will help you get the right account for HFX trading in UAE.
What Is HFX Trading?
HFX Trading is a term used for High-Frequency Forex trading. It is a strategy that lets traders quickly buy and sell forex currency pairs. It uses technology and algorithms for fast transaction rates. HFX trading comes with high trading speeds and strict rules. It has high turnover rates and order-to-trade ratios.  
If you want to start HFX trading, you need a trustworthy platform. Online forex brokers offer secure platforms for UAE traders at all levels.
What Is The Best Way To Start With HFX Trading in UAE?
The best way to start with HFX trading in UAE is by signing up with one of the recommended platforms from our list: IC Markets, Capital.com, AVAtrade, IG or ETX Capital.
We recommend you use IC Markets for HFX trading in the United Arab Emirates. It has secure accounts and social trading features.
There are four steps to follow for HFX trading with IC Markets:
Open an IC Markets account:  The first step for traders in the United Arab Emirates is to open an IC Markets account. Navigate to the broker's official website, click on the sign-up button, submit your personal details, and click on 'Create New Account.'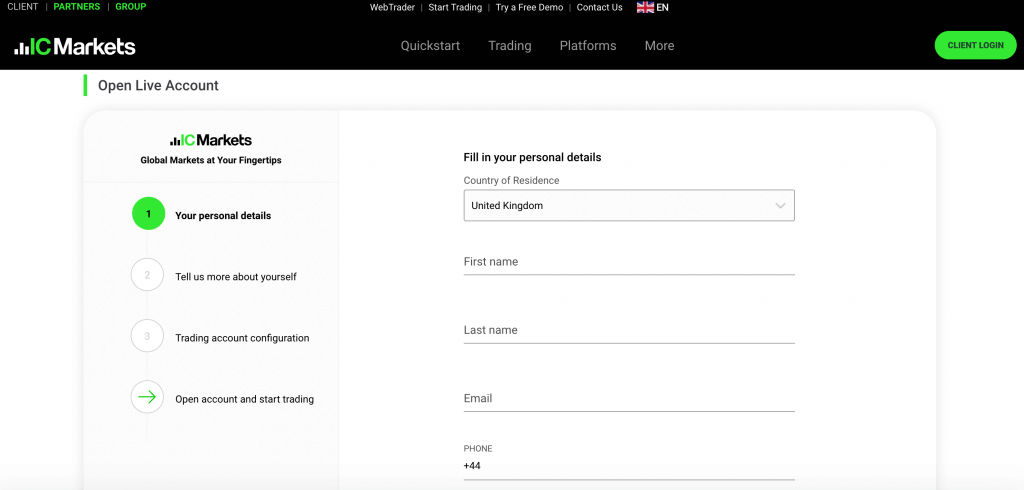 Submit a copy of your ID:  IC Markets is a trustworthy broker. It follows strict Know Your Customer (KYC) rules and has licenses from industry-leading regulators. All UAE traders need to pass this account verification process. A copy of a valid I.D., like a passport or driver's license, is necessary.
Fund your IC Markets account:  After having passed account verification, you have to make your first deposit. UAE traders have different funding options, including bank transfers and credit card deposits.
Start HFX trading:  Select the forex pair you want to trade and search for its ticker. Click on the asset's symbol and start HFX trading.
Why Should You Consider HFX Trading?
HFX trading in the UAE is rewarding. It is a powerful trading strategy with the potential for high returns. Online trading of digital assets is attractive. But we don't recommend it for beginner UAE traders.
How Much Does HFX Trading Cost?
HFX trading costs vary depending on the platform you choose. For example, the minimum balance needed to trade stocks in the U.S. is $25,000. Advanced traders say that online forex trading generates excellent profits over time. But you should remember that online assets are speculative. Read our in-depth platform reviews for details on assets and HFX trading costs.
HFX Trading Safety In The UAE
IC Markets is our top recommendation for traders in the UAE who want to start HFX trading safely. It has reliable platforms and apps for traders at all levels. It has many funding options and access to instant transactions. We recommend HFX trading with a broker that has top-tier licenses.
The Risks Of HFX Trading
HFX trading in the UAE remains risky. Online assets are speculative and have high risks. Start with a minimum trade to avoid losing money. Online trading strategies are reliable, but these might be challenging for new traders. We recommend you use secure HFX trading platforms in the UAE.
Conclusion
With the numerous online brokers in UAE offering different platforms and features, finding the ideal option for individual needs is tough. Comparing and evaluating the services of different providers can be stressful and requires time and knowledge.
This guide does the hard work by comparing and evaluating the top choices for different strategies and trading goals. The results of our analysis of the best HFX trading platforms in UAE are wrapped up in the table below.
FAQ
Is HFX trading allowed and regulated in the UAE?
There are no specific laws that regulated high frequency trading. As HFX trading is not prohibited, this trading strategy can be legally used by traders in the UAE.
Is high frequency trading risky?
Yes, high frequency trading is a high risk trading strategy because it involves computer algorithms and high speed trade execution, exposure to market volatility and risk of systematic failure.
Is high frequency trading recommended for beginners?
High frequency trading is commonly not recommended for beginners as it requires advanced knowledge and understanding of complex trading systems, financial markets and programming.
What are the most common order types for HFX Trading?
The most common HFX order types include market orders and limit orders. Forex traders commonly use orders depending on the timeframes including : – Good-till-canceled (GTC) – Day Order – One week – One month – End of week – End of month – End of Year – Good-till-date (GTD) – Immediate or cancel (IOC)