Revolut is a digital-only mobile banking app and credit card. They are a banking and payment services provider. In 2019, Revolut launched commission-free stock trading through Revolut Trading Ltd. They offer free stock trading, cryptocurrency, and commodities (conditions apply).
Review Summary
Our top findings for Revolut
Revolut is an online bank with excellent mobile tools. They offer a revolutionary approach to online banking. Their sign-up process is simple and standard accounts are free. Their system provides fast transactions, low fees, and unlimited flexibility.
Since 2019, account holders trade cryptocurrencies, commodities, and stocks. Clients exchange currencies at interbank rates. Revolut's trading asset classes are limited. Clients cannot trade CFDs, mutual funds, options, or bonds.
Research, Education, and Customer Service have serious deficiencies. Investors pay high margins on crypto trades. Traders cannot deposit cash or cheques.
Revolut's account opening process is simple, seamless, fully digital, and fast. Account registration takes a couple of minutes. Verification often takes less than one hour. The mobile app is well-designed and user-friendly. Pricing is among the industry's most competitive. Revolut offers fast and cheap transfers abroad, peer-to-peer payments, and low-cost foreign card ATM withdrawal fees. They launched in London in 2015. Revolut has 12 million personal users and 500,000 business accounts. Customers conduct 100 million+ transactions/month.
The Standard account is free. Premium and Metal (unlimited) accounts cost 7.99 EUR and 13.99 EUR. Business account costs depend on the number of transactions. Business basic is free. Companies pay 25 or 100 EUR/month based on transaction volume. Revolut offers a professional account for freelancers for 7 EUR per month.
Revolut is safe to use. A regulated European financial services provider, they hold banking licenses from the Bank of Lithuania and the European Central Bank (ECB).
Pros
Free stock trading
Fast and easy account opening
Great mobile trading platform
Cons
Limited product portfolio
Basic research and missing educational tools
Poor customer service
Trading with Revolut
Trading or investing is straightforward with Revolut. Their mobile app provides access to all options. It enables stock, commodities, and crypto exchange trading.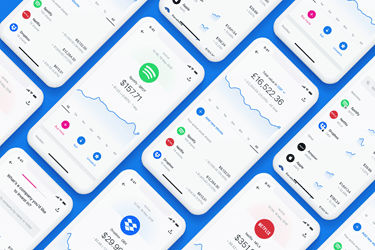 The Standard account is ideal for investors who trade a few stocks per month. Investors trading frequently use the Premium or unlimited Metal account. Revolut trading fees are clear. Costs are higher for Standard traders. Users set price alerts and use the newsfeed and watchlist features.
Stocks: Revolut clients are limited to trading U.S. stocks. They can trade 850+ stocks from the NYSE and NASDAQ exchanges. (Competitors Robinhood and Freetrade have larger product catalogs.) Traders on a budget may purchase fractional shares. Ideal for stocks costing several hundred dollars per share.
Crypto: Investors trade Bitcoin, Ethereum, Bitcoin Cash, Ripple, Stellar, and Litecoin cryptos with 30+ fiat currencies. They trade cryptocurrency from the Revolut Dashboard. Revolut provides cryptos from the Bitstamp crypto exchange.
Gold: only trades on Premium and Metal accounts. Investors add an XAU account through the Commodities widget. Users set their own price alerts.
Commissions and Fees
Revolut banking, trading fees, and commissions are low and simple to calculate based on account type. Investors on the app use many base currencies. They can only trade from a USD-based account because Revolut only trades on US exchanges.
Trading Costs: Standard and Premium plans have monthly allowances of 3 and 8 free trades. Outside allowance trades cost €1 each. Metal account users have limitless commission-free trades.
Crypto fees: Revolut charges a 1.5% markup on a cryptocurrency's bid or ask price.
Gold and Precious metals: costs come from the XAU market with a 0.25% markup during market hours, 1% markup during non-market hours.
Non-trading fees: Revolut non-trading fees are low. They do not charge inactivity or withdrawal fees. Revolut charges a monthly portfolio custody fee of 0.01% of the market value of an investor's assets per month.
Traders move money instantly and for free from their Revolut trading account to their Revolut banking account. Withdrawing money is only available by bank transfer to an external bank account.
Revolut's trading account is a general investment account. Other account types offered by brokerages: corporate, joint, IRA, or ISA accounts are not available.
Cost comparison: we compared Revolut's fees with those of two similar brokers, Freetrade and Robinhood.
Fees
| | | | |
| --- | --- | --- | --- |
| | Revolut | Freetrade | RobinHood |
| Trading fee |  €0 (Metal account) |  €0 |  €0 |
| Account fee |  €0 |  €0 |  €0 |
| Inactivity fee |  €0 |  €0 |  €0 |
| Deposit fee |  €0 |  €0 |  €0 |
Revolut Accounts
Revolut offers a free basic digital banking and investing experience with low-cost extra services. Revolut brags about fair and honest pricing. They are a good value digital bank.
Revolut offers three distinct plans:
Standard is free. There are no opening costs or monthly fees. They allow exchange in 30 fiat currencies (up to €1,000 per month) without hidden fees. There is no fee for ATM withdrawals up to €200 per month. Investors get a free Revolut debit card.
Premium costs €7.99/month. ATM withdrawals are free up to €400. There is no limit on fiat currency exchange. Premium traders get global express delivery and priority customer support.
Metal costs €13.99/month. Includes everything Premium does, with free ATM withdrawals up to €800 per month and more perks.
Debit Card Fees: The card is free. Standard plan users pay €5.99delivery. Replacement cards cost €6 plus delivery. Cards, delivery, and replacements are free with Premium or Metal accounts. Standard account holders can get their first card delivery charge free by referring a friend who joins Revolut.
Transfer Fees: traders send money within the UK or EEA for free. Transfers outside the UK and EEA via intermediary banks may be subject to their fees. Intermediary banks may also charge investors to transfer to Revolut from outside the UK and EEA.
Currency Exchange Fees: most currency exchanges do not incur fees or margin. Revolut charges the interbank rate, the best deal on offer. There are a few exceptions for illiquid currencies. The interbank rate is only available on weekdays when Forex markets are open. It is more expensive to exchange on weekends (Friday 00:00 – Sunday 23:59 London time). Revolut charges a mark-up of 0.5% for major currencies and 1% for most other currencies (for THB and UAH the mark-up is 2%).
Here is how Revolut fares in comparison to other popular online banks:
Currency Exchange Fees
| | | | | |
| --- | --- | --- | --- | --- |
| | Revolut | N26 | Monese | TransferWise |
| Foreign Currency Exchange | 0%-2% on the first €6000, 2% there after | 0% | 0% on the first  €2000, 2% thereafter | 0.35% – 2.85% – depending on the currency |
| ATM fees | 0% on the first  €2000, 2% thereafter |  € 1.70 | 0% on the first  €2000, 2% thereafter | 0% on the first  €2000, 2% thereafter |
| Card delivery fee |  €5.50 |  €0 |  €0 |  €0 |
| Trust Pilot Score | 4.4/5 (70k reviews) | 4.1/5 (12k reviews) | 4.1/5 (17k reviews) | 4.6/5 (100k reviews) |
Revolut Mobile App
Revolut's banking app provides an excellent user experience. It's easy to use, nicely designed and fully functional. Revolut does not offer a web trading platform. This is a significant drawback. Other brokerage web-based applications provide convenient accessibility from all mobile devices.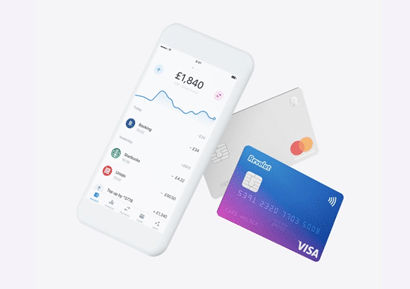 Banking App features:
Revolut uses savings accounts (Vaults). You transfer into them via one-off or recurring transfers or rounding up spare change on purchases.
They provide Group Vaults allowing multiple people to contribute to a vault for a common goal: group holiday, weddings, etc. This is an alternative to joint accounts, not available at Revolut.
Investors link external bank accounts to see all account balance and transaction details.
Revolut offered loans via Lending Works for UK customers. This feature temporarily ended in April 2020 due to the coronavirus.
Clients use the app to track daily and monthly spend and budgets in individual categories.
They can use Apple Pay or Google Pay (not available in all countries).
Revolut Junior is a service for children/teenagers. Parents set this up through their account. Juniors spend money and parents track balances/transactions (only available in Europe).
Premium and Metal account holders create virtual debit cards. These let clients shop online secure from merchant hacks. Disposable virtual cards increase security by generating new card details for each transaction and then destroying them.
App Trading
Stocks and ETFs: investors trade more than 850 stocks listed on NYSE and NASDAQ exchanges. This offering is limiting to more advanced traders. (Freetrade lets investors access the London Stock Exchange. Robinhood's offering is wider.) Revolut plans to offer UK and European shares and ETFs in the future. IPO trading on Revolut can take up to a frustrating two weeks.
Cryptos: in April 2020 Revolut allowed Standard accounts to trade crypto. In September 2020, Australian residents also could trade cryptos. The UK FCA banned all crypto-derivatives sales to UK retail traders from January 2021.
Gold and 'Precious Metals': In March 2020, Revolut introduced gold trading for Premium and Metal Accounts. Only Gold (XAU) and Silver (XAG) are supported on the platform. Revolut plans to add more metals and commodities.
Research and Education
Revolut is a banking app. The help center and tutorials for bank and app related questions are rich and exhaustive. They fare poorly in trader education and research tools. There are no trading ideas or fundamental data. Charting tools are poor. There are no technical indicators and only basic charts. Trading education is equally poor.
Newsfeed, Watchlists: Revolut offers a live market data newsfeed. Other tools are basic or unavailable. Revolut has a watchlist and newsfeed. The feed is from 3rd party news sites, Zolmax, CNBC, Investing, and Yahoo!. It is on the overview trading page and any product chosen. If you select a product, it is filtered to only show relevant data to that product. Investors group watchlists by asset type.Charting: Revolut has poor charting tools. There are neither technical indicators nor a trendline editor. App users only see basic charts and limited information, like weekly stock price changes.
Pros
User-friendly
Live market data
Cons
Limited interactive charting
No trading ideas
No fundamental data
Customer Service
Revolut banking customer service is available 24/7/365 via the app. To reach a live person, the default is their Chatbot. To activate, type 'Live Agent' into the chat box. The Chatbot is marginally useful. It can only answer basic questions. There is no email support.
Revolut phone support offers only pre-recorded answers. Its main function is reporting/blocking lost or stolen debit cards.
Investors reach Revolut via:
There is much room for customer service improvement.
Banking
Revolut is an electronic money institution authorized to handle money, facilitate business transactions and currency exchanges. They don't handle cash or cheques or offer phone assistance. They lack brick and mortar branches. Revolut is a legitimate and secure option to send money abroad. Authorized by the Financial Conduct Authority (FCA) client monies are not covered by the Financial Services Compensation Scheme (FCSC). In the event Revolut goes bust, investors reclaim monies by coordinating with administrators/liquidators and whoever manages Revolut's relationship with their bank.
Closing Argument
Revolut is a great mobile banking option. The app is functional and easy to use. Revolut's free account offers a good banking and trading experience. If a frequent/heavier investor, the Premium or Metal plans are worth the price. Revolut plans to be a one-stop financial shop. Upgrades over the last two years point in that direction. Investors welcome Revolut's regulation and banking licenses. These make them a legit and trustworthy provider.
Revolut's fee structure is good. Their three account types trade US stocks for free (monthly limits may apply). Account opening is easy, fully digital, and fast. Their product portfolio covers only US stocks, gold and silver commodities, and cryptocurrencies. They have very few research tools. There is no trading educational material. Customer Service needs to improve.
Revolut is not a traditional online broker. Their offering and trading tools are limited compared to well-known brokerage houses. The trading platform additions offer nice features for beginning or casual investors. Revolut offers a top performing mobile banking app.
About Revolut Ltd
Established in 2015 by Nikolay Storonsky (the UK's first technology billionaire) and Vlad Yetsenko, Revolut is a young internet banking and investment broker valued at nearly £6 billion pounds. Revolut is a British financial technology company headquartered in London. Their investment partnering bank is the New York-based Metropolitan Commercial Bank (MCB).
The longer a broker's track record, the more proof they successfully survived previous financial crises. Revolut owns banking licenses (in Lithuania and the ECB). This makes them subject to tougher regulations than other brokers. Top-tier regulators and multiple banking licenses are good indicators of Revolut's overall safety.