Alpari is a high-risk forex and CFD broker. They provide easy account sign-up and offer low margins. Traders use MT4 and MT5 Web, desktop, and mobile trading platforms. They have a 20+ year history and convenient investor account options.​
Review Summary
Alpari is a high-risk forex and CFD broker with a low Trust score of 69 out of 100. They have an easy sign-up process and low margin requirements.
Alpari offers value to traders with excellent copy trading tools and high leverage on CFDs based on account type.
They were the first broker to offer MetaTrader's platform software suite for MT4 and MT5.
Founded in 1998, Alpari Group provides an excellent retail forex trading experience. Several companies operate under the Alpari brand.
Alpari traders copy experienced platform traders automatically. The Strategy Manager displays lists of traders to follow. Their known trades are instantly copied to an investor's account.
Alpari holds licenses in Belarus, Ukraine, Russia, Uzbekistan, Kazakhstan, Mauritius, and Moldova. The Russia office was licensed by the Central Bank of Russia (CBR) until January 2019 when FX brokers were banned. In Belarus, Alpari is licensed by the National Bank of the Republic of Belarus. Alpari Intl Ltd holds licenses from Belize Financial Services Commission (FSC) and Financial Services Authority (FSA) of St. Vincent and Grenadines. Alpari Intl Ltd licenses are recognized by The Financial Commission, EDR for forex in Hong Kong.
Alpari excludes investors from Georgia, Ukraine, Turkmenistan, Uzbekistan, Tajikistan, Moldova, Armenia, Kyrgyzstan, Kazakhstan, Belarus, Azerbaijan, Russia, North Korea, Suriname, Haiti, Japan, Canada, New Zealand, Mauritius, and the USA.
Investment Offerings
Alpari has a large selection of investments and trading conditions that appeal to beginning and experienced traders. Their goal is to make financial markets available to smaller investors offering a low deposit minimum of 5 EUR.
Alpari investors trade 30 CFDs and 60+ forex pairs and crosses, global equity indices, precious metals, commodities, and Bitcoin. Alpari has several trading instruments, three commodity CFDs, and ten-stock index CFDs. Managed account investors use structured products, PAMM funds, and social trading with MetaTrader's Signals Market.
Potential trades include:
10 major US stocks
60+ Forex pairs and crosses
Commodities gold, natural gas, silver, and crude oil
11 global equity indices
Alpari Investment Offerings
| | |
| --- | --- |
| Feature | Name |
| Forex Spot Trading | Yes |
| Currency Pairs (Total Forex Pairs) | 60+ |
| CFDs – Total Offered | 30 |
| Social Trading / Copy Trading | Yes |
| Cryptocurrency traded as actual | Yes |
| Cryptocurrency traded as actual | Yes |
Commissions and Fees
Alpari is a commission spread on forex leader, offering major currency pair spreads of just 0.4 pips for a professional ECN account. These are among the best in the market. They also allow multiple currencies and precious metal values for use in account balances.
Commissions: Alpari has competitive commission fee pricing for its ECN MT5 and PRO ECN MT4 accounts. Their fees add 0.3 and 0.6 pips for the USD/ EUR pair. Standard account spreads add a commission rate of $32 round-turn (0.32 pips) or $16 per million. Their all-in price is 0.62 and 0.92 pips for ECN MT5 and PRO ECN MT4 accounts.
Spreads: spread amounts vary by account type. Micro MT4 account spreads start at 1.7 pips for major forex pairs. Standard MT4 account spreads begin at 1.2 pips. Experienced traders use the ECN MT4 and MT5 accounts. Their spreads start at 0.4 pips with charges of $3 per lot round trip. Professional individual stock traders benefit most from the commission-free ECN Pro account.
Leverage: Alpari exercises maximum leverage depending on account type. The MT4 MicroAccount offers maximum available leverage of 1:400. The ECN accounts and standard MT4 accounts offer a maximum available leverage of 1:1000. That 1:1000 leverage reduces as the notional trade size of open positions increases. If the total notional value reaches $8 million, leverage falls back to the minimum 1:25 level.
In certain countries, cryptocurrency trade and stock regulatory rules reduce the maximum leverage offered. Full leverage details are available on their website. Some multiplier levels and certain products are not available in EEA countries due to legal restrictions.
Additional Features: traders can convert funds to Gold equivalent (GLD). This means their entire account balance is shown in units of GLD. Price variations impact balance value when converting back to a base currency. This gives traders an additional means to transform balances into other assets, besides standard provided currencies.
Currency Pairs and New CFDs: In 2017, Alpari expanded its portfolio of precious metal CFDs and currency pairs. They include JPY/ TRY, TRY/ GBP, TRY/ USD, and TRY/ EUR pairs. They also added Silver and Gold versus CHF, GBP, and EUR plus six new metals instruments. Alpari also included CFDs on cryptocurrency with Bitcoin. Users can establish a position or maximum trade of 30 Bitcoins at a time with no leverage (100% margin is required).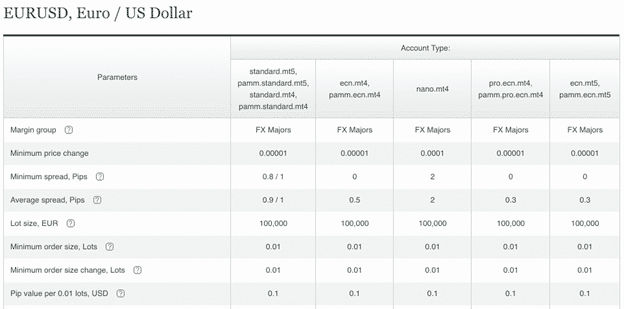 Accounts
Alpari offers several standard and professional trading accounts. Commissions and leverage vary by account type. They have a full-function Demo account. All account offerings operate on their Web, desktop, and mobile trading platforms.
Account Types: 4 account types use real money. Two standard accounts and two enhanced accounts, known as ECNs.
Standard accounts: are available as a basic option. They are the MT4 MicroAccount and MT4 Standard account. Both offer market-maker execution.
ECN accounts: are for more experienced traders. There are the ECN Standard and ECN Pro Accounts (the latter offers instant execution). Alpari's most competitive offering is their ECN MT5 account. It offers the lowest spread fees and commissions. It trades a relatively large number of instruments, mainly CFDs. Certain trading markets are closed to some account types.
Base Currencies: all account use four base currencies
USD
EUR
GBP
NGN (NGN accounts are only available to clients in Nigeria)
Accepting Nigerian Naira, Alpari International demonstrates its commitment to improving trading accessibility. Nigeria is a significant market for its brand.
Demo accounts: this free account offers a risk-free way to learn how to trade without depositing funds. Users create a live account with login credentials on the myAlpari web portal. They agree to follow Alpari's Belize or FSA Grenadines regulations. The Demo account gives learning traders access to the MT4 and MT5 platforms. Traders can test several popular trading strategies. Demo accounts are loaded with virtual funds to give a practical approach to the art of trading.
Payment Methods: Alpari offers a quick and secure depositing process. They accept deposits and withdrawals using:
Debit cards
Credit cards
Bank transfer
FasaPay
Neteller
WebMoney
Bitcoin
Perfect Money
Skrill
Fund processing time depends on the payment method. Wire transfers take 3 to 5 days for funds to reach an Alpari trading account. Withdrawals to electronic payment systems usually process within 1 working day. To make their 1st withdrawal, traders must verify their identity. Alpari contacts them through their registered email or phone.
Withdrawals: most withdrawal methods do not charge fees. Charges for withdrawing into electronic wallets range between 0.5% and 2%. Bank wire transfers cost EUR 30.
Deposits: The Standard accounts have no minimum deposit. Other accounts require a $300 to $500 minimum deposit.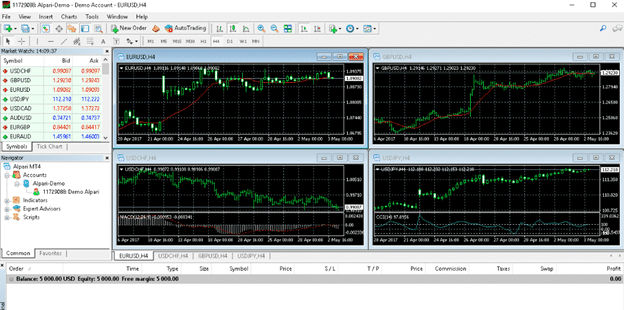 Platforms & Tools
Alpari operates desktop and web-based MetaTrader 4 and MetaTrader 5 platforms. Both platforms provide great flexibility. They include modern and intuitive charting tools and simple navigation.
Platforms: There are 4 Alpari platforms to choose from iOS, Android, Desktop, and WebTrader. These are ideal for beginning traders. For experienced traders looking for higher trade volumes, Alpari's Direct ECN platforms are available. These are ideal for advanced investors. They have several additional features.
MT4 MicroAccount holders access instant order execution, with margin calls at 50% and stop outs set to 30%. The standard MT4 account also offers instant execution, however, margin calls are set at 60%.
ECN accounts offer margin calls of 100%, although pending orders are set at a maximum of 300.
MT4 and MT5 have little to no differences from broker to broker on the surface platform. Some variations occur when setting up account types, execution methods, trading spreads, commissions, or reporting tools.
The differences between Alpari's MetaTrader platform setup and other brokers' are:
Spreads vary depending on the account type for both MT4 and MT5 instruments (ex: USD/EUR).
Fees and commissions are different depending on the chosen platform.
The newsfeed in Alpari's MetaTrader comes from Dow Jones Newswire.
Alpari platforms feature funds offered by the Percentage Allocation Money Management (PAMM). Users select to distribute funds to structured PAMM Portfolios and PAMM managers.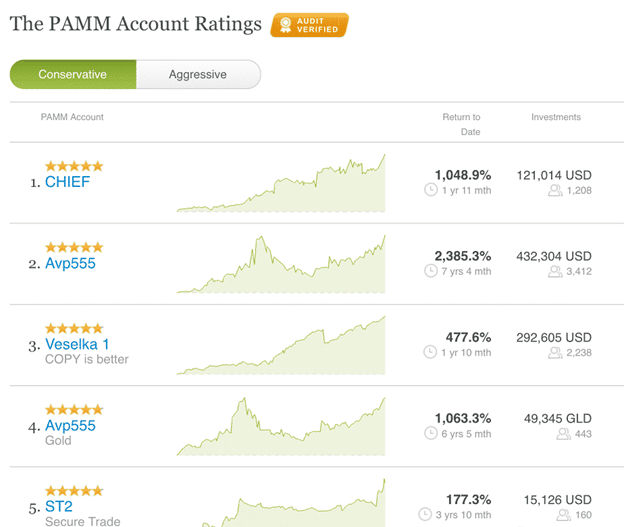 Alpari Platforms & Tools
| | |
| --- | --- |
| Feature | Name |
| Virtual Trading (Demo) | Yes |
| Proprietary Platform | No |
| Desktop Platform (Windows) | Yes |
| Web Platform | Yes |
| Social Trading / Copy-Trading | Yes |
| MetaTrader 4 (MT4) | Yes |
| MetaTrader 5 (MT5) | Yes |
| cTrader | No |
| DupliTrade | No |
| ZuluTrade | No |
| Charting – Indicators / Studies (Total) | 51 |
| Charting – Drawing Tools (Total) | 31 |
| Charting – Trade From Chart | Yes |
| Watchlists – Total Fields | 7 |
| Order Type – Trailing Stop | Yes |
Mobile Trading: Using their MT4 and MT5 platforms, traders have a robust mobile trading experience on all mobile platforms.
The Apple App Store and Google Play offer MetaTrader4 or MetaTrader5 apps. Both platforms are available for iOS and Android. MetaTrader4 app offers features such as chart views and 30 trading indicators. In contrast, the MetaTrader5 app provides financial news updates, market depth information, and a full set of orders.
Alpari Mobile Trading
| | |
| --- | --- |
| Feature | Name |
| Android App | Yes |
| Apple iOS App | Yes |
| Trading – Forex | Yes |
| Trading – CFDs | Yes |
| Alerts – Basic Fields | Yes |
| Watch List | Yes |
| Watch List Syncing | Yes |
| Charting – Indicators / Studies | 30 |
| Charting – Draw Trendlines | Yes |
| Charting – Trendlines Moveable | Yes |
| Charting – Multiple Time Frames | Yes |
| Drawings Autosave – Charting | Yes |
| Forex Calendar | No |
Research
Alpari does not provide in-house research. They make 3rd party tools available to their customers.
Alpari's research content comes from third-party providers, which you can find in the Forex Analytics section. Some of the content includes signals from AutoChartist, Trading Central, and Trading Central TV. Global interest rates come from FxStreet, headlines from FxWirePro, and there is an economic calendar.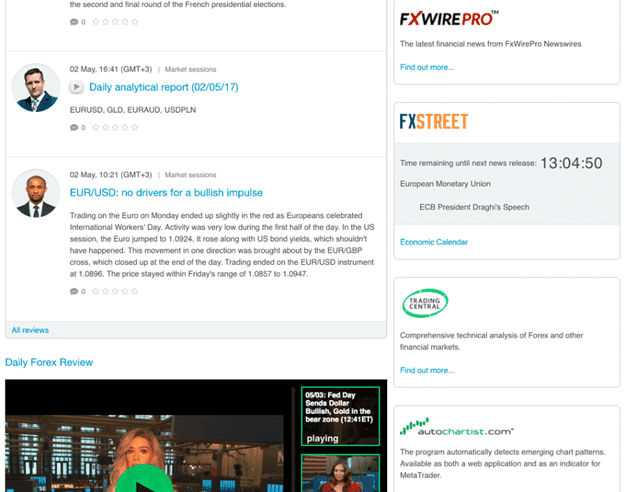 In-House Commentary: Alpari provides information from its team of analysts. Data covers technical and standard analysis. They provide daily videos and/or blog posts. A key drawback, this in-house information is only available on the Russian version of Alpari's YouTube channel. Additional information comes from Alpari Research & Analysis, a research facility based in the United Kingdom. This data comes in the form of live seminars, videos, and market analytics posts. It is available in most areas of the world. ​
Alpari Research
| | |
| --- | --- |
| Feature | Name |
| Daily Market Commentary | Yes |
| Forex News (Top-Tier Sources) | Yes |
| Weekly Webinars | No |
| AutoChartist | Yes |
| Trading Central (Recognia) | Yes |
| Delkos Research | No |
| Social Sentiment – Currency Pairs | No |
| Economic Calendar | Yes |
Education
Alpari offers bare-minimum access to educational resources.
Alpari offers access to a reliable education. It barely exceeds the bare minimum requirement. The only educational information is via third parties. New traders can benefit from Alpari's learn the basics of trading article 'The Beginner's Guide to Trading'.
Customer Service
Customer Service at Alpari is disappointing. Company representatives are unable to answer some questions and occasionally act unprofessionally.
During a recent three-month test, 129 customer service phone checks were conducted. The test analyzed the average response time to reach the customer support team. Results examined representatives' knowledgeable answers. A Net Promoter Score was calculated on the experience.
Alpari Customer Service
| | |
| --- | --- |
| ​Average Connection Time: | <1 minute |
| Average Net Promoter Score: | 6.33 / 10 |
| Average Professionalism Score: | 5.2 / 10 |
| Overall Score: | 6.5 / 10 |
| Ranking: | 26th (43 brokers) |
They provide support through live chat, email, and phone service. Their website can be viewed in 9 languages including Chinese, Persian, and English. The customer support team is based in Mauritius and available 24/5 Monday until Friday. For urgent queries, they open on Sunday afternoons.
Trading Hours: This broker offers the following trading times for various instruments (GMT):
Forex Markets: 00:05:00 until 23:55:00
Forex RUB: 09:00:00 until 21:00:00
Spot metals: 01:05:00 until 23:55:00
Spot commodities: 03:00:00 until 23:45:00 for UK Brent, US Crude and US Natural Gas is open from 01:00:00 until 23:45:00.
Stock trading: 16:31:00 until 22:59:59
Spot Indices for Australia 200, Europe 50, France 40, Japan 225, UK 100, US SPX 500, US Tech 100, and Wall Street 30 are open from 01:30:00 until 23:00:00.
Germany 30 and Spain 35 are open from 09:30:00 until 22:30:00 and 20:30:00 respectively.
Hong Kong 50 is open from 03:45:00 until 18:30:00.
Cryptocurrencies:

Bitcoin vs USD, Ethereum vs USD, and Litecoin vs USD are open from 00:05:00 until 23:55:00.
Ripple vs USD market is open from 01:00:00 until 23:45:00.
Banking
Alpari does not own a bank and is not traded publicly.
Closing Argument
Alpari is a high-risk broker with an easy sign-up process and low margin requirements. Investors can easily select from several account types. Their MT4 and MT5 platforms provide investors with many choices of execution types, markets, and available spreads. Alpari offers excellent trading conditions that appeal to beginners and highly experienced traders. They make financial markets available to even the smallest investors with a deposit minimum of 5 EUR. Benefits for advanced or professional traders include improved spreads, a loyalty scheme, and the ability to become a Strategy Manager and share in the volume of trades created.
Alpari offers high value to traders through extremely low forex margin requirements. Their PAMM portfolio and managers help investors meet their passive and self-directed needs.
Alpari would benefit from an additional regulatory license in a leading financial hub, besides Russia. This broker had UK and US-regulated entities in the past. The UK entity was closed due to Swiss Franc anomalies in 2015. The US entity closed when the US forex market consolidated.
About Alpari International
Founded in Mauritius in 1998, Alpari International became an important platform within the trading industry. The current refreshed brand was introduced in 2013. This began a new and exciting chapter for the group. With 20+ years in the market, Alpari International has grown across the world. They have more than 2 million+ clients and aim to offer a modern and dynamic platform for every trader. Their easy-to-use website and range of 250 trading instruments opened the brand to traders of every experience level.
Alpari accepts traders from Australia, Thailand, United Kingdom, South Africa, Singapore, Hong Kong, India, France, Germany, Norway, Sweden, Italy, Denmark, United Arab Emirates, Saudi Arabia, Kuwait, Luxembourg, Qatar, and other countries.
Traders cannot use Alpari from United States, Ukraine, Georgia, Japan, Russian Federation, Canada, Moldova, New Zealand, Haiti, Suriname, Azerbaijan, Turkmenistan, Uzbekistan, Armenia, Kazakhstan, Belarus, Tajikistan, Kyrgyzstan, Mauritania, and North Korea.