There are many financial advisors on the market offering services to UAE client and its normally hard to separate the wheat from the chaff. The safest way to choose a financial advisor is by looking at their experience and professional background and comparing this with the financial advisory services you seek for your personal situation. Most people underestimate the needs for financial advisory and think that its only for wealthy people and big companies.
Our experience has thought us that its advisable to hire a financial advisors if you have a lot of disposable income, inherit funds from a family member, or whenever you want to build up your retirement funds. The most important things a financial advisor helps you with is building and protecting your capital and assets. There are more reasons to hire a financial advisor, which we break down in the guide below:
Why Would You Hire a Financial Advisor in UAE?
The most common reasons for people to hire a financial advisor in the UAE are:
Tax guidance
Nearing retirement
Help with investments
Financial situation is too complex to solve by yourself.
As every personal situation is unique and so are the reasons to hire a financial advisors. We cover the reasons into more detail below:
1. Your Financial Situation is Too Complex
If your financial situation is too complex to handle by yourself and you cannot find any solutions, it is wise to hire a financial advisor.
2. You Need Help With Investing
Every UAE investor should diversify his or her portfolio to avoid volatility and overexposure to a certain asset or asset class and maximize the income generated by their retirement funds. You want your portfolio to be stable, even during a bear market or when geopolitical events occur that impact the value of your investments. A financial advisor can help you diversify your portfolio and make sure you're not overexposed to certain sectors, markets, or assets.
3. You Need Tax Guidance
Although there is no capital gains tax levied in UAE, you could live abroad in a country where you have to pay such taxes. A financial advisor can assist you with your financial reporting and use professional bookkeeping to reduce your payable taxes.
4. You Can't Control Your Emotions Whilst Investing
When your stocks or other investments decline in value, it can be hard to control your emotions and not sell them at a loss. On the other hand, many investors think they can beat the market over a long period of time, whilst active trading can lead to downfalls. A financial advisor can help investors with their investment decisions without getting emotionally involved.
5. You're Nearing Retirement
It is more difficult to manage a retirement portfolio than a pre-retirement one because your portfolio is your only source of income when you are retired. You will need to actively manage your risk versus return to keep your portfolio healthy. A good financial advisor assists you and plans ahead of various scenarios so that your portfolio stays safe and you take less risk. It is good to have a professional assess your portfolio, especially when you are about to retire and become dependent on it as your only income source. Apart from your retirement funds, you should review your expenses like medical and insurance costs.
Related: Check out our list of the best financial advisors in UAE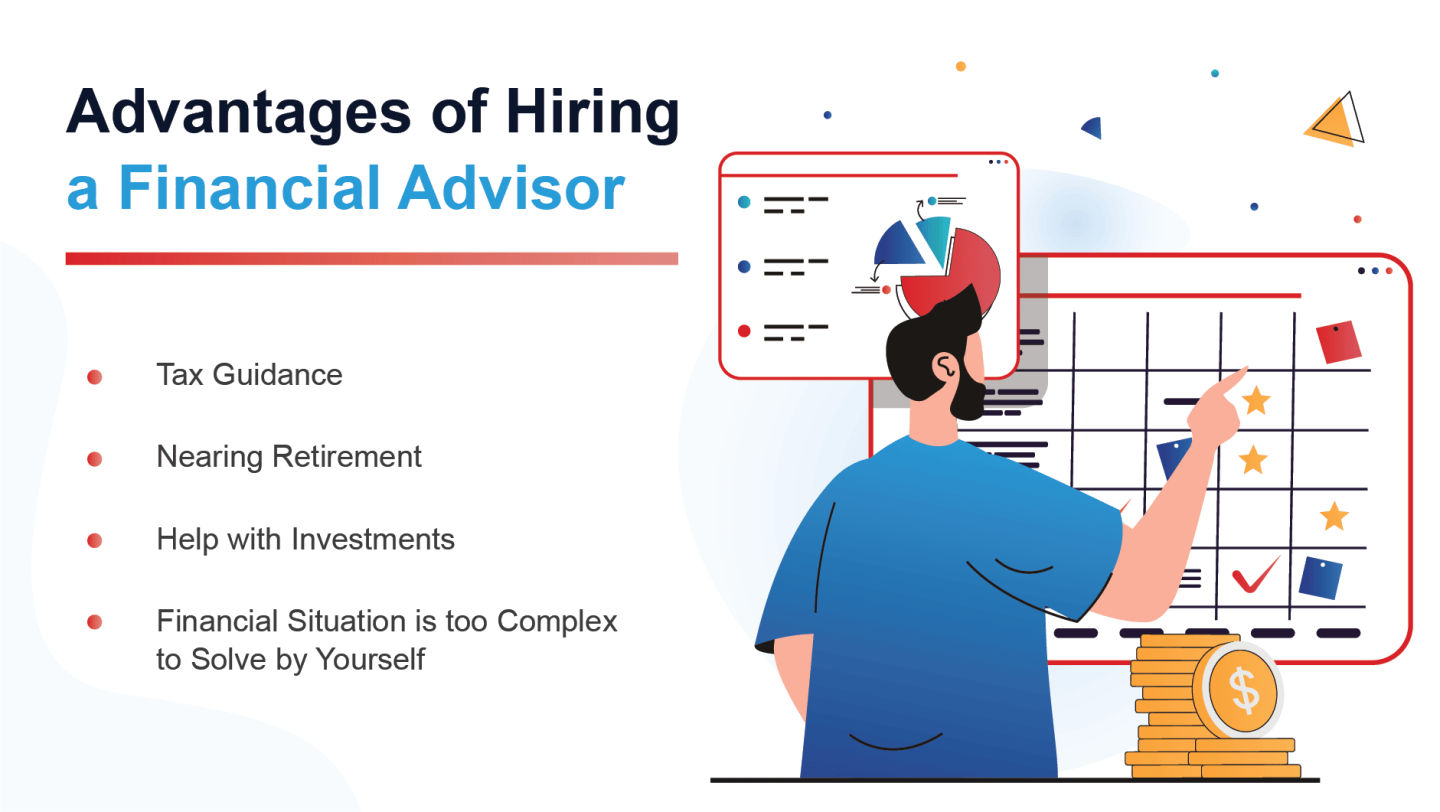 What Services Do Common Financial Advisors in UAE Offer To Its Clients?
UAE financial advisors can offer you investment advice, debt management services, retirement planning, tax planning, estate planning, long-term financial care, and help you with budgeting and saving for college.
The list below explains what financial advisors offer in more detail:
Investment advice – Financial advisors help you make the right investments according to your investment goals and risk appetite. Whenever unexpected things happen, they make sure you stay on track and your investments keep growing.
Saving for college – A financial advisor can help you save money for tuition fees for your children or family members.
Debt management – Financial advisors can help you pay your current debt and stay debt-free for the long term.
Budgeting – A financial advisor can help you save for a house, car, or other goals with personal savings strategies and advice.
Retirement planning – With the help of financial advisors you can enter retirement with a decent amount of funds and make these funds generate an income for you.
Estate planning – Financial advisors can assist you with the transfer of funds to family members or charities so that your money gets put to good use.
Long-term care – You can make sure your long-term health care and insurance fit within your budget with the help of a financial advisor.
Tax planning – With financial advisors you can take advantage of tax savings by donating to charities, harvesting tax losses, and other techniques.
Do You Need a Financial Advisors or Robo-Advisors Explained? Difference Explained!
The differences between financial advisors and Robo-advisors are their fees, services, and investment options. A Robo-advisor is a software or app that trades the financial markets on auto-pilot for you and it cannot offer personal financial advice.
Fees – Most financial advisors charge an annual management fee or on a transaction basis. You can expect to pay them 1% to 2% of your portfolio value. Robo-advisors charge only 0% to 0,25%.
Services – Robo-advisors can trade the financial markets but cannot offer financial advice, or help you with tax planning, estate planning, debt management, or budgeting.
Investment options – Robo-advisors often offer ETFs and prebuilt portfolios whilst financial advisors offer specific stocks, mutual funds, and other financial instruments to their clients, based on their individual investment goals.
Quick Steps To Find The Right Financial Advisor in UAE Based On Your Needs?
There are seven simple steps to follow when you are searching for a financial advisor in UAE:
Find a real fiduciary
Check their licence
Check their level of professionalism
Check their reputation
Hire fee only advisors
Hire coherent advisors only
Hire a goal oriented investor
The below section breaks down all of the steps you need to follow when choosing a financial advisor in UAE, starting with the first – finding a real fiduciary.
Step 1: Finding a Real Fiduciary
It can be hard to find a real fiduciary because the legal guidelines surrounding the matter are unclear in the UAE. Any financial advisor can say that he or she acts in your best interest whilst not being a real fiduciary.
A good way to test a financial advisor is to ask whether they would advocate for you. If they would, you know you found a good financial advisor that you can trust on more than his or her credentials and words.
Another important thing to do is to check whether the financial advisor invests in its ongoing education. Many laws in the UAE change frequently and you want your financial advisor to be up-to-date at all times. You shouldn't invest with a financial advisor that doesn't know the current laws as this could end up being an expensive mistake.
Step 2: Checking Their License
In the UAE there are 3 regulatory bodies overseeing the finance industry: the Insurance Authority (IA), the Securities and Commodities Authority (SCA), and the Dubai Financial Services Authority (DFSA) which you can consult to find out if a financial advisor has a valid license.
Insurance Authority – This organization regulates the insurance industry in the UAE. Visit this site to check whether a financial advisor is IA-registered.
Securities and Commodities Authority (SCA) – This organization regulates and oversees the UAE financial markets. It makes sure no insider trading happens and protects investors. Every company that wants to offer financial services in the UAE needs to obtain a license from the SCA. In the SCA register, you can find all licensed financial advisors, filed complaints and banned financial services companies.
Dubai Financial Services Authority (DFSA) – This institution oversees all companies and individuals operating within the Dubai International Financial Centre (DIFC). You can check the public register of the Dubai Financial Services Authority to find out if a financial advisor is DFSA-approved. Visit https://www.dfsa.ae/public-register/firms and type in the name of the financial advisor or financial advisory company to find out if it has a valid license to offer financial advice in the UAE.
We recommend asking your (potential) financial advisor or fiduciary if it has a license from one or more of these regulatory bodies. The best financial advisor should have a license with at least one of these institutions.
Step 3: Checking the Professional Qualification of a Financial Advisor in UAE
If you want to hire the best financial advisor as UAE resident, you should always check the advisor's credentials before hiring. It is important that you make sure the financial advisor can do what he/she promises when it comes to your personal finances. The best financial advisors in UAE are graduates in economics or finance. They should have all the capabilities and degrees to be an accountant, business analyst, auditor, or insurance agent.
At the moment there are no laws in place for someone to be a financial advisor in the UAE. For this reason, it is important to ask for some form of proof of the qualifications of the financial advisor. A good financial advisor can provide you with this proof easily.
Step 4: Looking Into the Reputation of a Financial Advisor in UAE
Apart from the professional qualifications of a financial advisor you also want to check their reputation. We recommend always doing a background check on the internet and asking previous clients how their experience with the financial advisor was. You can find out their reputation by using Google to search for ratings and client reviews.
Linkedin and other social media platforms can be good sources of reliable information regarding the reputation of a financial advisor as well. Remember that there can still be false information about the financial advisor online.
The best financial advisors allow you to contact their previous or existing clients to ask about the quality of their services. You should ask them whether the financial advisor earns commissions on insurance sales and stock transactions and whether the financial advisor is affiliated with financial companies that offer proprietary products.
Step 5: Only Hire Fee-Only Advisors
To avoid conflict of interest you should hire a financial advisor that is only paid a fee by you. The reason for this is that if the financial advisor receives a kickback on financial products offered to you, you are overpaying for your investments. The best financial advisors should do what is best for you and not what is in their interests.
Alternatively, you could hire a financial advisor on a per-hour basis. This is the best if you are a higher-net-worth individual because you don't pay a fee based on how much capital you have. You can see such a financial advisor once a year to check if everything is still going as planned or to discuss any changes in your financial situation or goals.
Step 6: Hire a Coherent Financial Advisor
The best financial advisors in the UAE can explain everything clearly to you. If you cannot understand your financial advisor because he or she is using too difficult wording, hire a different one as you cannot build a healthy relationship with such a financial advisor.
If your financial advisor is trading a lot on your account, charges unexplainable fees, or offers you products and cannot tell you why you should hire a different financial advisor. There are financial advisors that make money without telling you how so you must be sure to only hire a coherent financial advisor that can tell you exactly what you're paying for.
Step 7: Hire a Financial Advisor That Helps You Achieve Your Goals
The best financial advisors in UAE are competent, humble, and have empathy with empathy being the most important characteristic. Financial advisors should understand their client's needs and should comfort them at all times.
It is important that a financial advisor listens to you and doesn't only tell you what to do, but also stimulates you in achieving your financial goals. Financial strategies on paper should be performed for real and a good financial advisor should establish trust and guide you every step within this process.
When the stock market crashes or when something bad happens in your life, your financial advisor should aid you and keep you on track to achieve your financial goals. The best financial advisors have a steady voice of reason and make sure you don't make expensive mistakes based on emotion.
Quick Questionnaire to ask a financial advisor, which will help you to separate the wheat from the chaff!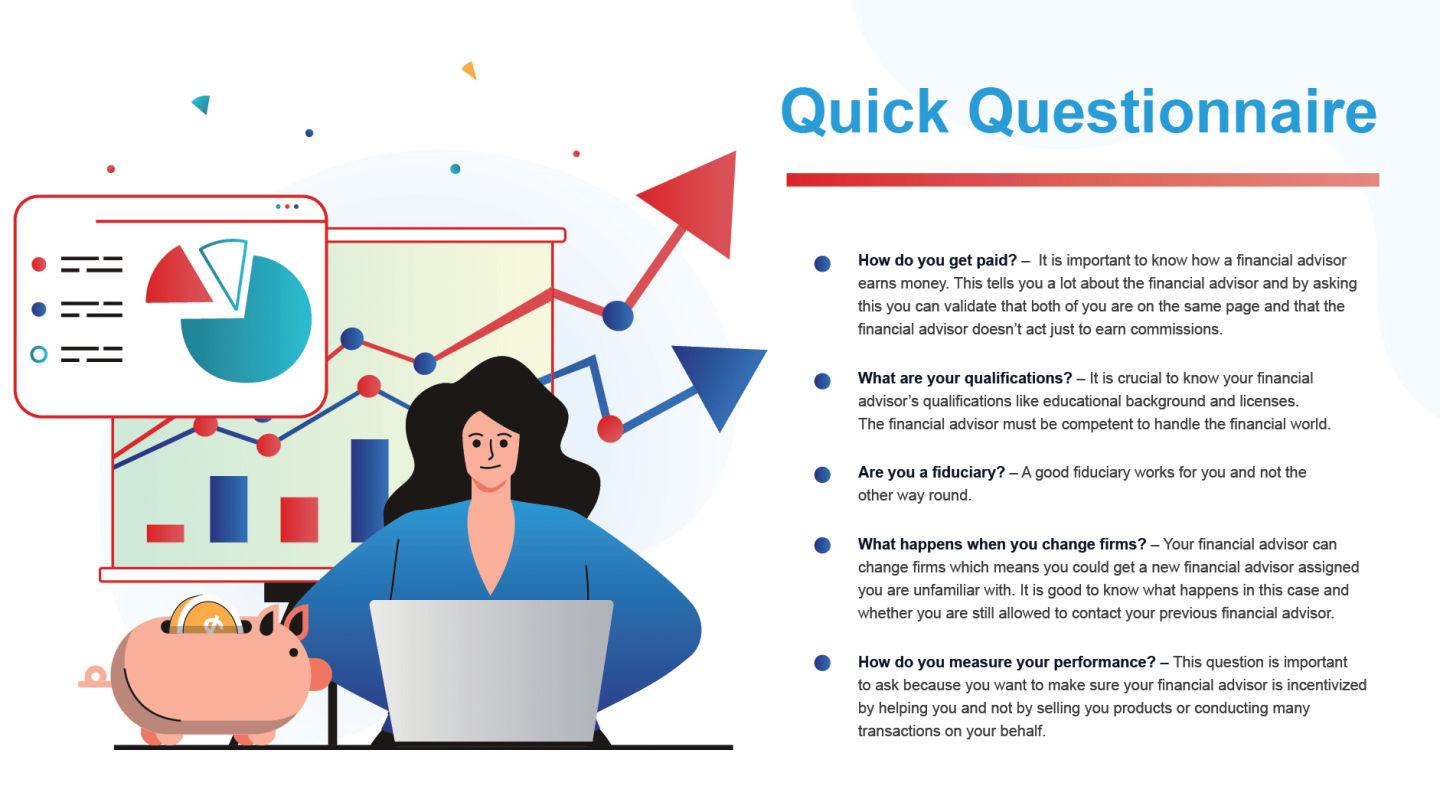 Below are the most important questions you need to ask a financial advisor in UAE before hiring him:
How do you get paid? – It is important to know how a financial advisor earns money. This tells you a lot about the financial advisor and by asking this you can validate that both of you are on the same page and that the financial advisor doesn't act just to earn commissions.
What are your qualifications? – It is crucial to know your financial advisor's qualifications like educational background and licenses. The financial advisor must be competent to handle the financial world.
Are you a fiduciary? – A good fiduciary works for you and not the other way round.
What happens when you change firms? – Your financial advisor can change firms which means you could get a new financial advisor assigned you are unfamiliar with. It is good to know what happens in this case and whether you are still allowed to contact your previous financial advisor.
How do you measure your performance? – This question is important to ask because you want to make sure your financial advisor is incentivized by helping you and not by selling you products or conducting many transactions on your behalf.
Conclusion
Choosing the right financial advisor in UAE isn't as straightforward as working with the person a company assigns you. You need to find the best financial advisor for your personal financial situation and goals. In this guide, we have discussed what to look for and which questions to ask your potential financial advisor before hiring. In the end, choosing the right financial advisor will benefit you for the rest of your life.