IG Trading is an excellent choice for both: market professionals and small traders
Founded in 1974 and currently the number one CFD provider, IG Trading has a market capitalisation over GPB 3.1 billion and is a member of the UK FTSE 250. They boast an excellent reputation in the industry with more than 40 years of experience, competitive fees, and extensive product library. In the US market, IG competes with only two other brokerages in this area.
Many brokerages attempt to hide fees in the fine print of their agreements, but the IG group does not. Their website is easy to navigate and well-organized, provides full disclosure of services and fees, and it complies with the regulations set out by the ESMA (European Securities Market Authority) and has reduced leverage for CFDs and Forex. Also, they provide a client loss disclosure and require negative balance protection. For example, IG now discloses that more than 80% of investors lose money when participating in CFD trading. As a result of the ESMA, it appears that the IG group may alter some account designations to provide more accurate results. For now, this brokerage is in the process of upgrading qualified retail clients to a designation of "professional." This allows for higher leverage and direct access to the foreign exchange interbank system.
Pros
1000s of markets
MetaTrader 4 for Windows and Macintosh (industry standard)
Guaranteed stop losses
High-end platforms
Cons
No social trading platform
Fees for dormant accounts
Possible subscription and exchange fees
Restricted trading of Forex on interbank
Trust
This brokerage is regulated by the Financial Conduct Authority in the United Kingdom and the Australian Securities and Investment Commission. While no extra insurance is provided, traders from the United Kingdom are given default protection of GBP 50,000 via the FSCS (Financial Services Compensation Scheme). However, there is an increased risk during a possible bank default because the fine print allows for clients to have funds outside of the local jurisdictions.
IG group utilizes a desk for counterparty dealing, which raises questions on conflict of interest. However, guaranteed stop losses are now required under ESMA regulations for an additional fee, and higher clients have direct access to the interbank system through IG group's MetaTrader 4.

Desktop experience With IG Trading
Included with a wide variety of platforms and interfaces, IG Trading provides the industry standard MetaTrader 4. After meeting requirements for monthly trading activity, clients are allowed to upgrade for free to ProRealTime, which offers advanced market charting. The web interface provides tools for essential risk management, including stop losses, ProRealTime charts, Reuters news, and price alerts in real time.
Via the IG group API interface, high-end clients can connect the MetaTrader 4 to their software or a Bloomberg terminal. They're also provided DMA (Direct market access) for Forex and CFD shares through L2 Dealer. However, to give access to the Forex Direct service, clients must have a designation of "professional" under ESMA rules. The only fees charged in these situations are exchange fees.
Mobile Experience
Price alerts, customized watch lists, and technical charting are all available through IG's dedicated Android and iOS apps. The Trade menu lacks conditional orders, but clients can make guaranteed stop and trailing losses. The apps also provide a useful and comprehensive indicator list. However, that list is not part of the main menu structure, which makes it difficult to access when needed. Another menu, called "Signals," displays buy and sell signals from specific third parties. All apps on all platforms are not very customizable, but on IOS, Face ID and Touch ID are available, providing a level of security that is more robust than the MetaTrader 4.
Research tools and insights
IG Group provides comprehensive news, research, and an educational portal via its DailyFX.com. The educational portal alone offers hundreds of market topics from fundamental analysis to intermediate technical tools all explained and taught by in-house analysts. Frequent live webinars are geared toward improving the skills of traders and highlighting the key events and news catalysts. Major currency pairs are also analyzed and covered in real-time news by IG group. Trading Strategies, a section on the daily FX website, provides pivot points, analyst pics, buy and sell signals, and a significant amount of other technical data.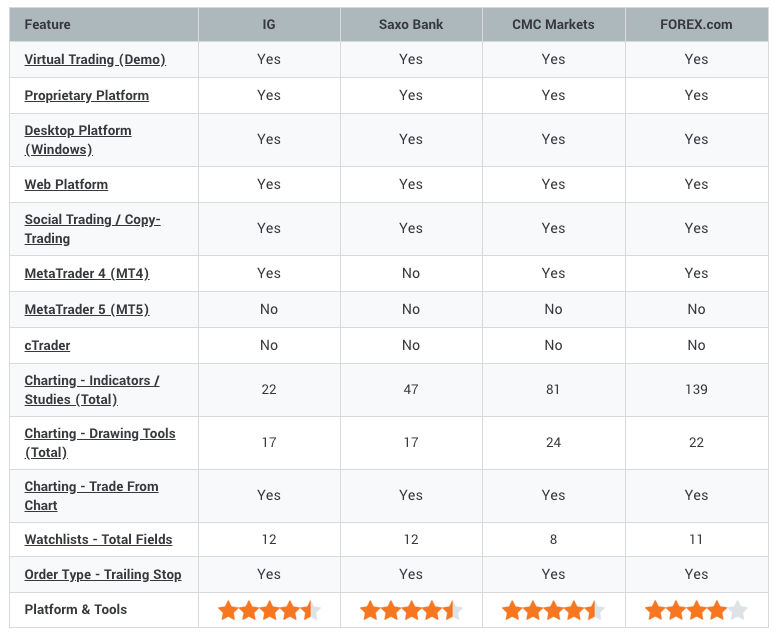 Education
IG group also offers the impressive DailyFX Forex University which provides a comprehensive variety of technical and Forex topics. Also, the IG academy provides its educational resources that cover spread betting and Forex in addition to CFDs. The content available in the IG academy is slightly more broad than the forex university, but it is beneficial and provides differentiation between advanced, intermediate, and beginner levels. The IG Academy mobile app also provides clients with access to articles and courses. Many clients may never know that the excellent DailyFX.com is available because the integration to the main IG website is unclear.
Special features
While IG does not have its own dedicated third-party social platform, the IG community site contains blog posts, trade picks, and active forums. Beyond that, IG is active on Twitter through the handle @IGSquawk wear IG dealers share client sentiment and news. Even though the broker site provides very little data on clients sentiment, daily FX.com provides useful data through its IG clients sentiment portal where clients can find real-time information related to forex positioning.
To avoid catastrophic losses, IG provides guaranteed stop losses for most markets. However, the order requires an extra fee on top of the commissions and spreads that are already in place. All accounts are provided access to the IG Smart portfolios, which are an investment basket that includes savings accounts, retirement programs, as well as low-fee ETFs. Moreover, clients identified as "professional" will benefit from DMA (direct market access).
Investment products
IG group has many Financial instruments available in their catalog, including indices, commodities, currency pairs, and shares. Fees are identical (with exceptions) for spread bets and CFDs and both futures and options are available on almost every instrument. Major, minor, and exotic currency pairs are all possible, and futures contracts and spot markets can be used to trade commodities. There is also clear documentation about the differences between spread betting and CFDs.
IG requires £250 to open an account. For large Forex volume, there is an effective rebate program. Lending and margin rates are average. Inactive accounts Face severe fees, and there are no fixed trading account tears other than professional versus retail.
IG also offers six different cryptocurrencies, including Bitcoin and Ethereum.
Fees and commissions
With a .75 pip average spread, fees, commissions, and spreads are competitive at IG Trading. However, trading during off-market hours significantly increases potential fees.

Customer support
IG provides customer support through email, phone, social media, live chat, as well as a comprehensive FAQ to support client interactions. Phone support is available from 8 AM Saturday morning to 10 PM Friday evening. There is also a highly functional client complaint procedure that assists in finding a solution when a grievance is identified.
What do you need to know
For both market professionals and small traders, IG offers an excellent service that includes thousands of trading instruments, competitive spreads, and a state-of-the-art educational portal through which research and news are continuously available. Customers can choose from a wide variety of stocks, commodities, CFDs, and options that assist in building equity. However, client profitability rates are concerned as recent information indicates that clients who use this broker are slightly less profitable than the industry standard.
Compare IG
If you're interested in Forex trading, IG Trading is an excellent solution. Find out how they stack up against other online brokers.
Plus500: Click here to rad the review
IQ Option: Click here to rad the review
eToro: Click here to rad the review
AvaTrade: Click here to rad the review
CFD Global: Click here to rad the review
Interactive Brokers UAE: Click here to read the review