In A Nutshell
Charles Schwab offers a full-service brokerage. It is the pioneer in the industry in terms of fees because it has eliminated many common fees. It removed the ETF and equity commissions once the founder's book: "Invested" appeared. Charles Schwab owns both TD Ameritrade and the USAA's Investment Management Co.
This is a transparent and reliable broker because:
It is one of the best ETF screeners and ETF

broker

It has many services and tools for all levels of trading experience

Its mobile and web platforms come with all the features shown in the desktop version

Its clients can increase their returns on uninvested cash
Charles Schwab Review & Insights
Charles Schwab is a great choice for both active traders and self-directed investors. It is a full-service investment firm with access to the latest technology in the industry. Customers receive portfolio management and investment advice. The advantage is that futures traders use a separate account with access to all assets.
Pros
Reliable ETF Screener on StreetSmart Edge
Outstanding customizability on StreetSmart Edge
Mobile apps and web platforms feature similar functionality
Cons
No automatic cash sweeps
Limited ETF screener on the website
Almost all derivatives tools are on StreetSmart Edge
Advantages Explained
Charles Schwab offers an ETF screener via

StreetSmart

Edge with 150+ screening criteria. These include asset class, fund performance, regional exposure, Morningstar category. You can view and export your results depending on your preferences.

The

StreetSmart

Edge platform has great customizability for the tools you use.

This broker concentrates on improving their services. It bought

optionsXpress

to merge the technology, offering premium experiences for its customers. Charles Schwab's platforms have a similar appearance.
Disadvantages Explained
The disadvantage is the absence of an automatic sweep for uninvested cash. This broker's base interest rate is low. You can receive more interest on cash, but you'll have to move the money back when you want to trade.

The ETF screener on the website is basic when compared with the one in

StreetSmart

Edge. The fixed revenue and mutual fund screeners are old.

Most of the

derivative trading

tools are available on the

StreetSmart

Edge platform. But if you want to trade equities, you'll have to use the basic tools on the website.
1. Fees and Spreads
Charles Schwab is one of the first brokers to join the zero fees policy.
It has no fees for ETF, online equity, and OTCBB trades

It has no per-leg commission on options trades. It charges $0.65 per-contract

The cost for ordering 50 options contracts is $32.50

The cost for a covered call trade of 500 shares and

five

contracts is $3.25

The fee for mutual funds outside the No Transaction Fee program is $49.95

There is no fee for new

fixed-income

. But there is a $1 fee per bond for secondary market trades

The margin interest starts at 9.325% for $10,000 and can get as low as 7.825% for more than $100,000

The fee for futures transactions is $1.50 per contract

The fee for currency exchanges is 1% for under $100,000 and 0.2% for more than $1 million

This broker has no fee for account closure, transfer, or inactivity. Sending/receiving wires, checks, paper statements, and trade confirmations are free of charge

The fee for live broker per trade is $25

Most trades come with exchange fees. These represent fractions of a penny per share or contract
Charles Schwab adheres to the zero-policy fee. It focuses on transparency and the best standards for its customers.
Interest on cash balances: this broker doesn't automatically sweep uninvested cash. So, the base interest rate is low. But you'll have to move your money several times to receive a better rate

.

Payment for order flow: this broker gets $0.0009-$0.0030 per share via market makers that handle its orders

.

Stock loan programs: clients can join a stock loan program. The downside is that you can't select which stocks to loan. You can only analyze the predictions of potential income on Schwab's website

.

Price Improvement: Charles Schwab offers price improvement on options trades and equities

.

Portfolio margining:

This

decreases the margin required depending on the calculated risk. It functions best for clients trading derivatives. These reduce the inherent risk in equity positions

.
Schwab lets its clients trade available asset classes on mobile and web platforms. Futures traders need to use a separate account. The downside is that cryptocurrency trading isn't available.
This broker offers useful information for trading stocks. Short sales depend on the shares available for loan at the time you enter the trade. Hard-to-borrow stocks are unavailable to short. Each short position comes with an annualized cost of borrowing the stock. It is a unique feature you won't see with other brokers

.

OTCBB (Penny stocks)

This broker offers access to more than 16,000 mutual funds. Around 4,000 come with a transaction fee

.

Treasury, corporate, municipal, CD, international, new issues, and secondary markets bonds

Commodities/Futures

Futures options

7 forex currencies

Fractional shares of stocks with a starting cost of $5 per buy
This broker has a robo-advisor integrated into the mobile app and website platform.
International customers can use cash conversion and buy stock in the local market. They can trade online equities in 12 non-US markets depending on local currencies:
Australia

Canada

United Kingdom

Hong Kong

Japan

Norway

Many European exchanges
This broker has a proprietary wheel-based router for order management. It handles exchange outages, volatile markets, and real-time execution. But there is no trading simulator for Schwab's customers. You can't automate or backtest a trading strategy.
2. Account Types
Charles Schwab has several account types with a simple sign-up process. You can fund an account in a browser or on a mobile device. The website navigation features two-level menus with several choices. It can be confusing for inexperienced traders.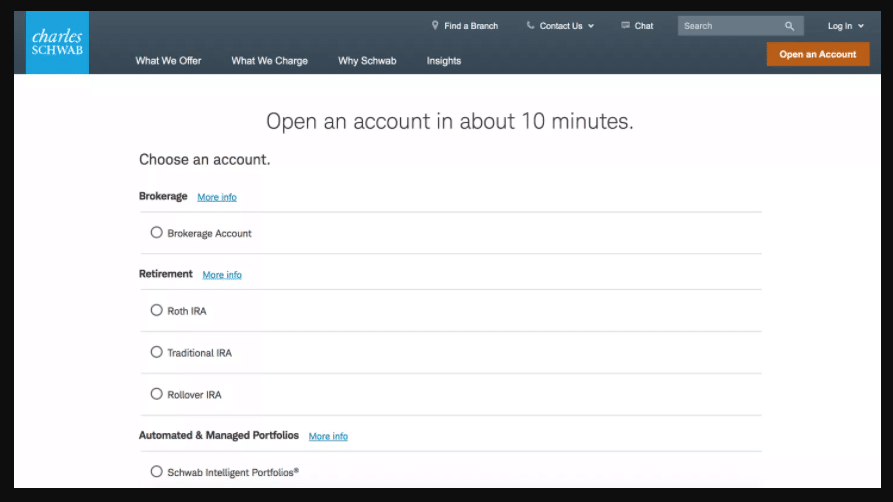 Some of the features of this broker's accounts include:
Clients can use portfolio margining

.

Eligible customers can use the stock loan program. It can help them earn money when short sellers borrow their stock

.

Cash balances have low-interest rates. Customers can move excess cash into a money market fund, too. There is no automatic sweep program. So, customers have to ensure their accounts have enough funds

.

Clients can choose to join a dividend reinvestment program when buying a stock

.
You connect non-Schwab accounts for a clearer picture of your finances:
Investment accounts

Bank accounts

Credit cards

Mortgages

Loans

Real estate from over 15,000 financial institutions
It is an excellent feature. It lets you analyze the combined information of all your accounts. The charts make it simpler to determine your investments and financial status.
We like the Schwab Portfolio Checkup Tool. It allows you to look at your investments and calculate the rate of return. All information is in real-time. But you can't establish your expected income from dividends and interest.
Schwab has a free digital financial planning tool, Schwab Plan. It is useful for keeping track of your finances and retirement goals. It can aid you in evaluating your decisions after a trade.
3. Trading Platforms
This broker's trading experience is all about the All-In-One Trade Ticket. The All-In-One Trade Ticket is an order entry most investors know. There are useful learning resources to help you understand it. The downside is that futures trades are part of the StreetSmartCentral. The All-In-One Trade Ticket functions across Charles Schwab platforms. This includes Trade Source and StreetSmart Edge.
The website platform can feel bulky. It has a tiered menu that can be hard to read. But the broker aims to repackage the website functions to make it more user-friendly.
The website offers fewer customization opportunities. The Trade Source is simple to use and has a selection of stock streaming data. We like the research capabilities due to their user-defined alerts.
Schwab lets its customers trade fractional shares of stock via Schwab Stock Slices. With this tool, investors buy fractional shares in up to 10 publicly-traded companies. This action comes with no commission if done in a single transaction.
The downloadable StreetSmart Edge is customizable. It offers to active traders: workflows, trade alerts, and improved trading experience. You can use StreetSmart Edge in the cloud. But for this, you'll need a third-party app, Citrix. The downside with StreetSmat Edge is the lack of screeners. Not all screeners available on the website are available in the mobile app.
Trade Source has the cleanest interface and reliable visual representation. But both Trade Source and StreetSmart Edge are straightforward.
4. Mobile Trading
Charles Schwab's mobile app is like the website. The workflow is simple to understand and intuitive. All asset classes are available in the app, and you can submit conditional orders.
We like that the watchlists are the same on all platforms. If you use the downloadable version of StreetSmart Edge, you can save watchlists on a device.
The news feed in the mobile app is good. The downside is that fundamental research is light. The charting function offers a wide range of technical indicators without drawing tools.
5. Research
Charles Schwab has an impressive research offering. It includes flexible screeners for most asset classes, tools, and calculators.
Equity Screeners

The Screener Plus on

StreetSmart

Edge offers:

Real-time data

Filtered stocks depending on fundamental and technical criteria

Technical signals from

Recognia
The website screen has MSCI ratings and 120 other criteria. It includes equity ratings and 15 data points for dividends.
The ETF screener on StreetSmart Edge comes with more than 150 screening criteria:
Asset class

Morningstar category

Fund performance

Top ten holdings

Regional exposure

Distribution capabilities
You can customize 16 predefined screeners. You can export and view the results via seven distinct standard views. The ETF screener is available for customers using StreetSmart Edge and prospects.
Mutual Fund Screeners
The mutual fund screeners are basic due to the outdated interface. The standard screener has sixteen criteria and the advanced one 60. You'll receive ten predefined screens. It is available for both customers and prospects.
Options Screeners
The website offers customizable, predefined screeners. But these look outdated and offer little to no help. You can use some probability tools and options pricing.
Fixed Income Screeners
Customers can look for:
agency

municipal

treasuries

treasury zeros

certificate of deposits

mortgage-backed securities

secondary market corporate
Tools

And

Calculators
The website has calculators for:
income guidance

retirement

tax efficiency

margins

portfolio mix
You can use professional options and stock strategy selections.
Trading Idea Generator
Charles Schwab purchased optionsXpress. This came with Idea Hub, an interesting feature for options trading ideas. You can use it on StreetSmart Edge.
News

And

Research
This broker has the best news and research offerings. It provides free access to news feeds from:
BondSource

MarketEdge

Schwab Investing Insights Brief

Argus Research Alerts

Briefing.com

M

orningstar Equity Research Alerts

Business Wire

PR Newswire

Credit Suisse

CFRA

Vickers Insider Activity
You can use premium third-party research available at a good price:
Briefing. Com premium services

Investor's Business Daily

MarketEdge

Platinum

Trader's Library

XTF ETF Experts

Wiley Trading Bookstore

StockCharts.com

Fly on the Wall

Quantcha

Options Play

Technical Analysis

And

Charting
StreetSmart Edge charts feature Recognia recognition tools. The website has basic charting, while the StreetSmart Edge platform is for professionals. You can save your preferences, studies, settings, and layouts. Charting in mobile apps have several technical indicators but no drawing tools.
6. Education
Investor education is a top priority at Charles Schwab. Every year, this broker invests millions of dollars in top-quality educational resources. Some of the resources they offer include:
Schwab Live Daily broadcasts

Research via the Schwab Center for Financial Research

Articles on the Insights & Ideas page

s

Webinars

In-person events
The Schwab Live feature has up to 5 hours of daily live videos. These are accessible on the StreetSmart Edge platforms and the web. On the website, you can check diverse educational content. The Education Center has all the archived webinars by topic.
Schwab's Knowledge Center functions as a glossary and FAQ section. The life stage planning tools are in the Intelligent Portfolio of the website.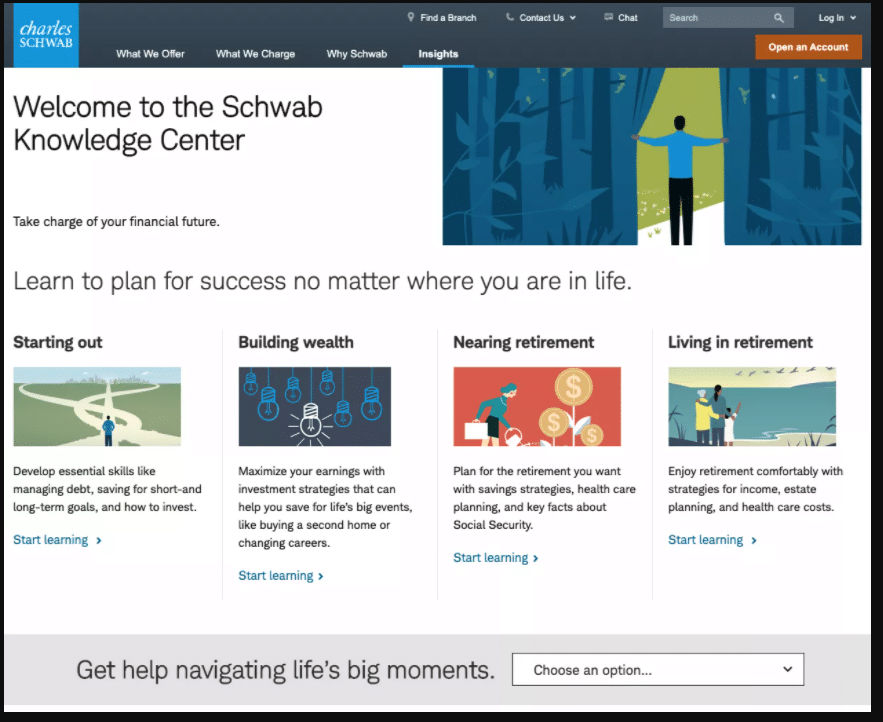 7. Customer Service
Schwab says the average wait time for retail clients calling support is 22 seconds. They are responsive to complaints on Twitter. But they encourage clients to send a direct message for a private discussion.
It has 24/7 customer support available by phone

It offers an online chat with a Charles Schwab representative

It allows you to discuss with a live broker
8. Safety
Charles Schwab has the best security standards in the industry.
The mobile app has a biometric recognition log in

Both the mobile app and website have risk-based security technology and encryption. It prevents unauthorized access to your account

Customers can request two-factor authentication

Customers can get Securities Investor Protection Corporation insurance. Lloyd's of London offers this insurance at $149,500,000 per account. Also, it has a total of $600 million for uninvested cash

This broker encourages its clients to contribute to their online security

There was no important data breach reported by the Identity Theft Research Center
The Bottom Line
Charles Schwab is one of the leading online brokers. It offers several services and tools to its customers. Its mobile apps are some of the best in the industry, and its security measures are top-notch. This broker encourages its clients to work with an advisor: robo or human. Investors and self-directed traders can use Trade Source and StreetSmart Edge platforms. Charles Schwab is an excellent choice for most traders. But they could offer automated sweep features for uninvested cash.