Decentralized finance (DeFi) is the direct trading of financial instruments between users using smart contracts on a blockchain. DeFi exchanges allow users to trade, borrow and lend cryptocurrencies. Some DeFi exchanges offer staking systems. Users can earn interest on their crypto by participating in staking. The decentralized finance market has a market capitalization of more than $100 billion.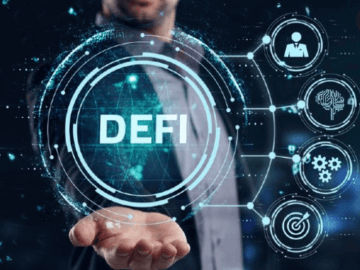 Centralized exchanges use order books to match buyers and sellers of cryptocurrencies. Examples of centralized exchanges are Coinbase, Binance, and Huobi. Decentralized exchanges only use smart contracts. This enables users to trade cryptocurrencies peer-to-peer, without the involvement of a third party. Most decentralized exchanges use the Ethereum blockchain.
Disadvantages of Decentralized Finance
The disadvantages of decentralized finance are that it relies on smart contracts to work, which can be faulty. Added to this, blockchain transactions are irreversible. This means there is no way to intervene when an incorrect or fraudulent DeFi transaction takes place.
Advantages of Decentralized Finance
The advantages of decentralized finance are that it nullifies exchange fees and increases the privacy of users. The code behind decentralized apps is open-source. This means everyone can see the code and improve it.