In A Nutshell
eOption is one of the most transparent brokers on the market, and it focuses on its client's needs. It is an online broker for options traders who already have experience in this field. Their professional platform isn't ideal for new traders or value investors. But active options traders will enjoy fast executions and low commissions.
eOption has a vast range of offerings, which is why:
It is one of the top brokers for low-cost options trading

.

It has a browser-based platform-based on ETNA white label program with extra tools

.

It has no extra costs for streaming news and data

.

It has a demo account to test this

broker's

offering for up to 60 days without an initial deposit required

.

It focuses on transaction security, and it has Plaid to handle the funding

.
eOption

Review & Insights
eOption is an excellent choice for experienced equities and options traders. It lets you craft your options strategies.
It offers low options fees, which is why high-volume options traders prefer it.
Pros
Excellent value for frequent options traders
eOption Trader platform is user-friendly
Newsletter subscribers can auto-trade their alerts
Cons
Limited education tools
Limited news feeds
OTCBB trades must be done with a live broker
Advantages Explained
This broker has a per-leg commission for options traders and a per-contract fee of $0.10. Clients who trade five or more contracts per order will

pay

lower fees.

eOptions

has a customized ETNA trading platform. It is reliable and simple to understand.

It offers access to Auto Trading. This is an investment system

that manages

third party newsletter

trade alerts.

The downside is that the fees are higher for Auto Trades.
Disadvantages Explained
eOptions

is great for experienced options traders, but not for beginner traders

.

Market news is basic.

You'll

need some extra subscriptions to receive valuable information

.

A live broker makes a

ll OTCBB and penny stock transactions

There are no cryptocurrency, forex, and international offerings available.
1. Fees and Spreads
The fees and spreads at eOption are among the lowest in the market. There are many trading options at eOption, including:
options strategies in large quantities

options

mutual funds

US

equities

Fixed income
But there are no futures options, futures, cryptocurrency, international assets, or currencies.
Clients can trade:
Short and long stocks (up to 1700 on the easy-to-borrow list for short sales)

OTCBB (penny stocks) closing only with a live broker

Mutual funds

Bonds (Municipal, Treasury, Corporate and

CDs

)

Multi-leg and simple options
The browser-based app lets you submit several order types:
Trailing stops

Conditional orders

Trailing stop limits
The mobile app has limited order types, and you can't select a tax lot when closing a position. The default is first-in-first-out.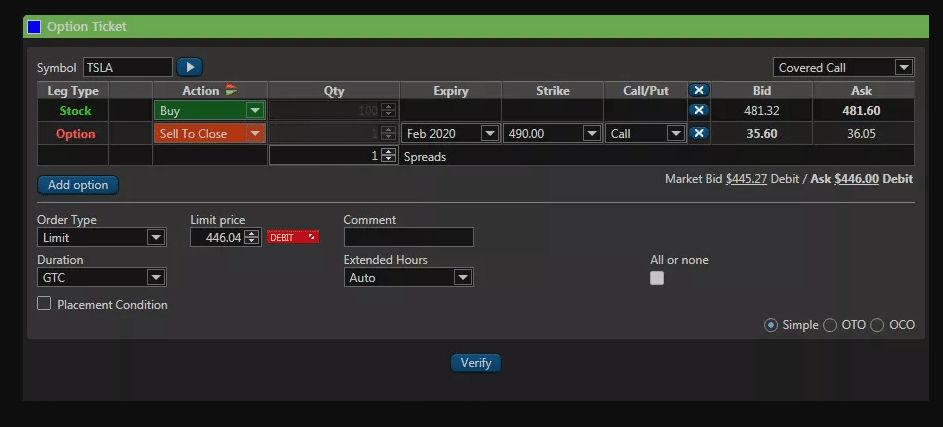 eOption prioritizes price improvements by sending equity orders to several venues. It can get you:
$0.01–$0.02 per share in price improvement for equity orders

$0.11 per contract in price movement for options

$0.43 per contract in payment for order flow
When it comes to trading fees, eOption started a zero fees policy for equity trading back in October 2019. But there is a per-leg commission for options trades. Heavy options traders will pay a reduced price compared to competitor brokers because:
No fees for trading ETFs or equities

A

live broker

must place

OTCBB/penny stock trades

f

or $6

Options base fee is $1.99 per leg

Options per contract fee

are

$0.10

Fee for 50 or

more

contracts (single leg) is $6.99

The fee for a 4-leg order of 10 contracts per leg is $11.96

Covered call trade of 500 shares plus

five

contracts

is

$2.49

Mutual fund commission for funds outside the No Transaction Fee program is $5.00

Margin interest ranges from 7.75% for $10,000 balance to 5.75% for over $100,000

The inactivity fee is $50/year

Account closure fee is $0

The account transfer fee is $60 for a full transfer, $50 for partial

The voluntary reorganization is $50, while the exercise and assignment fee

is

$9

The wire transfer fee is $30, while there is no fee for sending a paper check

Paper confirmations are $1 each

The live broker fee is $6 per transaction
eOption aims to have a zero-fee policy. So, it has a transparent fee structure, one of the best among its competitors.
Interest on cash balances:

customers can join cash sweep programs. These have

a

higher interest rate than the standard interest provided for uninvested cash.

Stock loan program

:

eOption

doesn't

earn money loaning stocks for short sales. You

won't

receive such benefits

.

Payment for order flow

: this broker

doesn't

have payment for order flow for equity trades

.

Price improvement:

the order router on

eOption's

platform prioritizes price improvement. It has a $0.01–$0.02 per share for equity trades

.

Portfolio margining:

eOption

customers

can't

access portfolio margining. This

would've

been excellent for lowering the margin required on the calculated risk

.
2. Account Types
eOption offers a free demo account along with its main options trading account. The demo trading account allows you to test the platform for up to 60 days without funding your account. The minimum deposit fee is $0, but the inactivity fee is $50 per year.
The downside is that eOption customers can't join a stock loan program. Moreover, dividend reinvestment (DRIP) isn't automatic. Clients need to reach out to the service desk to join the DRIP program if buying a dividend-paying stock.
The standard interest rate for cash balances is ok, and customers can join in a cash sweep program. This is great to move idle cash into money market funds that generate more revenue.
3. Trading Platform

s
eOption's premium trading platform is the browser-based Trader. Clients can also use the downloadable Sterling Trader Pro or DAS Trader. These two platforms come with extra subscription costs.
eOptions created Trader by customizing the ETNA trading platform. ETNA is a white label software solution created and licensed for online brokerages. It lets a broker customize the functionality and design to match the broker's needs. The downside is that a third party owns the platform. So, it has the appearance of a downloadable direct-access platform, but it runs in a browser.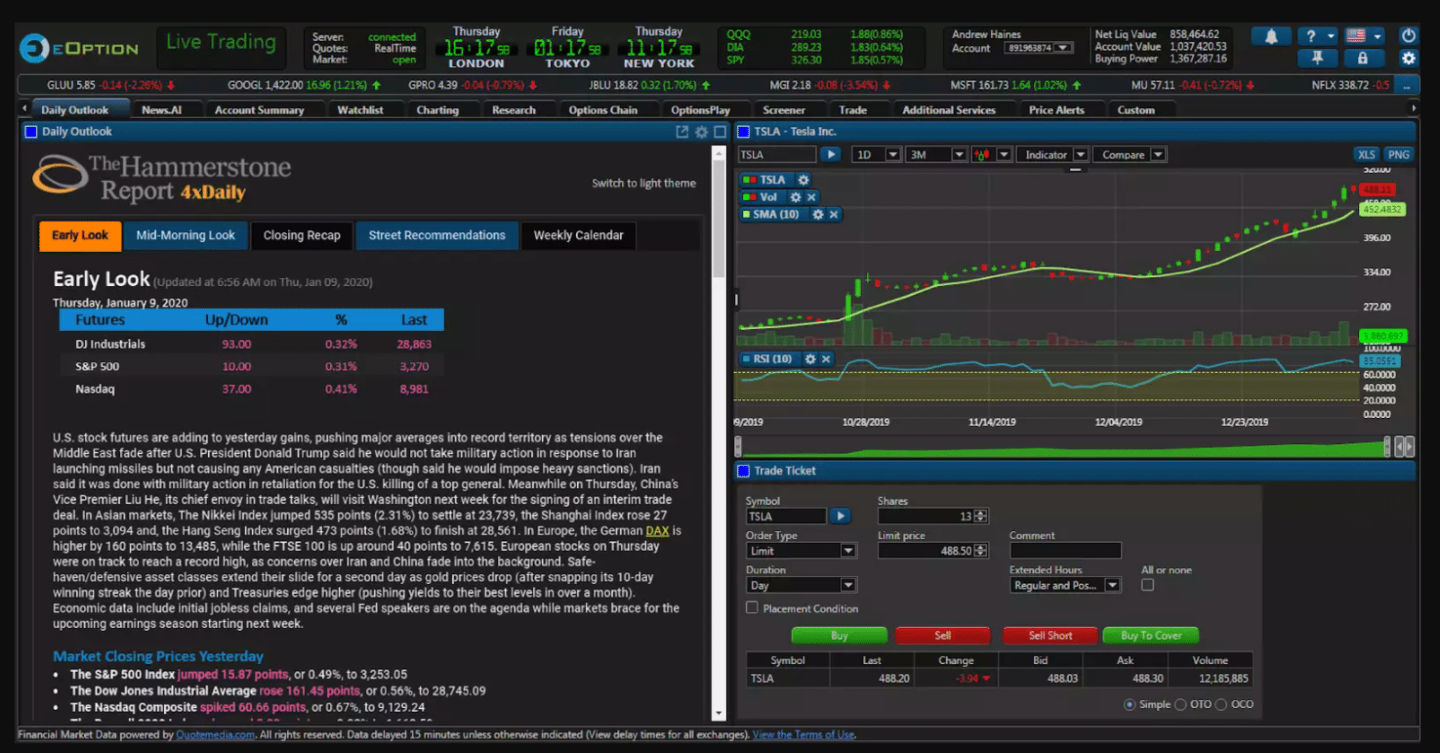 The eOption Trader allows you to submit orders from the Options Chains tab and the Trade tab. The tab layout allows you to discover each tool with ease. You can drop and drag widgets to create a page design you find pleasant. Also, OptionsPlay lets you use advanced trading tools. You can include options strategies on the watchlist, too.
Trading fees are available on the trade verification screen, a transparent business approach. You can also trade conditional orders (one cancels another, one triggers another). This feature isn't available on the mobile app.
There is a quotes stream on the browser platform, along with a customizable ticker. But you can't stage orders for later entry.
4. Mobile Trading
The eOption mobile app provides a high-quality trading experience. You can roll or close an existing position with a couple of taps, but you can't limit or put a stop order at the same time. This mobile app lets you create an options strategy in the order ticket.
The downside is that the mobile app is more challenging to use than the browser-based platform. You can synchronize Watchlists between platforms. But they are difficult to identify and read on mobile. Also, the data on the app doesn't stream, and it comes with limited research capabilities. If you need reliable research tools, you'll have to use the browser platform.
5. Research
This broker provides excellent research features for options traders at no extra cost. Other investors might not find them useful.
The downside is that there is no ETF filter, which means ETFs might show up in the stock screener results.
There isn't any:
fixed-income screener

mutual fund screener

extra calculators
Trading idea generators work outside the screeners.
Stock Screener
The Screener tab at eOption features 16 pre-set screens, which you can customize. The downside is that you can't save custom scans.
Options Screener
This broker has screeners from OptionsPlay. These are excellent for analyzing ideas or scanning your idea. We like that it accepts your trading idea and includes it into an eOption order ticket.
News
There are several free news feeds on the platform. But you'll have to buy a subscription if you want access to premium sources.
The browser platform offers access to several news sites like:
Quote Media

PR Newswire

ApolloNews

Canada Newswire

Business Wire

UPI

Market News Publishing

Market Wired

GlobeNewswire

Fly on the Wall
You can search the news based on the ticker symbol, industry, topic, and person who offers the information.
Third-party Research
eOption has limited third-party research. You can only check links to Hammerstone research reports.
Charting
The charts available are from OptionsPlay, ETNA, Quote Media, and ChartIQ. You can connect chart displays to watchlists to receive information for your trades. Moreover, this broker has up to 30 technical studies available.
Portfolio Analysis
Performance and positions are in a heat map, which offers a fast summary of your portfolio. But you can't merge holdings outside eOption to get a clear overview. Gains and losses, margin, and buying power are available in real-time. Interests and dividends update overnight. You can download the data to Excel for advanced analysis.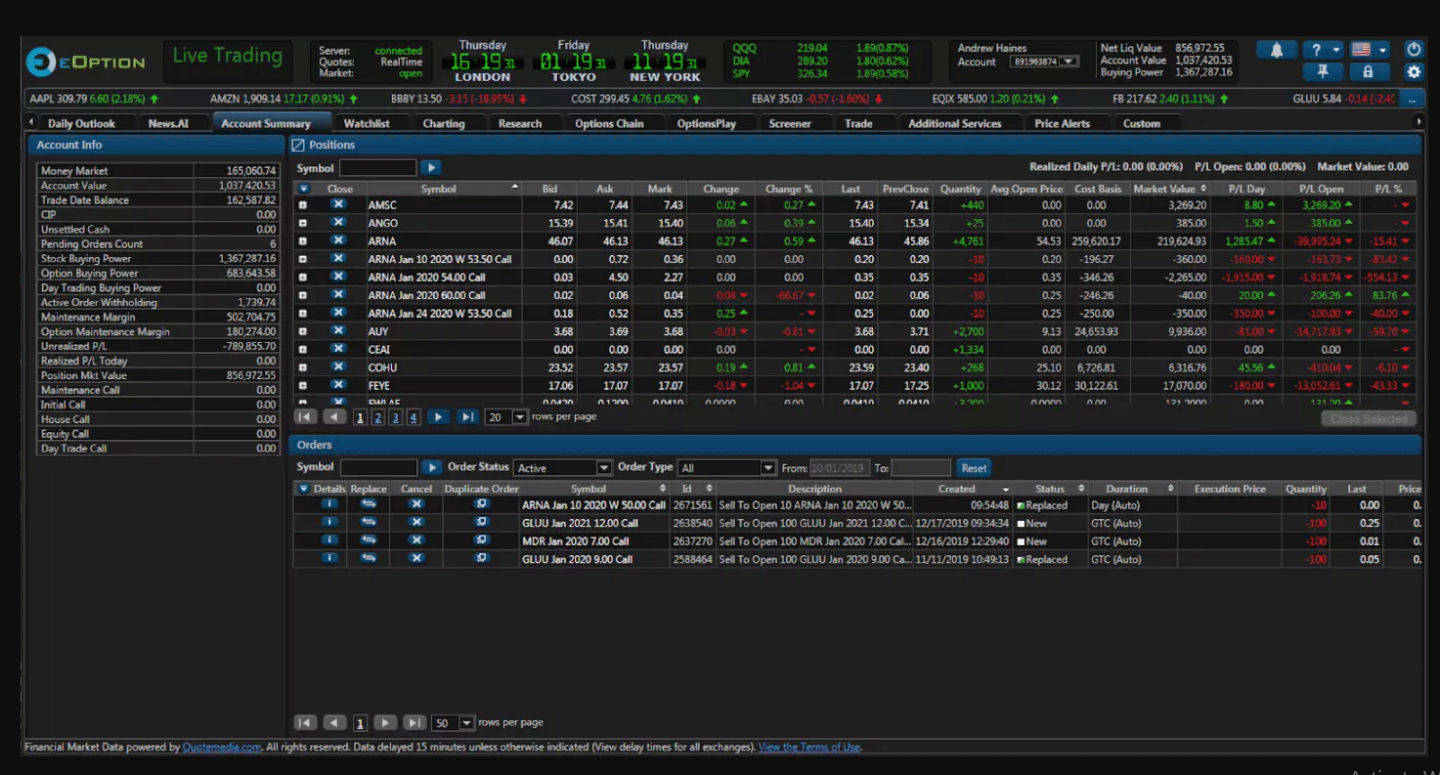 6. Education
All educational tools at eOption focus on options trading. You can access:
Webinars organized by the Options Industry Council

OptionsPlay

and Hammerstone Research articles
But there is no life stage planning tools or long-term calculations.
7. Customer Service
Phone customer support is reliable with fast answers. It is available from Monday to Friday from 8 a.m. to 8 p.m. Eastern Time for prospective and current clients. The live broker feature is available along with the phone customer service.
Remember that you can open an account with eOption if you're a resident of:
Australia

Austria

China

Ireland

Germany

Netherlands

Luxembourg

Mexico

Singapore

New Zealand

South Africa

United Kingdom

Switzerland
You will pay a fee of $25,000 for US dollars and foreign exchange-traded securities.
8. Safety
eOption has one of the best security features in the industry:
Clients can log in to the browser platform via two-factor authentication and a soft token

The mobile app comes with a password and

ID

, fingerprint scanning, and face

ID

.

Clients get Excess Securities Investor Protection Corporation (SIPC) insurance. It is from

Lloyd's

of London with a loss limit of $150,000,000

The Identity Theft Research Center

didn't

report significant data breaches in 2019
The Bottom Line
eOption is an options broker. It doesn't aim to be everything to all traders, like many competitor brokers. This broker provides excellent value for experienced options traders. Frequent options traders will get low costs and strategy scanning tools.
eOption isn't the best choice if you are looking for passive investing, use a robo-advisor, or trade forex. This broker specializes in active options traders.