E-Trade is the leading user-friendly broker with reliable learning resources. It offers competitive fees, a free demo account, and an intuitive platform interface. We recommend E-Trade to beginners who want a safe environment for deepening their understanding of trading.  
Our top findings from the E-Trade UAE review:
E-Trade offers several instruments like stocks, ETFs, futures, options, bonds, and mutual funds.
E-trade has a free demo account that offers a reliable overview of trading at e-Trade.
Etrade has a mobile app available on Windows, Android, and iOS.
Etrade has top-tier licenses and a transparent fee policy. It has low commissions, and clients aren't required to maintain a significant minimum balance. It has several educational resources, along with one of the best mobile apps in the industry.
Trading Platform
Etrade has an excellent trading platform with several instruments and markets. It is a top choice for inexperienced traders, but it suits professional traders' needs.
E-trade Web
The web platform is simple to navigate and designed with many useful features. It offers free real-time quotes, market data, and market analysis.

E-Trade provides tutorials and guidelines to help beginner traders understand the platform. E-Trade web is better for beginners than experienced traders.
OptionsHouse
The OptionsHouse at E-Trade offers access to charting tools and real-time data. Active traders benefit from the 100 technical studies and the variety of options levels.
The OptionsHouse is a great learning tool with many educational resources and news feeds. It is innovative, reliable, and useful for beginners.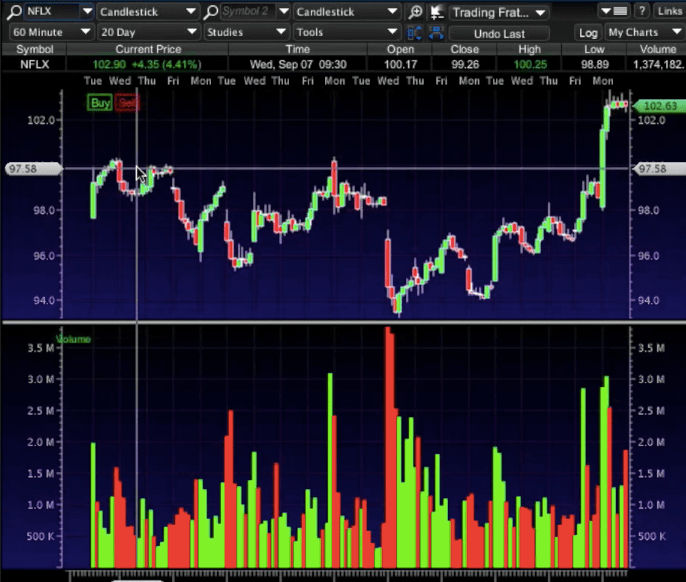 Pro Platform
The Pro Platform is great for professional traders and has many advanced trading tools. The E-trade Pro Platform is highly customizable and has reliable testing features.

The E-trade Pro Platform has 31 drawing tools, 118 technical indicators, and over 20 trading tools. It has many options trading tools like Options Analyzer and Strategy Optimizer.
Mobile Trading
E-Trade has one of the best mobile apps in the industry, excellent for beginner and experienced traders. It includes many features like real-time quotes, interactive charts, and after-hours trading.
Pro App
The OptionsHouse web platform comes with a Pro mobile app. Its increased functionality benefits professional traders. The main feature of this app is the ChartIQ engine. It lets you control the charts using channels, trend lines, and drawings. 
Fees and Spreads
E-Trade has commission-free ETFs and offers industry-standard fees for it's other trading instruments. A standard stock trade costs $6.95 and has an extra $0.75 price per contract. Active traders benefit from lower rates if they have more than 30 trades per quarter.
Leverage
An E-Trade margin account allows you to borrow up to 50% of your eligible equity to buy assets. Correct use of leverage increases your profit. Using leverage or margin in trading is risky and will increase your losses if misused. This broker enables its customers to speculate on distinct markets like gold and foreign stocks.
Other Trading Fees
E-Trade has a transparent pricing structure and does not have any hidden fees. Intraday traders don't have an inactivity fee charged, but they have to pay a $75 transfer fee.
A deposit of $10,000 grants an account bonus of commission-free trades for 60 days.
Deposit & Withdrawal
E-Trade is one of the best day trading brokers with a $500 minimum deposit fee. E-Trade allows deposits and withdrawals through bank transfers, PayPal, Western Union, credit cards, and debit cards.
Account Types
E-Trade has several account types, including a free demo account. 
Standard Day Trading Account: This is a simple-to-create and easy-to-use account designed for beginner traders. It has a $500 minimum deposit fee.
Personalized Investment Accounts: E-Trade offers three personalized investment accounts, which are the Core, Blend, and Dedicated Portfolio. Each account provides unique benefits to investors and traders. You have to meet several security criteria to create a Core, Blend, or Dedicated Portfolio. Opening any of these accounts will take three days.
Demo Account: This broker has a free demo account designed to allow traders and investors to "test" the E-Trade platform and tools. The demo account offers valuable information and practical experience on understanding market events and applying trading strategies.
Regulation & Reputation
E-Trade is a trustworthy online broker with top-tier licenses, a transparent fee policy, and premium safety features. Logging in requires two-factor authentication (2FA), and E-Trade uses industry-standard 128-bit encryption technology to prevent unauthorized access.
E-Trade has licenses from FINRA and the SEC. It follows strict regulations to protect its customers' funds and privacy. Both US and non-US customers benefit from premium security and protection.
Customer Service
E-Trade has 24/7 online chat and phone support. Customer service is available using secure messages from inside your E-Trade account. This broker has reliable customer service with prompt answers.
Research & Education
We recommend E-Trade for beginner traders due to the variety of research tools. It offers professional research tools through Trefis Research, including key statistics, education, technical indicators, and unique analysis.
It offers a helpful education database with training videos, webinars, articles, user guides, and audio help.
Automated Trading: E-Trade encourages its clients to use automated trading. It helps improve your profits, but you'll have to watch it closely. Several interfaces and tools are available, including IonDESK, Roboinvest, and Investors Hub.
Final Verdict
E-Trade is a reliable and trustworthy broker with a robust mobile app and impressive research solutions. But this broker isn't the cheapest on the market, with higher fees than the industry average. Only active traders receive lower fees at E-Trade.
Etrade is a good choice for beginner traders because of its straightforward design. Many professionals use E-Trade because there are advanced tools, like automated trading. E-Trade recommends share trading and automatic investing for experienced traders.
FAQ
Does E-Trade offer forex trading? 
No. The tradable assets available at E-Trade are stocks, futures, options, ETFs, mutual funds, bonds, and CDs.
Are there any trading hour restrictions with E-Trade? 
Trading hours at E-Trade are Sunday 20:00 to Friday 20:00 ET, excluding market holidays. Trading is available on SPY, USO, QQQ, GLD, EEM, FXI, DIA, TLT, IWM, SLV, SH, and UNG.
What options exist for opening an account? 
E-Trade has several options for creating new accounts: online, by phone, or by email. Its customer support team is ready to help you complete the account opening process.