ExpertOption is a reputable online broker great for people who are looking to trade options on intuitive and easy to use trading platform. It is a reputable company regulated by the VFSC with a long standing tradition in the industry. We recommend ExpertOption to traders at all levels.
Review Summary:
Expert Option is a great broker for those who want a fast online trading platform. Their trading features are available for beginner and advanced traders. ExpertOption offers a demo account and a 100% bonus.
Expert Option is a regulated online broker and is not a scam. They offer over 120 tradable assets from Stocks, Crypto, Commodities to Forex. Their social trading feature is among the most advanced in the industry. It allows beginner traders to copy-paste trading strategies from professional traders. Traders from all over the world can use their online trading platform, except users from US and UK. Traders like their trading app, low minimum deposit, and 100% bonus option.
Founded in 2014, ExpertOption is regulated by the Vanuatu Financial Services Commission (Lic. 15014). Their base is in Port Villa, Vanuatu from the beginning on.
Here are the top findings on ExpertOption in overview:
Expert Option is a VFSC & FMRRC regulated online broker. It is safe and not a scam broker.
Their trading platform is easy to use. It is a great fit for beginner and advanced traders.
The social trading feature on ExpertOption makes it s great choice for beginners.
Traders can choose up to 120 different tradable assets.
The purpose of this review is to answer these questions as completely as possible.
ExpertOption Trading Platform
The trading platform is easy to use, proprietary, and exclusive. Only registered clients can use this platform. Execution rates are high-speed and accurate. The platform is available 24 hours a day. The trading platform is available as desktop and mobile version. It is available on Web, IOS, Android, Windows and MacOS.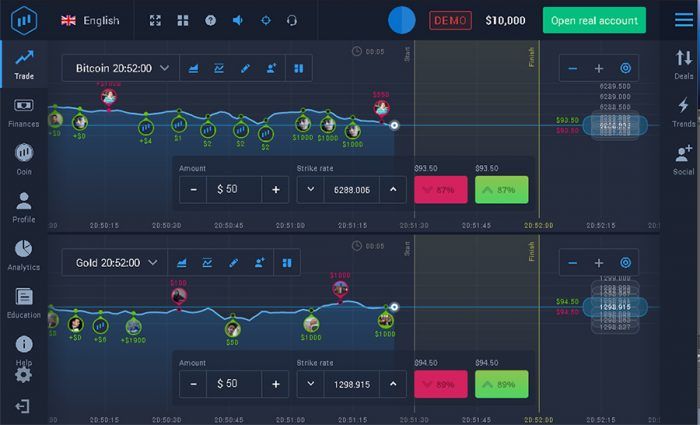 ExpertOption Account Types
Expert Option offers five different trading account types:

Basic
The basic account offers a low entry level for beginner traders. The deposit minimum for the basic account is only $50. This already gives traders access to educational materials and order placing rights.
Silver
The Silver account type is a more advanced version of the Basic account type. In general, the features are the same. The difference are higher depositing limits and trade volume available. The Silver account holder can trade up to $250 (Basic can only trade $25) and execute up to 25 simultaneous trades. The basic account holder is limited to 10. Silver account holders have access to a personal account manager.
Gold
The Gold account type is for experienced traders who intend to trade in larger volumes. The minimum deposit amount for a Gold account holder is $2500. It provides traders with extra features that the Basic and Silver accounts do not have. Customers that have a Gold account receive curated market reviews and insights. Those markets have at least 2% profitability. Gold account members can place up to 30 simultaneous trades. Their withdrawal requests are processed at a higher priority.
Platinum
Customers get the chance to open the Platinum account if they deposit at least $5000. The features of the Gold and Platinum account are identical. Platinum account holders have no limitations on the number of simultaneous trades. Their total estimated profitability is increased to 4%.
Exclusive
The Exclusive account type is by invitation only. Exclusive account holders have an increased profitability rate of up to 6%. They can make trades of over $5000 at a time. The most notable benefits is the priority customer support for Exclusive account holders.
Expert Option Demo Account
The ExpertOption demo account offers all features available on the normal account. It gives beginners a great chance to test out their skills and trading strategies. Research has shown that people are loosing less when staring on a demo account.
Advanced traders can use the demo account to test the application of new indicators. The demo account provides users with a virtual balance of $10,000.
Promotions and Offers
As of February 2020, ExpertOption does not offer any promotion or bonuses in any form. However, they do have an affiliate program that can be applied to. ExpertOption offers between 50% and 60% of its revenue to the affiliate partners in proportion to the number of clients the affiliate partner has directly brought in to the brokerage. An important note, however, is that affiliate agreements can be very complex. Be sure to carefully study the affiliate agreement before becoming involved in any affiliate activities.
Education
ExpertOption offers a wide variety of educational materials. They consist of video tutorials, webinars and an extensive glossary. These educational materials are intend to help traders understand the psychology of trading. They also give users access to news updates and daily market analysis.
Expert Option Deposits and Withdrawals
ExpertOption offers a wide variety of methods for clients to start their deposits. Some of those options include credit or debit cards on the Visa or MasterCard systems. Users can deposit their money using Skrill, Neteller, Perfect Money, FasaPay, Maestro and UnionPay. They can also use e-wallets containing cryptocurrencies such as Ripple, Litecoin, and Bitcoin.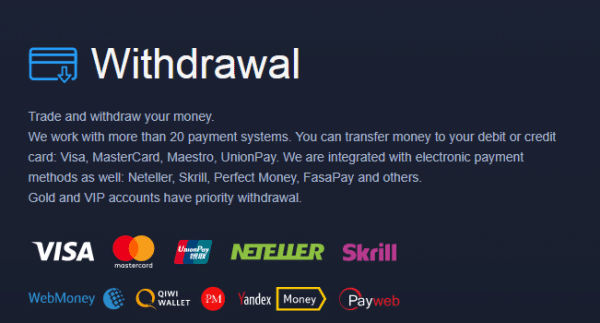 Regulation And Security
Expert Option is regulated by the Vanuatu Financial Services Commission (Lic. 15014). The FMRC ensures that ExpertOption is in compliance with all applicable laws in place. Their base is in Port Villa, Vanuatu from the beginning.
Client funds are held in segregated accounts by investment-grade banks. High-level encryption is in place at all times and at every level of trading.
Customer Support
Expert Option offers customer service support 24 hours a day.
Their customer support can be reached through telephone, live chat support, or email.
Emails can be sent to English@expertoption.com, and calls can be made to +44 20 3868 3160.
Beyond that, the main ExpertOption website is available in 12 different languages.

Final Verdict
ExpertOption is a legit online broker, regulated by VFSC, known for its feature rich trading platform, low depositing trading accounts, a variety of tradable assets and great support. We recommend it to traders looking for a regulated options broker with a clean history and a solid trading platform. It is great for traders ar all levels.
Expert Option is well known for its sophisticated and intuitive trading platform. The platform stands out due to the advanced educational and analytical tools. The fast and secure withdrawal process makes ExpertOption a great choice for traders.