Forex.com is a reputable online forex broker, known for its high tech trading platform, low withdrawal fees, advanced research tools and great support. We recommend Forex.com to traders at all levels from beginner to advanced.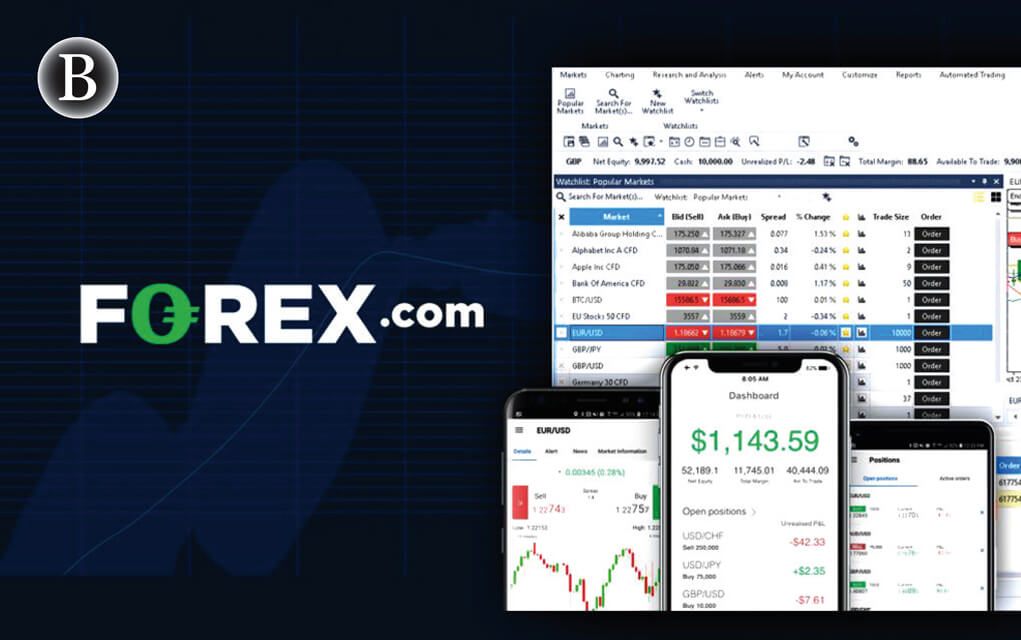 Forex.com is a great online broker for those who want to trade forex on a feature rich and easy to use trading platform.They offer a variety of different assets including forex, CFD financial instruments and cryptocurrencies. Their trading platform is interactive and offers advanced research and educational tools. Trading costs are average and competitive with similar brokers. They offer several trading platforms and accounts. These cover levels of traders from beginners to professionals.
Forex.com is a legit online broker regulated by top tier financial regulators and listed on the NYSE (New York Stock Exchange). Headquartered in New Jersey, Forex.com was founded in 1999 and has a long standing and clean history.
Forex.com does not charge withdrawal or deposit fees. The initial deposit minimum is $100. The account opening process is fast and simple, account verification is smooth. Customer support is responsive and is available through email and live chat. Their research toolbox has basic and advanced charts/indicators. Educational tools include webinars, tutorials, blogs and instructional videos.
In this Forex.com review we reveal everything you need to know about the broker before start trading.
1. Fees and Spreads
Forex.com fees are average priced. They have wider spreads on some instruments. Their fee structure is neither an advantage nor disadvantage.
Like most brokers, Forex.com divides its fees into two categories.
Trading fees are what the trader pays to trading. They include spreads, commissions and conversion rates.
Non-trading fees are the charges trader pay not related to buying and selling assets. Typical non-trading fees are withdrawal fees, deposit fees, inactivity fees and account fees.
Trading fees
Forex.com trading fees are average in comparison to other brokers. They are market-making brokers and don't give clients access to raw market prices. When a price is quoted, the trader sees two prices. The first, the bid, is the 'sell' price. The second, is the 'buy' price, known as the offer. The difference between these two is the 'spread.'
Forex.com offers a pure commission account. There's no mark-up on the spread but the trader pays a commission. It's up to the trader to decide if they want to pay commissions or fees.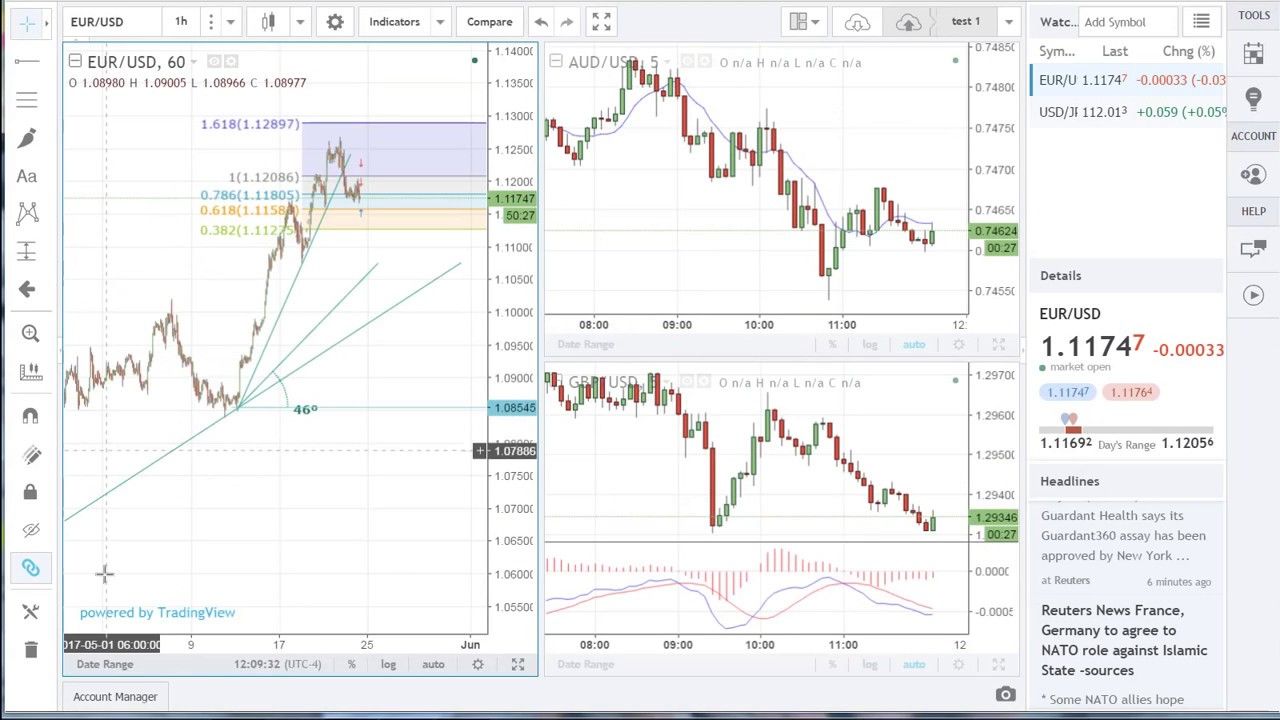 Non-trading fees
Forex.com charges an non-trading fee of $15 per month. This happens when there is no trading activity or open positions for 12 months or more. Forex.com does not charge data exchange fees. They have financing/rollover charge for holding a position open overnight. Traders can incur extra borrowing costs in these cases.
2. Withdrawals and Deposits
Deposits and withdrawals at Forex.com are straightforward, transparent and free of charge.
Deposit
Forex.com requires a minimum initial deposit of $100. They recommend traders to deposit $1,000. This gives the trader more flexibility and better risk management trading. Deposits can be made in 7 base currencies: EUR, GBP, USD, AUD, CAD, CHF, JPY. Traders can fund accounts via credit card, debit card, or wire transfer. Log into MyAccount and visit the Funding page. Forex.com does not accept Western Union or PayPal. Bank transfers can take several business days. Payments by credit/debit card are instantly available. Traders can only deposit money from accounts in their name.
Withdrawal
The minimum withdrawal amount is $100 or the remaining account balance if under $100. Withdrawals are free of charge. Deposited funds must be returned to the originating funding source. They are returned in the following order:
Credit/Debit Cards
Wire Transfer
Excess funds may be withdrawn via Bank Transfer.
3. Account opening
Account opening is fast and easy. Traders can open up a new account in under 10min. Verification takes longer than expected from an online broker. Traders must provide information upon registration. This includes name, address, date of birth, and tax ID number. To verify their account, they may need to submit additional documents. Forex.com offers three account types traders can choose from:
Standard account
Ideal for traders who want traditional, spread pricing and currency trading experience. The standard Account comes equipped with "active trader." This allows traders to lower costs by 18%. They are eligible for cash rebates and other benefits.
Commission account
This account is best for traders seeking ultra-tight competitive spreads and fixed commissions. The spreads on popular currency pair like EUR/USD can be a very low 0.2. Traders pay an extra commission on this account of $5 per 100k traded.
Direct Market access
Direct Market Access is perfect for experienced traders who demand deep liquidity and control. This account lets them take advantage of rapid price opportunities. They trade on prices from global banks and top tier liquidity providers. There is no extra mark-up.
Forex.com has additional account ownership options:
Individual – owned by one individual
Joint – owned by two or more individuals
Corporate – owned by a legal entity
4. Markets and products
Forex.com provides an above-average number of currency pairs for forex trading. It performs well in: indices, ETF, crypto and commodities. Their stock CFD line-up is below average. Forex.com doesn't support trading with "real" stocks or commodities.
Assets
| | | | | |
| --- | --- | --- | --- | --- |
| | Forex.com | eToro | Plus500 | IQ Option |
| Stock CFDs | 270 | 1300 | 1800 | 168 |
| Forex | 84 | 47 | 50 | 49 |
| Indices CFDs | 17 | 13 | 30 | – |
| ETF CFDs | 26 | 145 | 80 | 24 |
| Commodities | 26 | 14 | 25 | 4 |
| Crypto | 8 | 16 | 12 | 12 |
5. Trading Platform
Forex.com trading platform is feature rich, user-friendly and 100% customizable. It offers users advanced trading and charting tools and is available as desktop and mobile version. They support MetaTrader4 on both trading platform versions (mobile and desktop).
Both trading platforms are available on desktop and mobile. Traders can access economic calendars, news and order histories.
There are few drawbacks. The platforms have several indicators and drawing tools. They are functional to execute rapid-fire trades.
Forex.com account integrates with NinjaTrader, a popular third-party trading platform.
Desktop
Forex.com's desktop trading platform supports both new and professional forex traders. It is available in two versions: as basic and advance trading platform. Both trading platforms are available on desktop and mobile. Traders can access economic calendars, news and order histories.
Web trading platform is suited for beginners. It has an intuitive design and rich features.
These include:
Smart trade ticket: has advanced risk management options. Traders set orders based on P&L, price or pips. They see their pip value and margin need at a glance.
Pre-defined and customizable layouts: traders create layouts to suit their trading style. They can access them from any computer or browser for future use.
Powerful charts with integrated one-click dealing: traders create layouts to suit their trading style. They can access them from any computer or browser for future use.
The "Advanced trading platform" is built for demanding and experienced traders.
Charting is interactive. Traders see 100+ predefined indicators or create their own. They toggle and zoom between 15-time frames, trading from their charts. Advanced settings help integrate trading systems and build custom dashboards.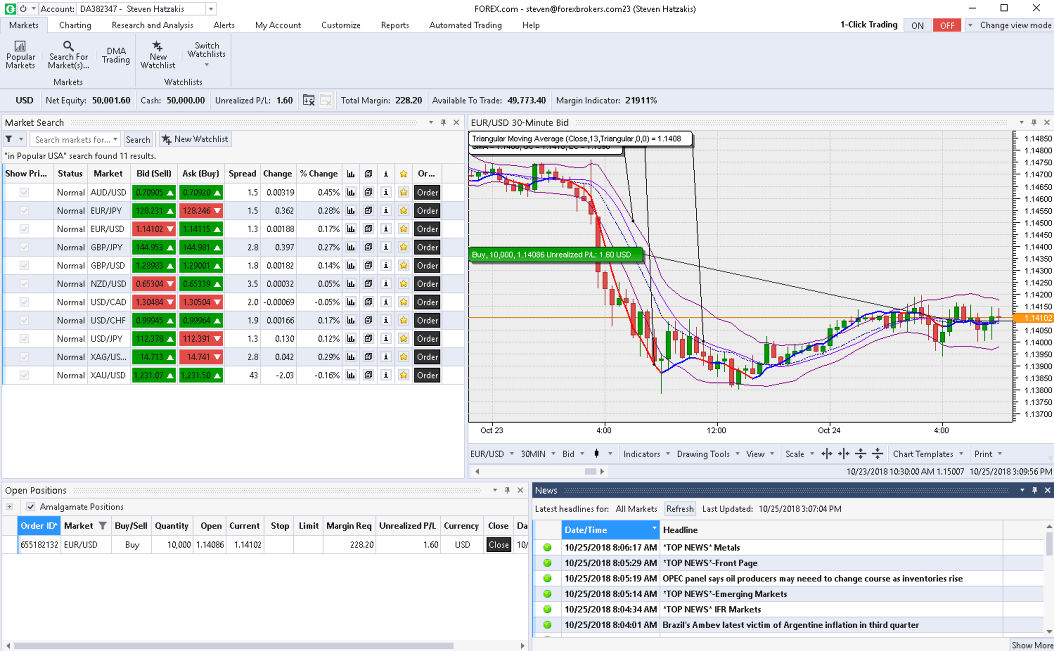 Mobile Trading Platform
The Forex.com mobile app in interactive, easy to access and has the same features as the desktop version. Users can add/withdraw funds, view trade history, create watch-lists, access news, and view charts. The charting feature is below average. It has a limited number of indicators. Many technical tools are missing on the mobile version although it does provide full order functionality. Traders can place stop losses and profit targets while trading.
Traders have full personalization set at their disposal. They can personalize the navigation bar, dashboards, and trade execution style. It has an alert function. This lets them know assets reached their price target. Traders get a notification when orders are fulfilled. Push notifications are available on both web and mobile platforms.
6. Education and Research
Forex.com offers great research and educational tools for beginner and advanced traders.
Research
The Forex.com "Advanced trading" platform provides powerful charting tools. There are 80+ technical indicators and extensive drawing tools. It includes advanced analytical tools. These include integrated trading strategies with 100s of predefined templates. Their Web trading platform gives users market commentary and analysis.
Forex.com does not have a news feed. There is an economic calendar which lists upcoming macro events and market analysis. Traders can find articles under the 'Market Analysis' tab.
Education
Forex.com's education section is rich with data and well structured. User can take a short quiz and AI targets materials relevant to their knowledge level.
The broker provides several learning mediums:
Demo account
Platform tutorial videos
Webinars
General educational videos
Quality educational articles
Trading glossary
Trading knowledge quiz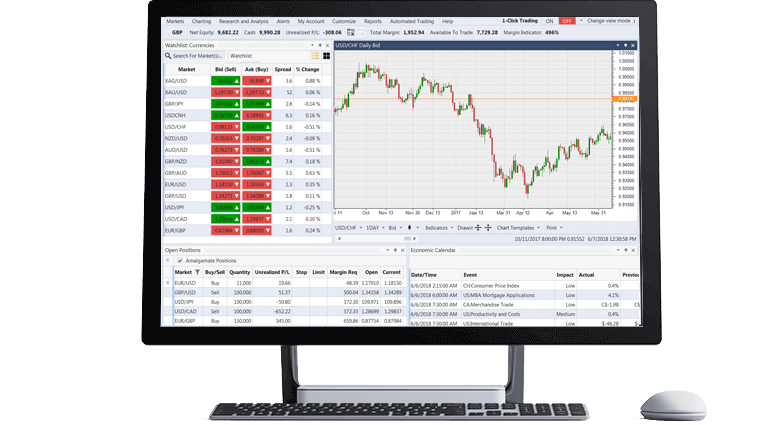 7. Customer Support
Forex.com customer support is average. Responsiveness is high, the knowledge level of the support team is medium. Traders needing help with their Forex.com account have multiple ways to contact. These include live phone support, live chat support and email support.
The company offers live phone support. They have not published phone numbers on their support site. Traders can access service updates and FAQs on Forex.com. In most cases, they can find a relevant answer.
Online support is available from 10am Sunday to 5pm Friday. Live chat is regulated by computer bot. Traders are limited in the questions they can ask. It's better to contact the company via email with complicated queries. This can take some time to receive relevant answers.
8. Regulation
Forex.com is a legit online broker regulated by top tier financial regulators and listed on the NYSE (New York Stock Exchange). It has a long standing history, clean record and is definitely not a scam broker. Forex.com is regulated in seven global jurisdictions. These include the US, UK, Australia, Canada, Singapore, Japan and the Cayman Islands. Since laws and regulations vary according to country, available products vary.
Their parent, GAIN Capital Holdings, is a publicly-traded and are obliged to meet high standards of corporate governance, financial reporting, and disclosure. Forex.com claims to perform "daily robust bank/broker reviews and assesses counterparty creditworthiness."
FOREX.com customer deposits are kept separate from their operating funds. They are distributed across a global network of custodial banks and brokers. There isn't any additional insurance provided for clients. Protection levels depend on the country location of the subsidiary serving the trader. Traders within the EEA (European Economic Area) and Canada are eligible for protection, up to £85,000 and $1,000,000.
It is possible for client accounts to go into a negative balance. There are no safeguards offered and all accounts are monitored. If traders don't have enough margin in their accounts, the site liquidates positions.
Forex.com Final Verdict
Forex.com is a reputable online broker great for people looking to trade forex on a variety of different currency pairs. It is know for its easy to use trading platform, low withdrawal fees and advanced research tools. Forex.com is considered safe, regulated by top tier financial regulators, listed on the NYSE and fully disclosing its financials. They customer support could be more responsive and better educated. Fees and commissions are reasonable.
We recommend Forex.com to traders at all levels looking to trade forex on many different currency pairs.