Swissquote is a trustworthy and well-regulated online broker. They operate in Switzerland and London. The Swiss unit offers stock, features, funds, and options. London specializes in Forex and CFDs trading. The UK entity provides better pricing with a smaller range of trading markets. This review mostly focuses on the UK operation and pricing.
Review Summary
Our top findings for Swissquote:
Founded in 1996, Swissquote is a safe, reliable, and low priced broker for trading forex and CFDs.
Swissquote's proprietary trading platform Advanced Trader needs a design overhaul. Traders can use the MetaTrader platform suites MT4 and MT5.
Swissquote's cryptocurrency trading and wallet service are available from their eTrading account. It is segmented away from their forex and CFD trading offering.
Swissquote is publicly traded and operates two banks. They have a perfect overall Trust Score of 99 out of 99. They were the first bank to add trading of underlying cryptocurrencies (non-CFDs). Swissquote's coin offerings include Bitcoin, Bitcoin Cash, Ethereum, Litecoin, and Ripple. Investors trade an average number of financial assets. Pricing spreads are wider compared to competitors. Investors pay no inactivity, account maintenance, or deposit fees. There is a $10 per occurrence withdrawal fee.
The company has over 25 billion Swiss Francs ($28 bn US) in client assets under management. The UK online platform is operated by Swissquote Ltd (a subsidiary of Swissquote Bank). They are regulated by the UK Financial Conduct Authority (FCA).
Investment Offerings
Swissquote has a competitive investment offering compared to other brokers.
They offer 79 forex currency pairs, 17 CFD commodities, 1,500 CFD pairs, 60 CFD stock indices, 55,000 bonds, 6 options and 6 features. They were the first global bank to trade 5 underlying cryptocurrencies (non-CFDs) bitcoin, Bitcoin Cash, Ethereum, Litecoin, and Ripple. Seven new cryptocurrencies are available to trade in 2021: EOS, Stellar, Tezos, Ethereum Classic, Chainlink, Augur, and Ox.
Their commodity CFD pairs include oil and gold. Swissquote allows trading in Emerging and Exotic Currency Pairs.
Investment Offerings
| | |
| --- | --- |
| Feature | Swissquote |
| Forex Spot Trading | Yes |
| Currency Pairs (Total Forex Pairs) | 78 |
| CFDs – Total Offered | 60 |
| Social Trading / Copy Trading | Yes |
| Cryptocurrency traded as actual | Yes |
| Cryptocurrency traded as CFD | No |
Commissions and Fees
Swissquote's commission and fee structure is competitive. Spreads are wider compared to their competition. Non-trading fees are better than average.
Swissquote's minimum spreads depend on account size: Premium, Prime, Elite, or Professional. There are minimum and maximum transaction sizes. Margin requirements are the same across account types. Spread difference between Premium and Elite accounts can reach 0.6 pips.
Trading spreads are volume-based. The standard Premium account allows traders to change to a fixed-rate pricing plan. Traders can then pre-purchase a set number of trades for a flat rate fee.
Commissions and spreads from Swissquote's UK entity differ from the Switzerland entity. UK accounts receive a better deal. The trade-off though is a more limited product offering.
UK fees: active traders depositing a $10,000 minimum pay lower spreads and a $5 charge per round-turn trade. The Professional account is nearly identical. The threshold for a margin call stop-out is lower. Standard account trading is not ideal with spreads on the EUR/USD starting at 1.3 pips. The Prime account has a starting spread of 0.6 pips.
Swiss fees: traders in Switzerland cannot trade forex or CFDs. Their account options include the Standard account with a $1K minimum deposit. It's spread for the EUR/USD starts at 1.7 pips. Premium accounts drop slightly to 1.4 pips but require a $10,000 minimum deposit. The Prime account requires a $50,000 deposit and offers spreads from 1.1 pips. This is slightly higher than the industry average. Active traders get custom pricing negotiated on volume.
Cryptocurrency fees: Swissquote eTrading account charges start at 1% of the cryptocurrency trade value and drop to 0.75% for trades above CHF 10,000 ($12,000) and 0.5% for transactions worth more than CHF 50,000 ($53,000). There are no cryptocurrency custody fees. A $10 fee applies to deposits of less than $500.
Non-trading fees: Swissquote does not charge inactivity or account fees. Deposits are free via bank transfer. Credit/debit card transfers are charged a fee between 2.2% – 2.5%. Each withdrawal costs $10.
Account Types
Swissquote traders can choose between 4 different e-accounts.
To trade forex and CFDs (alongside forwards and options), UK traders use Swissquote's eForex account, which offers only 130 tradable symbols.
Traders choose from four eForex accounts, which differ in pricing and minimum deposit: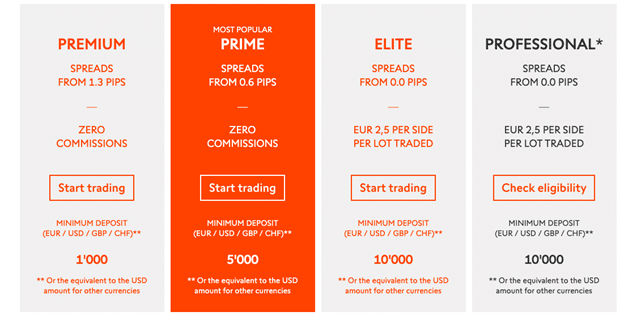 Swissquote account holders can access more than 3 million financial instruments. These include equities, ETFs, bonds, funds, options, crypto. Their Robo-advisory helps traders create an ideal portfolio using the Swissquote automated asset manager. The eForex account lets investors trade more than 130 currency pairs and CFDs using the MT4, MT5, and Advanced Trader platforms.
Professional Clients: to qualify as a Professional account holder, traders must meet two of the following criteria:
Traded derivatives (CFDs, Forex, Spreadbets of Futures) of a significant size an average of 10x per quarter over the last four quarters.
Own a portfolio of cash and investments worth more than EUR 500,000
Worked one year in a professional position requiring knowledge of derivatives trading.
Demo Account: traders can open a demo account with $100,000 in virtual funds. Their demo account is valid for 30 days. This gives both novice and experienced traders the ability to familiarize themselves with the platform risk-free.
Deposit methods: Swissquote accepts Mastercard and Visa credit cards with no transaction fees for UK clients who choose to fund their accounts instantly using this method. Traders can wire funds directly from a bank account.
Base currencies: Traders can choose from 15 base currencies: GBP, EUR, CHF, AUD, JPY, PLN, CZK, HUF, USD, CAD, TRY, SEK, NOK, SGD, XGD.
Accounts
| | |
| --- | --- |
| Feature | Swissquote |
| Minimum Initial Deposit | $1,000 |
| Average Spread EUR/USD – Standard | N/A |
| All-in Cost EUR/USD – Active | N/AQ |
| Active Trader or VIP Discounts | Yes |
| Withdrawal fee | $10 per |
| Account fee | No |
| Inactivity fee | No |
Platform and Tools
Swissquote offers the proprietary Advanced Trader platform as well as the MT4 and MT5 suites. This lets each type of investor to create their trading experience.
Advanced Trader: is designed for novice traders. Its simple design lacks customizability. The standard view lets traders distinguish easily between prices, watchlists, cross-currency pairs, running orders, and profit/loss data. Traders can set conditional orders (such as limit orders) to manage trading risk. The platform includes robust charting, complex order types, and supports forex options trading on 45 pairs via an RFQ (Request for Quote) system. The Web platform has fewer trading tools than the desktop version. Swissquote recently upgraded to HTML5 which incorporates TradingView charts.
MetaTrader 4 and 5: are the most popular platforms for currencies & CFD trades. To enhance the default MetaTrader desktop platform, Swissquote gives traders access to the MetaTrader Master Edition suite of tools, developed by FX Blue LLP. MT5 is best for pro traders with extensive charting and unrestricted automation.
Platform and Tools
| | |
| --- | --- |
| Feature | Swissquote |
| Virtual Trading (Demo) | Yes |
| Proprietary Platform | Yes |
| Desktop Platform (Windows) | Yes |
| Web Platform | Yes |
| Social Trading / Copy-Trading | Yes |
| MetaTrader 4 (MT4) | Yes |
| MetaTrader 5 (MT5) | Yes |
| cTrader | No |
| DupliTrade | No |
| ZuluTrade | No |
| Charting – Indicators / Studies (Total) | 51 |
| Charting – Drawing Tools (Total) | 31 |
| Charting – Trade From Chart | Yes |
| Watchlists – Total Fields | 7 |
| Order Type – Trailing Stop | Yes |
Mobile Trading
Swissquote provides its proprietary Advanced Trader app, MT4, and MT5 as mobile trading apps.
App platforms: mobile trading apps are available on Android and iOS. The Advanced Trader, iOS and Android mobile app is easy to use, has a clean design, but lacks charting features. Currency pairs are easily added to a mobile watchlist. Conditional orders are quickly started and include order types such as stop, trailing stop, limit, and OCO. Traders set price, news, and order confirmation alerts/notifications. The app search function is simplistic and lacks advanced filters on the web platform. Traders can only set asset class types and results are sometimes weighted towards Swiss assets.
News: Swissquote's mobile apps connect to Dow Jones newswire. Each topic is clearly labeled on the main screen where traders get other real-time trading data.
Research: In both MetaTrader and the Advanced Trader mobile app, research is limited to headlines streaming from the Dow Jones Newswire and an economic calendar. Advantage Trader has 25 integrated educational videos.
Charts: MT4 and MT5, charts come with 30 indicators and 9 timeframes. The app supports panning and zooming. Advanced Trader has six chart types and 11 timeframes to choose from. Charts do not support landscape mode viewing, lack indicators, and have no ability to zoom into chart data (scroll only). This limits chart usability.
Mobile Trading
| | |
| --- | --- |
| Feature | Swissquote |
| Android App | Yes |
| Apple iOS App | Yes |
| Trading – Forex | Yes |
| Trading – CFDs | Yes |
| Alerts – Basic Fields | Yes |
| Watch List | Yes |
| Watch List Syncing | Yes |
| Charting – Indicators / Studies | 30 |
| Charting – Draw Trendlines | Yes |
| Charting – Trendlines Moveable | Yes |
| Charting – Multiple Time Frames | Yes |
Research
Swissquote's research offerings are excellent, separating them from the competition.
Tailored content: Swissquote's quantitative research team helps structure exchange-traded crypto certificates. They provide a Daily Market Brief and Morning News series from the strategy desk and a weekly Live Analysis report. Swissquote publishes a bi-monthly magazine with 80-pages of technology-rich content spanning global markets.
Third-party tools: Swissquote gives traders access to Trading Central. This powers the Daily Technical Report with automated chart pattern analysis and analyst commentary. They can also use AutoChartist which is available as a MetaTrader plugin.
Newsfeed: business headlines stream across all Swissquote platforms from Dow Jones Newswire.
Videos: Swissquote broadcasts a Daily Market Analysis series on its YouTube channel. The Swiss branch uploads Morning Bull (French), Borsentalk (German), and NY to Zurich Daily (German) videos daily. None are available in English.
Research
| | |
| --- | --- |
| Feature | Swissquote |
| Daily Market Commentary | Yes |
| Forex News (Top-Tier Sources) | Yes |
| Weekly Webinars | Yes |
| AutoChartist | Yes |
| Trading Central (Recognia) | Yes |
| Delkos Research | No |
| Social Sentiment – Currency Pairs | No |
| Economic Calendar | Yes |
Education
Swissquote provides easy-to-understand and professional educational services via videos, ebooks, webinars, and tutorials.
The educational section is rich, well structured, and only available in English. Swissquote materials teach strategies and best practices utilized by successful traders. Traders learn forex market fundamentals, understand advantages and costs of CFDs, how to interpret charts, and analyze price data. They have dozens of videos, including webinars on their YouTube channel.
Education
| | |
| --- | --- |
| Feature | Swissquote |
| Has Education – Forex | Yes |
| Has Education – CFDs | No |
| Client Webinars | Yes |
| Client Webinars (Archived) | Yes |
| Videos – Beginner Trading Videos | Yes |
| Videos – Advanced Trading Videos | No |
| Investor Dictionary (Glossary) | Yes |
| Tutorials/Guide (PDF or Interactive) | Yes |
Customer Service
Swissquote customer service is above average compared to other brokers and available via live chat, phone, and email.
Their trading desk is open 24/5 from Sunday 23:00 to Friday 23:00 CET. Live phone support is available with trading desk and support numbers published on the website. Swissquote uses social media for client communication using Facebook and Twitter.
Swissquote customer service is available in Arabic, Chinese, Czech, English, French, German, Italian, Spanish and Russian.
Banking
Swissquote Bank Ltd holds banking licenses in Switzerland and the UK.
Their Swiss license is issued by the Swiss Federal Financial Market Supervisory Authority (FINMA) and they are a member of the Swiss Bankers Association. Swissquote Group Holding Ltd, is listed on the SIX Swiss Exchange. Their UK license is from the FCA.
Closing Argument
Swissquote is a safe, reliable, and trustworthy broker. Their web-based proprietary Advanced Trader, MT4 and MT5, and mobile app platforms are easy to use, intuitive, and offer a good trading experience. A trusted, global brand, Swissquote is an uncomplicated and straightforward group. Their non-trading fees are competitive.
Their Swiss-based accounts do not include forex or CFDs trading. Their best all-around forex trader experience and lowest pricing, is found in the UK entity using the MetaTrader platform.
About Swissquote
Founded in 1996, Swissquote listed on the SIX Swiss stock exchange in 2000. An established banking group, they have nearly 400,000 client accounts totaling CHF 33.5 billion ($36 bn) across subsidiaries in Europe and Asia. Headquartered in Switzerland, Swissquote offers traders access to two and a half million products, including shares, ETFs, funds, bonds, warrants, futures, forex, options, and other securities. They also offer wealth management and advisory services.
Swissquote Ltd (UK) is authorized and regulated by the Financial Conduct Authority (FCA) and part of the FSCS (Financial Services Compensation Scheme). The company also has offices in Malta, Dubai, Hong Kong, and Singapore.