Tastytrade In A Nutshell
Tastytrade is a broker created for frequent options traders and offers an engaging financial education and news platform. The platform was designed to help you concentrate on probability, liquidity, and volatility. The advantage is that you won't be forced to reach out to a financial advisor or check out passive investing selections. It is an excellent platform for taking action on your own terms.
It's one of the leading brokers for options trading
It has a professional set of tools for frequent derivatives traders
Its platform is user-friendly and offers access to powerful trading features
Its platform has key analytics built-in to aid you to analyze the probability of profit based on the size, strike, or expiry date
It is a derivates-focused platform that allows you to trade ETFs, stocks, and mutual funds
This broker integrated the Small Exchange into its platform
Tastytrade Review And Insights
Tastytrade is a good choice for active traders due to its transparency. This broker says that more than 90% of the trades on its platform are derivatives thanks to the multitude of tools for futures traders and options.
Pros
Customizable trading platform via real-time quotes streaming
Charting designed for options with a focus on probability of making a profit
Built-in video player to verify Tastytrade personalities
Cons
Not suitable for beginner traders
No CDs and bonds available
Portfolio analysis is available on a separate website
Advantages Explained
The tools available with Tastytrade are built-in and extremely reliable. You won't have to check the website to access analytical tasks since everything is available on the downloadable system.
The charting tools are specially designed for options traders. It allows you to analyze the risk profiles of a combined position if you use multiple positions on a specific underlying instrument.
There are educational and research tools available in the form of videos shared by the Tastytrade team.
Disadvantages explained
Beginners might find Tastytrade' platform hard to understand. All trading platforms come with a learning curve, but things are more challenging with this broker because their platform was created for active traders.
Tastytrade has no fixed income trading outside the ETFs with bonds for traders who desire to allocate part of their assets to a conservative asset class.
Traders who need additional portfolio analysis beyond profit and loos have to log in on a separate site, The Quiet Foundation.
1. Fees and Spreads
Tastytrade clients don't have a commission for trading US equities online, and there is no per-leg commission for options trades. This broker has a unique fee structure for options trades, with a cost of only $1 per contract to open a trade while closing it is free. However, there is a maximum of $10 per leg for options trades, which is excellent for traders with large spread orders. ETF and Stock fees are $0, while regulatory and exchange fees are included in the trading commissions.
ETF and Stock trades have no commission, no matter their size.
ALL OTCBB transactions must be placed via a live broker and have $0 commission for closing trades. The downside is that you can't open an OTCBB position with this broker.
Options traders have a $0 fee per leg, while opening a position with a maximum of $10 per leg comes with a $1 price per contract. All positions cost $0 to close.
A trade of 50 contracts costs $10 per leg maximum.
An opening fee of $5 is charged for covered call trades of 500 shares and 5 contracts, while there is no closing fee.
Mutual funds orders with a live broker come with no commission.
Futures trades cost $1.25 per contract to open or close.
Micro futures cost $0.85 per contract to open or close.
Options on futures cost $2.50 per contract to open and $0 to close.
Margin interest is 8% at $10,000, while for a $100,000 balance it's 6.5%.
This broker has no account closure or inactivity fee.
This broker has an account transfer fee of $75.
Sending a wire costs $25, and the check fee is $5.
Paper statements cost $5 and paper trade confirmations $2.
You can trade with a live broker with no extra fees.
Most online brokers changed their business approach due to the zero-fee pressure. Tastytrade has a fee structure on the lower side of average to encourage clients to get out of losing trades by having zero commissions to close options strategies.
Interest on cash balances – this broker doesn't automatically enroll its clients in cash sweep programs with interest rates higher than the standard 0.01%. Customers can take action on their own to fund a money market fund and then transfer when placing a trade. The broker makes money from the difference between what they can earn on customer cash balances and the interest earned by your idle cash.
Stock loan program – this broker makes money by loaning stocks in your account for short sales by other traders. This income is minimal because trading equities isn't a common practice for Tastytrade' customers.
Price improvement – this broker's router generates around $0.0057 per share in price movement and $2.95 per contract on options orders.
Cost for order flow – this broker accepts some payment for order flow on options orders and equity. The average PFOF for equities is $0.0015 per share, and for options if $0.50 per contract.
Portfolio margining – this is an exciting feature that can decrease the amount of margin required based on the calculated risk. Mostly, portfolio margining functions best for customers who trade derivatives that overcome the risk inherent in the equity positions.
2. Account Types
Creating a new account with Tastytrade is more straightforward on the website, where you can submit all the necessary documents required by the "know your customer" verification process. When you finish this process, you can download the platform. The upside of this is that you can download and test the Tastytrade platform before funding the account.
When your account is open and approved, you can personalize the locations of several widgets and layouts to suit your trading needs. The advantage of using Tastytrade as your broker is that they won't display endless pages of content on offering tools or retirement portfolio allocation.
If you log in to your account, you can select between a couple of standard actions:
You can check your portfolio.
You can see the actions of traders you follow.
You can read the news from Tastytrade.
You can start trading.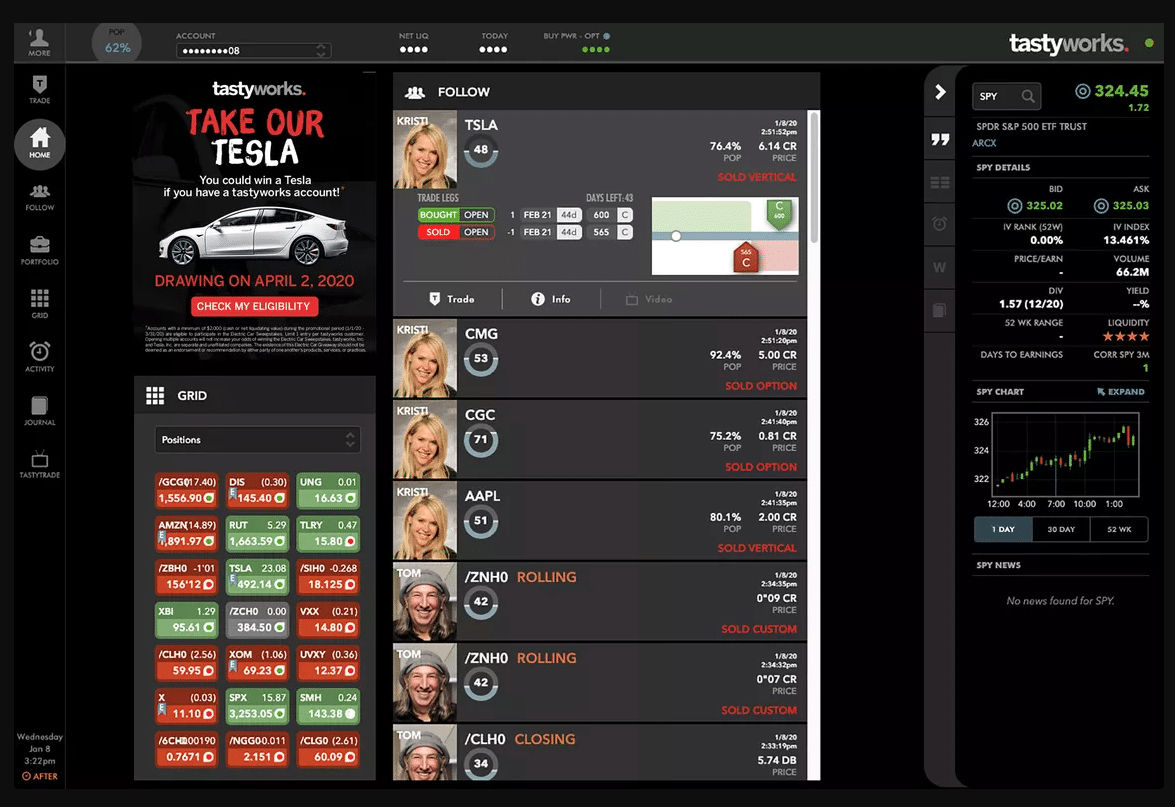 Some of the account amenities include:
Tastytrade customers can request portfolio margining.
The stock loan program isn't available.
Accounts have a low-interest rate for cash balances.
Customers can manually sweep idle cash into a money market account.
Dividend reinvestment programs aren't available.
3. Trading Platform
Tastytrade offers an excellent trading experience since the entire structure evaluates volatility and the probability of profit. You can choose between two desktop platforms: you can use the platform in a browser or download the Tastytrade platform on your computer. We recommend the downloadable version if you want to stream data faster.
The most important component of the mobile, web, and downloadable platform is the Watchlists tool. The Watchlists are on the screen's left-hand side, while the center area offers access to strategy-building tools, charting, analysis, and options chains. The right side of your screen features information on position details, alerts, and activity. Everything can be customized to display your preferred features for the best trading experience.
If you're analyzing or charting a specific trade, you can review the transaction you're building in real-time. A trade ticket at the bottom of the screen lets you adjust or analyze the activity before moving to the Review and Send a text.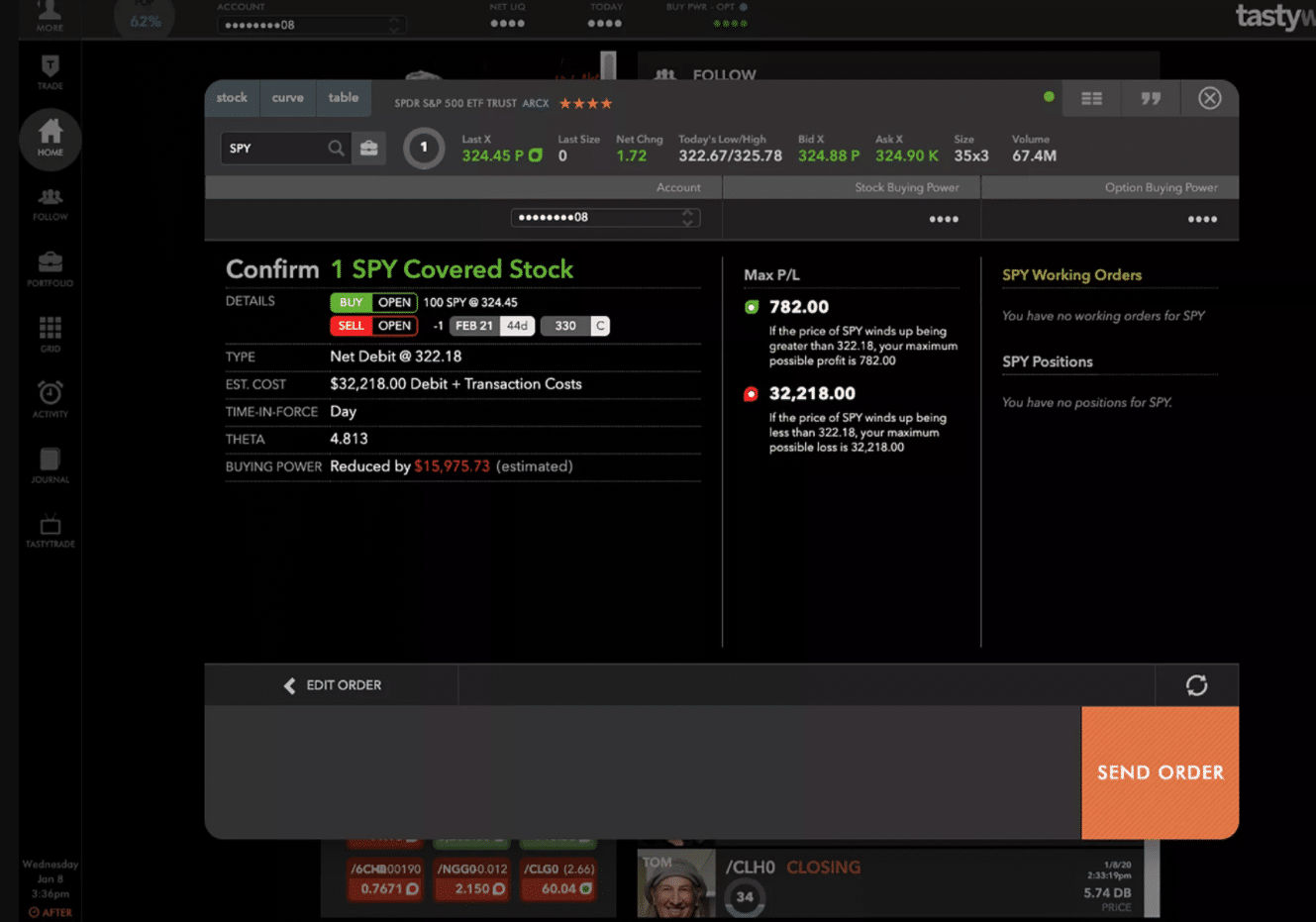 Open positions are in charts, where you can build new spreads or adjust them. However, you aren't allowed to stage orders for later or send multiple orders. You can submit an order size, Stop Loss and Profit for single-leg options, futures, stocks, and ETFs.
The desktop platform offers a new Chart Grid feature, which you can discover by navigating to the Trade tab and selecting the Grid move. Here you can trade ETFs, stocks, outright CME Futures, and outright Small Contracts.
4. Mobile Trading
The mobile app at Tastytrade is a stopgap for keeping your trading positions while you're away from your computer. What we like most about this app is that it's intuitive and straightforward to understand the workflow. It offers the best trading experience you can find on the market.
Even though the app is reliable, it is best to use the downloadable or web platform for heavy trading. It can offer the necessary extra visual space.
5. Markets And Products
Tastytrade customers can focus on futures, options, and similar derivatives. The downside is that there are no limited fixed incomes and international offerings. Also, you need to reach out to a broker to trade treasuries and mutual funds. Tastytrade doesn't offer OTCBB (penny stock) trades except to close a position transferred from another brokerage.
You can trade the following assets with this broker:
Short and long stocks
OTCBB (penny stocks) with a live broker, no transaction commission, only for closing positions
Mutual funds with a live broker with no transaction fee
US Treasuries with a live broker; corporate bond positions can be closed with a live broker, but no opening trades are available
Commodities and futures
Futures options
Multi-leg and simple options
The ordering system with this broker is for derivatives trading. The stock order entry ticket is simple to understand, but you'll notice that the order entry setup is excellent for trading options. You'll get a notification when you click on the Place Order button, asking if you're sure you would like to place the market trade.
A unique feature at Tastytrade is the built-in pairs trading for several asset types. You can also use a pre-defined options strategy or modify the expiry date in the probability of profit charts.
Overall, it is easy to change and adjust the current positions. Rolling strategies and closing positions for futures options and options are straightforward, but you can't select a tax lot when closing the position. The standard is first-in, first-out.
Another advantage of this broker's platform is the proprietary smart router designed for order fill quality and price improvement. Internal systems send a random order to every execution partner that is verified by the firm. Tastytrade aims to improve the experience based on trade quality statistics, so the percentage of orders routed to each execution partner is modified continuously. Usually, price improvements for stock orders are around $0.006 per share, while for options is $2.95 per contract.
The downside here is that you aren't allowed to automate or backtest a trading strategy or indicate where an order is routed.
6. Research
This broker's platform has several research features for discovering and placing trades for futures, options, and futures options. However, research for fixed income or mutual funds isn't available, but derivatives traders can benefit from reliable data and analytics. Tastytrade has a proprietary platform with little to no third-party tools and analysis.
Stock Screener
This platform doesn't have a classic stock screener. The broker focuses on trading and recent price signals, not traditional hold metrics and buys, like dividend payouts. Clients can screen for particular assets, take a market-wide approach, and categorize based on volatility, earnings date, and net change.
ETF Screener
This broker doesn't focus on equity analysis, but you can create a watchlist for ETFs and the sort on volume, volatility, and other related metrics. The downside is that there isn't an option to sort by fundamental criteria.
Options Screener
The major benefit of this platform is analyzing possibilities. Clients working on a particular asset or watchlist can use the Options Screener built-in feature to add or remove days to expiration, costs, and Greeks.
Calculators And Tools
Several calculators and tools focus on calculating the probability of profit of a specific options strategy. Each live scanner and built-in sorter features the probability of success.
Trading Idea Generator
This is another built-in feature that lets you monitor professional traders and follow their trades with the "Duplicate this Trade" menu. Similar to the "copy trading" feature available at other brokers. You can also check out the watchlists of Tastytrade's dynamic recommendations of the top 10 most frequently traded in the last 60 minutes by Tastytrade clients.
News
Acquire Media offers access to news in the quote sidebar.
Charting
This platform has several options-focused charting tools that aid you in understanding the probability of making a profit. You can check trading data by hovering your mouse over a trade, which will show you the time or date. There is an analysis page that shows details on open positions, and if you have multiple positions on specific underlying assets, you can verify the risk profiles of the combined position. Overall, you have access to all the charting tools necessary to adjust your position and pay close attention to details.
The desktop platform offers the ChartGrid, a built-in tool that enables clients to load up to 10 different underlying assets on a single page. You can personalize these charts and trade directly from them. Moreover, this desktop platform features real-time portfolio statistics, like delta, theta, probability of profit, buying power, and liquidity. You can access in-depth information on your portfolio risk via an account with the Quiet Foundation. This is a registered investment advisory managed by Tastytrade. It comes with no fees for investment assessment, and you can link other accounts for a thorough analysis.
The analytical metrics available on the desktop platform include gain and loss, delta, probability of profit, capital usage, and beta weighted delta. However, the internal rate of return calculation isn't available, and you can't predict the tax impact of a future trade.
7. Education
Tastytrade has videocast, an area on their platform where traders can learn how this team of active traders manages their trades. Live videos are available almost the entire trading day, and you can access the video archive for additional information. There is no fee charged for attending those videos, so you should spend some time learning about derivatives trading.
Proactive investors can check out the digital publication, Luckbox. It is an asset for those looking forward to improving their investment decisions by understanding the probabilities and risk-taking actions.
Tastytrade has a reliable FAQ's section on their website, which can help you learn more about the best trading strategies to implement.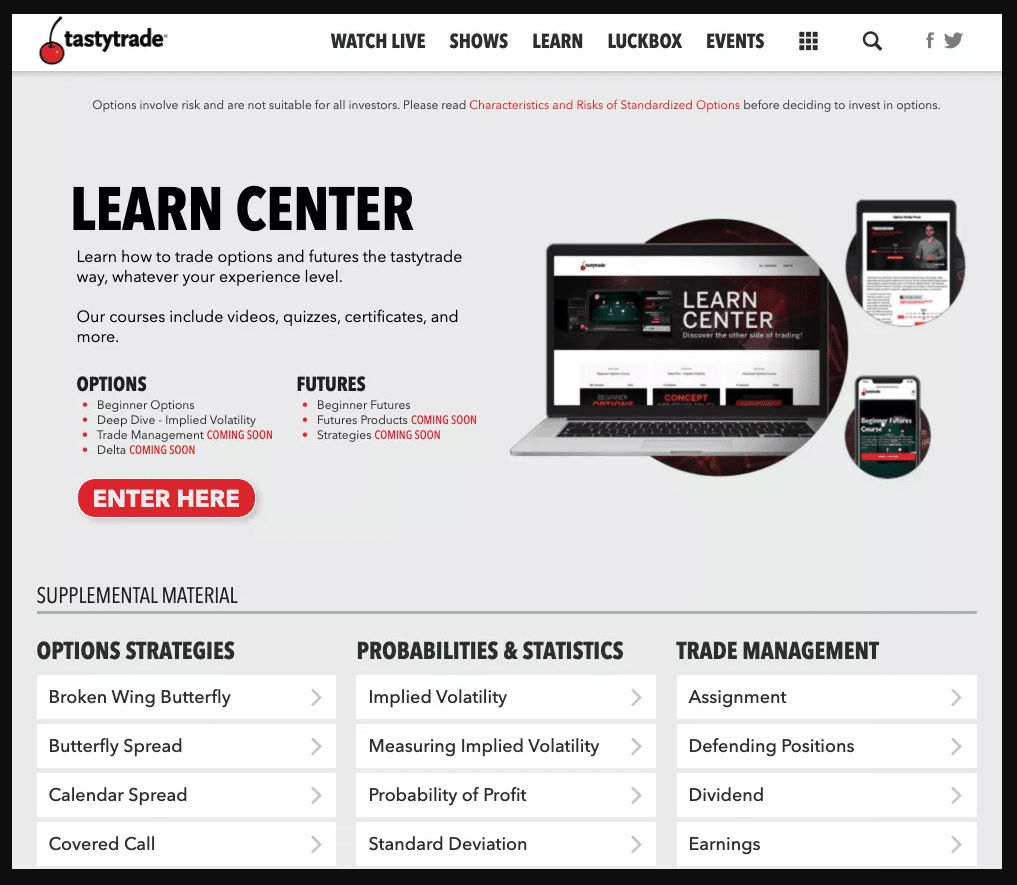 8. Customer Service
Tastytrade has a reliable customer service team. The phone support is available Monday through Friday from 7 am to 5 pm Central time, and we received an answer promptly. You can also use the chat widget on the mobile app and website to reach out to a live representative.
Keep in mind that you can always discuss it with a live broker during regular telephone hours.
9. Safety
Tastytrade is a trustworthy broker and aims to improve its security constantly. We like that this broker's mobile app has face recognition and fingerprint authentication, but the downside is that two-factor authentication isn't possible.
There is coverage offered by Lloyd's of London, which supports the Excess Securities Investor Protection Corporation (SIPC) at 37.5 million per account and a cap of $150 million.
By the end of 2019, there were no significant data breaches on Tastytrade locations, which adds to its advantages.
The Bottom Line
Tastytrade is an excellent broker for active traders that focus on trading derivatives.
Clients can trade options, futures, stocks, and futures options with the stable data feed. Tastytrade is a recommended broker for those looking forward to improving their skills to analyze the risk inherent in trading methodologies. However, if you're a beginner trader or a traditional investor by nature, Tastytrade isn't recommended for you.