TD Ameritrade is the leading US-based stockbroker with a proprietary trading platform. It has a banking background and a prominent presence on the New York Stock Exchange. TD Ameritrade offers an extensive range of assets at competitive trading fees. All assets are available for testing through the demo account.
Top findings from the TD Ameritrade review: 
TD Ameritrade is a reliable broker. It has top-tier licenses from the SEC, CFTC, and FINRA. It has two mobile platforms, one for inexperienced traders and one for professionals. The desktop and trading platforms have excellent learning tools.
It discloses its financials, and it has no fees for deposit, withdrawal, or inactivity.
It offers many tradable instruments, including 77 forex currency pairs.
We recommend TD Ameritrade for both experienced and beginner traders. It has reliable learning resources and powerful professional research tools.
Trading Platform
TD Ameritrade has reliable trading platforms which focus on learning tools. It has a straightforward web-based trading platform and a proprietary desktop platform, Thinkorswim. TD Ameritrade Mobile and TD Ameritrade Mobile Trader are available on the Apple App Store and Google Play Store. Professional learning and trading tools are available across TD Ameritrade's platforms.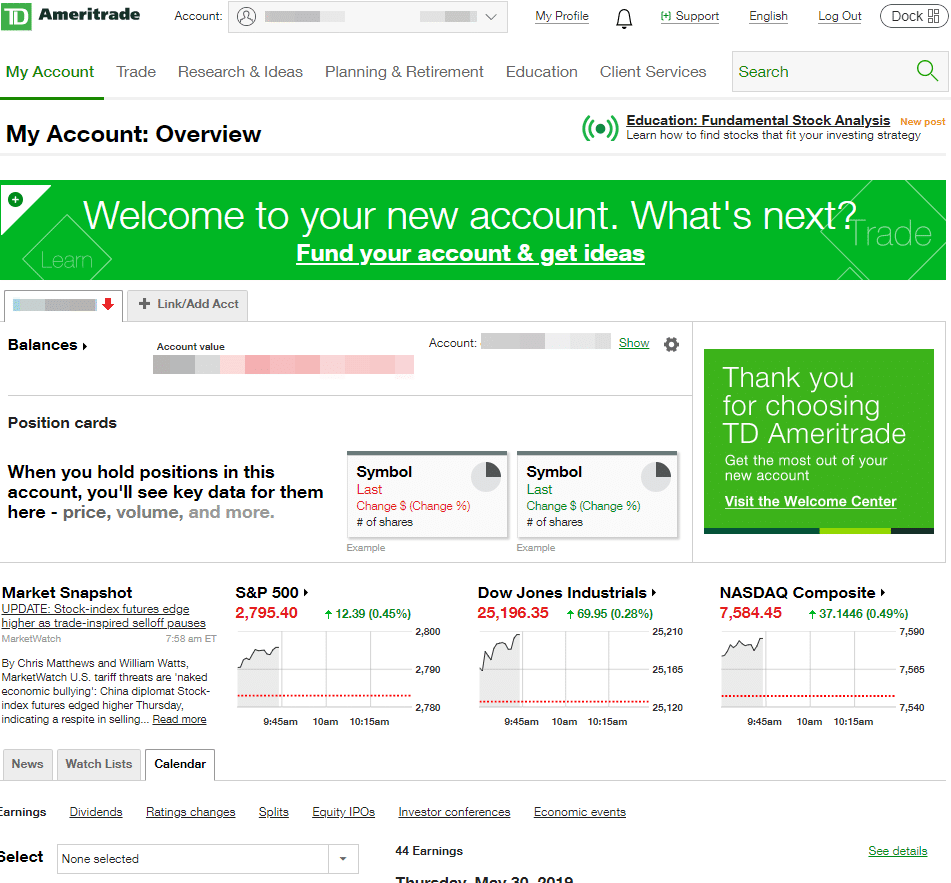 Web-Based Trading Platform
The web-based trading platform is excellent for research and trading assets like stocks and ETFs. It is a good choice for beginner traders because of its straightforward design. The web platform offers access to third-party analysis and research data.

The platform has limited customizability, and it is available in Chinese and English. The demo account isn't available on the web trading platform. If you want to test the offering at TD Ameritrade, the demo account is available on the desktop platform.
Thinkorswim
Thinkorswim is the best proprietary desktop platform on the market, and it's available in Chinese and English. It comes with a user-friendly design and excellent customizability. Thinkorswim offers useful search functions with an average automatic suggestion feature. The demo account allows you to test these tools before investing with TD Ameritrade.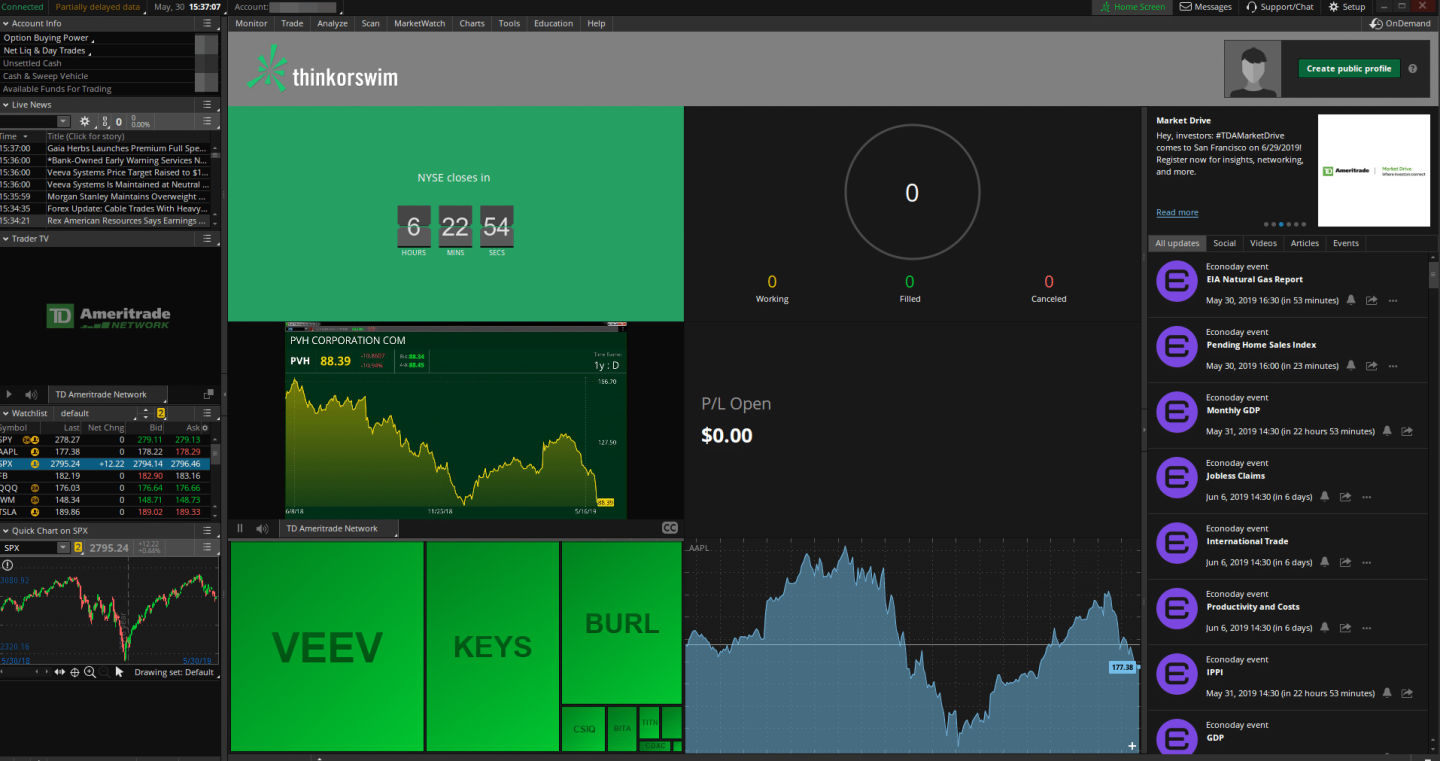 TD Ameritrade's desktop platform has the MarketWatch feature. It lets you set up notifications and alerts by email, mobile, and text message. It has more advanced charting tools than the web-based platform. Thinkorswim has limited third-party and analysis research tools.
Mobile Trading
TD Ameritrade has premium mobile trading platforms with a user-friendly design. TD Ameritrade Mobile (optimized for mobile devices) and Mobile Trader let you trade many assets like forex, stocks, and ETFs. The apps are available on Android and iOS in English.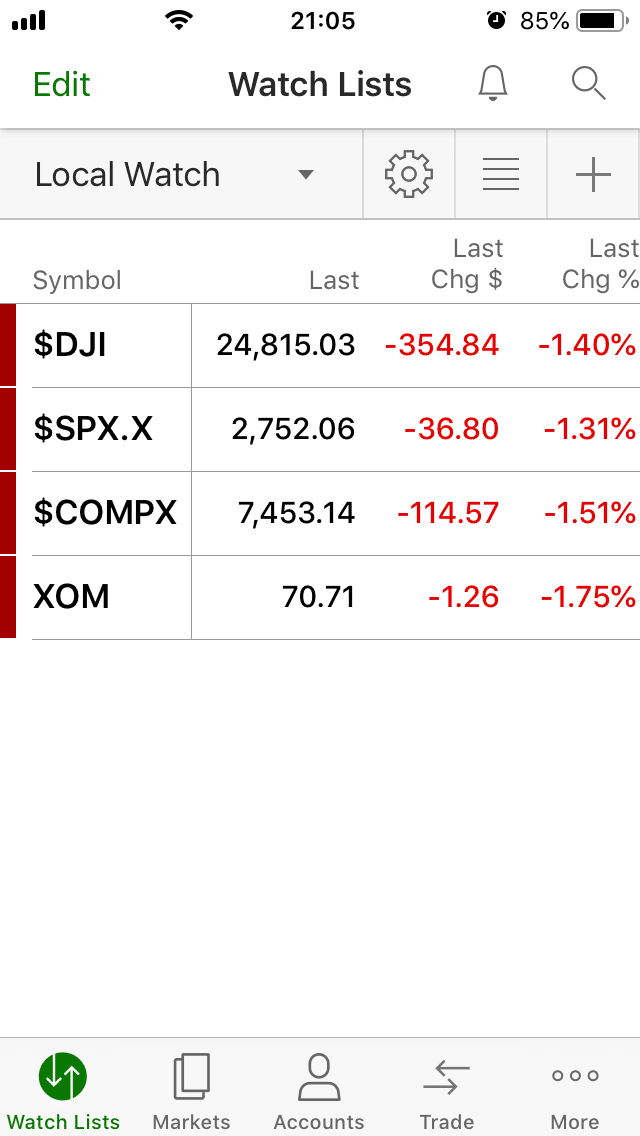 Both mobile trading apps have reliable search functions and alerts. Virtual trading, conditional trading, and chart drawing are only available on Mobile Trader. The mobile versions have limited order types when compared to the web platform.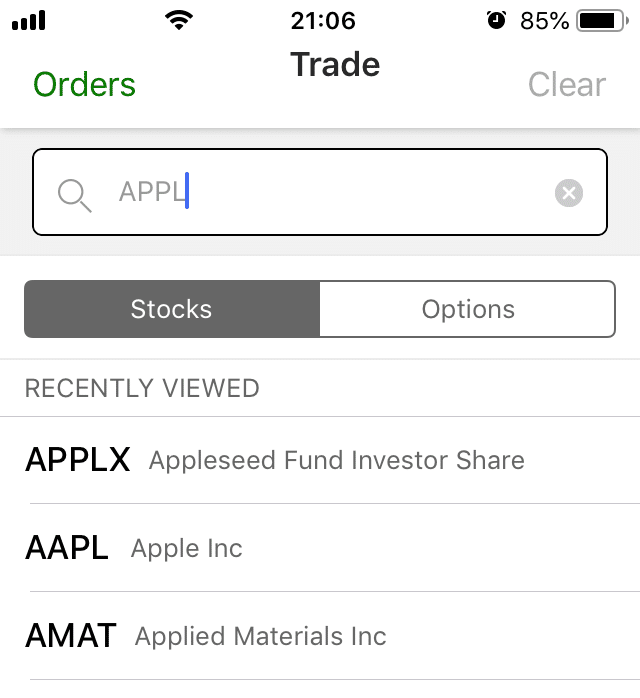 Fees and Spreads
TD Ameritrade has free ETF and stock trading and low trading fees for bonds, forex, and options. Commissions on mutual funds are higher than with competitor brokers. The average spread cost for the EUR/USD pair is 1.2 pips.
This broker offers low non-trading fees. There is no fee for depositing and withdrawing funds if you use an ACH transfer. The only option for withdrawing and depositing funds for non-US residents is wire transfers, which cost $25 each.
Withdrawals And Deposits
TD Ameritrade has a transparent deposit and withdrawal process. There is no deposit and withdrawal fee for US residents. Wire transfer withdrawals come at a high cost. TD Ameritrade only lets you hold cash in USD.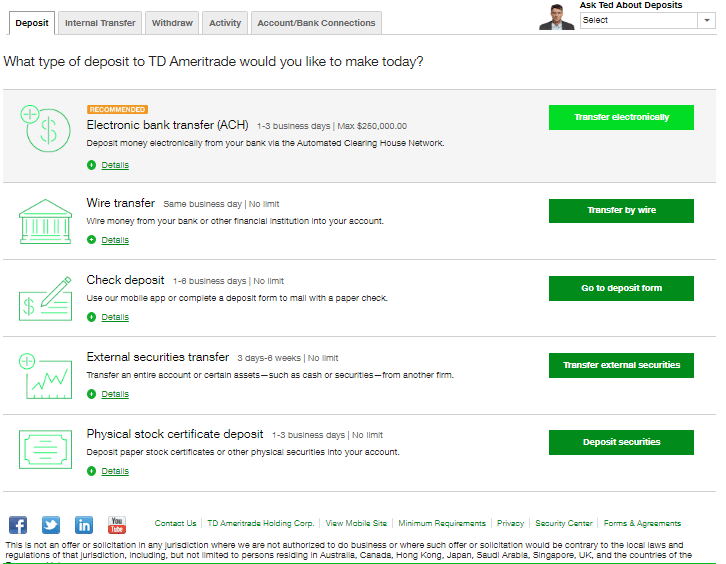 US customers withdraw and deposit funds with ACH, checks, and wire transfers. Customers from Singapore, Malaysia, and Hong Kong manage their funds with wire transfers and checks. The minimum transfer amount is $50.
Account Types
TD Ameritrade has nine versatile account types, including a demo account. Each offers excellent services for different trading styles, experience levels, and investment sizes. The initial deposit fee for a basic account for US customers is $0, but there is a fee for non-US residents.
Fees
| Trading Preferences | Minimum Deposit |
| --- | --- |
| Basic Account Trading | $0, but electronic funding has a $50 minimum |
| Margin Trading* | $2,000 |
| Day Trading | $25,000 |
| Trading With TD Ameritrade Portfolios | $5,000 – $250,000 |
Creating an account at TD Ameritrade is simple but not entirely digital. You'll have to submit an online form and mail the document with a copy of your ID to TD Ameritrade. You'll choose your preferred account type during the account creation process.
Account Types
| Account | Description |
| --- | --- |
| Individual | A Single Account Owner |
| Joint Account | Two Or More Account Owners |
| Business Account | A Legal Entity Owns The Account |
| Retirement Account (Roth IRA, Traditional IRA, Rollover IRA) | Individual Retirement Accounts Available Only For US Customers |
| Pension Account | Small Businesses And Self-Employed Individuals Available Only For US Customers |
| College Savings (529 Plan) | Accounts For College Savings Plans Available Only For US Customers |
| Guardianship Or Custodial Account | Special Accounts Available Only For US Customers |
| Trust | The Account Owner Has The Right To Transfer Assets To One Or More Trustee. It Is Available Only For US Customers |
| TD Ameritrade Portfolios | Accounts For Trading With TD Ameritrade's Portfolio, Available Only For US Customers |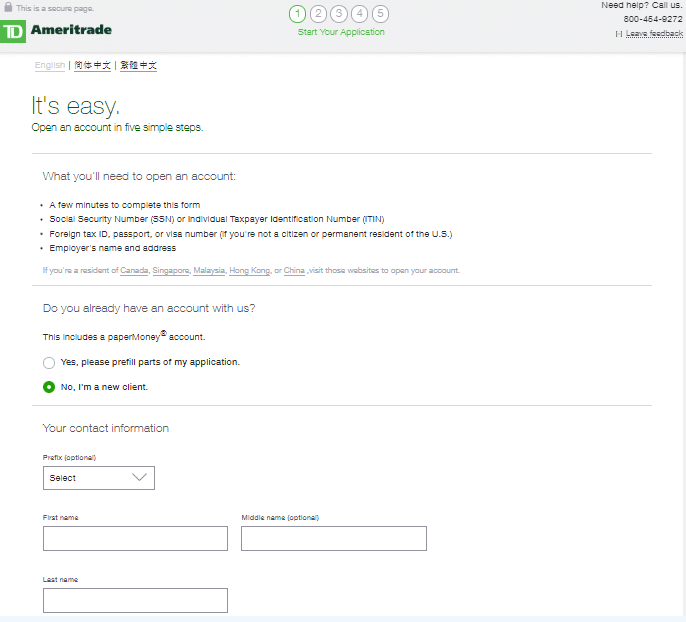 Regulation & Reputation 
TD Ameritrade holds licenses from top-tier US regulators, such as the FINRA and the SEC. It provides a high investor protection amount but no negative balance protection.
This broker has an outstanding banking background and a presence on the NASDAQ stock exchange. It has transparent financial policies and a long track record in online investments.
Customer Service 
TD Ameritrade has reliable customer service with 24/6 availability. Customer service is reachable by telephone, email, and live chat. It is available in English, Spanish and Chinese.
TD Ameritrade has a professional and knowledgeable support team. They offer fast and relevant answers to all queries.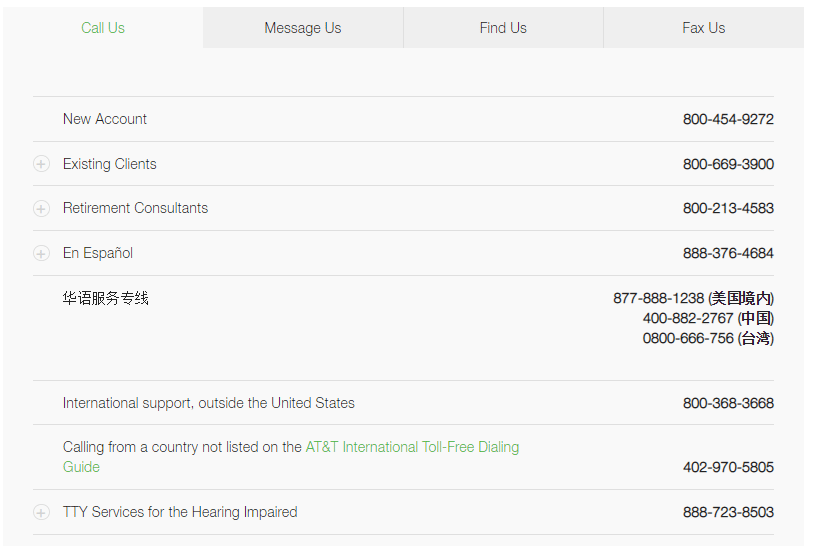 Research & Education 
TD Ameritrade has valuable research and education tools available in Chinese and English. Thinkorswim offers the best tools for both experienced and inexperienced traders.  
Trading Ideas
TD Ameritrade is a good choice for beginner traders. It offers trading ideas for ETFs, stocks, mutual funds, and fixed incomes. These come from third-party providers like TD Group and CFRA.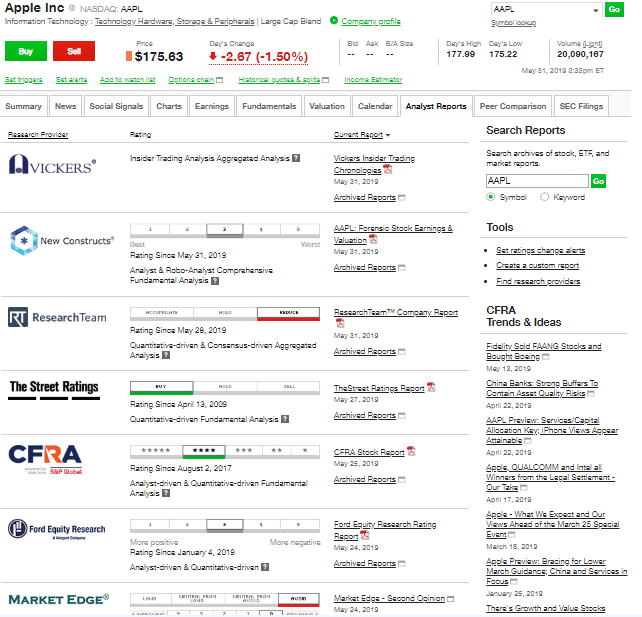 Fundamental Data
Fundamental data at TD Ameritrade is available for stocks. Peer Comparison, Valuation, and Earnings offer some of the best research information.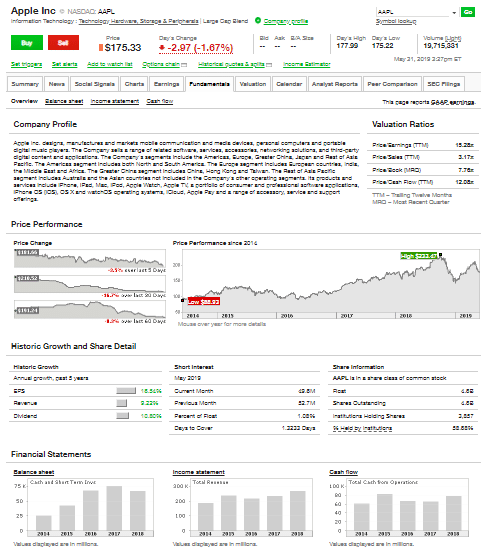 Charting
This broker has impressive charting tools with 400 technical indicators. TD Ameritrade has the most extensive number of indexes on the market.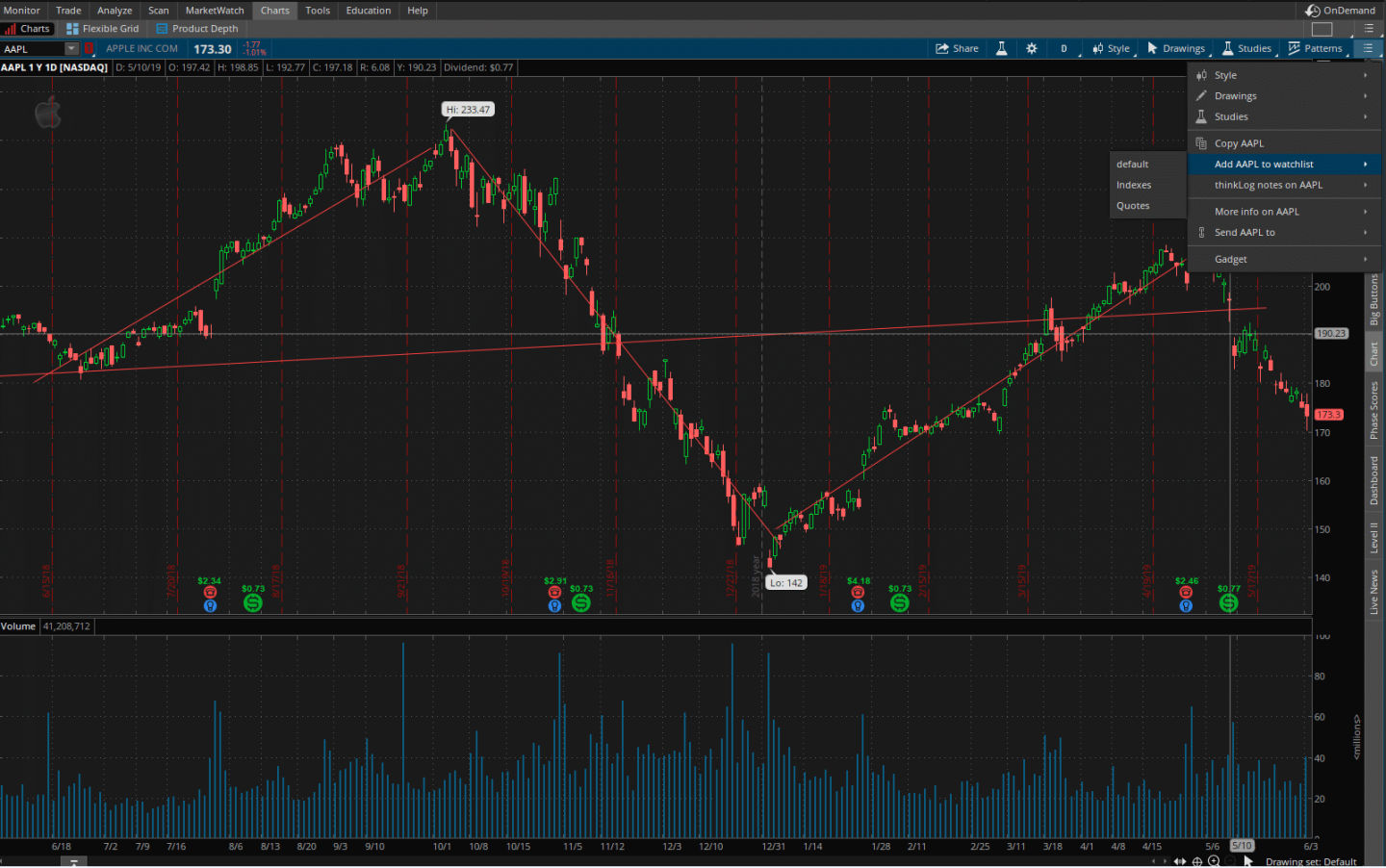 Newsfeed
The newsfeed is straightforward and easy to read by beginners. Third-party providers offer it, including Benzinga and MarketWatch.
Education
TD Ameritrade offers impressive educational materials like professional articles and webcasts. Thinkorswim comes with a demo account and a virtual balance to start trading without risks.
TD Ameritrade offers various tools to improve your trading knowledge: 
Demo account 
Platform tutorial videos 
General educational videos 
Webinars 
Professional educational articles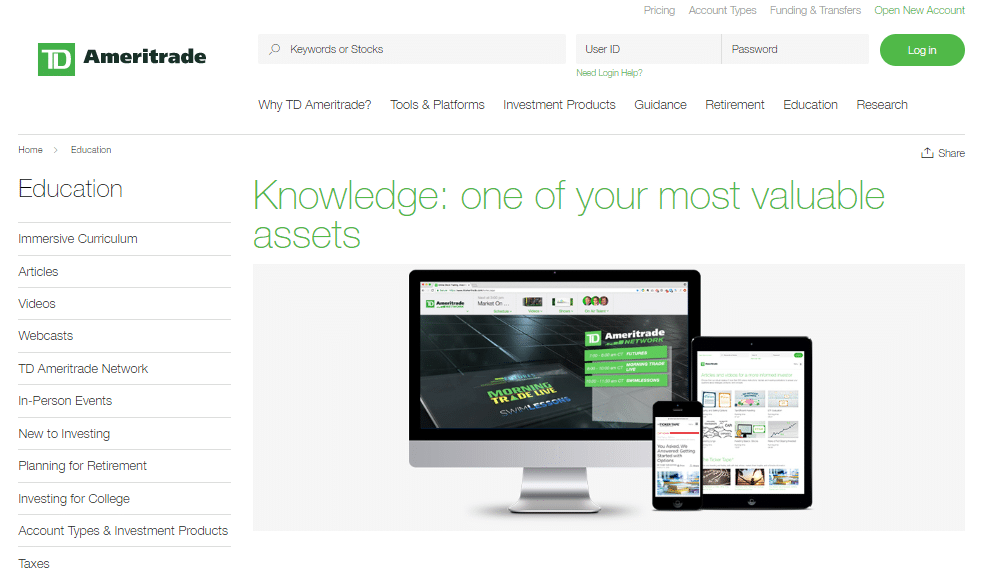 Final Verdict 
TD Ameritrade is an online broker for traders of all levels of experience. It has a versatile portfolio with several assets and account tiers. Its proprietary platform, Thinkorswim, has a demo account.
This broker is accessible and has reliable customer support. It offers excellent research and education tools for both experienced and inexperienced traders.
The downside is that the product portfolio at TD Ameritrade only covers products from US markets. This broker does not offer debit/credit cards for money transfers.
We recommend TD Ameritrade for beginner traders due to the reliable learning tools and customer support.
FAQ
How many managed portfolios are available at TD Ameritrade? 
TD Ameritrade has three managed portfolios:
Essential – This is a robo-advisory service that lets you choose from five ETF portfolios. The minimum to start using this portfolio is $5000.
Selective –This offers access to a personal expert and personalized service. It has a $25,000 minimum.
Personalized – A team of experts identifies your needs and experience level. The team then constructs and manages your unique portfolio for you. These come with a $250,000 minimum deposit.
Does TD Ameritrade offer US Investor Protection? 
All customers at TD Ameritrade receive the US Investor Protection Scheme (SIPC). The SIPC protects you in case of securities and cash loss due to the broker's negligence. It has a limit of $500,000, which includes a $250,000 limit for cash.
Is it safe to trade with TD Ameritrade? 
TD Ameritrade is a safe broker because of its banking license, presence on a stock exchange, and top-tier licenses. It has transparent financial statements, competitive fee policies, and a long track record of success. Invest in tradable assets that match your level of experience.