If you want to store your Cryptocurrency, the use of a hardware wallet is indispensable. Especially when you want to keep them for a long while, we recommend the use of a hardware wallet. It is safe and your cryptocurrency is far out of the reach of hackers and malware.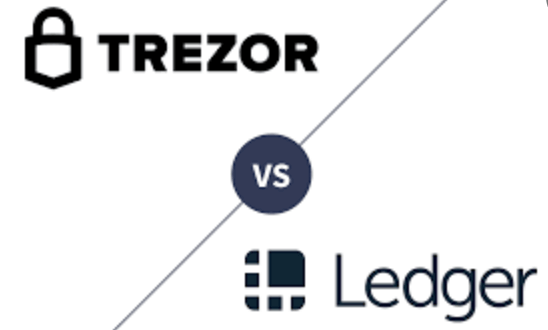 Several manufacturers of hardware wallets have already jumped into the growing cryptocurrency market. Some are simple USB sticks, others are technical devices with all kinds of fuss around it. We limit ourselves to the two most famous players of the moment, Ledger and Trezor.
The Ledger is currently the most popular and the most sold hardware wallet on the crypto market. This is despite the fact that the Trezor was the very first hardware wallet ever made. Users can store more than 1800 different altcoins on the Ledger Nano X and the security is better than ever. Thanks to the USB connection, users can use the device with any computer. With the OLED display, they can check and confirm every transaction at the touch of a button. Safety first when it comes to Crypto. But actually, the Trezor can handle as many coins as the Ledger and is equally secure.
So which of the two hardware wallets is better? In this Trezor vs. Ledger review, we look at the features, ease of use, and cost of both devices.
Trezor vs. Ledger – Usability
Both hardware wallets are comparable in size, you can best see them as USB sticks. The Ledger Nano X also has the shape of a USB stick, while the Trezor One is a bit wider. Trezor did this so it can accommodate a larger screen in the wallet. You can use both wallets by connecting them to a computer. Both wallets are compatible with Windows, Linux, and Mac computers. Trezor wallets can only connect to Android devices, whereas Ledger wallets can also connect to iOS phones.
Trezor wallets have bigger displays than Ledger wallets. The Ledger Nano X features an OLED screen with 128×64 pixels, whilst the Trezor Model One has an LCD color touchscreen with 240×240 pixels.
The controls of the two wallets are different. The Ledger only has one single line on the screen, so it takes longer to enter things. For example, with a seed phrase, you can only see one word, while with the Trezor you immediately see three.
Using the two physical buttons on the top of the Ledger you scroll through options, and by pressing both buttons at the same time you confirm. The Ledger sometimes feels a bit cumbersome, but in the end, it works very well and you never spend a lot of time with it.
The Trezor has a screen with 3 lines, which means that entering information is often a little faster. For example, 9 characters can be displayed (when entering your PIN) or three words at the same time with a passphrase. Entering information is often a bit smoother, although it is still not very different. The Trezor has buttons on the front of the screen, making it easier to put it down and enter information with your index fingers. While you always take the Ledger in your hand and control it with both hands.
The Trezor also has more commands that run through the computer. If you enter the PIN code, you will see 9 digits on the screen which you can click on via your mouse on the computer. With the Ledger, you have to manually scroll through the numbers and select them one by one on the device.
The Ledger Nano X can be connected to PCs and smartphones with Bluetooth. Trezor devices do not have this capability. Despite this, most people prefer Trezor devices over Ledger wallets in terms of usability.
Trezor vs. Ledger – Supported coins and tokens
The Ledger Nano X can store 1800 different coins and tokens. The Trezor Model T device can store 1649 different digital assets. The Ledger Nano X supports a total of 151 coins that you cannot store on the Trezor One. The main differences are coins like Cardano, Monero, and Ripple that users can store on the Ledger Nano X but not on the Trezor One.
Both wallets feature built-in cryptocurrency exchanges. This means users can buy, sell, or trade coins they can keep in their wallets.
Trezor vs. Ledger – Security
Both hardware wallets are way safer than online cryptocurrency wallets. This is because private keys are stored on the devices. Even when a hardware wallet is connected with a PC or other device with an internet connection. Trezor wallets feature a single security chip, whilst Ledger wallets have two chips. Ledger's second chip is a bank-grade secure element. This provides extra security against hardware-based attacks.
Ledger devices run on a blockchain open ledger operating system (BOLOS), but closed-source firm wire. Trezor wallets run on open-source software, which has both pros and cons. Everyone can improve their wallets, but also see the code behind them. Ledger wallet users have to enter their password via the device. Trezor users have to use a keyboard.
Ledger suffered a marketing database breach in 2020. Despite this, their devices are considered safer than Trezor devices.
Trezor vs. Ledger – Cost
Pricewise the basic models of both companies cost about the same, $59. The premium devices of both companies are different in price and appearance. The Trezor Model T costs over $200, whilst the Ledger Nano X costs $119. The Trezor Model T has a color touchscreen, which is easier to use. The Ledger Nano X's display is bigger than Ledgers' basic model but still relatively small.
Trezor vs. Ledger – Software
Ledger devices come with the Ledger Live application. This is an app that users can download for their PC or smartphone. Ledger Live lets users manage their accounts, view their crypto balances in real-time, and send or receive funds. Ledger users can also buy or sell crypto using Ledgers' built-in cryptocurrency exchange.
Trezor users can install the Trezor Suite desktop app. This app provides real-time portfolio information and has a built-in exchange. Ledger and Trezor both work with third-party integrated wallet apps like MyEtherWallet and MetaMask. Trezor devices are compatible with 15 third-party wallets. Ledger wallets can work in conjunction with 24 third-party wallets.
Conclusion – What Is The Best Hardware Wallet?
The Ledger wallets offer the most value for your money. These products support more coins and are more competitively priced. The Trezor models have been around for a while and, in our opinion, are somewhat surpassed by Ledger. We also feel that the Ledger team is a bit more active when it comes to adding support for new coins.
On top of that, but that is very personal, the Ledger wallets look a bit sleeker and more modern. That said, the Trezor wallets don't do much wrong. The devices are easy to use and do exactly what they should do.
You can't make a wrong choice if you choose one of these two types of hardware wallets, but in our view, the Ledger wallets are the best ones.
FAQ
What are Ledger and Trezor?
Ledger and Trezor are companies that produce hardware wallets. Consumers can use these hardware wallets to store their cryptocurrency offline. The hardware wallets give users full control over their private keys. This gives them better protection against hackers and malware. Users can also view their current holdings without an active internet connection. These hardware wallets are comparable to keeping cash in a home safe rather than on a bank account.
How do Hardware Wallets Work?
Hardware wallets enable users to store their cryptocurrencies ''offline''. Users can connect their hardware wallets to devices with an active internet connection to send or receive cryptocurrency. Users can see their portfolios in real-time on their hardware wallet devices.
Why Should I Use a Hardware Wallet?
You should use a hardware wallet because it is a more secure way to keep your cryptocurrencies. Keeping your crypto "offline" secures it against hackers and malware.