The DAO was the world's first decentralized autonomous organization. It launched in 2016 after a crowdfunding campaign. The DAO's goal was to provide a new decentralized business model for organizations. The source code of the DAO was open-source and available on Github. In June 2016 the DAO got hacked. As a result, the DAO token was removed from cryptocurrency exchanges, and Ethereum hard forked. Because of this, there are now both Ethereum and Ethereum Classic.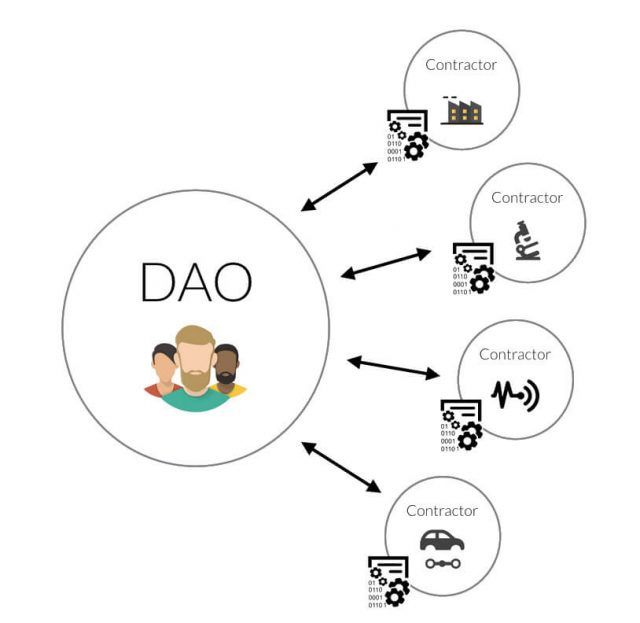 How did the DAO work?
The DAO worked by a series of smart contracts on the Ethereum blockchain. The DAO had no people behind its organization. All members of the DAO owned it together.
What was the goal of the DAO?
The goal of the DAO was to set up a decentralized investment firm.
Other Well-known DAOs
Uniswap (UNI), Compound (COMP), Aave (AAVE), and DAO Maker (DAO) are examples of new projects that use the DAO principle for the governance of their DeFi protocol.
DAO Advantages
Smart contracts organize DAO business processes. There is no hierarchical structure. Any member can contribute ideas and it is democratically decided which ideas will be implemented. DAOs are completely transparent. All business activities and results are accessible to everyone via the blockchain.
DAO Disadvantages
The disadvantages of a DAO are that one cannot alter the smart contracts. Everyone has to agree to suggested changes for them to take place. A flaw or vulnerability in a smart contract can cause the entire organization to go down, like the original DAO. Another drawback is the legality of a DAO. The SEC concluded that the original DAO tokens sold were securities. For this reason, this was a violation of U.S. securities laws.