Forex trading signals support the top trading strategies in 2023. A forex "signal" is a suggestion to enter or leave a trade on a specific currency pair. A signal happens at a particular time and price. An analyst or an automated forex robot offers forex signal services. This article discusses the best forex signal platforms in 2023.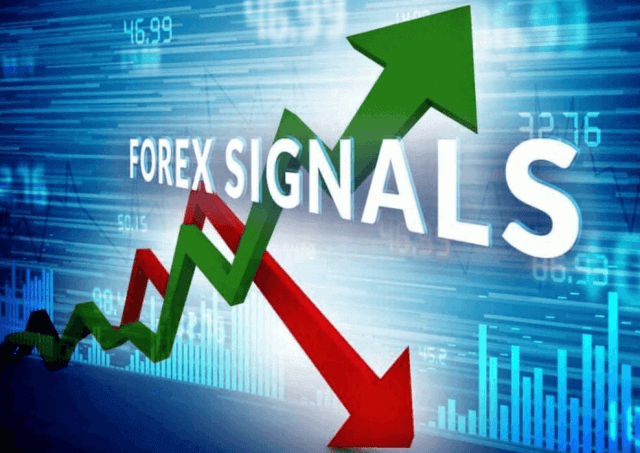 Best Forex Signal Platforms In 2023 
The best forex signal platforms in 2023 are Learn2Trade, 100pip Builder, Direct Forex Signals, Daily Forex Signals, Forex Signal Factory, Algo Signals, FXPremiere, Forex.Signals.com, MQL5, and FXLeaders. You will receive access to different forex signal services based on the platform you choose. We share our insights on the best forex signal platforms below. 
Learn2Trade
Learn2Trade offers the best overall platform for trading signals. It has an excellent reputation and specializes in cryptos and forex trading signals. Learn2Trade offers a Telegram group where it shares all its signals. This group has around 17,000 members.
This signal platform offers three free signals each week. It has access to stop-loss and take-profit levels. Learn2Trade is a good choice for beginner forex traders as it provides excellent learning tools. The downside is that it isn't fully automated. Traders need to act on each signal.
100pip Builder
100pip builder is the best trading signal platform for access to MT4 tools. It is a top choice for traders who want to trade passively. It has a fully-automated forex signal service with a forex expert advisor.
This platform uses a trading bot to send your signals to a third-party platform. The 100pip Builder signals trade automatically for you with a chosen MT4 broker. It has a one-time fee of $97, and it is simple to install and use. We recommend it for passive or inexperienced forex traders.
Direct Forex Signals
Direct Forex Signals is a UK- based platform with excellent forex trading services. It focuses on currency trading and sends all its signals in real-time in its Telegram group. Direct Forex Signals offers different plans for forex trading. The costs start at £30 per month and will get you 1-5 signals per day.
This platform has an excellent reputation and wins rate. It offers a moneyback guarantee and many account tiers. The basic plan at Direct Forex Signals doesn't provide stop-loss or take-profit orders. This platform is a top choice for active and advanced traders.
Daily Forex Signals
Daily Forex Signals is a secure platform with forex trading services. It sends forex trading suggestions in a Telegram Group. It has around 3,000 members, and it stands out as a reliable forex signal provider. Daily Forex Signals has four account tiers. The standard account costs £29.99 per month, while a 3-month package costs £74.99.
This platform offers forex signals based on technical analysis. It has an average success rate, and it claims to have made more than 27,000 pips. It is a good fit for experienced forex traders. Daily Forex Signals doesn't offer learning tools.
Forex Signal Factory
Forex Signal Factory is a top forex platform in 2023. It has an impressive Telegram group with 83,000 members. It is the largest forex signal service group on the internet. Forex Signal Factory offers reliable suggestions with the potential for huge revenue gains. 
This platform offers stop-loss orders on all signals. It has two take-profit orders for all its forex signals. Forex Signal Factory doesn't have a straightforward fee structure, and it is unclear how much the services cost.
Algo Signals
Algo Signals is a top platform with free forex signals as an automated robot. It differs from other robot providers because it doesn't offer access to the software file. The robot trades on your behalf and attempts to achieve the best results. It offers crypto and forex trading signals.
Signing up with Algo Signals is free of charge. But you have to sign up with one of its partnered brokers. The standard minimum deposit to activate the robot is $250. Algo Signals offers a demo account to help traders learn more about its services.
FXPremiere
FXPremiere offers access to 50 forex trading signal providers. It doesn't have a proprietary signal service. FXPremiere has a single account that provides access to reliable forex signal providers. It is a top choice of traders who want immediate access to signals.
The standard plan at FXPremiere costs $37 per month. All signals offer suggestions about entry, exit, and stop-loss costs. This platform lets you diminish your monthly fees with 4-month or yearly packages. FXPremiere is a top choice for advanced traders, as the number of signals might feel overwhelming for beginners.
ForexSignals.com
ForexSignals.com has an excellent reputation as a top forex signal provider. It offers an industry-leading forex platform with an intuitive interface. ForexSignals.com has many learning and research tools. It encourages traders to learn technical analysis for a better understanding of forex trading.
This platform has a free trading signals trial to test its services. Its signal rooms are available 24/7 and cover all time zones. The downside is that it is expensive and has a monthly cost of $97. We recommend ForexSignals.com for traders at all levels.
MQL5
MetaTrader 5 (MT5) platform offers the premium service MQL5. This platform has an excellent copy trading service with forex signal insights. It lets traders copy an MT5 trade life-for-like. MQL5 comes with attractive fees and an average monthly cost of $30.
This tool is an excellent forex signal platform with access to research tools. Traders have to open a brokerage account with an MT5 broker to use MQL5. MQL5 is a good choice for professional and active traders.
FXLeaders
FXLeaders is a premium platform with access to comprehensive free forex signals. All trading suggestions are available on their official website. FXLeaders uses reliable technical indicators and focuses on platforms like Fibonacci Levels.
This platform sends up to 100 free signals each month. The downside with FXLeaders is that it doesn't offer insights on the entry price for free. Its premium accounts offer entry price suggestions, core technical indicators, and extra free signals.
Related: best forex brokers UAE
What Are Forex Signals?
Forex signals are valuable trading suggestions that tell traders what orders to place. A signal provider has a team of in-house trading experts who research trading trends. When the team identifies an opportunity, they will send a forex signal. This signal tells a trader everything he needs to know to act on the forex signal.
When you receive a forex signal, you have to use your forex trading account and place the orders. Forex signals diminish trading risks and increase potential revenue gains. But we don't recommend this for new traders. You need to know when and how to use the information from a trading signal. Read our in-depth forex trading reviews for insights on trading strategies and safety.
How We Choose The Best Forex Signal Platforms?
We choose the best forex signal platforms with 105 criteria. These include past performance and moneyback guarantees. We recommend you use a forex signal platform with an excellent reputation and versatile services. Before you start trading we recommend starting with a forex demo account.
Past Performance:   A reliable forex trading platform has an excellent past performance. You need to use a signal provider with a long track record and impressive reputation. Our in-depth forex reviews offer insights on how to choose forex platforms.
Moneyback Guarantee:  Trustworthy forex signal platforms offer a money-back guarantee. Many providers have a demo account or a free trading signal trial. These are excellent learning tools and help you establish whether the platform suits your needs. Read our in-depth trading reviews to learn more about the best forex platforms.
Pricing:   Forex signals have different prices and fees. Some forex signal platforms offer a monthly subscription; others don't. It is best to choose a signal provider with a comprehensive price structure. Verify our in-depth account fee reviews to learn more about trading costs.
Safety:   The best forex signal platform offers industry-leading safety measures. Choose a provider with a comprehensive platform and access to many safety measures.
How To Trade With Learn2Trade?
To trade forex with Learn2Trade, you have to register with the provider. Learn2Trade has different plans, depending on your needs and experience. Here is a step-by-step guide on how to trade with Learn2Trade.
Step 1: Register With Learn2Trade
The first step is to create an account with Learn2Trade. Choose a plan and pay the fee to move to the next step.
Step 2: Join Learn2Trade Telegram Group
Download and install the Telegram app to access the Learn2Trade group. Join this premium forex signal channel and enable notifications.
Step 3: Use The Forex Demo Account
After joining the Learn2Trade Telegram Group, you should use a forex demo account. We recommend using eToro, as it has a reliable virtual trading account. Use the trading suggestions to virtual trade forex at eToro.
Step 4: Start Forex Trading
The next step is to start forex trading with a live platform. The virtual trading account offers insights into price fluctuations and market conditions. Use those to learn how to forex trade live.
Summary
Forex trading is a popular trading strategy in 2023. It offers excellent results and revenue gains, especially when using forex signals. The forex signal platforms in our reviews provide excellent services. Traders need to use a secure platform to invest in forex. We recommend forex signals for advanced and active traders. 
FAQ
How Do You Access Forex Signals?
To access forex signals, you need to select a forex signal provider. Subscribe to one of its plans, and join the Telegram Group. You'll receive notifications each time there is a powerful forex signal available.
How To Use Forex Signals?
After you receive a forex trading signal, traders use it with a forex broker. They place the suggested trade on a secure platform. Read our in-depth platform reviews to learn more about forex trading.
Which Is The Best Alternative To The Learn2Trade Platform?
The best alternative to the Learn2Trade platform is eToro. eToro is a top social trading brokerage firm with excellent forex services. It offers copy trading services to automate your trades. It has a competitive fee structure with no hidden fees. We recommend it for all forex traders. Our in-depth platform reviews offer insights into eToro's services.
Is It Safe To Use Forex Signals?
Yes, it is safe to use forex signals. But you need to use the services of a secure forex trading platform. We recommend choosing a provider with a money-back guarantee and a transparent fee policy. Our in-depth forex reviews offer details about forex trading safety.
Which Are The Advantages Of Forex Signals?
The main advantages of forex signals are market exposure and passive strategies. Forex trading signals offer powerful insights into market price fluctuations. These represent a top choice for passive trading strategies. Forex signals are excellent for traders at all levels.
Which Are The Drawbacks Of Forex Signals?
Trading comes with risks, so forex signals also have drawbacks. Trading strategies may have negative results depending on live forex market conditions. Forex signals might be challenging for new traders as it may be challenging to check the success rates of bots and signals.
Are Licenses Important For Forex Brokers?
Yes, licenses are essential for forex brokers. These are key aspects to consider when choosing a forex broker. Top-tier licenses for forex platforms are FCA and SEC. Read our in-depth forex reviews to discover more about forex brokers and licenses.
How Much Money Do I Need To Start Forex Trading?
The answer to this question varies based on your trading experience. Forex brokerage firms have many fees and commissions. Most brokers have a minimum deposit requirement for forex trading. Verify our in-depth reviews for insights on deposits, fees, and trades.
How Do I Select A Forex Trading Account?
You should select a forex trading account based on your skills and experience. Start with a virtual trading account if you're a new trader. Demo trading offers valuable insights into forex trading. It helps traders understand how forex trading and forex signals might perform in live market conditions.