A decentralized application is an application that operates in an autonomous way. It does this by the use of smart contracts on a blockchain. People call decentralized applications Dapps, dApps, Dapps, and dapps. Noone owns a Dapp. Rather DApps distribute tokens that represent ownership in the DApp. Some examples of DApps are Bitcoin, Augur, Blockstack, Steem, and Uniswap.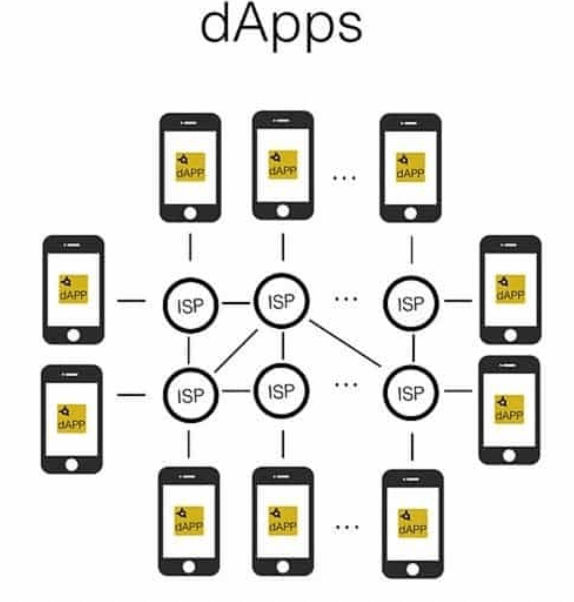 When is an application decentralized?
An application is decentralized when its open-source and when it runs autonomously without anyone controlling the issuance of its tokens. A blockchain should record all the data and transactions of a Dapp.
Types of decentralized applications
There are three types of DApps: Type 1 DApps run on their own blockchain, Type 2 Dapps are protocols that operate on a blockchain of a Type 1 DApp, and Type 3 DApps are protocols that operate using the protocols of a Type 2 DApp.
Smart Contracts
Developers use smart contracts to keep data on the blockchain. A DApp uses smart contracts to function. Some DApps use a single smart contract, whilst others use multiple.
How does a decentralized application work?
A DApp works by using consensus mechanisms. The two most common consensus mechanisms are proof-of-work and proof-of-stake. Proof-of-work Dapps rely on a process called mining. Proof-of-stake DApps work with validators. Validators secure the blockchain by owning a certain percentage of the application.