E-Nam is an online agricultural commodities trading platform in India. It helps farmers and traders trade goods at better prices. They offer over 90 different commodities on the platform including grains, vegetables, and fruits. Farmers weigh the goods after harvest, put the stock up for sale on the platform, and the payments take place online. The E-NAM mobile app offers a MIS dashboard and users the possibility to pay via their smartphones. Most trading through the platform happens intra-market. Users can trade themselves or via registered commission agents.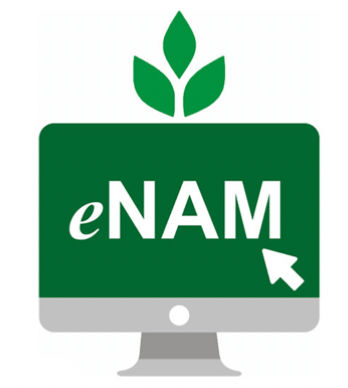 History of E-NAM
The Ministry of Agriculture, appointed by the Government of India, launched the platform in 2016. The Small Farmers' Agribusiness Consortium (SFAC) manages it. 1000 Agricultural Produce Market Committees across 18 states and 2 union territories are connected to the platform. 22,000 local farmer markets will join the platform in the future.
Technology of E-NAM
All trading takes place online, either through desktop PCs or the E-NAM Android app. Payments go through the RTGS/NEFT payment network. This network enables traders to use their credit or debit cards to pay for goods. The Unified Payment Interface offers traders the option to pay via their own internet banking. Farmers can see their lot being traded in real-time and receive updates about the bidding progress.
Where do people use E-NAM?
People use E-NAM the most in Uttar Pradesh, Madhya Pradesh, Haryana, Maharashtra, Gujarat, Telangana, and Punjab.
Goals of E-NAM
The goals of the Ministry of Agriculture of India are to turn E-NAM into a national e-market platform where sales of agricultural products take place transparently and to liberate licensing of traders, buyers, and commission agents. An important goals is also to harmonise the quality standards of agricultural products across the country and to introduce a single point levy of market fees.
Advantages of E-NAM
The advantages of E-NAM for farmers are that they can sell their products without brokers or middlemen. For traders, the advantages of E-NAM are that they can conduct secondary trading more easily. For buyers, the advantages of E-NAM are that they can buy from their phones from the farmers which reduces costs and doesn't require them to be physically present. For all the parties involved there will be less bookkeeping required as all reports are generated on auto-pilot within the platform.