Litecoin (LTC) is a crypto coin founded in 2011. It is the main competitor of Bitcoin (BTC), being popular on global cryptocurrency exchanges. Litecoin uses an open-source payment network system. It has no central point of control. Litecoin is different from Bitcoin and Bitcoin Cash because of its faster block generation rate. It uses a Proof-Of-Work system. 
By November 2021, 1 LTC token reached the $215 price point. This valuation made Litecoin one of the largest digital assets with a market cap near $15 billion. This article discusses how to buy Litecoin (LTC) in UAE. 
List Of The Best Exchanges For Litecoin:  
Best Crypto Exchanges For Litecoin In Overview:  
1. eToro – Industry-leading platforms and social trading services
2. Coinbase – Top crypto exchange for UAE traders
3. Coinbase – Comprehensive portfolio for UAE traders
4. Capital.com – Top-tier licenses and offers impressive safety measures
5. Gemini – For professional UAE traders who want access to a secure app to invest in LTC
6. BlockFi – Some of the lowest trading fees for Litecoins
How We Chose The Best Exchanges For Litecoin 
We choose the best exchanges to buy Litecoin based on several criteria including Fees, Account, Withdrawal and Deposit. We commit to offering help to all UAE traders. Our goal is to help beginner and advanced traders make intelligent choices with their money. This focus is the reason why we share both strengths and weaknesses.
Fees:   A transparent fee system contributes to an excellent online trading experience. Some Litecoin platforms offer a simple fee structure; others don't. Read our in-depth reviews on cryptocurrency fees to learn more about fees, payment methods, and UAE platforms.
Account:  Top crypto exchanges provide access to many account tiers. Some platforms request an initial deposit and charges a deposit fee. Others don't request an initial payment for new accounts. Verify our in-depth account reviews for more information on account tiers, payment methods, and exchanges.
Deposit and withdrawal:  Withdrawing and depositing funds must be straightforward. The time necessary to process a funding transaction varies from platform to platform. Some UAE exchanges don't request a minimum deposit. Check our digital currency exchange reviews to discover more details about deposit and withdrawal policies.
Products and market:  Each UAE trading platform offers different market and asset coverage. We recommend you choose a provider with a versatile digital portfolio. Read our in-depth reviews for more information on UAE exchanges and assets.
Trading platforms:  A platform with a beginner-friendly design is useful to traders at all levels. Select a digital currency exchange with a straightforward design and a comprehensive portfolio. The UAE platforms in our reviews are secure, but some might be challenging for new traders. Our in-depth reviews provide more information on UAE crypto exchanges.
Customer support:  Online support is important for your online crypto trading success. Trustworthy and transparent exchanges offer live chat, email, and phone support.
Safety:  A reliable crypto exchange has top-tier licenses and follows strict rules. It offers industry-leading safety measures to all account holders. Our in-depth reviews provide more information on online trading safety for United Arab Emirates residents.
How To Buy Litecoin In UAE 
The best crypto platforms to buy LTC tokens are eToro, Coinbase, Binance, Capital.com, Gemini, and BlockFi. UAE traders choose eToro because of its industry-leading social trading services. Coinbase is a leading global exchange with secure platforms and services. Binance offers a comprehensive portfolio for UAE traders. We recommend Gemini for professional UAE traders who want access to a secure app to invest in LTC.
Litecoin (LTC) is a popular choice with both advanced and beginner UAE traders. eToro is our top choice for trading LTC in the United Araba Emirates. It is the top crypto platform with outstanding social trading features. There are four simple steps to follow to buy LTC tokens with eToro:
Sign up with eToro:  Go to eToro's official website and register a new account.
Submit a valid ID:  After the registration process starts, you'll have to go through account verification. A valid I.D., like a passport or driver's license, is necessary to trade LTC with eToro.
Make your first deposit:  After your account is verified and approved, you have to make an initial deposit. UAE traders have many payment methods, including bank transfers and e-wallets.
Buy Litecoin:  Search for the ticker symbol "LTC," and you will see the Litecoin price. Click on the token and start buying or selling Litecoin.
Where To Buy Litecoin In UAE? 
UAE traders buy and sell Litecoin with a crypto trading platform. The leading platforms we recommend are eToro and Coinbase.
Buying Litecoin With eToro
eToro is a global brokerage firm with secure crypto trading platforms for buying Litecoin. It offers access to a comprehensive portfolio. eToro provides digital coins, tokens, and forex trading. The main cryptocurrencies available with eToro are Bitcoin, Bitcoin Cash Ethereum, and Litecoin.
This online broker has many learning tools, including a demo account. Demo trading is valuable for both new and experienced traders. It lets you test your crypto strategies with live market data and prices. The demo account at eToro is an excellent place to start if you want to discover more about LTC price movements.
UAE traders use eToro's services because of its fees. It charges a 1.90% spread for withdrawing crypto. eToro offers industry-leading platforms and social trading services. It highlights advanced traders and lets UAE traders copy their trading positions. This brokerage firm provides many advantages to UAE traders. It has different payment methods, 24/7 support, and a digital wallet.
Pros:  Commission-free trading , Features many popular cryptos , Regulated by the FCA , Mobile app available , Offered in many countries , Demo account 
Cons:   It has a high spread , It lacks smaller cryptos and stocks 
Buying Litecoin With Coinbase
Coinbase is a top crypto exchange for UAE traders who want to buy Litecoin. It has a versatile portfolio and an outstanding reputation. Coinbase has top-tier licenses from trustworthy regulators. It offers advanced crypto trading platforms. Coinbase provides access to trending crypto coins, including Bitcoin, Bitcoin Cash and Litecoin.
This UAE exchange has well-designed platforms with an intuitive interface. Coinbase is a top choice for both advanced and new UAE traders. It offers many learning and research tools. Coinbase has dedicated professional platforms for experienced and active traders.
Pros:   Secure platforms and access to a crypto wallet, Access to dozens of crypto assets, including Bitcoin and Dash Coin , Beginner-friendly main platform , Access to professional services with Coinbase Pro 
Cons:   Expensive service fee structure, higher than with most exchanges , Lack of control of private keys when you keep your assets in your Coinbase account 
Buying Litecoin With Binance In The United Arab Emirates
Binance is a popular global exchange in the United Arab Emirates for buying Litecoin (LTC). It is a good fit for active traders as it offers additional research and technical tools. Its platforms have a professional design and provide different leverage solutions. Binance is a global exchange that follows strict rules under the FCA.
This cryptocurrency exchange has limited learning tools. It provides tutorials to help UAE traders understand crypto investments. Binance has a versatile portfolio with 50+ cryptos, including LTC tokens. It offers a native stablecoin, BNB, which provides discounts to Binance account holders.
Binance has a straightforward fee structure. It doesn't have hidden fees, and the average execution fee starts at 0.10% per trade. Binance has a minimum deposit fee of £15 for credit card payments.
Pros:   More advanced tools and technical indicators , Offers tutorials for beginners , Low spreads , Mobile App available , Advanced trading platform 
Cons:   It is not intuitive for beginners , It has unclear regulatory status 
Buying Litecoin With Capital.com
Capital.com is a popular online broker with UAE traders who want to buy Litecoin. It offers forex trading, CFD trading, and crypto services. Capital.com has top-tier licenses and offers impressive safety measures. All its platforms are intuitive and recommended for traders at all levels. This brokerage firm provides different research tools for trading CFDs and cryptocurrencies.
Capital.com is a reliable broker with access to a web, desktop, and mobile platform. All are easy to learn and come with an intuitive design. Capital.com has trading ideas and social sentiment. The standard crypto trading fee with Capital.com is 100 pips for BTC/USD.
Pros:   Beginner-friendly platforms , Regulated by the FCA , A.I. trading platform , Low spreads , Betting spreads 
Cons:   Lack of ownership for stocks , Limited payment methods with no access to PayPal 
Buying Litecoin With Gemini
Gemini is a leading cryptocurrency exchange for buying Litecoin. It has beginner-friendly services for UAE traders. It has many educational tools and user-friendly platforms. Gemini is a secure exchange that has never been subject to a major hack. It has excellent safety measures and offers insurance.
Gemini is a popular exchange for advanced and institutional traders. It has many pro tools and custody services. Gemini is a centralized exchange with top-tier licenses. It offers crypto trading services, crypto-to-crypto, and fiat-to-crypto pairs. This crypto exchange offers a stablecoin, the Gemini dollars (USDT).
Pros:   Access to many Bitcoin trading apps  to sell Bitcoin and other cryptos, Low fees for daily auctions , Low fees for liquidities , including fiat currency
Cons:   Its professional platforms are challenging for beginners , It has limited customer service 
Buying Litecoin With BlockFi
BlockFi is a reliable cryptocurrency exchange with some of the lowest trading fees for buying Litecoins. It offers instant traders and charges no commissions on most trades. BlockFi doesn't charge an inactivity fee. It has an average crypto trading fee of 0.7%.
BlockFi offers crypto trading platforms and a crypto wallet. It is popular because of its interest-earning account and portfolio-backed loans. BlockFi provides access to popular crypto coins, including Litecoin. It lets UAE traders fund their accounts with USD, stablecoins, and cryptocurrency.
Pros: 0% commission, No deposit or withdrawal fees, No inactivity fee, Highly regulated in the U.S.
Cons: It doesn't offer CFD trading, It doesn't provide custodial accounts
How To Buy Litecoin Using eToro? 
The top UAE cryptocurrency platform to buy LTC at is eToro. This brokerage firm is trustworthy and has a multi-asset investment platform. Keep reading below to discover the step-by-step guide on using eToro to buy Litecoin tokens in the UAE.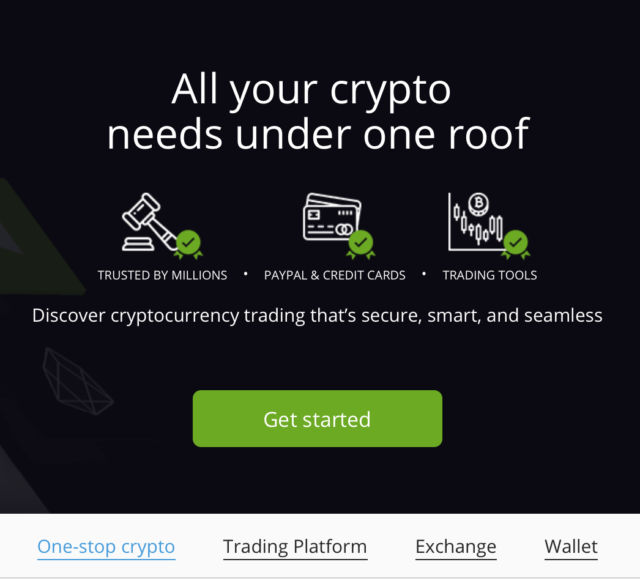 Step 1: Create An Account With eToro
The first step for UAE traders is to sign up with eToro. The sign-up form is available on their main website. You'll have to submit your full name, date of birth, address, contact information, and source of funds.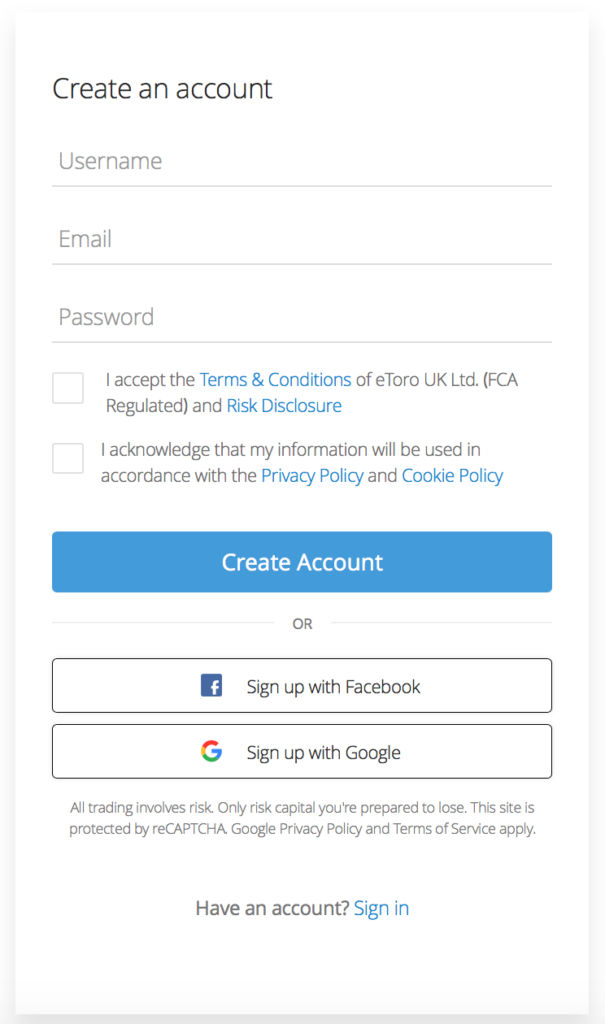 Step 2: Verify Your eToro Account
Next, you have to pass account verification. eToro allows UAE traders to trade up to $2,000 before verifying their account. Users have to submit proof of residence and a copy of their I.D. this secure brokerage firm follows strict KYC rules from the UAE. Passing account verification is mandatory for all UAE traders.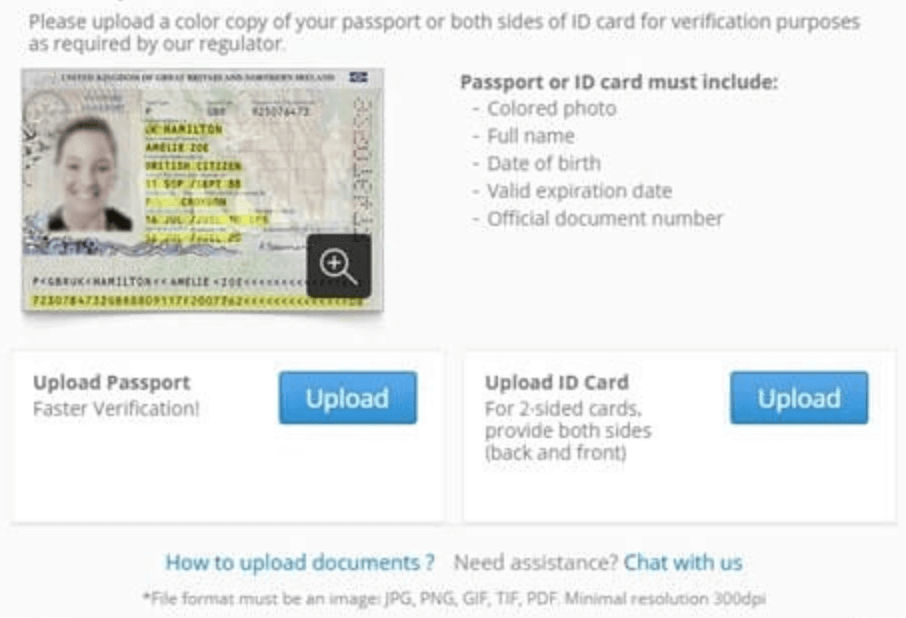 Step 3: Fund Your Account
eToro has a versatile portfolio with access to different payment methods. Choose the funding option that suits your needs. After you select a funding method, the next step is to buy LTC.
Step 4: Buy LTC tokens
When your deposit appears in your wallet, eToro allows you to start your first crypto "buy." Digital assets have different tickers. Click on one ticker, and your trade will start. Choose the amount of crypto you'd like to buy and click "Submit." Your transaction will complete in a couple of minutes.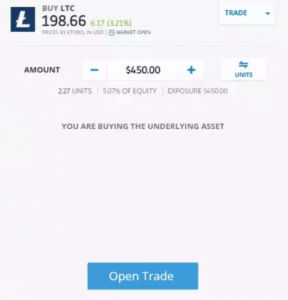 What Is Litecoin? 
Litecoin (LTC) is a crypto coin designed to address the weaknesses of Bitcoin. It aims to become a faster and more scalable digital payment network. For example, Bitcoin manages only seven transactions per second; Litecoin processes 56. Both digital coins are similar and use decentralized blockchain technology.
LTC coins have an excellent performance. This digital asset is valuable and has the potential to offer impressive value. Litecoin technology is one of the most popular. LTC transactions are more affordable than BTCs.
Why Should You Buy Litecoin? 
Litecoin (LTC) coins stand out because of their fast transaction rates. These tokens first appeared on a digital cryptocurrency exchange in 2011. A Litecoin fund transfer completes in 2.5 minutes, while a BTC transfer takes 30 minutes. LTC tokens have the potential to generate impressive capital gains. Remember that crypto coins are volatile and experience price fluctuations. Our in-depth crypto reviews offer more details on crypto trading in UAE.
How Much Does Litecoin Cost? 
The cost of Litecoin tokens varies based on the platform you choose. Litecoin (LTC) has its price listed in U.S. dollars. On average, the LTC price is $117 per coin. Most UAE platforms charge a spread or commission when buying digital currencies. eToro has a 0% fee policy on specific cryptos.
How To Buy Litecoin Using PayPal? 
To buy LTC with PayPal, you have to create a new account. If you have a PayPal account, click the "crypto" button on the PayPal app or website. There you will find LTC coins.
You have to use a debit card or a bank transfer to fund your PayPal account. Users have a spending limit between $1 and $100,000 per week. Remember that PayPal charges different cryptocurrency exchange fees.
How To Buy Litecoin Using BTC? 
Another way to buy Litecoin is with Bitcoin and Bitcoin Cash. UAE traders use BTC and BCH on most platforms to fund their accounts. We recommend you store BTC tokens in secure crypto wallets. Securing your funds is mandatory. Read our in-depth buyer reviews to learn more about crypto trading, wallets, and safety.
Buying Litecoin Safely In UAE 
UAE traders must use a crypto exchange or online broker with top-tier licenses when buying Litecoin (LTC). Platforms that follow the rules under a regulatory body have minimum trading risks. We recommend eToro as a top choice for crypto trading in the UAE. It offers secure services and has a good reputation. eToro provides instant transactions and different payment methods.
If you want to hold LTC in a wallet, selecting a wallet with an encryption key is necessary. Digital crypto wallets use private and public keys. You shouldn't disclose your private keys to anyone.
The Risks Of Buying Litecoin 
Crypto coins like Litecoin (LTC) are speculative and have inherent risks. Investing in cryptocurrencies remains risky. If you want to avoid losing funds, you should start with a minimum investment. LTC is secure, but it might be challenging for new traders. If you buy Litecoin at a high price and the coin crashes, you risk losing all your funds. Keep in mind that leverage increases risks.
CFD crypto trading platforms let you use leverage with digital coins. Leverage leads to the possibility of outstanding revenue increases. But it comes with higher risks as well. Crypto assets are volatile, and we don't recommend that beginners use leverage. Our in-depth crypto reviews offer more details about risk management and trading.
Selling Litecoin In UAE 
If you hold Litecoin (LTC) in your account and want to sell it, you should use a trustworthy exchange or broker like eToro. eToro is a top choice for cashing out cryptocurrencies in the UAE. UAE traders need to use a secure exchange to exchange crypto for other coins.
Summary 
Litecoin is a popular crypto coin. UAE traders invest in LTC with secure platforms and exchanges. We recommend LTC tokens for professional UAE traders. LTC is secure, but you need to know how and where to buy it. Using brokerage firms like eToro is the best strategy to invest in LTC.
FAQ
Are There Any Safety Risks For UAE Citizens?
Trading online coins comes with many risks. Crypto trading in the United Arab Emirates (UAE) is legal and secure. You should use an exchange platform that follows strict rules. Respected licenses for crypto platforms include the ASIC, FCA, and CySEC. The crypto platforms in this review have top-tier licenses and follow strict regulations.
What Is The Financial Regulatory Authority For Cryptocurrencies? 
Digital assets, including LTC, are not regulated by a regulatory body. These have no underlying commodity or intrinsic value. If you lose your investment, few countries let traders use the Local Financial Services Compensation Scheme.
Is An Online Wallet Necessary To Buy Litecoin? 
Yes. All UAE traders have to use a digital wallet to store LTC tokens. You shouldn't keep your coins in the exchange's wallet. Our in-depth crypto reviews offer information on digital wallets.
How Much Money Do I Need To Buy LTC? 
The amount of money required to invest in LTC varies based on your selected platform. Buying Litecoin on eToro comes with a minimum deposit requirement of 50%. The exact deposit changes based on the platform's limitations.
How To Sell Cryptocurrency In UAE? 
Cashing out digital assets in the United Arab Emirates is simple. For example, if you choose eToro, you'll receive access to a portfolio where you have to click on the Sell button. The best approach to making money from a crypto trade is capital gains. Capital gains refer to selling coins for a higher price than you originally paid.
If you liked this article then also read:
How to buy Bitcoin cash in UAE
How to buy Cardano in UAE
How to buy Chainlink in UAE
How to buy Chia coin in UAE
How to buy Dash coin in UAE
How to buy Dogecoin in UAE
How to buy IOTA in UAE
How to buy Litecoin in UAE
How to buy Monero in UAE
How to buy Pi Coin in UAE
How to buy Polkadot coin in UAE
How to buy SafeMoon coin in UAE
How to buy Solana coin in UAE
How to buy Shiba Inu in UAE