How much is the minimum deposit amount at AvaTrade?

 
Minimum Deposit: $100
For a comparison of minimum deposit amounts across similar brokers, check out the table below:

When a broker requires a "minimum deposit," that means you need to deposit at least that much money into your new brokerage account before you can trade. Different brokers might call this an "initial deposit," "funding," or even "account opening deposit."
AvaTrade is advantageous in that they charge no extra fees when making deposits. That means you don't need to factor in additional deposit amounts to complete your initial minimum deposit. Also, AvaTrade accepts credit and debit card deposits and can accept initial deposits from a variety of currencies.
Does AvaTrade require a minimum initial deposit?
Yes. Almost all online brokers require a minimum deposit. However, for each broker, the purpose of the initial deposit can be different. For most brokers, the initial deposit covers the fees that the broker needs to pay to create your new account and give it access to the various trading platforms. It also includes fees for connecting to the bank as well as any third-party fees that might show up depending on what brokerage you use.
With some accounts, you may notice high minimum deposits ($100,000 or more). These higher minimum deposits are used to differentiate what kinds of services you'll be able to access at that brokerage. For example, a $100 deposit may give you access to trade. However, a $100,000 deposit gives you access to a dedicated account manager who can advise you on the best trading strategies each day.
The great thing is that AvaTrade has no deposit fee and a wide variety of methods for making your deposit. You can make your deposit through bank transfer, electronic wallet, credit card, or debit card.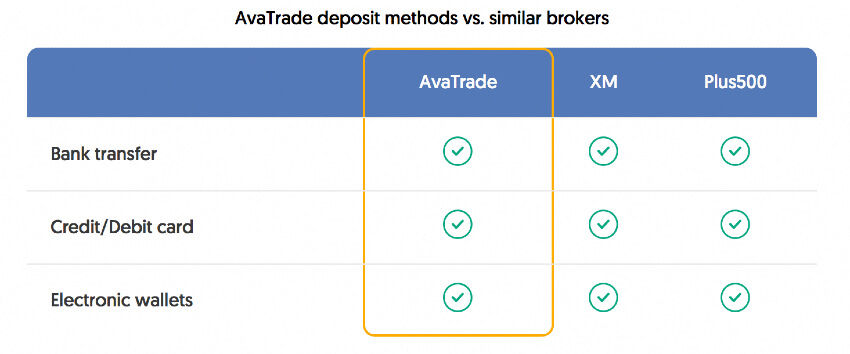 Wire transfers usually take 2 to 3 days to complete. In contrast, credit/debit cards or online wallets complete instantly (or in a few hours).
Does AvaTrade allow multiple base currencies?
Yes.
A "base currency" is the currency used to hold your money in your account. At most brokers, you could have a base currency of Japanese yen in one account and then have the base currency of a different account be in British pounds.
AvaTrade supports up to 5 different base currencies, but with only one base currency per account. That means your account can only have one base currency at a time and must be either USD, EUR, JPY, GBP, or CAD. If you use a currency other than these five, AvaTrade will convert that currency for you, charge you a conversion fee, and then open your account in 1 of those 5 base currencies.
One way of minimizing currency conversion fees is by using multi-currency digital bank accounts. Multi-currency digital bank accounts can be a little complicated, so let's use an example.
Let's say you have an account at AvaTrade that has a base currency of USD, but your personal bank account is in Swiss franc (CHF). You can open a digital bank account with TransferWise in USD. Then, you transfer your CHF in your personal bank account to your TransferWise USD account. You will be charged a currency conversion fee, but it will be much smaller than the fee charged by most banks or by AvaTrade. After that, you put in the bank details of your TransferWise USD bank account into AvaTrade. This way, AvaTrade will deduct funds from your USD account and NOT charge you a conversion fee.
How Can You Start Trading at AvaTrade?
Step 1: Open Your Account
At AvaTrade, you can open your trading account online. To do that, you need to provide your personal details and fill out a questionnaire about your general financial knowledge. The last step is to verify your residency and identity. To do this, provide a copy of a government ID card and another document that validates your residency.
Step 2: Deposit Your Funds
Once your residency and identity are verified, your account is ready for the next step: deposit your funds. This is usually very straightforward, and there is an option inside of the trading interface where you can access and deposit your funds.
At AvaTrade, you can deposit funds in a variety of ways:
Debit/Credit Cards: When using a debit/credit card to fund your initial minimum deposit, the interface is almost identical to any other type of online purchase. However, one of the unique requirements of AvaTrade is that you must use cards that are in your name. This restricts the possibility of money laundering. Beyond that, the only possible restriction is that for some cards, there may be a limit on the size of purchase you can make. That means a large deposit may require a bank transfer.
Online Wallets (Skrill, Neteller, PayPal): These payment tools work just like any other online purchase. You'll be given access to the login for your electronic wallet and be allowed to complete the transaction.
Bank Transfer (wire transfer): To use the bank transfer feature, you need to put your bank account number and any applicable routing information into the deposit interface. The bank account must be in your name. At AvaTrade, you also need to initiate the bank transfer from your bank. AvaTrade will not withdraw the money for you. However, AvaTrade provides a reference number to include with your bank transfer. This reference number allows AvaTrade to identify your deposit.
Step 3: Verify Your Transaction Details
The last step is for you to verify that the information is correct and that the deposit amount is accurate. If you're using a bank transfer, this could take several days. Still, you must review the amounts deposited in your account to be sure that you have received the correct amount for trading. AvaTrade will send you an email to confirm the receipt of your deposit.