Olymp Trade provides Forex, FTT and CFD trading
Free Demo Account and Education Materials
MT4 Platform for Forex and CFD Trading Available
Fast Account Opening and Multiple Deposit and Withdrawal Options
Easy to Use platform
Lack of regulation
In a nutshell
Olymp Trade is an online broker, founded in 2014, and registered in Cyprus. Its focus is fixed time trading and currency trading; currently, their product catalog consists of around 80 different financial instruments.
Their spreads are mostly competitive or slightly better in comparison to other similar online brokers.
There are no deposit or withdrawal fees. The minimum deposit is only $10.
Unlike some other well-established online brokers, Olymp Trade is not regulated by any state financial authority.
They are, however, a member of FinaCom, an independent dispute resolution organization.
Olymp Trade is beginner-friendly and has a large library of educational resources. The trading platform is easy-to-use and the account opening is fast.
Pros
Competitive spreads
No deposit or withdrawal fees
Easy-to-use trading platform
Beginner-friendly
Cons
Under-regulated
Limited public info
Under-average number of assets
Not available in the EU or UAE
Withdrawal problems
Olymp Trade Review and Insights
Olymp Trade is an online broker that offers fix time trading and forex trading possibilities. As of May 2020, the company is registered in Cyprus as Wallfort Limited, having moved its legally recognized address from the islands of St. Vincent and Grenadine.
Olymp Trade is not regulated by any state authority. They are, however, a member of the International Financial Commission (FinCom) which is a well-respected organization but with limited oversight.
The broker claims to have more than 25,000 traders using the platform daily and a monthly turnover of $200 million.
Olymp Trade also has a very limited market range. The platform is not available for residents in the EU, US, UK, Australia and some other countries.
The broker is generally considered to be more suitable beginners and less for experienced traders:
easy-to-use platform
limited number of assets
demo mode
comprehensive guides
trading with real stocks not possible
technical analysis tools
fix time trading
under-average number of assets
limited regulation
limited investor's protection
Costs
You PAY:
Spreads on the trades
Overnight funding
Inactivity fee
You Don't PAY:
Deposits
Withdrawals
Using the platform
1. Fees and Spreads
Olymp Trade is on the more affordable side; its spreads are competitive and fees under-average.
Pros
no deposit and withdrawal fees
narrow spreads
In terms of forex spreads, Olymp Trade is one of the most competitive brokers. The benchmark EURUSD spread are levelled at approximately 1.1 pips which is relatively narrow. Be aware, however, that spreads are liable to increase/decrease depending on the current market conditions.
In terms of fees, Olymp Trade charges a fixed overnight fee on overnight trades which is limited to 15% of the total investment amount.
They don't have any custodial fees, although they may charge a subscription (based on your account type) or an inactivity fee. The latter is applicable if you haven't used your account within 180 days and is typically $10 per month.
The broker also charges a fee per trade in forex mode, based on the trade amount, multiplier, specification conditions and current market situation.
2. Withdrawals and Deposits
Olymp Trade made it super easy for beginners to enter the trading industry; its minimum deposit is only $10.
Pros
No deposit or withdrawal fee
$10 minimum deposit
Fast withdrawal
Olymp Trade arguably has one of the lowest market entrance costs in the industry, the initial deposit being only $10 (or the same amount of other base currencies). Deposits are free.
Note that the $10 minimum deposit applies to the Standard account. Olymp Trade also provides its more professional traders with a so-called VIP account with a minimum deposit of $2000.
All trading accounts can be funded with major credit & debit cards, popular e-wallet services such as Skrill, Neteller and others, as well as cryptocurrencies. These third parties might charge their own fee.
Withdrawals are generally fast and made via the same method used to deposit. Most withdrawals are processed on the same day, although the operator says to allow for three working days (particularly for bank transfers). The minimum withdrawal is – as with the deposits $10 – and is fee-free.
3. Account opening
The broker offers two accounts: standard and VIP.
Pros
Translated in several languages
Easy and fast account opening
Demo account
Cons
Not available in the EU, U.S. or U.K
Chances are you won't be able to open the account in the first place. As of writing, Olymp Trade is not available for traders from the following countries:
Australia, Canada, U.S, U.K, Japan, EU, Iran, Lebanon, Russia, Zimbabwe, Mauritius, Côte d'Ivoire, Iraq, Puerto Rico, Yemen, Somalia, Congo, Libya, Sudan, Ethiopia, Liberia, Syrian Arab Republic, Myanmar, Central African Republic, Eritrea, Korea, Mali, Vanuatu, Saint Vincent and the Grenadines and Philippines.
If you happen to live in a country where Olymp Trade is available, you'll be able to open the account without any problems. The process if fast, easy and available in a number of languages, including:
English
Spanish
Arabic
Chinese
Thai
Vietnamese
Portuguese
Malay
Indonesian
Hindi
The traders can choose from two distinct accounts:
Standard
Min. deposit: $10
Min. withdrawal: $10
Average payout: 82%
VIP account
Min. deposit: $2000
Faster withdrawal
VIP Consulting
Higher yields
Leading financial analysis
Average payout: 92%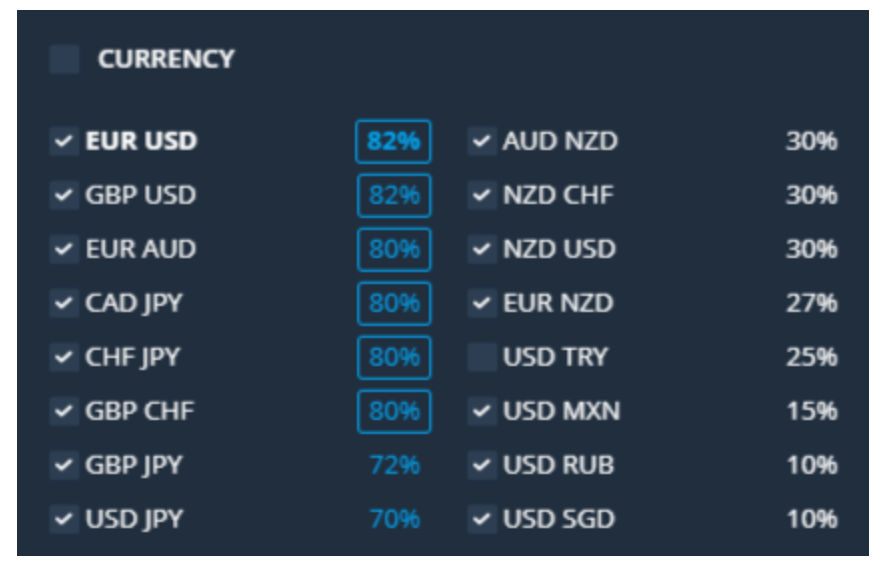 Access
You can access the platform in three ways: through their website, their desktop application, available for Windows and macOS, or through the mobile app for both iOS and Android Smartphones.
Demo account
Users can also practice their trading skills in a demo mode – the account is free and has 10,000 rechargeable demo units on the balance.
All the options in a paid standard account are available in demo mode. To activate a demo account, users simply need to register with an email address, and won't need to provide any proof of identity unless they decide to register for a paid account.
4. Markets and products
Olymp trade has a limited number of assets; enough for beginners but not for experienced traders.
Cons
Limited number of  assets
Trading with real stock not possible
At the moment, there are around 80 available financial assets on Olymp Trade. For beginners, the limited number of instruments might even be a good thing since you don't want to be overwhelmed with options. The broker offers Forex, cryptocurrencies, commodities, shares and stock indices.
Olymp Trade is a fix time trading broker. FTT's are an alternative for speculating or hedging and come with advantages and disadvantages.
The positives include a known risk and reward, no commissions, innumerable strike prices, and expiry dates.
Negatives include non-ownership of the traded asset, little regulatory oversight, and a winning payout that is usually less than the loss on losing trades. Trading with FTT's may be very risky!
Let's take a look how well Olymp Trade is doing in terms of the product variety:
Assets
| Header | Olymp Trade | eToro | Plus500 | IQ Option |
| --- | --- | --- | --- | --- |
| Stock | 12 | 1300 | 1800 | 168 |
| Forex | 35+ | 47 | 50 | 49 |
| Indices | 10 | 13 | 30 | – |
| ETF | 5 | 145 | 80 | 24 |
| Commodities | 4 | 14 | 25 | 4 |
| Crypto | 12 | 16 | 12 | 12 |
Leverage
Leverages with Olymp Trade are variable and depend on the types of trade the user is considering.
The Olymp Trade website promises attractive leverages up to 1:400. For the most popular forex pairs (such as the benchmark EURUSD), leverage is set at 1:30.
5. Platform features
Olymp Trade platform is one of the best in the industry – very easy to use with a clear design.
Pros
Intuitive design
User-friendly mobile app
Charting
Technical indicators
Olymp Trade offers its clients its own web-based fix time trading platform, which is relatively similar to other binary platforms out there. The platform has a nice and clean design, is very easy to use, and features simple one-click trading. All underlying assets are available within the same platform.
The platform features a multi-chart layout, which makes it easy to monitor several different assets at the same time. The charts are also responsive and comes with most of the technical analysis tools that one would expect.
The platform allows for different short-term trades. In a short trade, traders can be in a position anywhere from 15 seconds to an hour. You have more flexibility as you can put in the exact time you want to be in a position as opposed to choosing from present choices.
You can make a trade in two ways: First, you can place an order to buy the asset when it reaches a certain price. Example: you anticipate the price will drop and put in an order to buy an asset at the lower price. Secondly, you can put in a time limit order. If you think the asset will be cheap in the next 15 minutes you can order to buy it in that timeframe.
When trading, the broker doesn't charge fees on placed trades or withdrawals. Their effective return is up to 82% for regular traders and up to 92% for VIP members.

Tools, charts, and Indicators
Having the proper tools is crucial. Olymp Trade has a variety of tools that include over 20 indicators and 4 charts, easily accessible through the user interface. They also support social trading.
One of the features we especially like is the assistant button that comes with every indicator. After you click it, it opens a pop-up button that directs you to all training materials and instructions on the specific indicator.
Among other learning resources, they offer webinar access and interactive courses that teach how to trade with financial instruments. They update their webinar material on a daily basis.
All in all, Olymp trade is a very beginner-friendly platform.
6. Education and research
Free educational training is focused on teaching strategy-based trading.
One of the best parts of Olymp Trade is its focus on education for beginner traders. They are adamant about trading not only being for professionals but as an easily accessible income or hobby for anyone.
Their free educational training focuses on teaching strategy-based trading. They help familiarize users with the world of finance and how to think like a trader.
Members have access to education in the form of:
Interactive courses
Strategies from experienced financial analysts
Video tutorials and webinars
They even offer courses tailored to experienced traders. More advanced classes focus on analyst webinars. These teach essentials such as managing capital and trading strategies for the current market.
7. Customer service
Support is decent and responsive, but not exemplary.
Customer support is available 24/7 via email, live chat, or phone. Their responsiveness is average; it usually takes a couple of hours to receive an answer – but which is not necessarily relevant.
They also have a FAQ site which is OK but not exhaustive. Some important elements are not there, a fee and commission tables being one of them which we would absolutely expect it.
8. Regulation
Olymp Trade is not regulated by state agencies unlike some of the competitive brokers. That's a red flag.
Pros
Member of the Financial Commission
Cons
Not regulated by state regulators
Limited public information
Olymp Trade is, generally speaking, a safe online broker but it lacks government regulation and the investor's protection that comes with it.
Until recently, Olymp Trade has been registered in Saint Vincent, an island country notorious for its absence of oversight and regulation.
As of May 2020, the company's legal documentation refers to a company Wallfort Limited, registered at an address in Limassol, Cyprus. Many other established brokers are also registered in Cyprus, but, contrary to Olymp trade, they are also recognized by government regulators, such UK Financial Conduct Authority (FCA), the Cyprus Securities & Exchange Commission (CySEC) or the Australian Securities & Investments Commission (ASIC). Olymp Trade lacks that sort of oversight which is a significant risk factor.
As they point on their website, Olymp Trade is part of the international Financial Commission (FinaCom), an independent dispute resolution organization. FinaCom gives traders a place to turn to in the event of a dispute with the broker. The organization also has a compensation scheme in place, which in some cases can compensate traders with up to 20,000 EUR per complaint.
But, again, it is still a private organization with the paid membership and limited powers.
It's also hard to find any public information about the history of Olymp Trader, founder's profile or company's news. The lack of information is usually a red flag.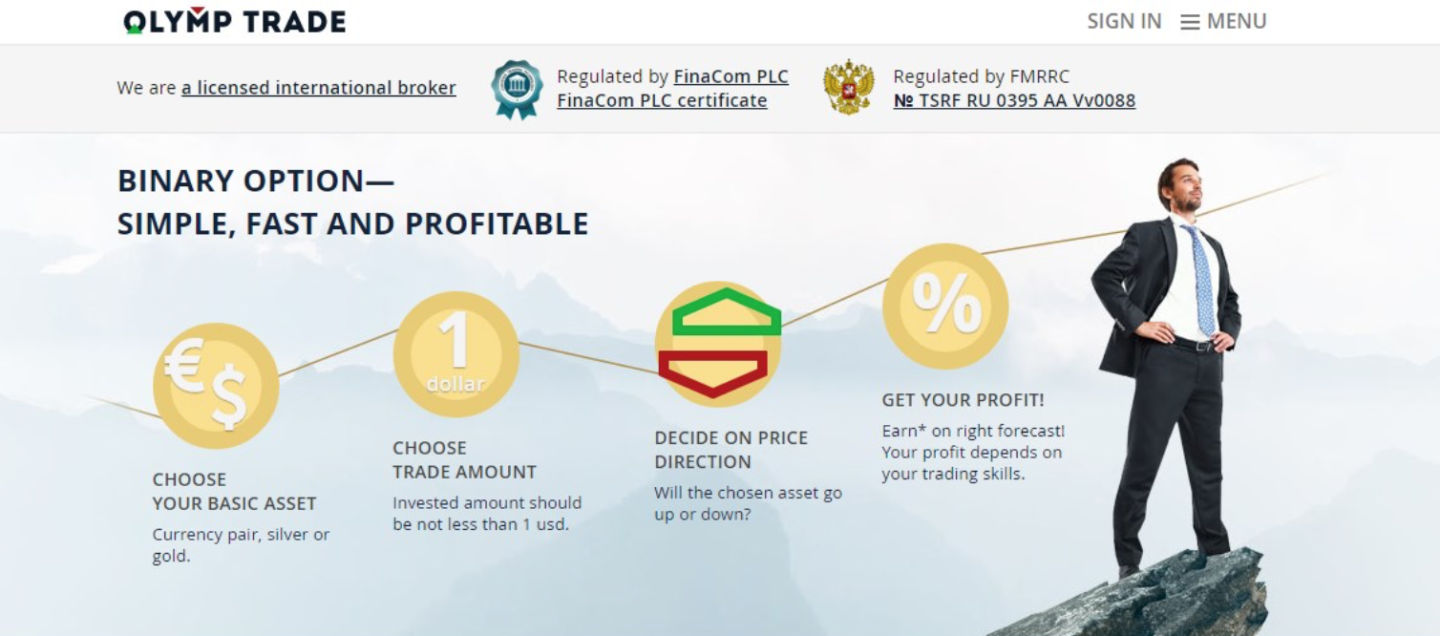 Olymp Trade UAE
UAE Citizens are able to trade Forex and FTT's with Olymp Trade. UAE Traders can deposit their money using their debit or credit bank cards, but they can also use other payment methods like Skrill, Neteller, Yandex etc.
We have also received many questions how UAE traders can withdraw money from Olymp Trade. The process is very simple and easy to complete. Firstly, you need to verify your account to enable the withdrawal option – the verification process is the same for all platforms and is a world-wide measure to prevent money laundering. After that you will be able to withdraw money to your bank account, e-wallet or credit card as a Olymp Trade UAE customer.
Olymp trade Final Verdict
Olymp Trade's biggest appeal is its trading platform. It's hands down one of the best in the industry; super easy to use, fast and without any bugs or errors. If you're a beginner in the world of online trading, you'll have no problems adjusting to the platform. We could only wish that some other providers would follow Olymp Trade's example.
Experienced traders, on the other hand, might be disappointed with Olymp Trade based on the fact that is only offers a small variety of assets and trading FTT's. On the other side, this makes it less intimidating for beginner traders.
There are, however, mayor drawbacks, the biggest one being the lack of regulation. Although Olymp Trade is part of the FinaCom group, it is not a licenced by any of the important state regulators, such as UK's FCA.
As the provider changed its place of registration to Cyprus in the EU (until recently, it had an address in St. Vincent, a country notorious for lack of regulation), we hope that they will be able to acquire a licence. That is when we'll be able to recommend the provider more wholeheartedly.