Which Platforms are Best for Social Trading?
Once you've learned a thing or two about ST, there's a good chance you'll want to jump in and get started. The good news is that there are plenty of platforms out there for you to choose from. Here are some of the most popular options today.
TRADING PLATFORM
BENEFITS
ASSETS
PLATFORMS
FUNDING
ISLAMIC
BONUS
DEPOSIT
OFFICIAL WEBSITE
eToro

78% of retail CFD accounts lose money
Best for copy trading:- lots of financial instruments- 7,5 Million traders- 50 Currency pairs- 1600 Real stocks- 15 Cryptocurrencies
– Forex- Indices- Stocks- Cryptocurrencies- Commodities- ETF's
+ Mobile App+ Web Trader- MT4
– Credit cards- Paypal- Bank transfers
YES! SWAP FREE
/
$200
78% of retail CFD accounts lose money
Olymp Trade
Solid platform:- Allows Hedging- Offers MT4- Offers social tradingOffers mobile trading apps- Allows scalping- Accepts credit cards
– Forex- Indices- Stocks- Crypto- Commodities- ETF's
+ Mobile App+ Web Trader
– Credit /debit cards- Paypal- Bank transfers
YES!
/
$1
1. eToro (Best Copy Trading Platform)
eToro is an impressive ST platform that allows users through out the world to share their knowledge of the trading markets. It feels very familiar to a standard social network, so you shouldn't have too much trouble getting used to the interface. For instance, the platform comes with features like its own News Feed.
To help you get the most out of your experience, eToro allows users to customise their news feed to suit their needs. You can copy your preferred traders into the mix. On the other hand, you can choose the Copy Trading option to automatically copy what other people are doing in the market. If you're justtesting the waters, you can start offwith a demo account, andyou don't have to pay anything. However, you can also try a premium account if you decide that you want to take your eToro strategy to the next level.

75% of retail investor accounts lose money when trading CFDs with this provider. You should consider whether you can afford to take the high risk of losing your money
2. Olymp Trade (Best trading Technology – beginners and advanced traders)
Allows hedging
Offers MT4
Offers social trading
Scalping allowed
Offers trading app
Accep
Olymp Trade is an online digital options broker from St. Vincent, operating since 2014. Since 2016, they are a member of the International Financial Commission. By becoming a Finacom member it is under Finacom supervisory. Finacom is a third party regulator guaranteeing security against fraudulent brokers. This gives Olymp Trade the trustworthiness needed to become an authority broker as you have to meet strict rules in order to be approved by this regulator.
All in all, it is a trustworthy platform as it is regulated by FinaCom and comes with a Verify My Trade audit. It also has a lot of interactive learning material. The interface is user-friendly, the design is clean and very intuitive. The broker has a lot of awards, and many positive reviews from traders, on the platform. Overall we would recommend it, especially if you are a trading beginner.

3. TradingView
A compelling web and cloud-based platform designed explicitly for Forex and Futures traders, TradingView is highly popularin the ST world. It comes packed with features to help you improve your trading strategies, including charting capabilities and social solutions for beginners who want to reach out to their peers.
At first glance, TradingView feels more like a trading forum than a social platform. However, it's still a fantastic place to exchange ideas with industry leaders and like-minded trading parties. You can also start discussions with people in your group about the current market conditions and manage those discussions in real-time. When traders publish ideas on the forum, they can instantly access feedback from other traders who are exploring the same opportunities.
4. Covesting
Built on a foundation of pioneering blockchain technology, Covestingis a contract-based trading platform. The idea behind this website is that you don't just get inspiration from your trading peers, you can also collaborate with them on trades. As an investor, you'll be able to earn additional profits from the cryptocurrency market by copying the strategies of other seasoned professionals. You can check out various traders and choose the one that appeals most to your style and risk preferences accordingly.
Covestingprovides new cryptocurrency traders with one of the easiest ways to get into the market. There's no need to waste months learning everything there is to know about cryptocurrency when you can justpiggyback on someone else's success. You can also get an overview of each of the traders on the platform and access their real-time trading strategy history. That means that you're less likely to choose a trader that isn't right for your needs. It's a good idea to do plenty of research into your professional trader before you commit to using their strategy.
What Is Social Trading?
Social trading is a new age investment strategy born as an update of mirror trading and copy trading, which allows investors to observe, follow and copy trading trends of their peers or expert traders to achieve the best possible investing results. Social trading is mostly used by trading beginners and has been described as as a low-cost, sophisticated alternative to traditional wealth managers by the World Economic Forum.

The world of trading has changed quite a lot in recent years thank to ST. In the past, all you had to worry about was investing in things like stocks and Forex. Now, we've got cryptocurrencies to consider, and "ST" too. It's no wonder that even the most veteran traders are starting to get confused.
ST is one of the most interesting and lucrative transformations to happen in the trading environment for some time. It works a lot like using a social network, in the sense that it's all about building a community. The difference is that instead of sharing pictures of your lunch, you share trading tips and ideas.
ST seems perfect for anyone who wants to get invested in a new trading market but doesn't have the time to stay up to date with the latest news. Rather than having to search through dozens of news stories every day, you can simply check your trading site. That way, you can rest assured that you're making informed decision, even without the hours of homework.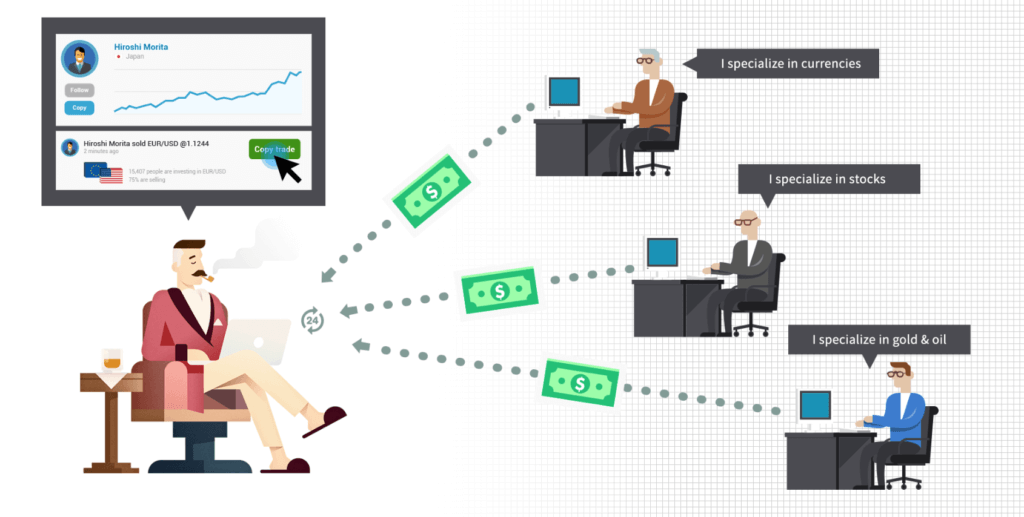 The Benefits of Social Trading:
On a ST platform, everyday traders interact with their peers, watch the trading results of other professionals and brainstorm on solutions to market challenges. Ultimately, you try to make better decisions with your finances by viewing the insights and suggestions of other people in your trading network. You can even pinpoint an industry leader in your space and use them as a source of inspiration for all of your deals.
The benefits of ST are significant. For instance:
Easy access to helpful trading information: With social platforms, you don't have to spend hours searching through the latest news and press releases. Instead, you can tap into the insights of some of the leading traders from around the world. You might even find yourself a new mentor.
Collect Knowledge: ST is a great way to jump into the market as a newbie. You'll be able to start making informed decisions while you learn more about your chosen trading environment. You can simplycopy people's trades if you reallywant to, justtry to learn something from your decisions.
Understand the market quickly: With ST platforms, you spend less time and money learning how to invest professionally. Instead of relying on months of practice, you discover the benefits of trading by learning from seasoned investors.
Build a strongcommunity: On a ST platform, you can also network with other valuableinvestors in your space. This way, you can find partners, collaborators, mentors, and It's a great way to make sure that you have a strongcommunity to rely on as you enter the trading world.
The History Of Social Trading
To fully understand everything about social trading, you need to first learn about its history and development. Before the idea of social trading, there were Mirror Trading and Copy Trading. And before even that, there were just simple emails. Yes, if we want to trace the evolution of social trading, back to its beginning, we have to start with emails.
At first, the traders were communicating with their followers when to open or close a position through newsletters. When they wanted to open or close a trade, they would send an email to the members of the newsletter, who would then repeat the action. The same thing happened with position closing. The main form of communication wasthe email, and this practiceis actually one of the earliest steps in the evolution of social trading.
The next step wasthe introduction of the trading rooms. It was more or less the same process as emails. The trader executed his tradeand then instead of sending an email, he messaged into the virtual trading room. His followerswere then able to read the action and repeat after the trader.
Later, when the of chat roomswere introduced, the followers were able to ask questions or comment on the trading action. This was only achieved by being in front of the computer and, most of the time, you had to pay a fee to be a part of the service.
The Automatic Replication
With the arrival of the automatic replication, the game changed completely. A lot of brokersand entrepreneursstarted to realize the opportunity of creating a connected replication system. An automatic system would allow a single person to make a trade and enable other parties to make the same trade automatically, without having to constantly checkchat rooms or emails. The first company to create a real trading system is called Tradency. In 2005 they presented the firstever automatic trading system called Mirror Trader. Any trader with a good record of successful trades could offer to share his trading techniques. If they were accepted by the platform, the techniques and strategies were available to other members of the Tradency platform. The Tradency customers could, therefore, examine and decide to replicate all of the transactions made by the available strategies.
Mirror Trading system enabled users to see the actions of approved traders and copy the trading strategies and actions they are interested in. And this is where the term Copy Trading was made.
Another notable step of the social trading evolution was made by other companies like Zulutrade and Etoro. They enabled traders to share their strategies, without having to be approved. All a trader had to do was create a personal trading account at their platform. From then on, all of the moves were recorded and made available for the investor type of users.
Social Trading
Copy trading was one of the most importantsteps in the evolution of social trading. It enabled the first contact between a trader who made a signal and someone who replicates it. The next step was letting the users, involved in copy trading, to exchange opinions, comment to each otherand share other relevant insight. And that's how Social Trading was born.
And the evolution of Social Trading didn't stop yet. There are many new innovative ideas coming out on many different platforms, such as the new eToro CopyPortfolios. Companies are constantly competingto provide a better service or just to find a new solutionthat would bring Social Trading to the next step of its journey.
If there is something to be learned from the world we live in is that we are more and more connected to each other by the use of the internet and social media. Therefore it is not a big surprise that investing is going in the same direction. And with investing opportunities becoming more and more available to anyone, we should realize that the real journey has just begun.
Ready to Try Out Social Trading?
ST is a unique concept that allows individuals to access useful information about the current markets. With ST, you can make valuable and informed investment decisions, simplyby tapping into the opinions of a community that's bigger than you.
With ST platforms, beginners in any market can transform their trading strategy, and learn more about the market. You can even discover the benefits of the cryptocurrency space without having to worry about making a fool of yourself. After all, cryptocurrency can be a complicated area to get involved in – even if you have a history in investing.
The best thing about social trading platforms is that they also cater to both professionals and beginners alike. No matter where you are in your trading adventure, you're sure to have a great time on a social platform.
Also read: