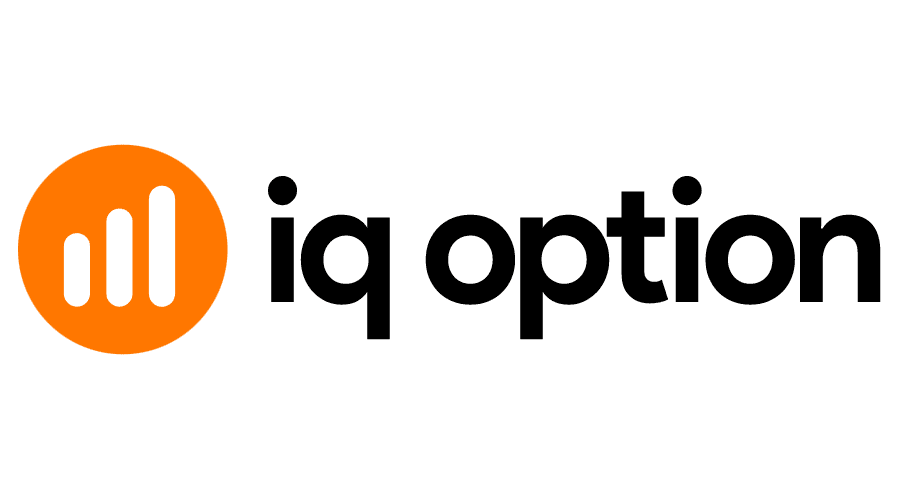 IQ Option

Plus500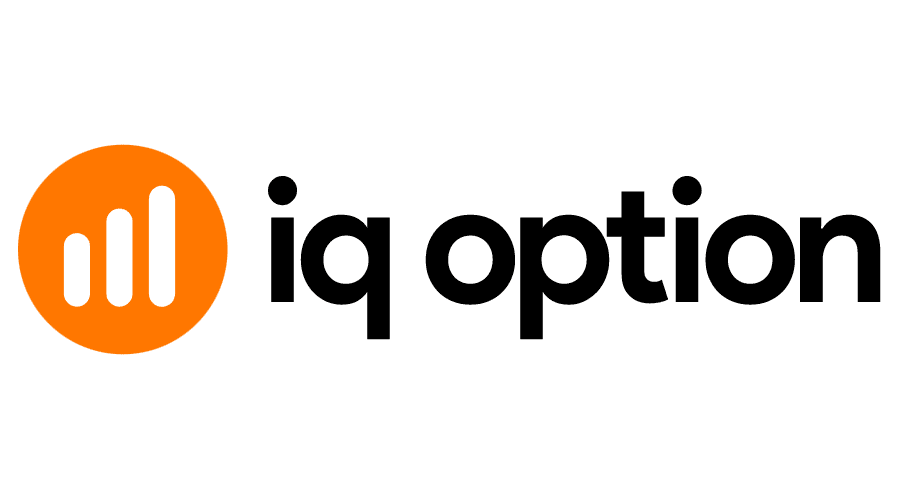 Plus500
Account Types
Specializing in CFD's (contracts for difference), Plus500 offers a wide variety of trading tools, including ETFs, indices, commodities, shares, Forex, and options. For more information about Plus500 read the full review.
Company Information and Regulation
Based in the UK, Plus500 is regulated by the Financial Conduct Authority (FCA). That is a significant point of strength for Plus500 as the Financial Conduct Authority is one of the most highly respected and most rigorous authorities in the world. There are only two account types at Plus500; the first is the free demo account, the second is the live account.
For example, FCA-licensed brokerages must report all of their financial details to the Financial Conduct Authority, maintain client funds in a segregated account (from company funds), and protect their clients through an insurance program. That insurance program is the FSCS (Financial Services Compensation Scheme). All brokers registered with the FCA must contribute to this compensation fund. In the unfortunate instance of one of the brokers possibly going bankrupt, the money in that fund is paid to the clients of the defunct brokerage.
Plus500 is regulated by six different authorities and is listed on the London Stock exchange. Each of the seven points is important when considering the safety of your money when investing with Plus500. Regulation is the defining characteristic of a broker in determining whether or not your money will be safe with them. Generally speaking, the more authorities that actively regulate a broker, the safer it is for you to invest with that broker.
In addition, Plus500 is part of a larger group with subsidiaries all around the world, including Israel, Cypress, Australia, South Africa, New Zealand, and Singapore.
The trading portfolio available at Plus500 includes over 2,000 instruments. That is possible through the CFD's (Contracts For Difference) which allow clients to trade an index, Forex, commodity, stock, or ETF without necessarily owning the asset. In short, a Contract For Difference bets on the price movement of a particular asset, not on the asset itself.
Trading Conditions
Minimum Deposit
Plus500 requires a minimum deposit of £100. For beginners, this may seem like a lot. However, for most UK brokers, this is pretty much average with FX Pro requiring a $500 deposit and FXCM requiring a $50 deposit. Some brokers don't require an initial minimum deposit at all, but they usually have higher fees.
Maximum Leverage
When discussing CFD's, the maximum amount of leverage is an essential topic. At Plus500, the maximum leverage level changes based on the type of instrument. For example,
Indices – up to 1:290 for leverage;
ETFs – up to 1:100 leverage;
Commodities – up to 1:150 leverage;
Forex – up to 1:200 leverage.
Taken as a whole, these leverage rates are pretty average. For example, FX Pro offers a leverage of up to 1:500, and FXCM offers leverage of up to 1:200. Beginning traders should be reminded that while leverage can increase potential profits, it can also increase potential losses. For this reason, there are often further limitations placed on leverage in most countries, including Japan (1:25), Poland (1:100), and the United States (1:50).
Spreads And Commissions
A typical spread at Plus500 for the EUR/USD currency pair is a fixed 2 pips. At FX pro, the same spread is around 1.8 pips, and at XM, it's 1 pip (though that rate is variable by volume).
Commissions are also a thing of the past at Plus500 and are not charged for CFD trades. In contrast, CMC Markets charges a commission of 0.10% of the volume traded.
Risk Management Options
As stated above, leverage causes both potential profits and potential losses to be significantly increased. For this reason, most Forex and CFD brokers offer risk management tools to their clients.
Guaranteed Stops
One of the tools provided to traders is called a "guaranteed stop." A guaranteed stop is a risk management tool that automatically ends a trade when either a particular percentage of profit is earned or when a loss is incurred. In other words, as soon as your investment reaches a specific value, you can program the system to automatically close your position.
Negative Balance Protection
Plus500 offers a security called "negative balance protection." Negative balance protection is a security on your account that ends all positions as soon as your total account balance reaches zero. The benefit of this feature is significant. Without negative balance protection, if you open a position on leverage, that then incurs a loss beyond the amount of money you have in your deposit, you could end up owing the broker a significant amount of money. To avoid that, negative balance protection stops all trades as soon as your equivalent balance deposited reaches zero.
Trading Platform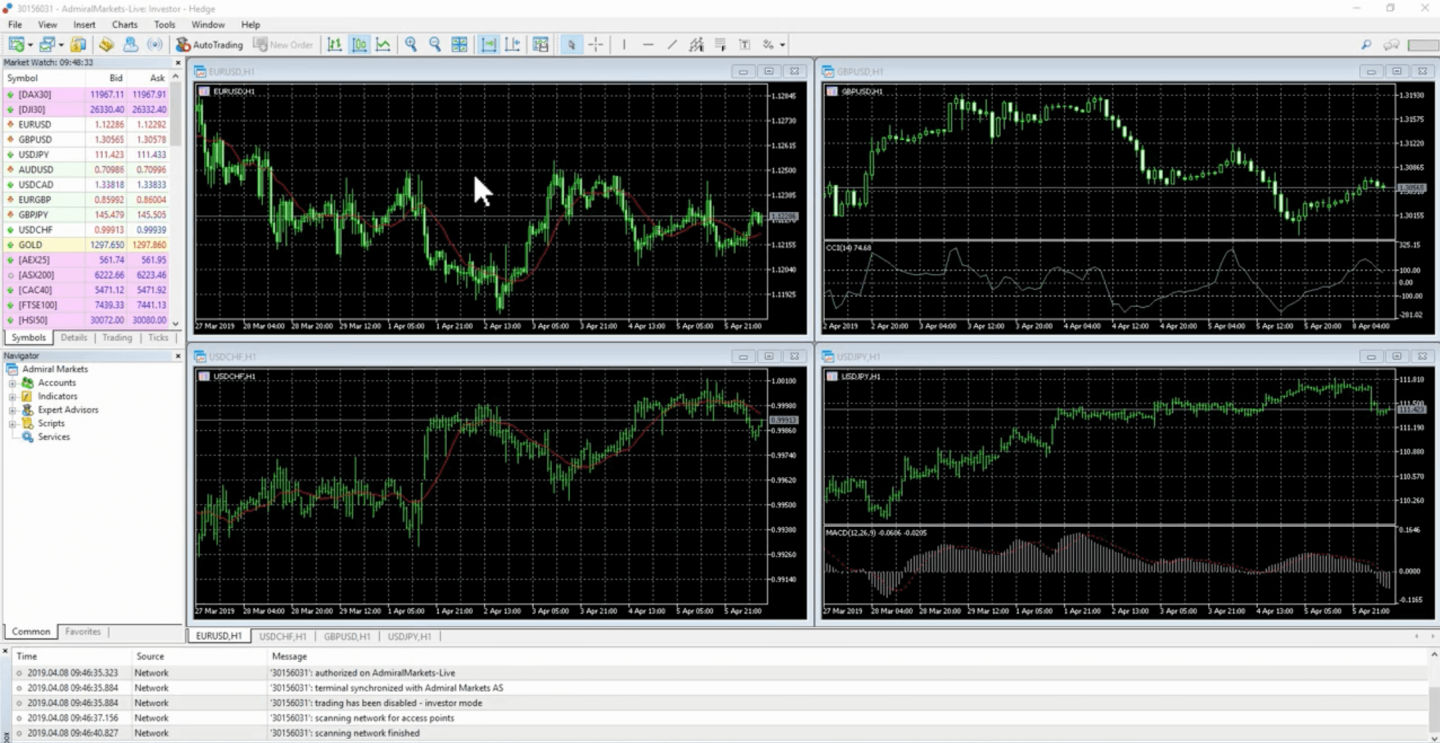 At most brokers, there are many trading platform options available for clients to use, including cTrader, SuperTrader, MetaTrader 4, and MetaTrader 5. However, Plus500 does not offer any of these platforms and instead offers its proprietary trading platform only.
That trading platform is available in 31 languages and has mobile, web, and desktop versions for the most common operating systems, including iOS, Windows, Android, macOS, and Chrome.
While MetaTrader4 is considered the industry standard in Forex trading, the platform at Plus500 is well respected. True, MetaTrader 4 has more features and more robust tools than the platform at Plus500. However, the large feature set available in the MetaTrader Suite is often overwhelming for most traders. The platform at Plus500 is simple, easy to understand, and provides flexibility for identifying only the information that you want to see.
Payment Methods
Clients at Plus500 can use a variety of payment methods to both deposit and withdraw from their accounts, including;
Credit cards (Visa, MasterCard, Maestro)
Debit cards (Visa, MasterCard, Maestro)
PayPal
Skrill
Wire transfer
Conclusion
A well-regulated and wide-ranging broker, Plus500 offers over 2,000 instruments to its clients using an intuitive, proprietary trading platform.
IQ Option
Basic Information
IQ Option is a binary options and CFD broker offering hundreds of trading instruments and a proprietary trading platform. An often overlooked bonus is their free demo account. Few binary options brokers offer one of these. For more information about IQ Option read the full review.
Trading Accounts
IQ Option only has one account type, but you can be "promoted" and receive VIP status when your total deposits (not earnings) reach $2,000. VIP status awards you with a slightly more favorable withdrawal percentage. It's worth pointing out that if your total deposits dip below $2,000, you will lose your VIP status.
Company Information and Regulation
Probably the most critical variable when choosing a trading broker is regulation. A broker that is regulated by multiple authorities usually means that your money is safe if you invest with that broker. Curiously, IQ Option is only regulated by CySEC (Cyprus Securities and Exchange Commission). That is both good and bad; good because CySEC is one of the most respected regulatory authorities in the world, bad because IQ Option is regulated by only one authority.
Still, we consider IQ Option to be a reputable broker because CySEC enforces strict rules regarding the two most important aspects of investing: segregated accounts and compensation schemes.
When we talk about "segregated accounts," we're referring to the practice of keeping your deposited funds separate from the broker's money. Years ago, most brokers kept client deposits and company funds in one big account. When the broker needed more money, they could "borrow" from the client funds. After several brokers went bankrupt, taking all of the client funds with them, regulatory authorities began requiring segregated accounts and investment insurance. At CySEC, the insurance for each client is set at €20,000.
A local broker compensation scheme is another segregated fund. Those brokers are required to contribute a portion of their profits to that compensation fund. That fund then acts as the reserve or insurance in case one of the brokers goes bankrupt.
While our experience with IQ Option has been exemplary, several negative reviews can be found in online forums. Reports range from slow speeds to not processing withdrawals. However, we cannot verify those reviews.
Trading Conditions
Assets: Indicies, Currencies, Stocks, Cryptocurrencies
Trading Options: Forex, CFD, Binary Options, Digital Options,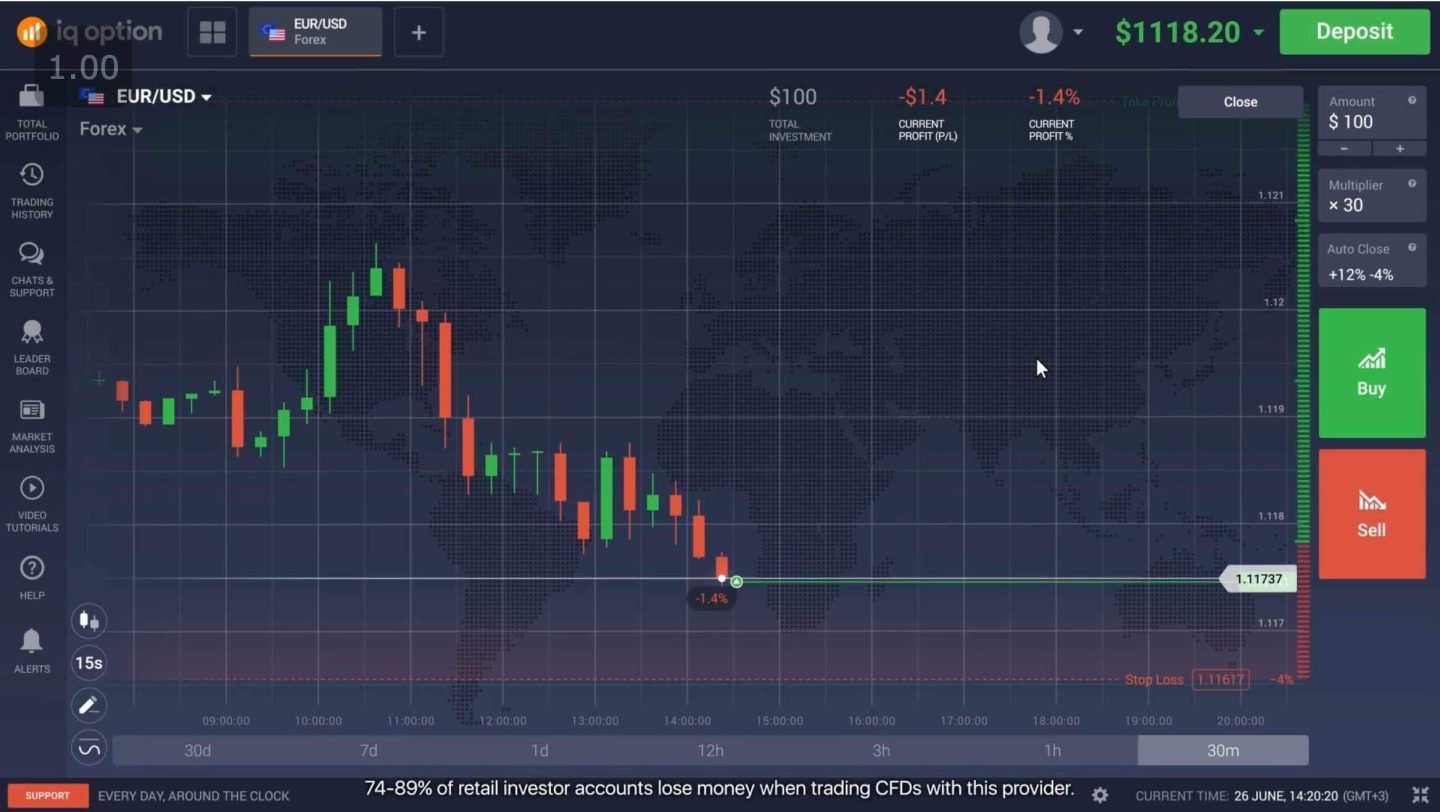 Minimum Deposit
IQ Option offers a minimum deposit of only $10. That is one of the lowest minimum deposits in the industry (except for brokers who do not require a minimum deposit like IG).
Minimum Bet Size
IQ Option offers a minimum investment size of $1. Again, this is one of the smallest minimum bet sizes in the industry. Such small bet sizes help mitigate risk.
Payout Rules
IQ Option offers a slightly higher payout percentage than most brokers at 87%. Digital options can technically reach as high as 900% but only under extremely unpredictable situations.
Tournaments
One unique activity at IQ Option that you don't find at other brokers is the "Tournament" events. Each client pays $1 to $20 to sign up and is given $100 of virtual funds to "compete" with at the beginning of the Tournament. Traders compete by following whatever strategy they want and, when the Tournament finishes, the winners are announced and awarded small cash prizes. Be aware that these Tournaments can get heated and are not recommended for beginners.
Trading Platform
The trading platform at IQ Option is proprietary, which means you can't find it anywhere else. It's highly intuitive, fast, and easy to use. There are web, desktop, and mobile versions of the platform, so you have access to your trades at all times (very few brokers have that many versions of their apps).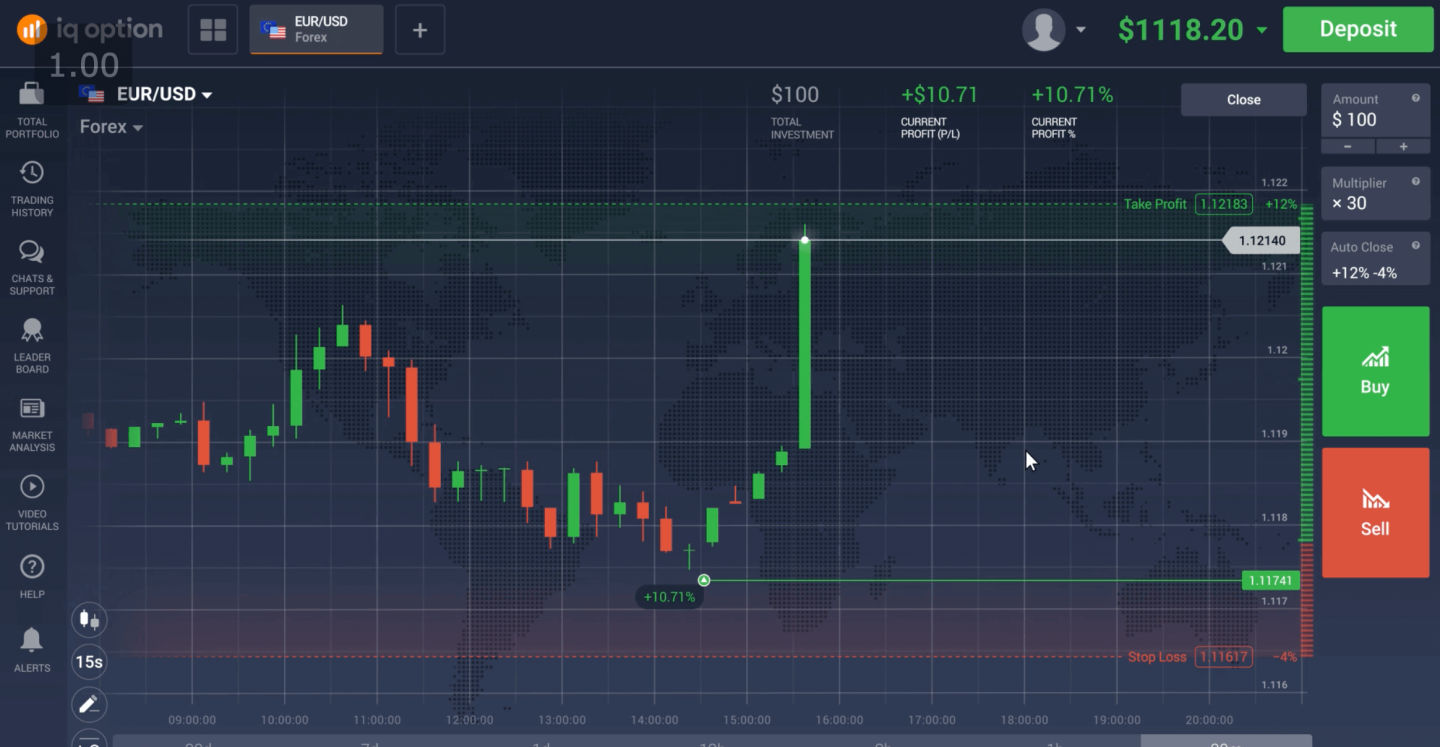 While the desktop app and the web app are visually identical, the desktop version demands significantly less of your hardware. On higher-end computers, the difference is negligible. However, on older or slower machines, the web app could be a drag on your system and therefore slow your execution times.
The interface itself focuses heavily on the data with charts (candlesticks!) and graphs taking up nearly 85% of each window. All features and tools are available through menus and buttons around the edges of the interface.
Payment Methods
When depositing or withdrawing money from your IQ Option account, there are many options to choose from, including:
Giropay
Sofort
Skrill
Credit cards
Debit cards
And "many more!"
Conclusion
Unlike other binary options brokers, IQ Option offers a free demo account. The proprietary platform at IQ Option is excellent, intuitive, and fast. Digital options are available.
More articles here:
IQ Option Review
General IQ Option Risk Warning:
The financial products offered by the company carry a high level of risk and can result in the loss of all your funds. You should never invest money that you cannot afford to lose.
IQ Option Disclaimer:
This material is not intended for viewers from EEA countries. Binary options are not promoted or sold to retail EEA traders.