Plus500 is a legit and safe online broker listed on the London Stock Exchange (LSE). It is a great online broker for those who want to trade CFDs on a simple to use trading platform. We recommend Plus500 to beginner and advanced traders.
Plus500 is an exclusive CFD broker founded in 2008 with headquarters in Israel and an operating subsidiary in the UK/Cyprus/Australia/Seychelles/UAE – Plus500UK Ltd/Plus500CY Ltd/Plus500AU Pty Ltd./Plus500SEY Ltd/Plus500AE. They offer online trading services in contracts for differences on commodities, ETFs, forex, cryptocurrencies, options, indices, shares and stocks. The firm is adding share dealing and futures trading to its tradable assets. Plus500 is listed on the London Stock Exchange and is a fundamental part of the FTSE 250 Index. It is regulated by the DFSA, FCA, FSA, CySec, MAS, ASIC and FSCA.
Summary
Pus500 is a reputable online CFD broker known for its great trading platform, low trading costs, and interactive mobile trading app. Traders get access to 2500 financial instruments, negative balance protection, and great customer support. This broker is ranking below average for educational materials and research tools.
We recommend Plus500 to advanced traders looking to trade CFDs on a simple to use trading platform.
In this Plus500 review, we reveal everything you need to know before opening an account with them.
1. Fees and Spreads
Plus500 has a competitive spread structure. It has certain non-trading fees including overnight funding.
Plus500 fees are competitive. They don't charge trading or commission fees. This broker generates revenue through a bid/ask spread. Plus500 trading costs are part of the buying and selling price.
Plus500 bid/ask spreads are average. They offer fixed and variable bid/ask spreads. The type of bid/ask spread will vary per trading instrument.
The table compares the bid/ask spreads of five popular assets.
Fees and Spreads
| | | |
| --- | --- | --- |
| Instrument | Spread | vs other platforms |
| Oil | 0.04 | lower |
| Germany30 | 2.44 | lower |
| Gold | 0.74 | similar |
| EUR/USD | 0.00006 | similar |
| Facebook | 0.09 | lower |
Non-trading fees
Plus500 charges an overnight funding fee. They charge a currency conversion fee, a guaranteed stop order fee, and an inactivity fee.
For additional information, visit the main screen of the Plus500 trading platform for the relevant instrument and check the "Details" link.
2. Plus500 Withdrawals and Deposits
Deposits and withdrawals with Plus500 are fast and straightforward. Plus500 has a minimum deposit for opening a trading account. The minimum deposit is $100 for electronic wallets. The minimum deposit for wire transfers is $500.
Users can deposit and withdraw money from Plus500 using wire/Bank Transfer, e-Wallets (PayPal or Skrill).
Deposits
Plus500 does not charge any deposit fees. Deposit restrictions and limitations are based on your residing country. Their platform has a maximum deposit limit. For more extensive deposits, up to $300,000, bank transfers are preferable.
Withdrawals
Plus500 fee structure is competitive. Traders make five withdrawals per month at no charge. Each withdrawal over the limit costs an extra $10.
There is a minimum withdrawal rule for no-fee withdrawals. Paypal requires a minimum withdrawal of $50. Bank transfers have a minimum withdrawal of $100. The zero-fee withdrawal schedule link is on the Plus500 trading platform.
3. Plus500 Safety and Privacy
Plus500 is a publicly traded company and a trusted broker in the industry. It is listed at the London Stock Exchange (LSE) and under regulation of top-tier financial authorities. Those include the Financial Conduct Authority (FCA), the Financial Services Compensation Scheme (FSCS), Monetary Authority of Singapore (MAS), and the Australian Securities, Dubai Financial Services Authority (DFSA), and Investment Commission (ASIC). The company has trading licenses in Singapore, Australia, New Zealand, and South Africa.
Plus500 separates its funds from client funds. Capital used for speculation and hedging is separate from client accounts which ads a significant degree of safety.
4. Tradable Assets
Plus500 is the best trading platform for CFD trading. It offers CFDs for 2200 instruments from seven asset classes. Those include indices, forex, commodities, individual shares, ETFs, options, and cryptocurrencies.
Assets
| Asset | Popular on Plus500 |
| --- | --- |
| Indices | Germany30, USA500, UK100, Swiss20, Cannabis Stock Index, NYSE Fang+ Index |
| Forex | EUR/USD, EUR/GBP, USD/JPY, GBP/USD |
| Commodities | Oil, Silver, Copper, Gold, Sugar |
| Crypto | Bitcoin, Ethereum, Litecoin |
| Shares | Facebook, Airbus, Amazon |
| Options | / |
| ETFs (exchange traded fund) | TAZ, USO, GLD, XBI |
5. How to get started With Plus500
Plus500 registration and verification process is fast and easy. Everything is done 100% online.
The Plus500 on-boarding process is fast and intuitive. The instructions are clear and easy to follow. The first step is to create an account with two necessary credentials – email and a password. Once registered, you will have access to your statistics and essential trading functions. Plus500 is open for business for residents of more than 50 countries, including most of Europe and AE. There are some exceptions, including Belgium and the United States.
Demo mode
Demo mode is a feature that users consider exploring before risking capital. It works like a trading account where users receive 40,000 virtual euros to trade without any risk or time limit. Demo mode is an excellent way to test-drive strategies before risking real capital.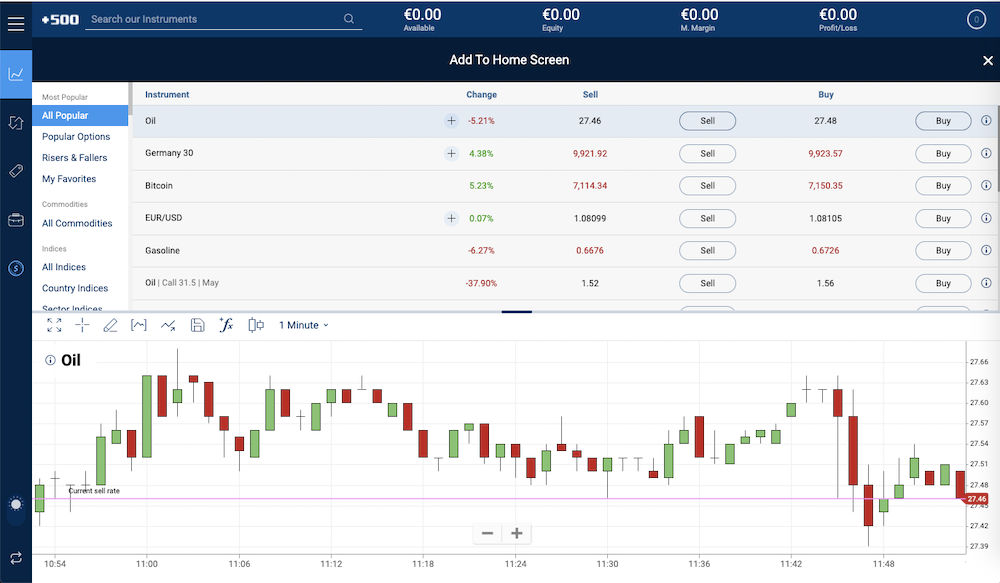 Verification process
Plus500 performs an identity and residency verification before you can make a deposit. You might need to provide your bank statement, electricity bill, or phone bill. You will need to provide a standard ID. Here is a grab screen of the first step of the verification process: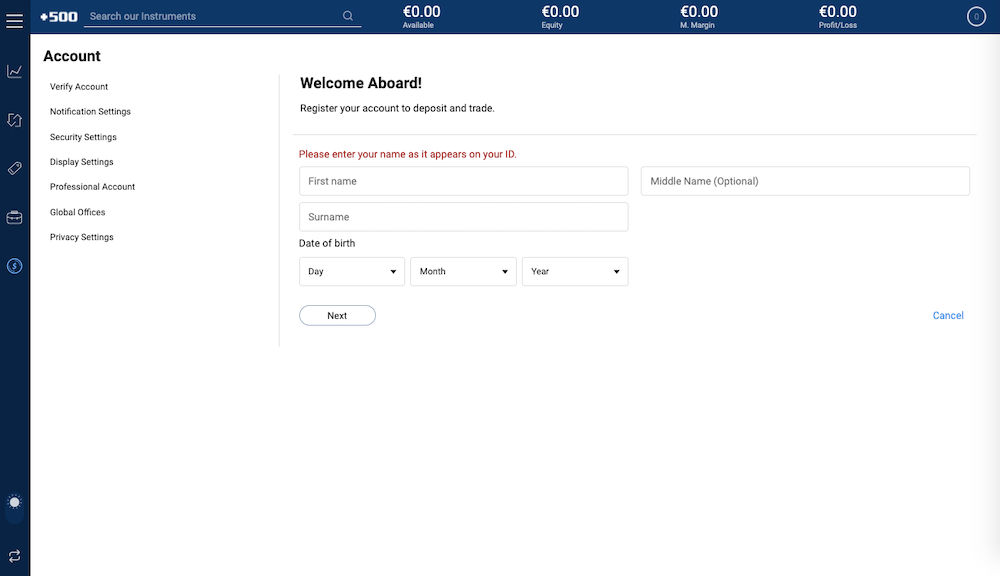 6. Plus500 Web Trading Platform
Plus500 trading platform offers advanced trading features and user friendliness. It provides reports on open trades, fees, trading positions, and historical transactions. It uses a two step verification process to ensure safety. The graphs, tables, and visuals are unambiguous and minimalistic. Despite the recent additions, customization remains narrow.

Colored bar function

Line function
The search feature works great. It's easy to track down whatever you need on Plus500. Users browse between different financial products with the left sidebar. Users also type the product name in the search bar. Order entry is average. The orders Plus500 offer include guaranteed-stop-loss orders, market orders, limit orders, stop-loss orders, and trailing stop orders.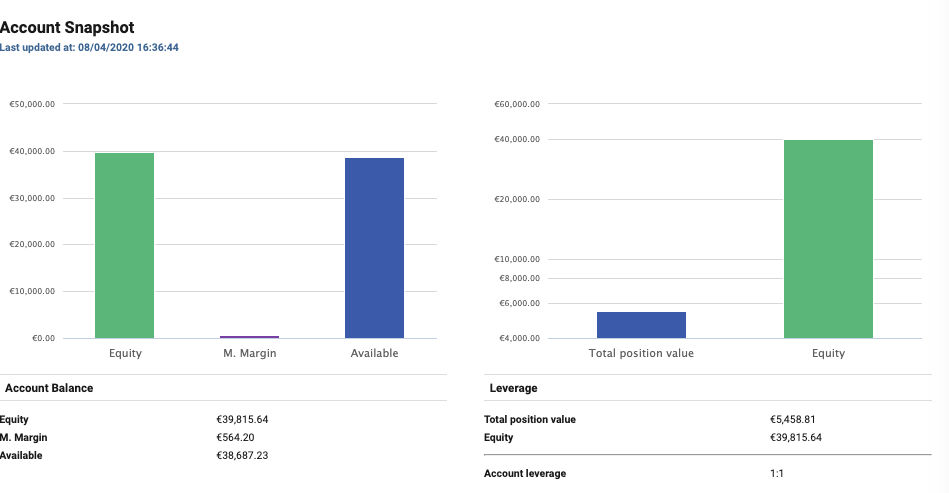 Account snapshots bring all the trading info in one place.
A useful feature is a notification and alert function. Users set up emails, push notifications, and SMS to suit your needs. The notification feature is helpful when you need to react to market volatility.
7. Mobile Trading Platform
The mobile app is simple and intuitive. It offers most of the tools and features offered on the desktop version. The mobile solution is also well designed and allows users to trade while they are on-the-go. We like the precise layout of the charts and graphs, which is essential on small screens. The mobile version is available for iOs, Windows and Android.
8. Research Tools and Educational Program
Plus500 educational materials and research tools are limited. Their economic calendar is the highlight, but instructions for beginners are missing.
Plus500 provides an economic calendar (as seen in the below image). Pertinent fundamental data is missing. Plus500 does not offer a newsfeed.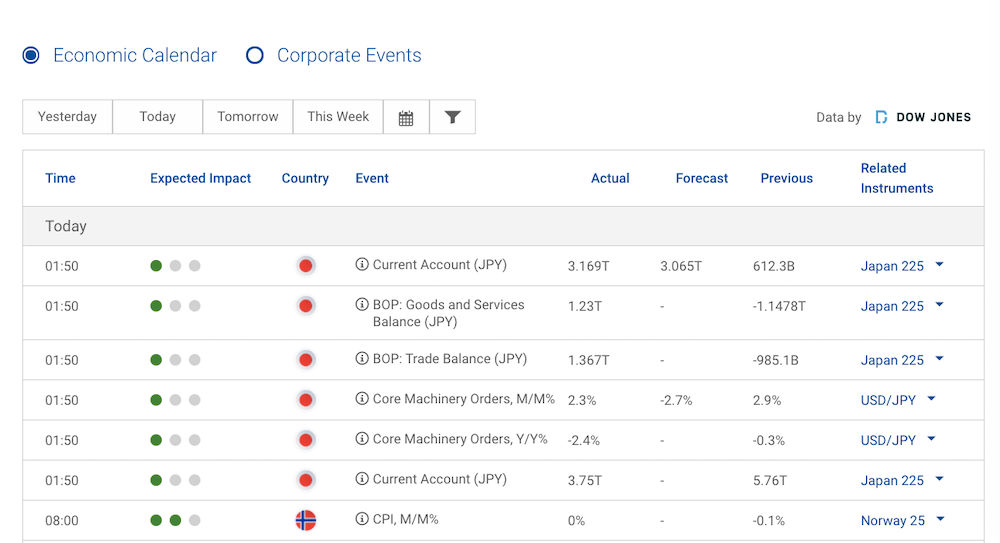 Economic calendar
Plus500 offers several drawing tools that can help you analyze trends. Users customize their charts view by choosing: chart type, price type, and time intervals.
Plus500 increased the available indicators to 50, which is better than average. The most common technical-indicators are Bollinger Bands, Moving Averages, and Volume Underlays.

Plus500 is missing on news and educational materials. Plus5000 offers educational options for people who want to learn about trading. Their academic library of short videos is confusing. There is a lack of guides, blogs, and instructions.
9. Plus500 Customer Support
The customer support is responsive and helpful and is rating above average.
Plus500 offers email and live chat support on the website, with a response time within one hour. That's much faster in comparison to the competition.
In 2019, Plus500 implemented customer support over WhatsApp. Plus500 is the first CFDs broker to integrate WhatsApp into its customer-support framework.
Live chat service is available 24/7.
Plus500 UAE Special Features You Need to Know About
Plus500 UAE is a trading platform available for UAE customers.
The Plus500 UAE platform offers all its tools and support in the Arabic language. For traders who do not speak English, this is a big plus.

Conclusion
Plus500 is a reputable CFD online broker best known for its high tech trading platform, interactive mobile app, low trading fees and zero trading commissions. The company discloses its financials and is not a scam broker. It is under regulation of top tier financial regulators and listed at the London Stock Exchange.
This broker is lacking on educational materials and research tools.
We recommend Plus500 to advanced traders looking to trade with CFDs. This broker is among the best and most trusted companies in the industry.
Plus500 compared to other brokers:
Plus500 Mentioned in Other Articles