IQ Option is a great online broker for options trading, known for its fast trade execution, low spreads, intuitive trading platform and great customer support. We recommend IQ Option to traders at all levels, from beginner to advanced.
Review Summary:
Here are the findings from our IQ Option review:
Their trading platform is sophisticated yet easy to use.
Traders can use the IQ Option platform as a desktop version, mobile or web app.
The withdrawal process is fast and reliable. Customer support is solid.
IQ Option trading platform is intuitive and easy to use for traders at all levels. Both, mobile and desktop platform offer traders a variety of different tradable assets. These include cryptocurrencies, forex, stocks ETF's, commodities, digital and binary options. Spreads and fees are competitive. Deposits and most withdrawal methods are free of charge. The smallest deposit is $10.
IQ Option features a large library of different educational materials. Compared to other brokers this feature offers beginners a solid ground for a safe start.
IQ Option offers excellent multilingual customer support, including Arabic.
IQ Options allows traders unrestricted use and offers a demo account. They have no deposit fee (*currency conversion fees may apply) and provide low withdrawal commissions.
IQ Option LLC was established in 2013 in St. Vincent and Grenadines.
IQ Option has two legal entities, IQOption Europe LTD, which operates and is regulated in the EEA countries. IQ Option LLC operates outside the EEA countries and is not regulated.
In this IQ Option review we reveal all the details you need to know about this online broker before trading.
IQ Option Trading Platform
The IQ Option trading platform is intuitive and easy to use. It allows mobile and desktop trading and is available in 15 languages. Trading features include economic calendars, stock screeners and volatility alerts and market overviews.
The top menu shows your balance in the asset you are trading. By navigating your cursor to the right you will find the BUY and SELL boxes. Trading charts are in the centre. Navigating around the platform is straightforward and is overall an enjoying experience. It is easy to find all the tools and features, everything makes sense.
The platform has many useful charting tools which make trading easier. Note that IQ has a trade maximum for both real money and demo account. You can make an investment up to $20,000 in a single trade.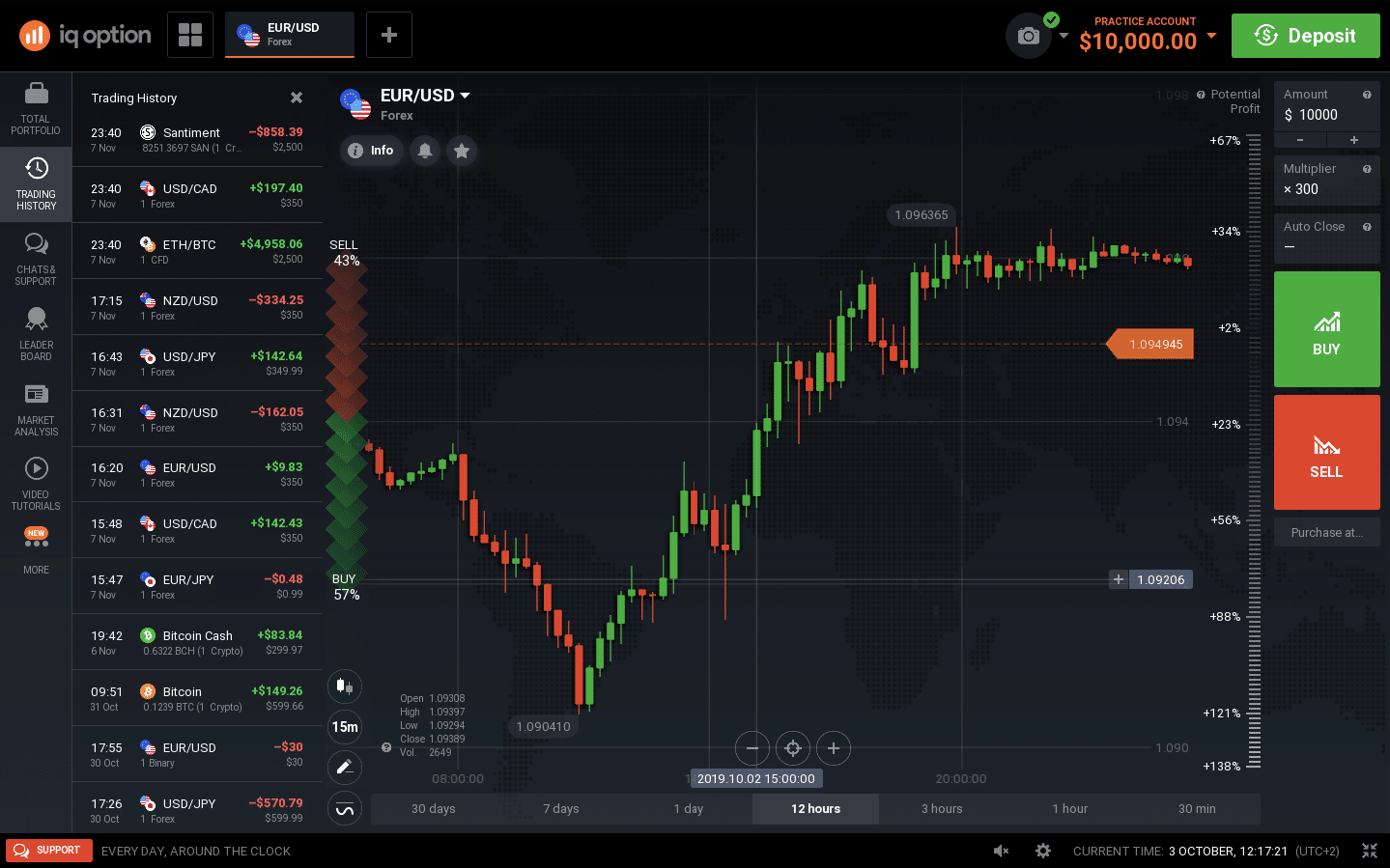 You can use the drop-down menu on the upper left to pick your trading instrument. Options, Forex, Stocks, Crypto, Commodities, Indices, and ETFs will reveal from the drop down. From each of the asset, you can find your specific instruments through a search bar.
Trading on IQ Options is possible from the online interface. On the right side of the graph, you will see the buy and sell buttons. Fill out the amount of the asset you want to trade and confirm your order.
If you have any issues, you can start a conversation with the support team. The resources section is another useful feature. It offers all the training and educational material you might need.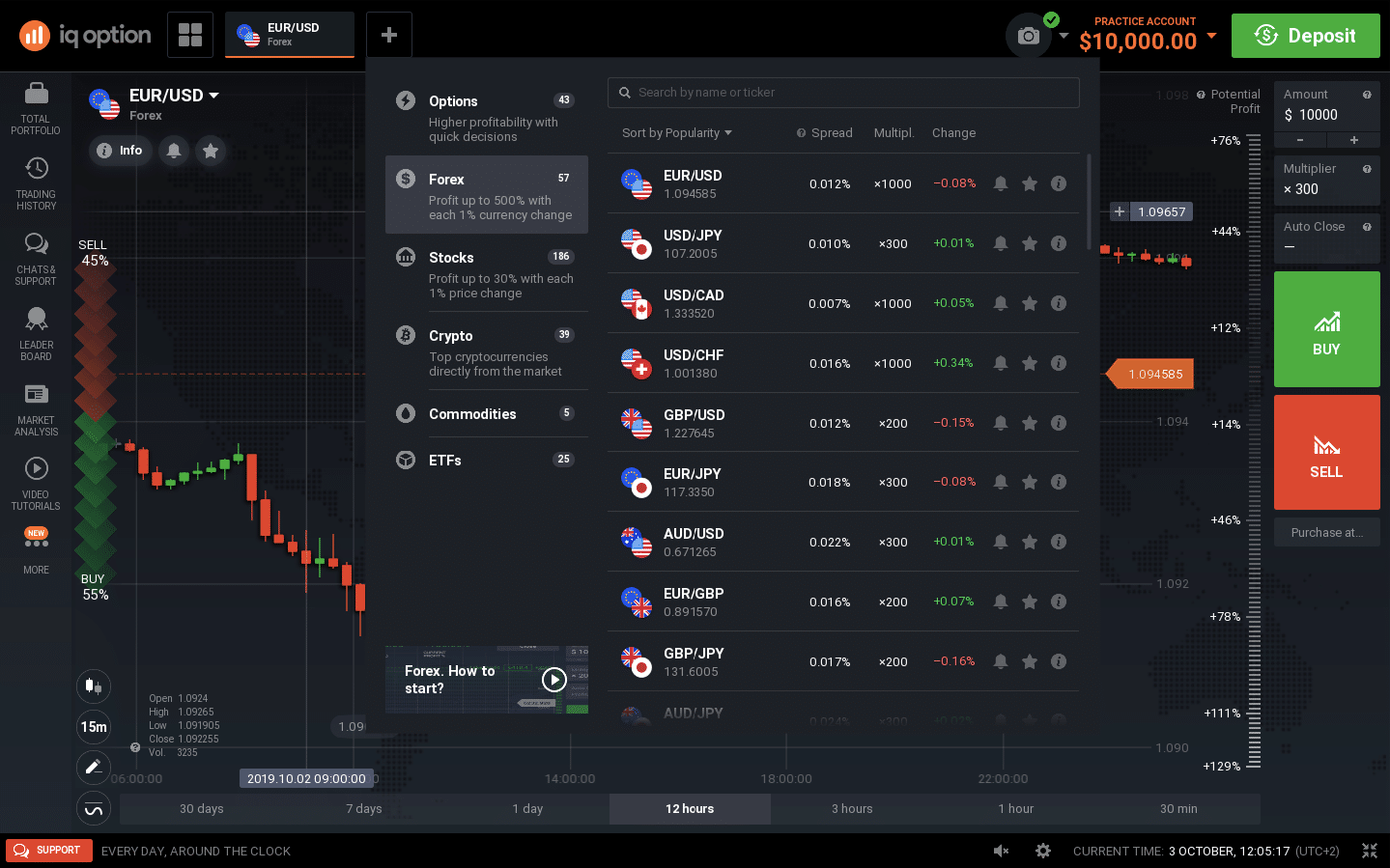 You can fulfil your order by using the BUY and SELL buttons on the right hand side. Before you execute the order you need to fill in the amounts you want to trade.
You can use the stop loss and the position automatic closing features under edit order. Stop loss to minimise your loss and automatic closing to save your profit. You can use the multiplier orders feature to multiply your potential gains. The same goes for your losses on the other side. We do not recommend beginners to use this feature.

Mobile Trading App
The IQ Options app is clean, with an intuitive graphical interface. It includes most of the indicators and tools, available on the standard platform. It is gaining more popularity as daily tasks are mowing from desktop to mobile. Most of the traders are executing the trades on their desktop versions.
IQ option offers some extra features that many traders will find useful. The company claims to be focused on improving the user experience. Additional features offer a comfortable trading experience.
Traders can enable push notifications that allow them to be up to date with the trading action. They can set the alerts on specific price points. This way traders will receive an notification once they reach the designated point.
The trading app works on tablets and smartphones, accessible both for Android and Apple iOS.
Technical Research Tools
The online trading platform offers a great variety of charting tools. They help traders to predict future market movements. The tools include candles, hollow candles, bars, area and lines.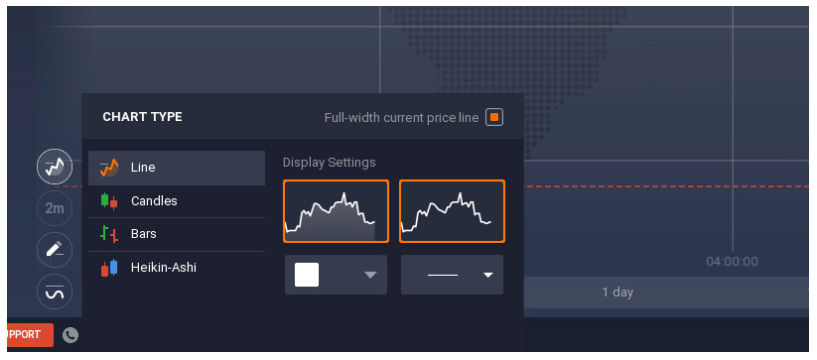 Candle charts are the most used charts on the platform. They show a period in time, with colours presenting the amount of volatility between the beginning and the end. Hollow candles are like candle charts. Instead of showing different colours, the positive price movements are full, and negative movements are a hollow.
The platform lets you use area charts that show the price in a line, with shading showing the volatility. Line charts are similar but without the shaded area.
Bars cover your chosen period, like candle charts. They show the prices at the beginning and end of a certain period, with vertical lines. The horizontal lines show the prices at open and close positions.
Indicators
This broker has 13 different indicators users can access through the charting interface.The indicators on the platform help to discover trends and find trades with good profit potential. You can use each indicator on its own, or you can go for a combination of them. Users can watch the instruction videos to learn the right usage of indicators.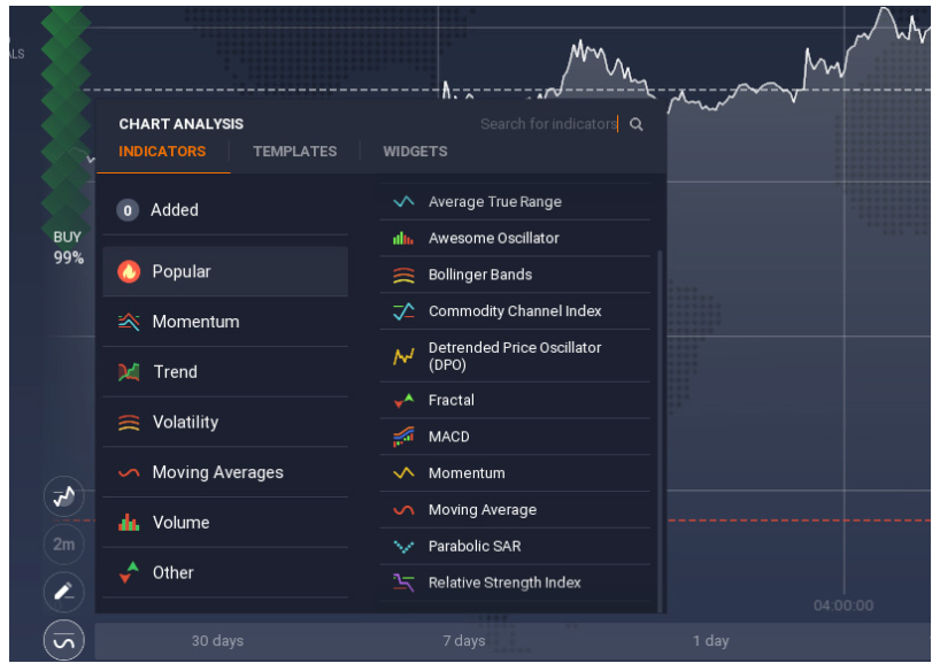 Let's take a look at some of the popular ones:
Moving Averages (MAs) show you the average trading trends in your specified time periods. They are used with other indicators and include Simple Moving Averages, Weighted Moving Averages, Smooth Simple Moving Averages, and Exponential Moving Averages.
The Moving Average Convergence Divergence (MACD) indicates where moving averages diverge or converge. It lets you compare the relation between Exponential Moving Averages.
The Parabolic SAR is like moving averages. The main difference is its position that is changing with the price and corresponds to higher acceleration. You can observe it in groups or dots.
The Awesome Oscillator shows a visualization of two SMAs. One is fast and the other slow. This indicator helps you observe trend development.
Bollinger Bands are trend indicators that present a dynamic range of the price movement.
Volume Indicators show the amount of the traded asset during a given period of time, showing the intensity of the trading action on the market.
The Alligator Indicator lets you asses market movements. It shows you the movement direction and lets you filter out the Side Bands. This is a cross-functional trend that allows you to discover an emerging trend.
The Relative Strength Index (RSI) shows the strength of the current trend and possible reversal points. It compares the price growth with the price reduction.
The Stoch or Stochastic Oscillator indicators let you know the current price position, comparing it to the extreme highs and lows in a certain time frame. It is the percentage, letting you figure out any potential reversal points.
The Average True Range (ATR) indicates the volatility of the asset over a certain period. It shows the change rate of quotes.
The Average Directional Movement Index (ADX) presents a trend's strength before the price movement. It can show a potential change in volatility.
A fractal includes at least five Japanese candle sticks, indicating the local maxima and minima of price curves and possible market reversal points.
Commodity Channel Index (CCI) shows you the speed of the price movements. It helps you discover the upcoming market reversals and is helpful to read the strength of a trend.
Tradable Assets
The IQ Option platform allows users to choose from 100+ different assets to trade from. Besides digital options, you can trade with CFD's on stocks, Forex, commodities, ETF's and Cryptocurrencies. As of this review, they were adding 10 new assets to the portfolio.
For many unexperienced traders, CFDs and options are tough to understand. Let's explain them in detail:
CFDs are financial derivatives which allow investors to bet on the price of an asset without owning it. You can speculate whether the price will go down (short) or up (long). If you're right, you profit, if not, you lose. CFD types available on the IQ Option trading platform include CFD's on stocks, Forex, indices, CFD's on commodities and cryptocurrencies and ETFs.
Digital options trading involves deciding whether the price of the underlying asset is going to increase or decrease. If you choose Call option: you get profit if the closing price is higher than opening price. If you choose Put option: you get profit if the closing price is lower than the opening price.
Let's2 look at all the trading possibilities available with this online broker:
CFDs on Stocks – this broker offers CFDs on stocks from more than 171 different companies. Some of them listed on NASDAQ or NYSE, such as eBay, Slack and Amazon.
CFDs on ETFs – ETF trading works by tracking commodities, indices, and baskets of various assets. ETFs are in many ways like mutual funds. They are on exchanges and ETF shares trade throughout the day like ordinary stock. Users can trade up to 24 ETFs on this platform.
CFDs on Cryptocurrencies – this company offer its users 12 different CFDs on cryptocurrencies. These include: Bitcoin, Ethereum, Ethereum Lite, Ripple, Litecoin, Monero, Zcash, Omisego, EOS, Tron, Dash, and Qtum. Like any other asset on this platform, cryptocurrencies can be traded using CFDs, options or forex.
Forex – Foreign exchange is one of the most popular trading instruments. The platform offers around 50 forex currency trading pairs. The most popular currency pairs are EUR/USD, USD/JPY, AUD/NZD, GBP/USD, EUR/JPY.
Options – IQ Option is a good online broker for those who want to trade options. Users can trade with over 55 different options. The trading platform personifies all the needs of an options trader in one place. From trade expiry to fixed returns everything is flexible and simple.
Digital options – Some people find digital options as more convenient. Digital options allow traders to speculate on the price movement of a tradable asset. Traders can only lose as much as they have invested, and they can exit the market if they feel that the losses are too big. Trade position expiry time is between 1 to 5 minutes and the payout can go up to 100% (in case of correct prediction).
IQ Option offers a great variety of tradable assets compared to other brokers. Their options portfolio is one of the best in the industry. There is a lack with CFDs on stocks and commodities.
How to Sign Up With IQ options?
The easiest way to sign up with this broker is through Facebook, Google, or by using your email address. After you fill out your username and password, you can start using your demo account with $10,000 virtual money. It takes one minute to complete the registration. You will notice in your dashboard when you create both – the demo and the real account.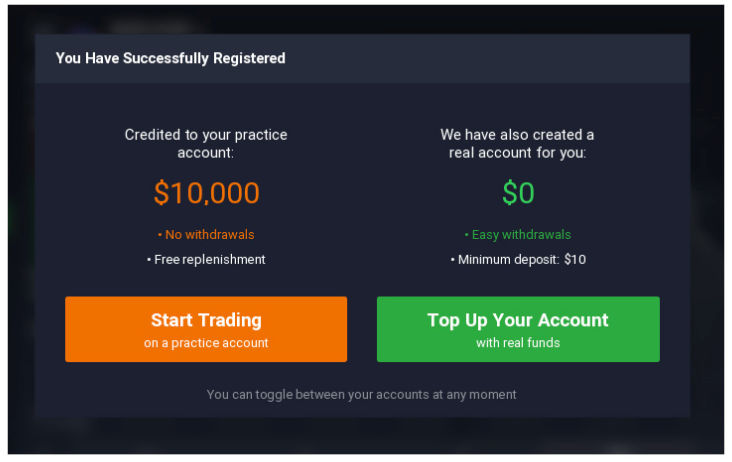 Deposits and Withdrawals
IQ Option offers a wide range of deposit methods. You can use debit or credit cards (MasterCard, Maestro, Visa). You can also use other payment processors such as Skrill, WebMoney, Cash U, Moneybookers, and Neteller. At the time of writing, it is not possible to transfer funds via PayPal. You can send your funds to this platform through Wire Transfer which takes longer – 3 to 5 days. Extra bank fees may apply using this method.
Verification process for non-EEA users is required only before the withdrawal of funds. This involves submitting your I.D., bank statement or a bill for utility services. The verification process depends on your residency.
The minimal deposit amount at IQ Option is $10 which is a low entry point for beginner traders.
Withdrawals
The withdrawal method will depend on the deposit method. If you make a deposit from a card, you will be able to withdraw your initial deposit amount to the card. To be precise, you will be able to withdraw the total amount of your deposits over the last 90 days to your card.
If you make profit and exceed this amount you will need to withdraw this to an e-wallet. This can be either Skrill, Neteller, WebMoney or a bank transfer which will incur a $31 fee.
If you use an e-wallet to deposit, you will be able to withdraw to the same e-wallet account. To withdraw funds, make a withdrawal request on the withdrawal page.
Withdrawal requests process within 24 business hours. In case you withdraw your money to a bank card or bank account it can happen that your bank needs some extra time. They process most of the withdrawals in under 3 days.
This platform has a low minimum withdrawal amount — it starts from $2.
Note that if you want to withdraw your funds, you'll have to verify your profile. See the "Deposits" for more information on that.
IQ Option Education and Training
IQ Option has one of the best educational platforms in the industry. Educational materials include historical quotes, economic calendars, technical analysis and other useful features. Most of them are available as training videos, webinars and tutorials. This broker offers access to e-books. Their FAQ section is in detail covering most of the relevant questions users have about trading.
IQ Option Jurisdictions, Languages, and Countries
IQ Option claims to have more than 7 million registered users as of 2020 which is a 150% increase from 2016. These users perform on average 21,500 transactions per day.
Their website is available in 17 different languages. This allows users to sign up from most parts of the world.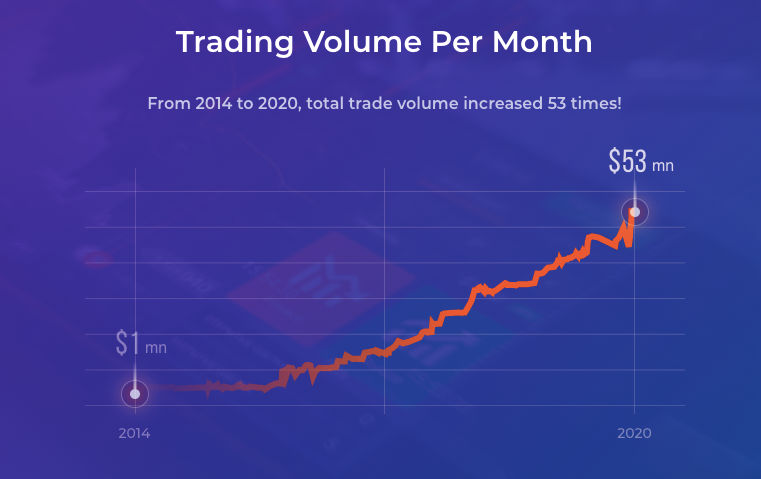 IQ Option Banned Countries
IQ Option is not accessible to traders in the United States.
The platform cannot be used by US residents due to stricter limitations and guidelines.
Other countries which have similar restrictions include: Afghanistan, Albania, American Samoa, Australia, Belarus, Canada, Comoros, Crimea, Cuba, Democratic Republic of the Congo, Donetsk and Luhansk People's Republics, Eritrea, Ethiopia, Guam, Haiti, Iran, Israel, Japan, Libya, Mali, Myanmar, North Korea, Palestine, Republic of Abkhazia, Republic of South Ossetia, Russia, South Sudan, Sudan, Syria, Transnistria, Ukraine, the United Kingdom, the USA, Vatican, and the U.S. Virgin Islands.
Conclusion
IQ Option is the best broker for options trading, known for low spreads, its sophisticated trading platform, free demo account and a responsive customer support. We recommend this broker to traders at all levels from beginners to advanced.
General Risk Warning: The financial products offered by the company carry a high level of risk and can result in the loss of all your funds. You should never invest money that you cannot afford to lose.
FAQ
Is IQ Option Legit?
IQ Option is a legit online broker and one of the most trusted companies in the industry. Their sophisticated trading platform along with responsive support makes trading a great experience. We can recommend this broker to traders at all experience levels. While looking at the trading platform, we went through some that claimed IQ Options is a scam. One of the reasons behind the claims was the fact that they disabled somebody's account. This caused that the user was not able to withdraw their balance. There were quite a few people claiming that they've lost their money trading on the platform. If we put the complaints into perspective, there are more positive reviews and opinions than negative. This led us to the conclusion that a small minority had some sort of a problem with this broker.
Is IQ Option Safe?
IQ Option is definitely a safe online broker company. The platform has full SSL encryption. The communication is encrypted to meet AES 256 Bit encryption measures. As of this review, there hasn't been any public report of the platform being hacked or compromised in any other way. They have implemented steps to encrypt the web traffic between the trader's computer system and their servers. This way they ensure that their clients' personal and financial details are secure.
Is IQ Option a Scam?
IQ Option is not a scam broker. It has a scam free operational history. As of 2021, this broker has over 4 million registered users and processes over 1,5 million transactions per day.
Read more:
Disclaimer This material is not intended for viewers from EEA countries. Binary options are not promoted or sold to retail EEA traders