Review Summary 
Our top findings from Robinhood UAE:
Robinhood is a zero-fee U.S. broker with a premium Cash Management service.
Robinhood has transparent practices, being a top choice for beginner traders.
Robinhood has two-step authentication, safer than using only a password and a username.
Robinhood is a great online broker for free ETF, U.S. stock, and cryptocurrency trading. They offer excellent web trading and mobile platforms. They no inactivity fee, withdrawal fee, or minimum deposit fee. Its account opening process is digital and fast.
This broker is regulated by top tier financial regulators and has transparent practices. Their commissions are competitive and add up to an excellent user experience.
Trading Platform
Robinhood has a well-designed and straightforward web trading platform. It offers transparent fee reports and safer two-step authentication.
The premium user experience comes from the platform's reliable design. The standard workspace is logical and simple to understand. The interface has customizable lists to match your trading needs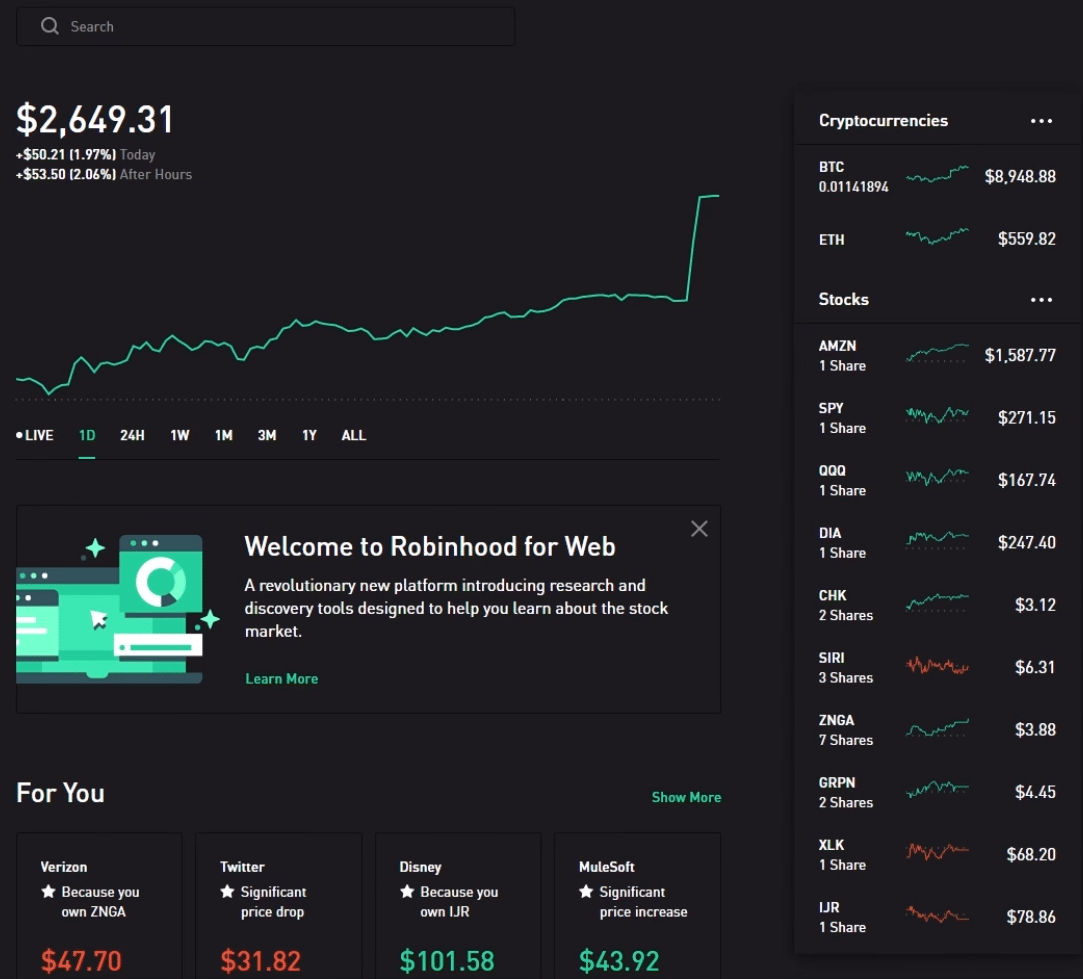 The web trading platform is reliable and transparent. The search features are accessible and designed for searching with data tags and stock tickers. The search tool is helpful if you want a detailed comparison between investments. A quick search for social media companies will bring up a "tag" or group of all social media companies. Click the tag, and you'll see the complete list.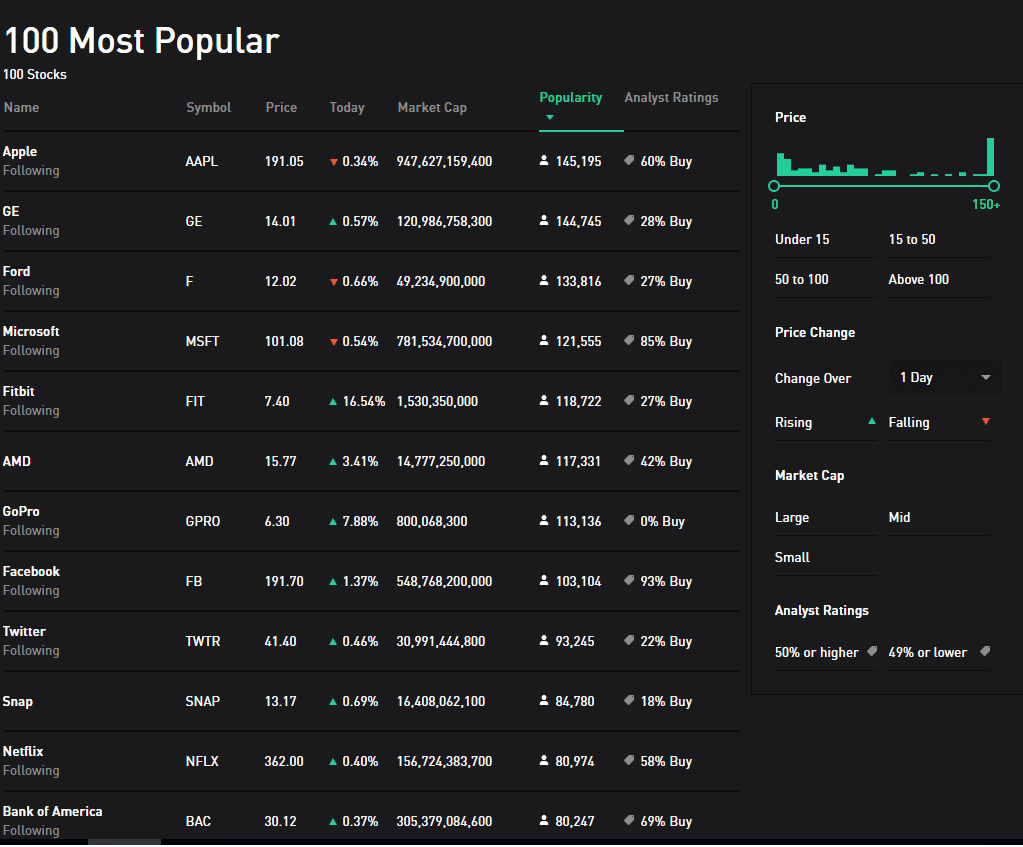 There are several order types on their platform:
Market
Limit
Stop loss
Stop limit
Trailing stop
Good-Till-Cancelled (GTC)
Good-Till-Day order terms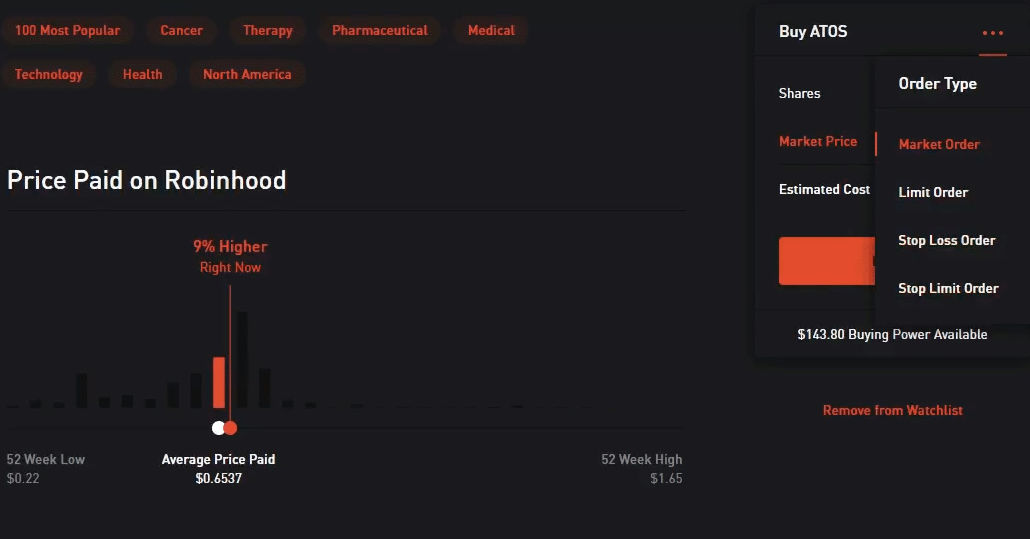 Mobile Trading Platform
Robinhood has the best mobile trading platforms we've reviewed. It has a premium design and trading features. It comes with safer two-step authentication to support a secure trading experience.
The mobile trading platform is fast and easy to navigate. The functionality and design are among best compared with other trading platforms.
This broker offers access to respected research sources through the mobile app. The downside is that the detailed stock screener isn't accessible on mobile.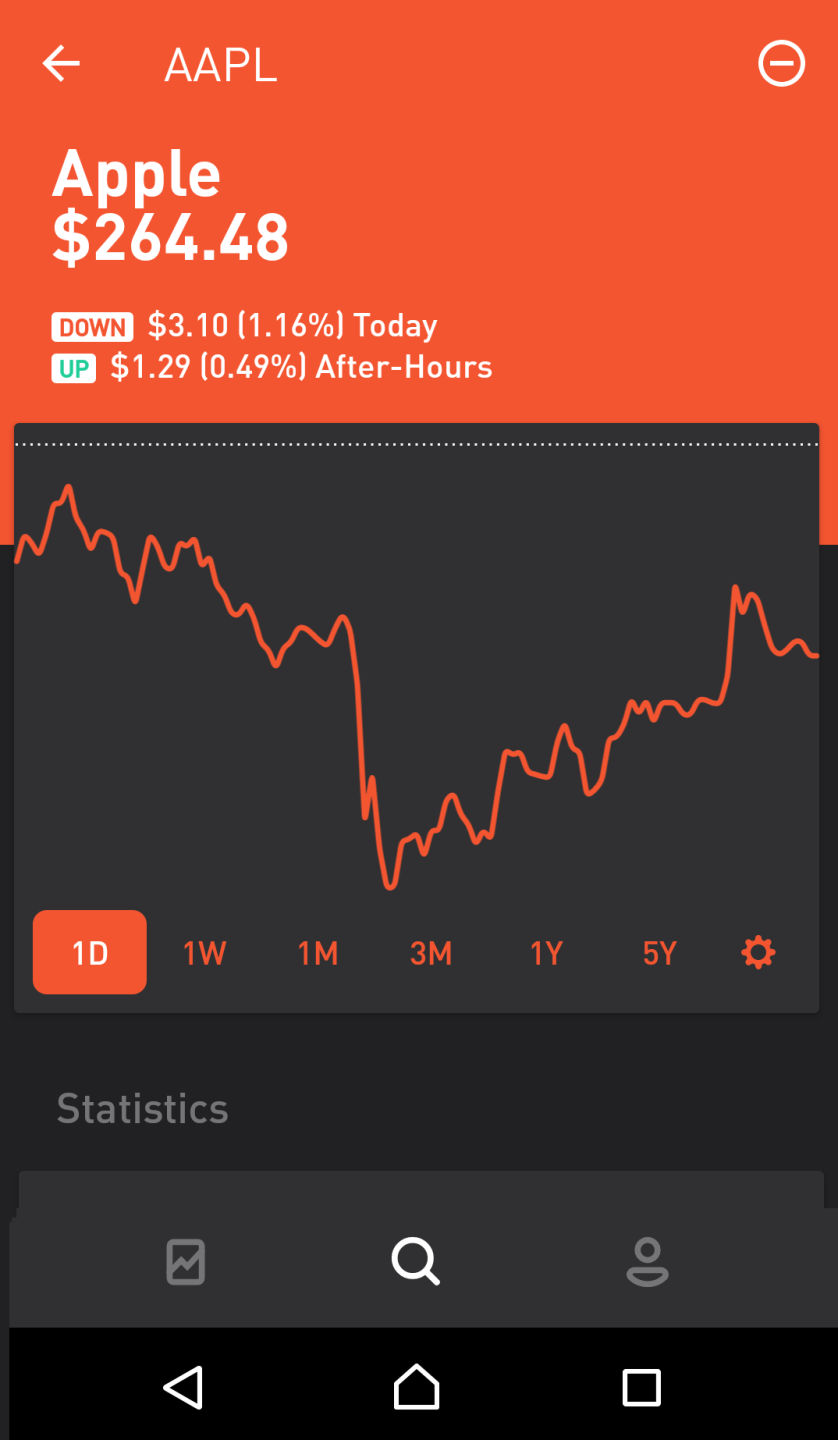 Fees And Spreads
Robinhood is the leading online broker for free ETF and U.S. stock trading. This broker has no withdrawal, deposit, trading, or inactivity fee but has high margin rates.
This broker has zero commission for cryptocurrency, options, and U.S. stock trading. The high margin rates represent a significant amount of your fees if trading on margin. Trading fees are low. This broker doesn't charge an inactivity fee or withdrawal commission.
Fees
| | | |
| --- | --- | --- |
| Assets | Fees | Fee Terms |
| US Stock | Low | Free ETF And Stock Trading |
| USD/ EUR | – | Not Available |
| Mutual Fund | – | Not Available |
| Inactivity Fee | Low | No Inactivity Fee |
Deposit And Withdrawal
Robinhood has a transparent withdrawal and deposit process. They offer Cash Management service for traders to earn interest on uninvested funds.
Depositing and withdrawing are both free. The downside is debit/credit card, and electronic wallet transfers aren't available.
Deposits
Robinhood has an Instant deposit service. If you use it, your money arrives instantly in your account. But if you don't, the process takes up to five business days.
The Instant deposit service has some limitations. For the Instant account, the deposit limit is $1000. For the Gold account, the limit is $50,000. All transfers that exceed the limit will complete in 4 to 5 business days.
Withdrawals
This broker has a daily withdrawal limit of $50,000. It has no fee for ACH withdrawals, but wire transfers are costly. Domestic wire transfers cost $25, and international wire withdrawals have a $50 fee.
Withdrawal Options And Fees
| | | | |
| --- | --- | --- | --- |
| Cell | Robinhood | Webull | TD Ameritrade |
| Bank Transfer | Yes | Yes | Yes |
| Debit/ Credit Card | No | No | No |
| Electronic Wallets | No | No | No |
| Withdrawal Fee | $0 | $0 | $0 |
Stock Transfer
Transferring stocks out or in your account is allowed. Outgoing transfers have a $75 fee per transaction. Incoming stock transfers are commission-free.
Cash Management
The Cash Management service is new. It is excellent for receiving interest on uninvested cash with a yearly interest of 0.30%. To access the Cash Management service, you have to sign up for the waitlist.
This broker has many other services like:
A Mastercard debit card from Sutton Bank
Free ATM withdrawals, if you use an in-network terminal (MoneyPass or Allpoint network)
Deposits held in the same account without the Cash Management receive up to $250,000 protection.
This broker holds the uninvested cash at the following banks: Goldman Sachs, Bank of Baroda, HSBC, Wells Fargo, Citibank, and U.S. Bank.

Account Types
Robinhood offers two account types: Instant and Gold. Opening either of these accounts takes 24 hours. It is digital and fast, available for U.S. customers. Account opening is not available for UAE citizens.
Cash Account:  This offers limited day trading and commission-free trades during market hours. The Cash Account has no instant deposit or leverage. Money transfers take up to 5 days.
Instant:  This is the standard account. It has an instant deposit of up to $1,000 but no extended trading hours. Robinhood Instant does not offer leverage.
Gold:  This account has an instant deposit of up to $50,000 with a maximum leverage of 2:1. It includes extra research tools, live market data, and commission-free trades during extended-hours. Day trading is limited.
Account Types
| | | | |
| --- | --- | --- | --- |
| Cell | Cash Account | Instant/ Standard Account | Gold |
| Advantages | – Unlimited Day Trading   – Commission-Free Trades During Extended-Hours And Standard Trading Sessions | – Instant deposit up to $1,000   – Extended-hours trading | – Instant deposit up to $50,000   – Leverage up to 2:1 – Extended-hours trading – Live market data (level II) – Extra research tools, like recommendations from Morningstar |
| Disadvantages | – No Instant Deposit   – Money Transfers take up to 5 days – No Leverage – Slow Settlement | – Limited Day Trading   – No Leverage | – Limited Day Trading |
Product Range
Robinhood has a limited product portfolio. It offers only ETFs, stocks, cryptocurrency, and options. Available assets include companies, and ETFs registered on U.S. Exchanges. Foreign companies are not available.
Asset Classes
| | | | |
| --- | --- | --- | --- |
| Cell | Robinhood | Webull | TD Ameritrade |
| Stock | Yes | Yes | Yes |
| ETF | Yes | Yes | Yes |
| Forex | No | No | Yes |
| Fund | No | No | Yes |
| Bond | No | No | Yes |
| Options | Yes | Yes | Yes |
| Futures | No | No | Yes |
| CFD | No | No | No |
| Cryptocurrency | Yes | No | No |
ETFs And Stocks
Robinhood has up to 5,000 ETFs and stocks, primarily available on leading U.S. stock exchanges. Non-US stocks are available via ADRs and not through foreign exchanges.
Options
This broker offers only stock index and stock options. The disadvantage is that these options are available for large-cap stocks but not for all commodities.
Cryptocurrency
This broker has a diverse portfolio of cryptocurrencies. There are seven crypto coins available at this broker, including Ethereum and Bitcoin.
This broker offers cryptocurrency in the following states:
| | | | |
| --- | --- | --- | --- |
| Alabama | Illinois | Missouri | Rhode Island |
| Alaska | Indiana | Montana | South Carolina |
| Arizona | Iowa | Nebraska | South Dakota |
| Arkansas | Kansas | New Jersey | Tennessee |
| California | Kentucky | New Mexico | Texas |
| Colorado | Louisiana | New York | Utah |
| Connecticut | Maine | North Carolina | Vermont |
| Delaware | Maryland | North Dakota | Virginia |
| District of Columbia | Massachusetts | Ohio | Washington |
| Florida | Michigan | Oklahoma | Wisconsin |
| Georgia | Minnesota | Oregon | Wyoming |
| Idaho | Mississippi | Pennsylvania | |
This broker aims to expand its crypto trading service to additional US states.
Regulation And Reputation
Robinhood has top-tier licenses, discloses its financial data, and offers Investor Protection. Negative Balance Protection isn't available with this broker.
It is a US-regulated broker. The Financial Industry Regulatory Authority (FINRA) and the Securities and Exchange Commission (SEC) oversee its activity. It is a private company, not present on any stock exchange.
This broker began serving U.S. clients in 2013. It consists of two leading entities: Robinhood Crypto LLC and Robinhood Financial LLC. The former handles cryptocurrency trading, while the latter manages options and stock trading.
Robinhood Customer Service in UAE
This broker has basic customer service. It provides useful information. Chat and phone support are not available. Our review reveals that the weakest feature is their customer support. It is available exclusively via email on a limited basis.
Research And Education
Robinhood has reliable and user-friendly research tools. It offers access to news, trading suggestions, and fundamental data. Analytic tools and interactive charting are limited.
Trading Ideas
They introduced in 2020 a new feature named Profiles. It allows customers to personalize their public profiles and search for other users' investments. Public profiles represent the first step toward social trading.
Fundamental Data
This broker has standard fundamental data with market capitalization charts.
Charting
This broker has average charts with past price fluctuations of stocks and basic technical indicators. Detailed chart analysis requires a third-party app.
News Feed
Clicking on an asset offers access to detailed technical information, including a curated news feed. This information is of high quality, and it comes from top-tier third parties like Yahoo! Finance, Benzinga, and Seeking Alpha.
Educational Tools
The broker has basic educational resources. There are no educational tutorials or demo accounts.
Robinhood UAE
Robinhood is not available to UAE residents. You can trade with this app as a UAE citizen only if you have a valid US bank account. If you are a UAE citizen we recommend to check comparable brokers like: eToro, IQ Option.

Final Verdict
Robinhood is an excellent U.S. broker with gorgeous web and mobile platforms. It has a straightforward and fully digital account opening process. Uninvested cash can earn interest at $0.30 APR. Robinhood is "zero-fee" for all services except margin trading. They provide free, curated access to top-tier market news sources.
Most tradable products are limited to the U.S. market. Limited customer service is available by email, while educational tools are average.
We recommend Robinhood for beginning traders looking for a reliable, commission-free trading platform.