An exit scam is a confidence trick where someone or a group of people disappear after a cryptocurrency scam. 
In the cryptocurrency trading world, an exit scam misuses the confidence of investors during or after an initial coin offering (ICO). Most of the time a new crypto project is first heavily promoted. The owners or founders will then abandon the project and leave the scene. There are ways to spot an exit scam.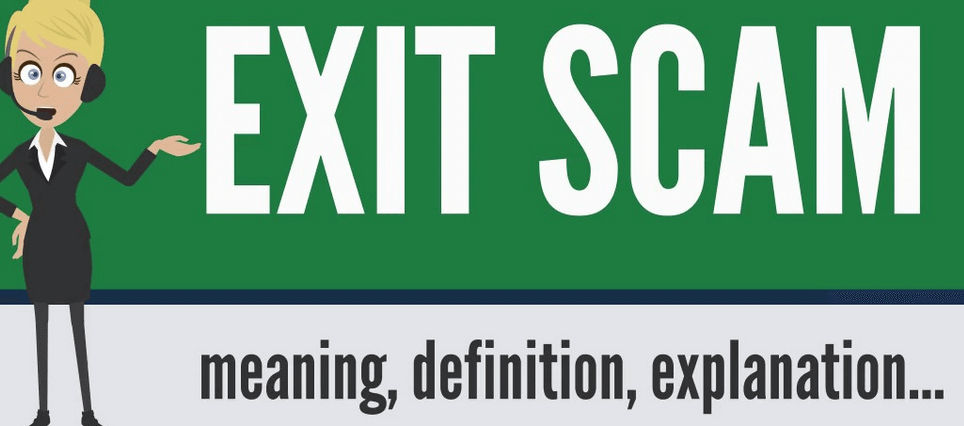 How to spot an exit scam?
You can spot an exit scam by checking the team credibility, projected returns, documentation standards, business model, and the promotion of the project.
Team Credibility
Investors in cryptocurrency projects should always verify the credentials of the team behind them. Be aware of the fact that people can buy likes, tweets, and upvotes on social media to create a fake sense of credibility. Check the ICO promotors and what kind of followers they have.
Projected Returns
If something is too good to be true it probably is. It is unrealistic to believe any new cryptocurrency project would guarantee high returns. A good example is BitConnect, which promised investors a 1% return daily. The project pulled an exit scam and its market cap dropped from $2,9 billion to under $17 million.
Documentation Standards
Always check the white paper of a new cryptocurrency project. If it contains incomprehensible information or is very ambiguously written this should warn potential investors about a potential exit scam.
Business Model
How is the project going to make money? If it's all vague ideas, it is not going to work. If a project wants to raise millions of dollars they should be able to tell exactly how they are going to make money and explain why investors should invest in the project.
The Way of Promotion
The heavier an ICO or new crypto project is promoted, the bigger sign of an exit scam. Good projects don't need to be heavily promoted to draw early investors. If you see any big ads or influencers promoting a new ICO, this should ring all alarm bells.
Conclusion
There are a lot of scams in the cryptocurrency scene. Cryptocurrency investing is unregulated and anonymous, which adds more risk. Always do your due diligence before investing in cryptocurrency projects.