This guide helps users to find the best day trading simulator in UAE. Day trading simulators and demo trading accounts mirror activities of the real financial markets and allow users to trade using virtual money. Numerous online brokers in the UAE offer day trading simulation, and it is often hard to choose the best suitable option for traders' needs and preferences.
Proper evaluation and comparison of different services can help traders to avoid selecting a platform that lacks strategy testing options, availability of virtual funds, user-friendly interface, and responsive customer support.
This guide assesses 44 online brokers in UAE for users to review and find the ideal platform for their needs. To help them make an informed decision, a list of the best day trading simulators in the UAE is shared below, followed by detailed reviews and comparisons.
Top Day Trading Simulators in UAE
The Best Day Trading Simulators in UAE Reviewed
Online brokers with the highest rated day trading simulators in UAE are reviewed in more detail below.
1. Pepperstone – Best CFD Platform
2. AVAtrade – Best For Forex and CFDs
3. TradeStation – Best For Futures
4. eToro – Best For Beginners
5. IG Trading – Best Trading Platform
How to Find the Ideal Day Trading Simulator in UAE?
Criteria to consider to choose the optimal day trading simulator in UAE are listed below.
Assets: Your broker should offer day trading simulators in many asset classes. Make sure you can practice with: futures, forex, stocks, ETFs, commodities, indices, bonds, mutual funds, and cryptos.
Mobile Trading: Mobile trading platforms let you practice and trade from anywhere. Your broker should have a mobile platform that operates with both iOS and Android.
Research & education: You will learn about trading with practice, but choose a broker that includes market research and free educational tools as well.
Customer support: Customer support is a vital part of any brokerage account, so look for a broker that has 24/7 support in a language that you understand.
Fees: Trading simulators should be free, but when you start to trade with real money, look for brokers that offer 0% trading fees, and make your life easy.
Trading platforms: The trading simulator you use should be identical to the real trading platform, so when you transition to real trading, it is seamless.
Deposit & Withdrawal: Deposits and withdrawals should be free to make, although the payment platform you choose may have fees attached to transactions.
Regulation: The FCA, CySEC, and ASIC regulate financial services, including brokers. Don't risk your capital with unregulated brokers.
Online Brokers With Top Day Trading Simulators Compared
Key features of online brokers with the highest ranked day trading simulators are compared in the table below.
What is trading simulation?
Trading simulations let you test trading ideas before you use real money in the markets. Brokers call a trading simulator a demo account, and it allows you to use hypothetical funds in the real markets. The trades don't make or lose money, but you will be able to practice trading with the same platform used for trading.
Why You Should Use a Trading Simulator? Pros and Cons Explained
Trading simulators allow you to practice both trading, and operating the trading platform. If you are new to trading, a trading simulator is a great tool. However, the trades in a simulator won't actually connect to the market, so there won't be slippage, which isn't realistic.
The main pros and cons of using trading simulation:
Pros
Trading simulation offers faster trading education
No exposure to trading risks
Ability to test trading strategies without risk of loosing money
Building confidence in your trading
Cons
No fees and commissions included in your trading experience
The real stress factors are missing
No real data movements
How to Set up a Simulation Account?
Brokers offer trading simulators to clients for free, so if you sign up for an account with a broker like eToro, you will be able to use its trading simulator. While the trading simulator is free, you have to open and fund an account to access the platform, so keep that in mind.
How to Get Started With a Day Trading Simulator?
Are you looking to get started with a day trading simulator? Follow the steps below to set up your free eToro demo account.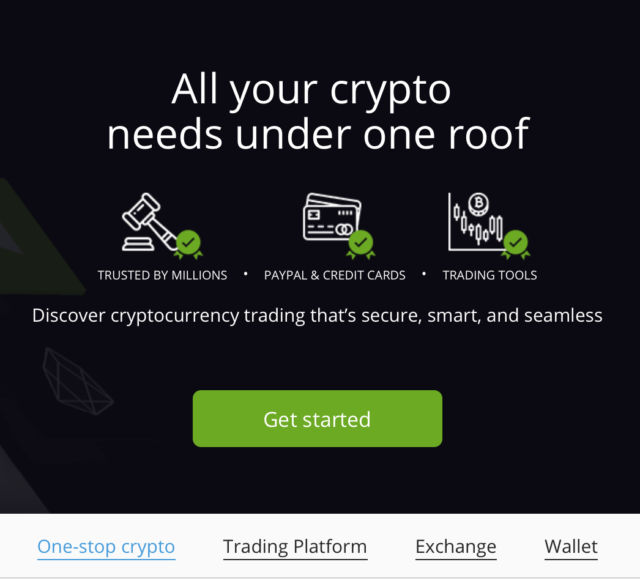 1. Register
You will need an eToro account before you can start using their day trading simulator. Navigate to the eToro website and click on the 'Start Investing' button. A pop-up will show up and ask for your personal details. Fill these in and click 'Create Account.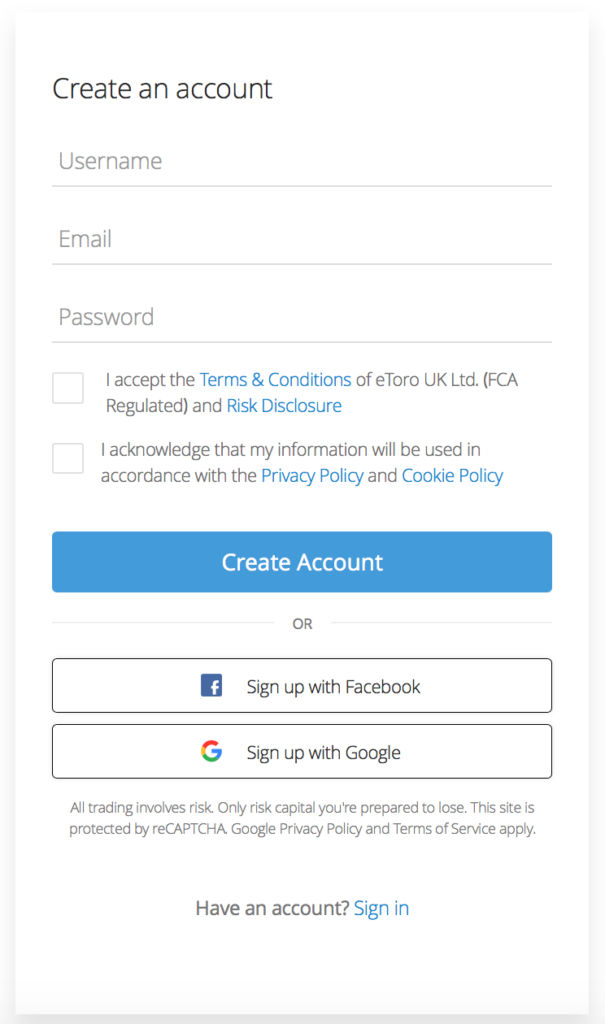 2. Switch to Demo Trading
Once you have created your eToro account, log in and switch to demo mode. You do this by clicking on your username and then selecting 'Virtual Portfolio' from the dropdown menu.
3. Trade
Search the available markets for the asset you want to trade. You can use the search bar in the middle of the screen to do so. Click on it, specify how much virtual money you want to invest and click on 'Open Trade'.
4. Create a Real Money Account
If you get the hang of trading with the eToro day trading simulator and wish to trade with real money, you can do so at any given moment. To do this you click 'Real Portfolio' under your username. You then proceed to go to the deposit page. Here you can make a deposit with your credit card or by PayPal.
Conclusion
With the various online brokers in UAE offering demo (simulation) accounts with different features, it can be tough to select the optimal choice for individual testing needs and goals. The analysis and comparison of services of different providers requires time and knowledge.
This guide does the tough work by evaluating top simulators for different types of testing purposes. The results of our analysis and comparison of online brokers with the best day trading simulators in UAE are wrapped up in the table below.
Based on our review, we consider Tradestation as the broker with the best best day trading simulator. They offer unlimited account funding on demo accounts, access to real time market data, and backtesting on stock, futures and options trading strategies. Users get access to the industry's largest database of historical market data.
FAQ
Can I use a day trading simulator on MetaTrader 4?
Yes, to do this you sign up at one of the brokers above and sign in MetaTrader 4 with the credentials this broker provides you.
What is the best day trading simulator or demo account in the UAE?
We found eToro to offer the best day trading simulator. With this demo trading account, you can trade over 2,400 stocks and other assets.
Do day trading simulators show the same prices as real trading accounts?
Yes, most day trading simulators and demo accounts mirror real financial markets.
What is the best app to practice day trading for free in the UAE?