Coinmama is a top crypto exchange with a good reputation. It offers excellent safety measures and a competitive fee structure. Coinmama is a leading provider of Bitcoin trading services. It has a versatile portfolio with access to Bitcoin, Ethereum, and Ripple. It is a top choice for crypto traders at all levels.
Review Summary: 
Coinmama is a beginner-friendly crypto exchange with secure platforms.
It doesn't require centralized storage of your crypto.
It offers a fast account verification process that completes in up to 6 hours.
Coinmama Overview:
Coinmama is a global crypto exchange with an impressive reputation. It has 1.5+ million account holders from 200+ countries. Coinmama has a 5.9% trading fee included in the transaction price. It has an e-commerce store for buying the top eight digital coins.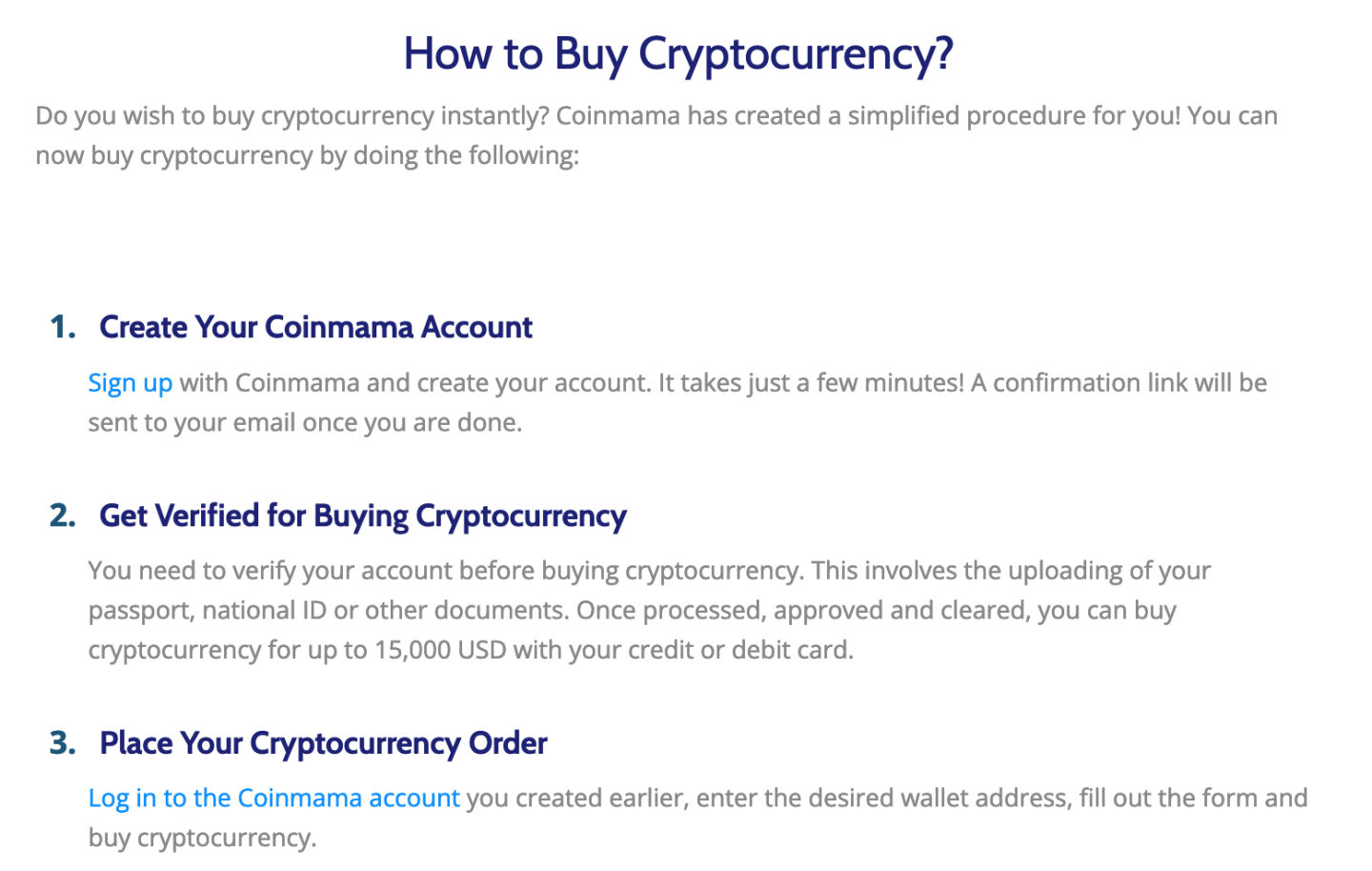 Trading Experience
Coinmama offers a simple-to-understand platform. It lets traders buy/sell cryptocurrency with a fast transaction time. Coinmama has a straightforward interface with clear insights on costs. Account holders choose between four pricing packages for each currency available.
Coinmama offers Bitcoin buying in 200+ countries for most crypto curious traders. It isn't available in:
Cuba
Crimea
Iran
Israel
Lebanon
Nigeria
North Korea
Palestinian Territories
Somalia
South Sudan
Sudan
Syria
Zimbabwe
Connecticut
Coinmama is available in the USA but not in all states. The states where Coinmama is not available are:
District of Columbia
Hawaii
Idaho
Iowa
New Mexico
New York
Oregon
Utah
Vermont
Florida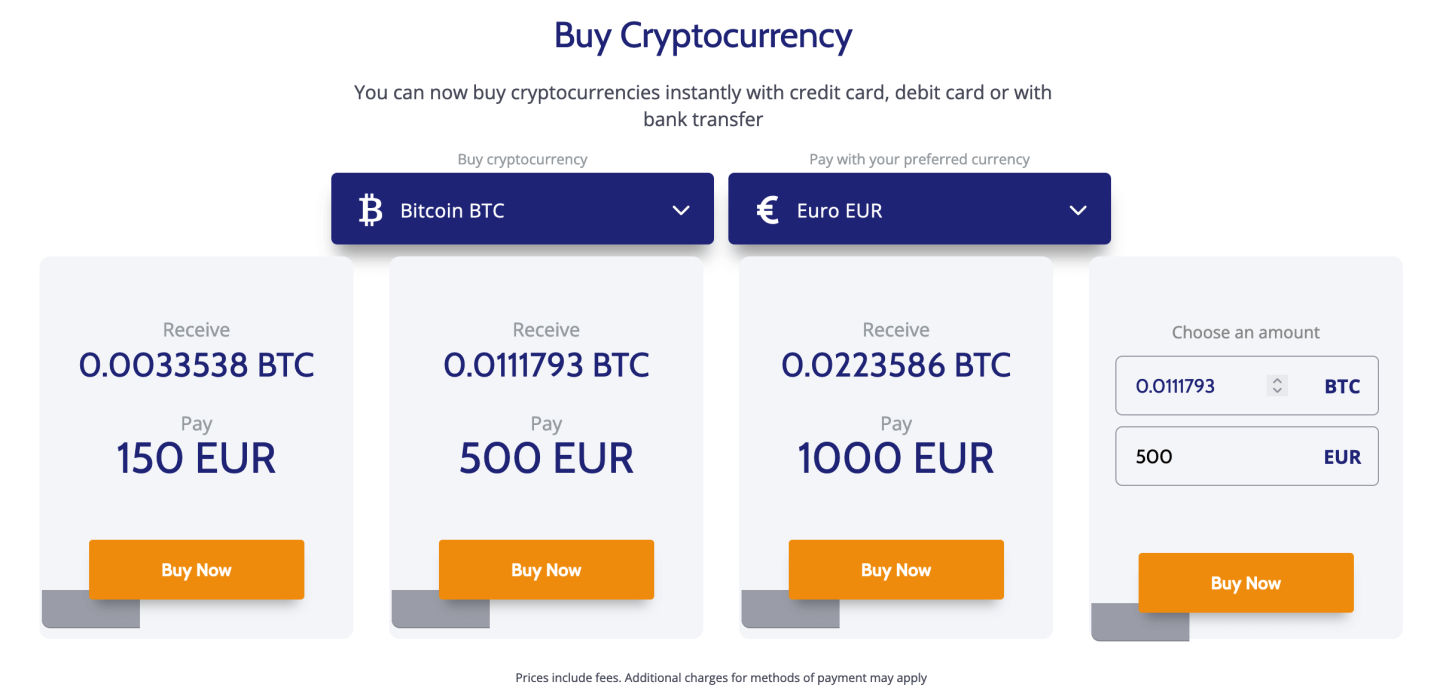 Cryptocurrencies Available 
Coinmama is a top exchange for Bitcoin trading. It offers secure services and a versatile portfolio. Coinmama has eight coins available:
Bitcoin (BTC)
Ethereum (ETH)
Ripple (XRP)
Litecoin (LTC)
Bitcoin Cash (BCH)
Cardano (ADA)
Qtum (QTUM)
Ethereum Classic (ETC)
Coinmama offers access to fiat currency. It supports the following fiat currencies: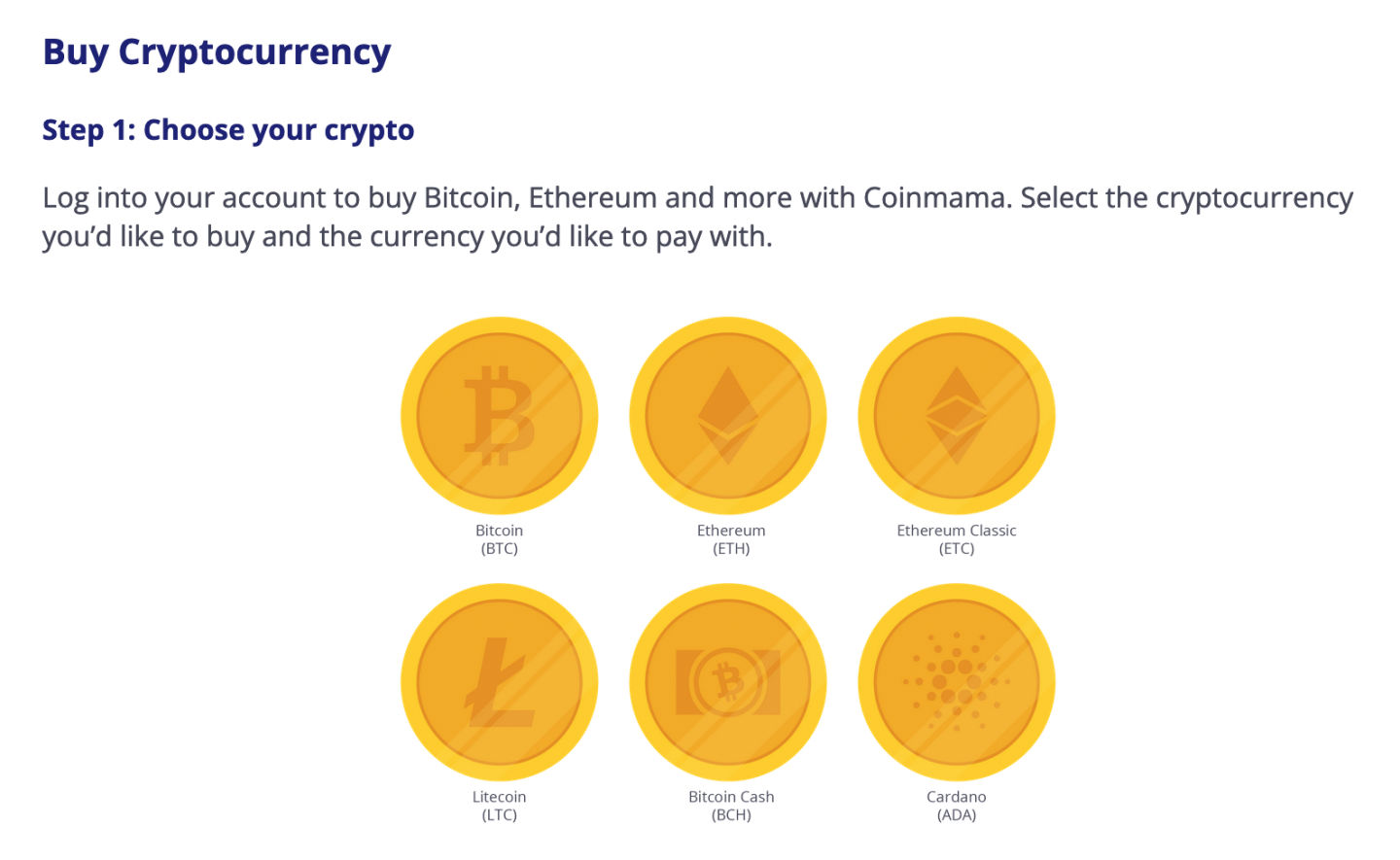 Fees 
Coinmama has a simple fee structure. It has a 5.9% fee included in the transaction price. Credit and debit card payments have a 5% processing fee. Funding your account with a bank account is free of charge. Coinmama fees are competitive.
Regulation & Reputation 
Coinmama is a trustworthy and secure cryptocurrency exchange. It follows the guidelines of FinCEN in the US. It operates under strict regulations set by this authority. Coinmama focuses on implementing the best safety measures.
This exchange doesn't hold digital assets on behalf of its users. Coinmama doesn't store credit/debit card information. It aims to protect its users and prevent any hacks. It offers secure bank account transfers. Our Coinmama review shows it is a secure crypto platform to use with a bank transfer.
Account Opening 
Opening new accounts at Coinmama is straightforward. Investing in digital coins is possible up to your Coinmama account limits.
To open an account at Coinmama, follow the steps below:
Access Coinmama's homepage and click on Sign Up.
Enter an email address and password.
Complete Basic Verification for your phone number.
Turn on two-factor authentication. 
Submit personal data and full address.
Agree to the User Agreement and Privacy Policy.
Verify your account.
Link a payment method and start using Coinmama.
Customer Support 
Customer service is a crucial aspect we review. Coinmama has average customer support. It offers a functional Help Center. It has email support for all account holders. But our Coinmama review shows it doesn't provide live chat and phone support.
Coinmama Vs. Other Cryptocurrency Companies
Coinmama is a trustworthy cryptocurrency exchange with safe platforms. It offers access to the eight popular crypto coins. Its main competitor is Coinbase. Traders use many other crypto exchanges and digital currencies to create an excellent crypto portfolio. A Crypto believer chooses reputable and safe platforms.
Coinbase
Coinbase is a competitor of Coinmama. Both providers offer impressive services, but there are key differences:
Coinbase is a centralized exchange with solid safety measures.
Coinbase offers staking rewards at competitive rates.
Coinbase has a transparent fee structure with low fees.
All exchanges have strengths and weaknesses depending on your trading experience. Coinbase and Coinmama offer premium safety measures. Coinbase has a versatile portfolio with a competitive fee structure. Read our in-depth reviews for more information on the services available at Coinbase.
Summary 
Coinmama is a well-established, trustworthy exchange. It has average fees and offers a simple interface on its platform. Coinmama has a limited assets portfolio. It is a top choice for beginners and professional traders.
FAQ
Is Coinmama Safe And Legit?
Coinmama uses industry-leading safety measures, including two-factor authentication. It encourages its users to follow the safety requirements. Cryptocurrencies are speculative assets. Digital trading is risky. Coinmama is a trustworthy exchange for traders at all levels. It has an excellent reputation. Check our in-depth reviews to learn more about crypto exchanges and safety.
Which Is The Main Competitor Of Coinmama?
The main competitor of Coinmama is Coinbase. Coinbase offers excellent services and staking rewards. It uses industry-leading safety measures to protect user accounts. Read our in-depth reviews to learn more about the services available at Binance.
Does Coinmama Offer An App?
No. Coinmama doesn't offer an app.
Does Coinmama Offer A Crypto Wallet?
No. Coinmama doesn't have a wallet. It encourages users to open a Blockchain or Binance Crypto Wallet. Read our in-depth reviews for more information on digital wallets.
Related:
Crypto.com Review
Binance US Review
Kraken Review
Coinbase UAE Review
BitOasis Review
Cex.io Review
Bittrex Review
Bitfinex Review
BitPanda Review
Bitstamp Review
Gemini Review
Coinmama Review
HitBTC Review
Kucoin Review
Huobi Review
Uniswap Review
Gold Age Review
Liberty Reserve Review
CoinSpot Review
Coinjar Review
Coinfloor Review
CoinCorner Review
FTX Review
Bitso Review
BitMex Review
BitFlyer Review
BitClout Review
Bittylicious Review
Poloniex Review
Shapeshift Review
Coin Nerds Review
CoinSwitch Review
Cryptopia Review
Changelly Review
CoinMena Review
Luno Review
Mercatox Review
Okex Review
Paxful Review
VirWox Review