Founded in 2016, brokerage firm CAPEX ex. CFD Global is a well regulated and fully licensed firm offering highly capable trading platforms, multiple account options, tight spreads, and excellent support. The brokerage, which changed its name from CFD global in June 2019, is open 24/5 and represents an excellent choice for many new and established traders.
Global offers services globally though focuses on regulation and operations within the European Economic Area (EEA). With a large number of available instruments, free webinars, and tight spreads, traders won't find themselves short of options for operating in the European markets.
The firm is said to operate a strict "safety first" policy on everything it does. Boasting some of the highest possible standards with regards to security and data protection, Global keeps client funds in segregated accounts within trusted and established financial institutions.

About CFD Global/ Capex
Based in Cyprus, CAPEX/CFD Global falls under Cyprus Securities and Exchange Commission (CySEC) regulations. Fully MiFID complaint, the investment firm and its clients are fully protected under the Investor Compensation Fund (ICF). The ICF framework is committed to returning money to clients where a brokerage firm has gone bankrupt for unforeseen reasons.
These regulations and guarantees can assist in putting traders at ease with where they deposit their money. Traders should always take care to consult details of the compensation scheme and regulatory body before investing with any particular broker.
The license number for CAPEX/ CFD Global under CySEC is 296/16. This license applies throughout the EEA. The firm is additionally registered with, though not licensed by, the UK's Financial Conduct Authority (FCA), Poland's Komisja Nadzoru Finansowego (KNF), and Germany's Federal Financial Supervisory Authority (BaFin).
Trading Platform
Global offers two trading platforms which are designed to simplify day-to-day business for traders while covering all their possible needs. Both are well matured and highly robust, capable of serving the needs of even the most advanced traders in the markets.
The CAPEX/CFD Global web trader allows its users to access markets with any device from anywhere in the world. The platform is compatible with all major web browsers, including mobile devices and tablets. Remarkably, it loses none of its vast functionality when accessed from mobile or small-screen devices.
Every trading instrument from the downloadable platform is available from the web service too. The tools on offer boast an incredible range of trading utilities and indicators that will vastly assist efficient trading. Around 90 indicators are available through the web platform without needing to be downloaded to the device.
Varying chart styles can be added and used through the web interface and online help is available at just the touch of a button.
Users who access the web platform are granted access to the additional utility, Trading Central too. Using trading central, traders can access intra-day analysis as well as up to the minute recommendations from a top financial analyst. Live quotes and additional information are also available from the web trader to provide traders with everything they need to make good decisions from wherever they use the platform.
The web interface is easy to use, intuitive, and simple to learn. Traders can even make use of one-click trading, purchasing assets straight from the charts.
CAPEX/CFD Global offers its flagship MT5 trading platform for download to customers too. Available through the firm's website, the platform has evolved far from its previous MT4 offering of the past. Traders have found it simpler to create custom indicators and access expert advice for better trading and smarter decisions.
The perks and features built into MT4 have been carried forward to its modern counterpart. The interface has been vastly improved and newly designed to be highly customizable. Advanced analytics, technical indicators, and chat templates are available now in MT5.
Historically, a high degree of automation has attracted many to the MetaTrader suite. The new platform includes trading position alerts, embedded tick charts, and EAs. The platform supports multiple payment services and instant trade execution.
Several versions of MT5 are available, including Android and iOS-based mobile device installations. Users can make use of the demo account available through the website to trade on the platform too.
Account Types
The demo account offered by CAPEX/Global is a great opportunity, particularly for new traders, to access markets and experiment with different strategies without risking real money in the process. The demo account works across all platforms and enables traders to access the full capabilities and services the brokerage offers.
In addition to a free demo account, CAPEX/Global offers multiple service levels to cater to traders of all levels of experience, ability, and risk taking.
The entry-level account offered by the broker is CAPEX Essential. Designed to cater to new traders entering the market, the account offers everything a trader needs to get started without the sizable deposit required for more advanced types. The minimum deposit required to access the Essential account is $1,000.
CAPEX Essential users gain access to all of the featured trading instruments, financial research, and up-to-the-minute market reviews. Users also receive access to webinars for focused learning to help advance their trading careers.
The mid-level account, for more advanced investors, is CAPEX Original. Requiring a $5,000 minimum deposit, traders receive the same perks as the essential account and access to the latest event analysis and trade alerts too.
The firm's top-level account, CAPEX Signature, costs $25,000 to open and, as such, isn't suitable for inexperienced or new traders to the market. Signature users enjoy access to dedicated 24/5 support on top of the features included in the Original account.
Users looking to enter the world of trading without putting down real money first can take a "Trading Experience Test". Separate from the demo account, the TET is ideal for those looking to gain more experience before risking funds in real-world trading.
Trading Platforms
The selection of trading products offered by CAPEX/CFD Global is remarkably impressive. The brokerage offers a wide range of Forex tradable assets and also lots of CFD trading pairs. Over 55 currency pairs can be traded here.
Traders are enabled to use a maximum trading leverage of 300:1. The exact amount available differs for each currency pair, a detailed list and full trading conditions are available from the their website. No commission is charged on Forex trades and it boasts of tight spreads in comparison to competing brokers.
The commodities at this trading platform is primarily made up of silver and Gold. Leverage available here goes up to 200:1. Commodities are similarly commission free with reasonable margin requirements.
It includes over 26 global indices. Leverage in these markets also goes up to 200:1 with very tight spreads available.
The stocks section covers CFDs from 20 global markets. Maximum leverage is 10:1 over the 2,000 tradable stocks on offer.
Crypto tradable on CAPEX includes Bitcoin, Ethereum, Bitcoin Cash, Dash, Ripple, and Litecoin. Each of these are traded as CFDs and do not involve possession of any cryptocurrencies. If you want to learn more you can get more information about the meaning of CFD in one of our previously published articles.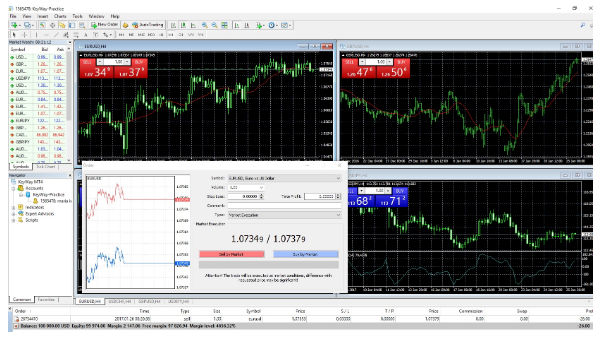 Capex Trading
With the variety of products, tools, and instruments on offer, CAPEX provides a well-rounded package and stellar platform for traders at all levels of the market. For those looking to trade assets in Europe, there are few brokers as highly regarded, reputable, and secure as CAPEX like the Plus500 CFD trading platform – read the review here.
Newly established traders could do very well to get a foot in the door and make good use of the trading tools, webinars, and expert advice on offer.

What is next?
If you want to compare CFD Global to other trading platforms read:
User Reviews and Trading Experience
We want to hear your personal story and trading experience with this broker. If you want to share your thoughts and your personal trading experience with the wider trading world then feel free to post your comment below.
Please make sure your comments are non promotional and don't include any inappropriate links or other promotional materials. Comments with abusive, vulgar, offensive, or harassing language, and comments which can be understood as personal attacks of any kind will be deleted as well.