You can invest in DeFi by investing in DeFi Coin, staking, opening a DeFi savings account, farming yield, holding stable coins, and investing in NFTs. This guide will explain these investment methods in detail.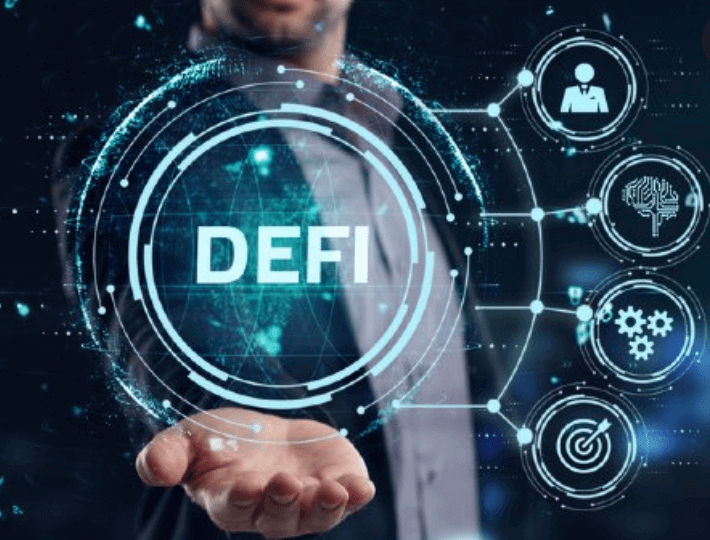 Risk vs Reward When Investing in DeFi
All DeFi investments are risky. We recommend using multiple methods outlined below to lower your risk and maximize potential profits. New to DeFi? Read our DeFi 101 guide.
Investing in DeFi Coin
DeFi Coin (DEFC) is the native token of the DeFi Swap Exchange, a decentralized exchange that hosts dApps. Users can trade, swap, and stake cryptocurrency on this platform without the intervention of a central authority. DeFi Coin is a Binance Smart Chain (BEP20) token with a 10% tax model, meaning that 10% of your sell orders will go to holders and the token's liquidity pool.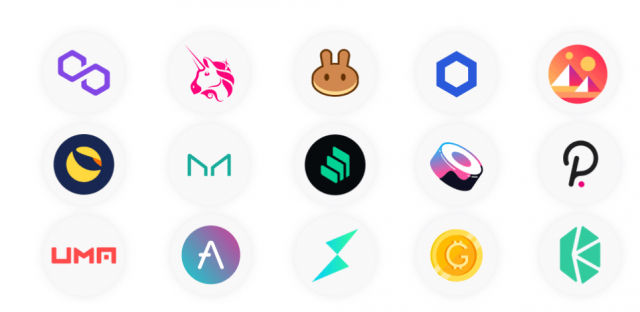 DeFi Staking
DeFi staking is the concept of locking your tokens for a certain amount of time and receiving interest in return. This is comparable with saving money with a traditional savings account but then with crypto. You can stake directly on a PoS (Proof-of-Stake) blockchain or via a third-party staking platform like AQRU or Binance Earn. This will lock up your tokens with them via a smart contract. The third-party will use the tokens to fund liquidity pools and loans and you will receive interest in the form of the same token or another token in return.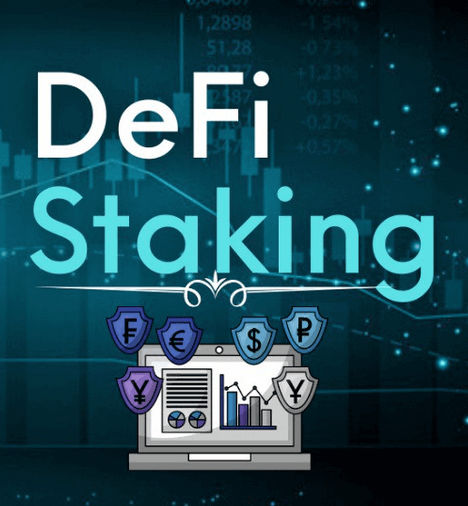 DeFi Savings Accounts
You can deposit crypto in a DeFi savings account to generate interest similar to staking. DeFi savings accounts pay a high yield and the longer you lock up your tokens, the higher interest you will receive. With AQRU you earn daily interest on your Bitcoin, Ethereum, USDC, and several other cryptos and they allow you to buy crypto with fiat.
DeFi Yield Farming
With DeFi yield farming you provide liquidity to exchanges in the form of cryptocurrency pairs and receive a share of the trading fees. For example, you provide $1,000 worth of ETH and ADA to an exchange, making the ETH/ADA pair more liquid. Traders trading this pair via the exchange will pay you a share of the trading fees for providing this liquidity. The best yield farming platform is DeFi Swap.
DeFi Stocks
Investing in DeFi stocks means that you invest in companies that are DeFi-related like CoinBase Global Inc, Riot Blockchain Inc, and Valour Inc. To invest in DeFi stocks you need to open a regular brokerage account with a broker. eToro is our top-rated broker to trade DeFi stocks that offers commission-less stock trading.
DeFi Loans
With crypto loans, you can borrow crypto with other cryptos as collateral. There are no third-parties involved and you can use the crypto loan to invest in other DeFi projects or participate in staking or yield farming.
DeFi Wallet
A DeFi wallet allows you to earn interest on your crypto holdings whilst being in control of your private keys. Non-custodial wallets like Crypto.com's DeFi wallet allow you to stake, yield farm and lend out your tokens and receive interest.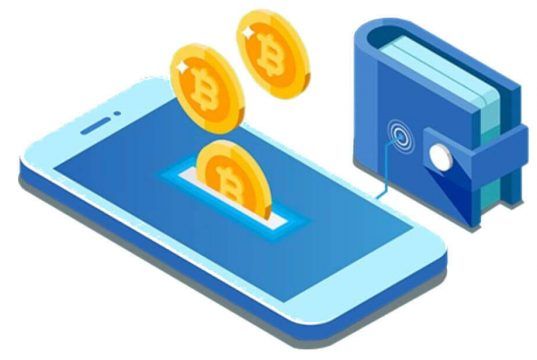 DeFi Smart Portfolios
Brokers like eToro offer DeFi Smart Portfolios for investors who want exposure to DeFi-related assets without buying any crypto. eToro's DeFiPortfolio contains assets like Yearn.finance, Decentraland, and Chainlink, spread evenly across the portfolio. eToro requires a minimum of $500 investment in this smart portfolio and you can add or remove assets from it.
Investing in Stablecoins
Investing in stablecoins protects you from the high volatility of the cryptocurrency market. You can open a DeFi interest-bearing account that supports stablecoins to earn high yields without worrying about sudden price spikes and drops. AQRU allows you to lock up stablecoins for fixed or flexible time periods.
Investing in NFTs
Non-fungible tokens are digital tokens that represent ownership of something on the internet like images, music, or videos. By investing in NFTs you own these files and can sell them for profit. You can store these NFTs in a DeFi wallet and enlist them for sale at NFT marketplaces like OpenSea, Binance NFT, and Sorare.
Why You Should Invest in DeFi
You should invest in DeFi because it is the future of finance and to generate interest on your idle crypto. It is widely thought that banks and insurance companies won't be needed in the future and that all lending will take place on the blockchain in a peer-to-peer manner. Investing in DeFi diversifies your portfolio and allows you to earn interest on your otherwise idle cryptocurrencies.
Where to Invest in DeFi?
We recommend investing in DeFi via AQRU, eToro, or Binance Earn.
How to Invest in DeFi – Our Verdict
You can invest in DeFi in multiple ways, including stablecoins, DeFiCoin, high-yield savings accounts, NFTs, DeFi-related stocks or participate in yield farming or staking. Investing in DeFi is a great way to invest in the future of finance, diversify your portfolio, and earn interest on your crypto at the same time. We recommend investing in DeFi via AQRU or eToro.
FAQ
Where can I invest in DeFi stocks?
eToro offers DeFi Smart Portfolios and commission-less trading of DeFi-related company stocks.
Is investing in DeFi safe?
All investments carry risk and DeFi is no exception to this rule. We recommend doing due diligence before investing in DeFi.
Can I invest in DeFi from UAE?
Yes, UAE-based investors can invest in DeFi via the methods discussed in this guide.