One of the first things to check about any broker before you deposit any funds is exactly how to get them back. Here at Business24-7, we have heard several scare stories about people not fully understanding the ins and outs of a broker's withdrawal policy – and others never being able to withdraw their funds at all. In this article, we focus on how to withdraw your money from IQ Option, one of the world's leading trading platforms. If you want to find out more about the broker then you should check out the review here.
"RISK WARNING: YOUR CAPITAL MIGHT BE AT RISK"
Bank card withdrawals
Navigate to the Withdraw Funds tab to get started with the fund withdrawal process. Select your favored method, enter the amount you would like to take out, and then confirm your choices. IQ Option works hard to ensure that withdrawals carried out this way are effected the same day. However, if you withdraw outside working hours or on weekends, then expect your money to take up to 3 days. Payments made from bank to bank may take slightly longer. Although IQ Option transfers the money to your bank instantly, there may be a delay of up to 3 weeks (21 days) for the money to be transferred from the bank to your account. 
If you do not receive your funds within this three-week period, you would need to take the following steps:
Prepare a bank statement featuring its logo, authorized signature, and stamp (for printed and electronic versions) 
It must cover the period from the date of the deposit (of these funds) to the current date and must contain the first 6 and last 4 digits of your bank card number
Send it to docs@iqoption.com from the email linked to your account or to our support officer via live chat.
Provide an email address for the bank representative who gave you your bank statement.
Inform IQ Option as soon as you send it, either by email to support@iqoption.com or on live chat.
IQ Option will then investigate the matter, taking up to 180 business days to do so.
As you would expect, you cannot withdraw more than you have on your trading account, and there is no limit to how many withdrawals you can make but there is withdrawal fees: one withdrawal per month is free and then 2% for the second and consecutive withdrawals. Note that if you withdraw an amount you deposited that same day, neither of them will show up on your bank statement. Please also be aware that your withdrawal to a bank card cannot exceed the amount you deposited using the same method, and only amounts transferred within the last 90 days. Any amount in excess of this requires a bank transfer ($31 fee) or an e-wallet withdrawal using, for example, WebMoney, Skrill, or Neteller.
Here's a good visual that outlines the process.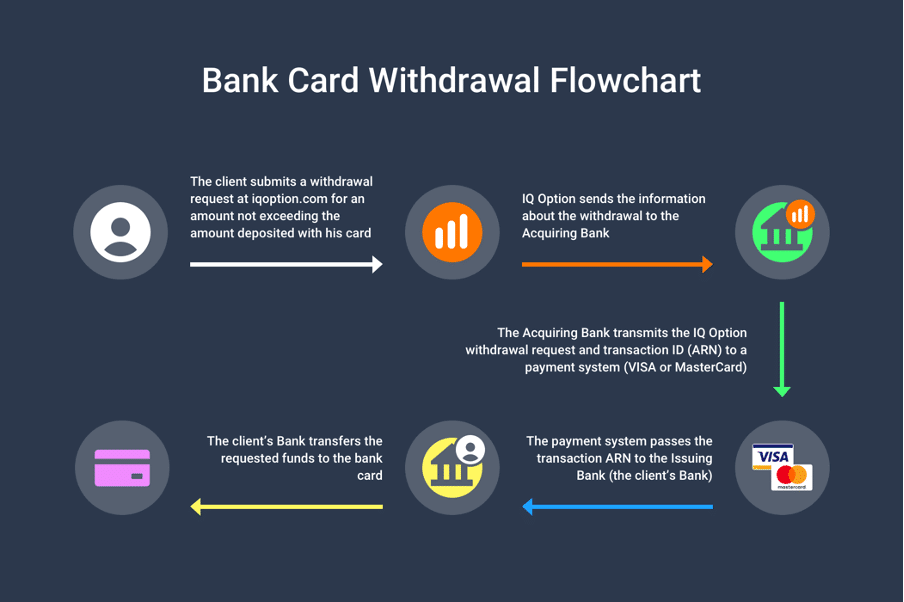 Do withdrawals from IQ Option require KYC?
In a word, yes. IQ Option is offering strong levels of reassurance and peace of mind. And that comes with a responsibility to verify your identity as one of their customers. It also protects you, ensuring that it is as difficult as possible for someone other than you to tamper with your account. You will need to provide the following:
Photo ID – passport, driver's license, etc.
If using a bank card to make your deposit, provide a copy of both sides hiding your CVV number and all other digits of your bank card number except the first 6 digits and last 4.
If using an e-wallet, provide only a scan of your ID
How long will my withdrawal take?
The best place to check this out is in your transaction history, which has its own special tab. Once you have completed your withdrawal request, it will be classified as "requested" and your account balance is reduced accordingly. The next stage is "in process", which indicates that the request is being processed. The last stage is the "funds sent" element, which indicates that the funds are no longer with IQ Option. At that point, the time taken for withdrawals varies. With e-wallets, you can expect to wait up to 3 days. With banks, that wait can be up to 15 calendar days. Unfortunately, IQ Option has no bearing on these timelines.
General Risk Warning: "The financial products offered by the company carry a high level of risk and can result in the loss of all your funds. You should never invest money that you cannot afford to lose"
Read more