IQ Option UAE is a great online broker for those who want to trade options on an easy-to-use and fast-executing trading platform. Traders like their low spreads, great customer support, and wide range of tradable assets. These include options, stocks, forex, ETFs, commodities, and cryptocurrency. We recommend IQ Option to traders from all levels, beginner to advanced.
Review Summary:
Our top findings on IQ Option UAE:
IQ Option built a proprietary custom trading platform responsive to user needs. The platform has many important features including multi-chart layouts, strong technical analysis, historical quote tracking, market/stock volatility alerts and economic calendars. Easy to use and well-designed, the trading platform is available in 13 languages.
IQ Option trading platform investors can trade numerous financial instruments. These include stocks, digital options, binary options, forex, cryptocurrencies, ETFs and commodities. As a leading broker, IQ Option also trades CFDs on both stocks and ETFs.
IQ Option is the most popular global trading platform for options trading. It HAS 100+ million registered users and processes more than 1 million daily transactions. Platform traders come from 213 countries including UAE, India, Nigeria, South Africa, Philippines, Malaysia, Pakistan.
IQ Option is a highly rated trader. Their platform offers an intuitive and easy-to-use trading experience. The mobile and desktop platforms are well designed and offer multiple tools to help traders. These include instrument tabs, multi-window views, chart types, time intervals, technical analysis indicators, expected returns and more. IQ gives excellent customer support in several languages including Arabic. UAE traders can use the whole platform without restriction, making use of all features.
IQ's spreads and fees are competitive. Deposits are free from charge (*currency conversion fee might apply); one free withdrawal per month and 2% of the amount withdrawn is charged for each subsequent withdrawal to all payment methods. The minimum opening deposit is $10. The platform features a large educational video library which gives beginning traders a safe and solid start. IQ offers a full function demo trading account.

"RISK WARNING: YOUR CAPITAL MIGHT BE AT RISK"
1. IQ Option UAE Trading Platform
The IQ Option UAE trading platform is intuitive and easy to use. It is a great fit for beginner and advanced traders who want to trade options with fast execution.
The screenshot shows IQ Option platform trading charts. We recommend options traders to start and learn from here. The chart shows trades in the center, bookended on the right by the buy and sell icons and on the left by trading sentiments for the selected assets.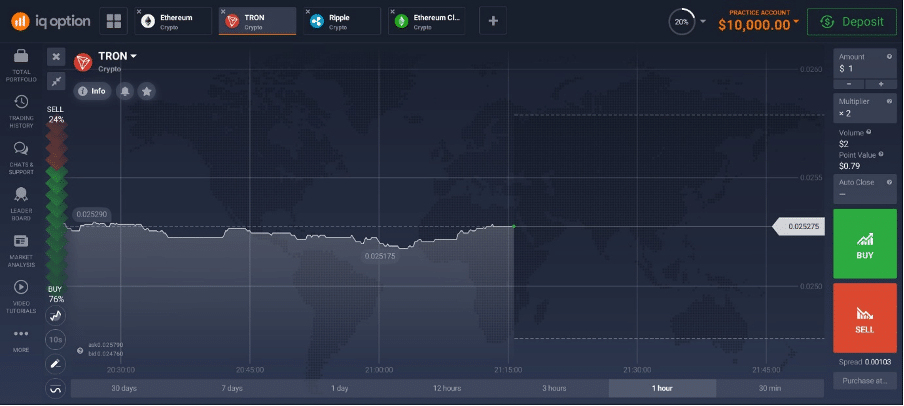 On the left, traders see icons for their total portfolio, trading history, support/help icon, market analyses and video tutorials. Click the asset tab and choose which asset(s) to trade forex, stocks, crypto, commodities and ETFs. Traders can type the asset or ticker symbol name in the search box.
2. Accounts, Commissions and Fees
IQ Option offers two types of trading accounts: Standard and VIP. And they have a Demo account.
Account Types
Standard: requires a $10 minimum deposit. There are no functionality restrictions with 300+ assets and 72-hour withdrawal processing. IQ Options also offers access to several trading competitions held on the platform.
VIP: Available to clients that deposit significant amounts (the exact amount is subject to change)
Demo: Like many brokers, IQ Options offers a free, registration-required demo account with $10,000 in virtual money. There is no time limit for using this account. Traders can test trading strategies and become familiar with the platform before investing real money.
Deposits
IQ Option requires account verification for non-EEA traders only before the first withdrawal. They need to provide photo identification. Other criteria apply depending on the trader's originating country. Funds deposits can be made via credit card and Skrill.
Withdrawals
IQ Option UAE has no maximum withdrawal limit. Their minimum withdrawal amount is $2.They require identity verification. The quickest way to get funds is via PayPal, Skrill, Neteller or another e-wallet than from a bank card (cards incur a processing fee of $31). Traders need to use the same payment method as their deposit. Bank transfers may also incur a small processing fee. Withdrawal requests are normally processed up to 3 days. Bank transfers can take 3-5 business days.
3. Products & Professional Tools
IQ Option began as a binary options trader. They moved into Contract for Difference (CFD)'s on Cryptocurrency, ETFs, Forex, Stocks and several binary option contracts. Investors trade CFDs on best-performing stocks without opening fees. The minimum investment is $1 for Stock CFDs with leverages to 1:20. The stock assets include some of the world's biggest companies: Apple, Tesla, Amazon, Boeing and many more.
Forex: FX trading is one of IQ Option's popular markets. They offer competitive spreads on currency pairs.
ETFs: traders can trade Exchange-Traded Funds (ETF) CFDs. These are several different assets combined into one basket. IQ has ETFs available to trade.
Cryptocurrencies: investors can trade CFDs on cryptocurrencies. These include Ethereum, Bitcoin, Ripple, Neo, Cosmos and more. Traders can expect great margin leverage and short selling options.
Commodities: IQ offers CFDs commodities: Silver, Crude Oil Brent, Crude Oil WTI, Gold and Platinum.
Options: Binary options pay a fixed return for correct market prediction over time. Predicting an asset's price movement up or down can deliver profits of up to 100% (*in case of correct prediction). Binary options have a $1 minimum investment and $0 fees. Expiry times range from 60 seconds until the end of the month.
Digital Options: lets traders speculate on the extent of an asset's price movement. Digital options have a $1 minimum investment and $0 fees. Expiry times range from 60 seconds until the end of the month.
Options Trading Regulation in UAE
IQ Option provides strong evidence of safety, security and regulatory confidence. Traders like cryptocurrency and FX products/tools to help maximize profits and minimize losses.
Cryptocurrency Multiples: This product works like a leveraged trade. The asset's price movements are magnified by a multiplier. Cryptocurrency multiples originated with Bitcoin X 100. They increased price movement by 100X times. This created large opportunities (and risk) for traders. IQ Option expanded multiples to IOTA, Ethereum, Ripple and other cryptocurrencies. Traders can choose X20, X50, and X100 (non-EU customers).
Secure Trading
Pre-Order: these let investors enter a trade when their chosen asset hits a specific price. This is achieved by selecting the asset, its entry price and waiting.
Stop-Loss Orders: these are useful if investors want to limit losses. When this figure is reached, the system exits the position. Investors rest easy and eliminate position worry and constant checking.
Take Profit Orders: investors may want to cash out in the black. The opposite of a stop-loss order investors can set an amount that triggers their exit from the trade to ensure profit.
4. Professional Tools and Indicators
IQ Option UAE uses 13 popular indicators to discover trends to help traders find good profit potential. They can be used on their own or investors can build a preferred combination. Popular indices include:
Moving Averages (MAs): the Simple, Weighted, Smooth Simple and Exponential Moving Averages show traders average trading trends during specific periods.
Moving Average Convergence Divergence (MACD): shows where moving averages diverge or converge. This helps traders compare Exponential Moving Averages.
Parabolic SAR: position changes with price fluctuation and corresponds with higher acceleration. Traders can observe groups or dots.
Awesome Oscillator: visualizes two SMAs, fast and slow. This helps observe developing trends.
Bollinger Bands: present a dynamic trend indicator of the price range movement.
Volume Indicators: show a number of and intensity of market trading action over time.
Alligator Indicator shows market movement and direction. It lets traders filter out Side Bands. This cross-functional trend helps traders discover emerging trends.
Relative Strength Index (RSI) shows the strength of a current trend and possible reversal points. It compares price growth with a price reduction.
Stochastic Oscillator (Stoch) indicators show the current price position and compares it to high and low extremes over time. The figure lets investors determine potential reversal points.
Average True Range (ATR) shows asset volatility over time. It shows quote change rates.
Average Directional Movement Index (ADX) presents a trend's strength before the price movement. It can show a potential change in volatility.
Fractals include at least five Japanese candlesticks. They show the local maxima and minima of price curves and possible market reversal points.
Commodity Channel Index (CCI) shows price movement speed. It helps investors discover upcoming market reversals. It helps traders read trend strength.
5. Customer Service
IQ Option places great emphasis on trader support. To improve accessibility, investors can reach them using online chat, phone and email correspondence. Service levels are professional, quick and have a strong emphasis on security checks.
Phone Service: IQ Options provides a human touch to communication.
Email: our team received a response within the hour.
Online chat: our team also experienced an average wait time of 23 seconds using this popular method.
Our queries on all service platforms were resolved and answers provided within an impressive 2 minutes and 37 seconds.
6. Mobile Trading
IQ Option's mobile trading platform is designed well, easy to use and offers most of the features available on their desktop version. The app works on Android and Apple iOS. The platform can be downloaded from the Apple Store or Google Play. The app is easy to use and has a clean and intuitive graphic interface. The same charting options on their web-based platform are found on the mobile app. Traders can enable push notifications to provide them with up-to-the-minute trading actions. They can set alerts on specific price points. This way traders get a notification once they reach a designated point.
7. Tradable Assets and Education
IQ Option offers traders a variety of assets to trade in the UAE. These include: 48 options (binary and digital options are only available to professional clients), 41 forex currency pairs, 180 stocks, 12 cryptocurrencies, 5 commodities, 24 ETFs.
The platform has an extensive video library containing specific topic area courses and Webinars.
8. About IQ Option UAE
IQ Option is considered one of the best online brokers for options trading. The platform has over 100 million registered users, 1.8 million of whom daily use the platform. Monthly investment volumes now approach US $500 million. US $10 million is withdrawn monthly.
IQ Option is NOT available in these countries: Afghanistan, Albania, Australia, Belarus, Belgium, Canada, the Czech Republic, Iran, Israel, Japan, Latvia, North Korea, Palestine, Russia, Switzerland, Syria, Ukraine, the UK, and the USA.

"RISK WARNING: YOUR CAPITAL MIGHT BE AT RISK"
Conclusion
IQ Option is the best broker for options trading, known for low spreads, its sophisticated trading platform, free demo account, and responsive customer support. We recommend this broker to traders at all levels from beginners to advanced.
FAQ
Can Profit be Made Using IQ Option in UAE?
It is possible but not guaranteed. Traders and investors must understand the product they are investing in or trading. Beginner traders need to spend time on the demo platform before risking any funds. They must forecast asset price movements within a specific timeframe to make a profit. This forecast can be achieved in a matter of seconds for short-term trades if the trader correctly guesses the market's movements. Binary and digital options offer great rewards, but risk levels are commensurate.
How safe and reliable is IQ Option in UAE?
The first concern of any trader should be the broker's approach to deposit security. It is vital to be certain the right safeguards are in place to protect funds. The security standards and regulatory compliance of IQ Option UAE are strong. There are few reports of negative experiences. This broker has traded for several years. These factors lead us to the conclusion that IQ Option is a serious and solid business with long-term viability.
More Articles:
General Risk Warning: The financial products offered by the company carry a high level of risk and can result in the loss of all your funds. You should never invest money that you cannot afford to lose.