CMC Markets is a UK Forex broker with a well-established reputation.
Fast fact overview:
0.7 pip minimum fee for Forex
$10 minimum fee for stock trades
Best for new traders
A highly regarded and well-established broker in the United Kingdom, CMC Markets is listed on the London Stock Exchange and was founded in 1989. Clients of CMC Markets can play spread bets of trade CFDs in over 200 commodity markets and more than 300 currency pairs. They also boast five cryptocurrencies and a comprehensive listing of bonds. The number of potential trading opportunities is so massive that it could be described as overwhelming.
One drawback is that spreads tend to widen with larger bet and trade sizes and that increase in charges is not disclosed or explained on the website. This makes it difficult for prospective clients to understand exact fee amounts. Professional clients benefit from an active trader rebate program. To be classified as professional, clients must have prior financial experience and large account size. Different from many other brokers, CMC Markets requires that CFD and spread bet accounts be separate.
Every account holder gains access to free bank wire withdrawals, access to guaranteed stop losses, and other advanced features. These benefits propel CMC to a leading position in several categories even though higher level perks (such as access to the free API interface) are not offered in retail accounts,
Pros
News provided in real-time
Massive number of products in the catalog
Innovative order types
Cons
No social trading platform
Security features are limited
High CFD spreads in the USA
Education
The lacking in advanced instruction, the extensive trader's library provide significant support for beginner level and the lower skilled clients. The majority of instruction is dedicated to platform tutorials and demonstrations. While some advanced instruction is provided through online webinars, there doesn't seem to be an archive of prior recorded webinars. The significantly limits the amount of strategy and excuse an instruction available on the website. As a whole, CMC's educational resources are significant, but the poor organization and a lack of a search function make the otherwise informative listings challenging to use.
Research
CMC Markets provides insights from third-party materials such as MorningStar as well as in-house analysts through its web interface. New sources can be filtered by asset class or region and can be accessed directly from the website. However, many topics are challenging to locate due to a substandard search function and confusing archive structure.
News and research integration are surprisingly limited between the trading platforms and the website. This limitation causes many of the research features to force clients to load separate webpages to access the information. A similar limitation can be found in the CMC TV service, which is available on YouTube but not listed in the news and research section on the website.
Desktop experience
CMC promotes its proprietary Next Generation trading platform, which many consider an upgrade from MetaTrader 4. The Next Generation trading platform is available on the web, on mobile, and on tablets. It features 12 chart types, highly customizable watchlist, over 80 overlays and indicators, a streaming Reuters feed, as well as insights into client sentiment. Pop out windows can be used to optimize complex desktop layouts. Major instrument price histories are also provided for clients who wish to analyze long-term trends. Pattern recognition tools and price protection are also available through the platform.
Mobile experience
When choosing a mobile platform, CMC customers may choose between MetaTrader 4 or Next Generation, which are both available on Android and iOS. Though with fewer features than the web version, the Next Generation mobile app still provides over 40 technical indicators and charts that have been optimized for mobile devices. Customized alerts can be sent through email or push notification. Additional security is provided through fingerprint identification. However, this is not part of two-factor authentication.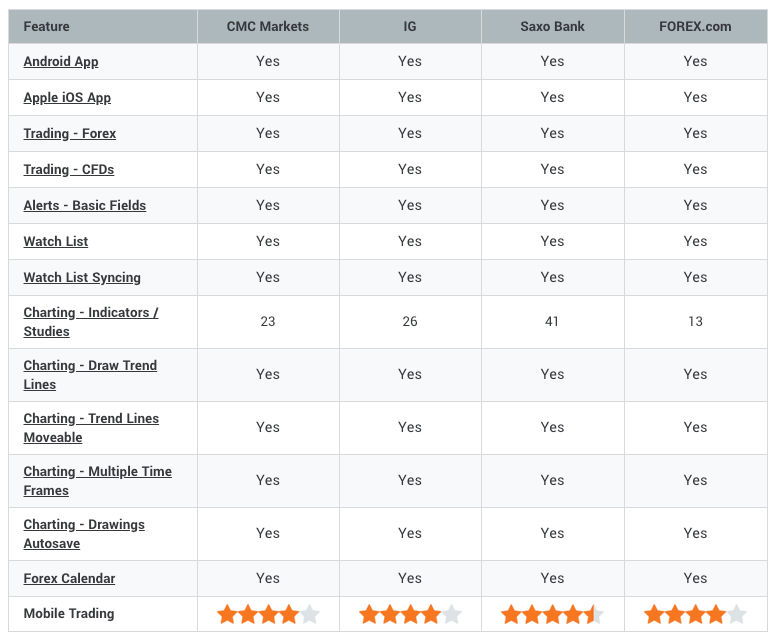 Trust
CMC Markets (registration number 173730) is regulated through the FCA (Financial Conduct Authority) and the FSCS (Financial Services Compensation Scheme). Even though CMC is one of the largest brokerages and ESMA rules mandate Negative Balance Protection, no private insurance is offered. Conflict of interest is a minimized through the broker's automated dealing desk which acts as the counterparty on spread bets and CFD trades. While data security meets all standard requirements, it appears inadequate because it lacks some higher quality security features such as two-factor authentication.

Special features
The CMC Next Generation platform is sophisticated, highly capable, and exceeds MetaTrader 4's abilities as a platform in nearly every way. One of the very few exceptions is Next Generation's inability to perform backtesting. This forces some CMC clients to use MetaTrader 4 even though Next Generation is considered a superior product by many.
Active trader rebates, API interface, and automated trading routines are only available to professional clients.
Client sentiment data is provided within the Next Generation platform but is limited as there is no "social trading" capability connected to it.
Wire transfer withdrawals are free with CMC, which is an uncommon feature among European and UK brokerages.
Investment catalog
With over 200 commodity markets and 300 currency pairs, CMC Markets offers one of the largest directories of products available. Add to this the fact that they provide more than 50 bond instruments, a wide variety of long- and short-term options become available to traders of all levels.
CMC requires no special exchange or interface to provide its seamless spread betting and CFD trading capabilities even though its spreads are relatively higher than average.
No deposits are required to open an account, which is useful for new clients who want to try out the specialized software features which are not available in demo accounts. Guaranteed stop losses are also competitively priced.
Commissions and fees
Legal documentation related to CMC fees and commissions is less than transparent. For example, even though major Forex pairs may look identical across platforms, there is a possibility for minor cost variations that could cause a reduction in profit. The fine print also admits that identical instruments may display different spread values when viewed on MetaTrader 4 or Next Generation.
Spreads on the S&P 500 (five-point average) are much higher than other instruments causing the majority of account holders to avoid using them. Interestingly, the Dow 30 spread is rated at 1.6 points, and the NASDAQ 100 is rated at 1 point, which are very similar to the industry standards.

Customer support
CMC provides customer support through all of the standard channels, including email, phone, FAQs, and support libraries. There is also a live chat option with an average of 35 second response time for each contact attempt. The CMC Facebook and Twitter feeds are also up-to-date and contain active interactions with clients.
What you need to know
CMC is an excellent brokerage for new traders. It offers useful educational resources, free live accounts, an average spreads. Mid and high-level retail accounts may find the limitations at CMC less than desirable. These limitations are removed, and a considerable number of attractive benefits are added for professional and institutional accounts. To get a better overview you can compare this broker with some others we have reviewed lately:
IQ Option review: read the review here
Plus500 review: read the review here
Avatrade review: read the review here
eToro review: read the review here
Interactive Brokers UAE: read the review here
Olymp Trade: read the review here