The best way to buy cryptocurrency in UAE is through a regulated crypto exchange or broker. The best brokers to buy cryptocurrency in UAE are: eToro, Coinbase, OKEx, and Binance. eToro is a leading provider of premium platforms and services for UAE residents. Coinbase is the best choice to buy Bitcoin for beginners. OKEx has the lowest fees for UAE residents. 
To buy cryptocurrencies you will need to to open an account with a regulated broker or exchange, deposit funds using credit or debit card and complete the cryptocurrency purchase.
Best Exchanges To Buy Cryptocurrency In UAE: 
Cryptocurrency Exchanges in UAE Overview: 
1. eToro – Best Overall Offer for UAE Residents
2. Coinbase – Best Beginner-friendly Services
3. OKEX – Best Trading Fees For Buying Bitcoin in The UAE
4. Binance – Best Asset Portfolio and Platforms For Traders At All Levels
How To Buy Cryptocurrency In UAE? A Step by Step Guide
The most common way to buy cryptocurrency in UAE is to open a trading account with a cryptocurrency broker or exchange, deposit funds using credit or debit card and fulfil the cryptocurrency purchase.
1. Open a Trading Account at a Crypto Exchange or Broker
To buy cryptocurrency in UAE you need to open a trading account with one of the crypto Exchanges (BitOasis, Kraken, Coinbase) or a crypto brokerage account at one of the brokers offering cryptocurrency trading (eToro).
2. Deposit Funds
When the trading account verification is processed you will be able to deposit money using a bank transfer or credit/debit card. Deposits take up to 5 days to appear on your funding account.
3. Buy Cryptocurrency
After your fund deposit is visible on your trading account you will be able to buy cryptocurrencies the exchange or broker is offering using their trading platform. You are allowed to buy fractions of each cryptocurrency.
4. Store Cryptocurrency on your e-wallet
We recommend to store your cryptocurrency in a e-wallet using a private key. This way you keep your purchase safe also if the broker or exchanges is hacked or stops working.
How to Buy Cryptocurrency in UAE Using eToro
The best broker and exchange to buy Ethereum is eToro. Here is a step-by-step guide using eToro to buy Ethereum in the UAE.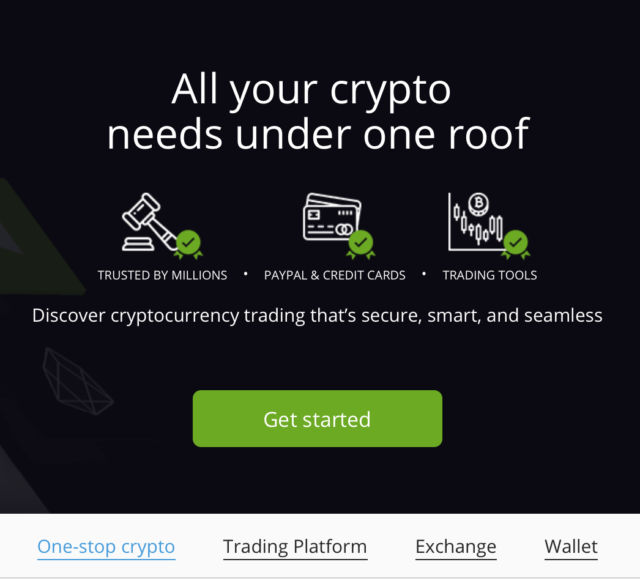 Step 1: Open a Trading account on eToro
First you need to open a trading account with eToro. On their official website, you'll find the sign-up form requesting: your full name, residential address, source of funds, date of birth, contact Information.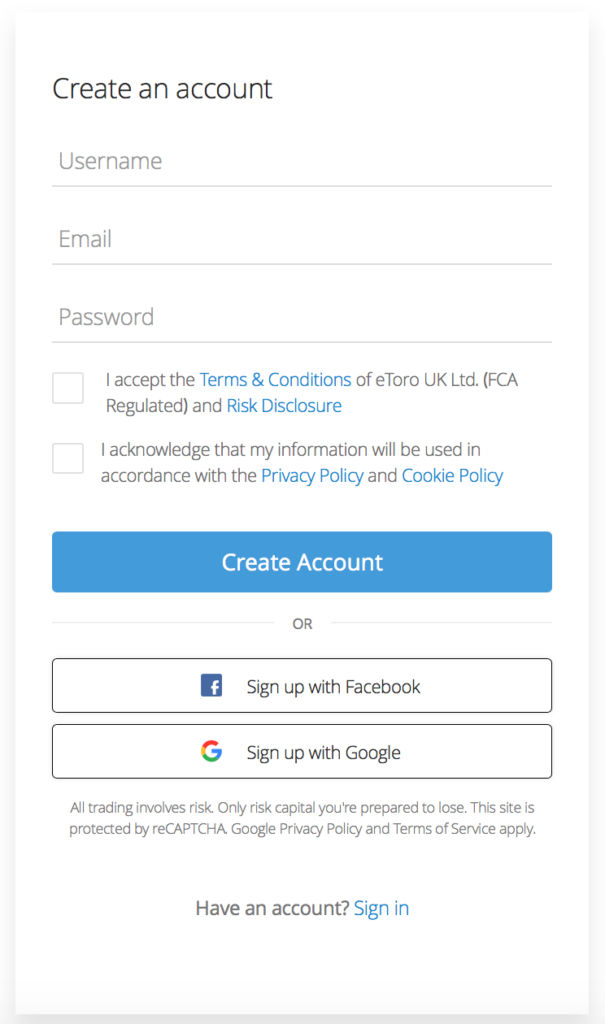 After you've submitted the needed information, the next step is to verify your eToro trading account.
Step 2: Verify Trading Account
eToro allows investors to trade no more than $2,000 before verifying their account. Users need to submit images of their passport and proof of residence. eToro follows strict KFC regulations from UAE and verifying your account is mandatory.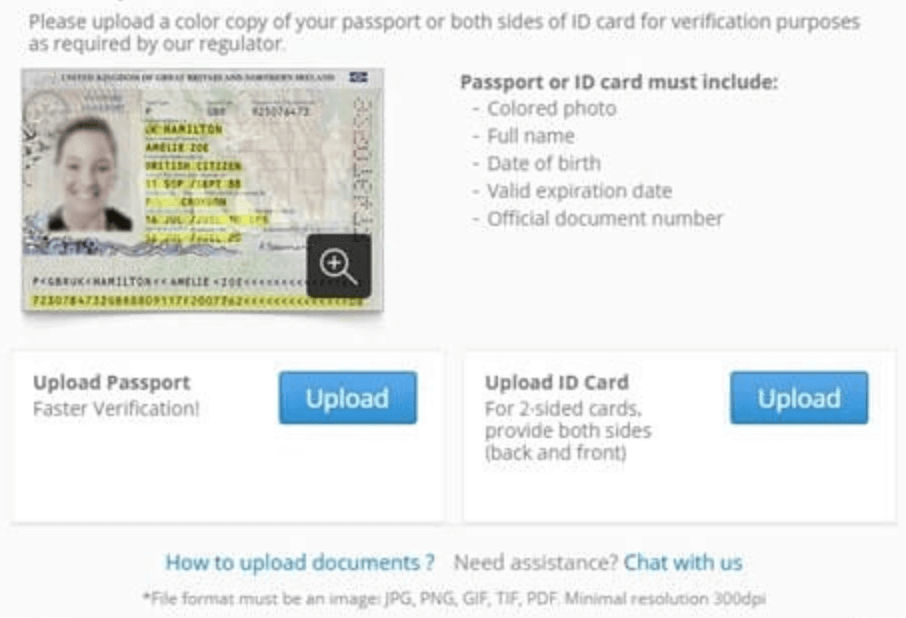 Step 3: Deposit
eToro offers access to most deposit options. Choose the funding options that meet your needs. After you fund your account, the next step is to buy Cryptocurrency.
Step 4: Buy Cryptocurrency
Once the deposit appears in your wallet, eToro will allow you to complete your first Cryptocurrency purchase. Cryptos have different symbols and selecting it will begin to set up your trade. Choose the amount of cryptocurrency you'd like to purchase and click "Submit." Your transaction will complete in a matter of minutes.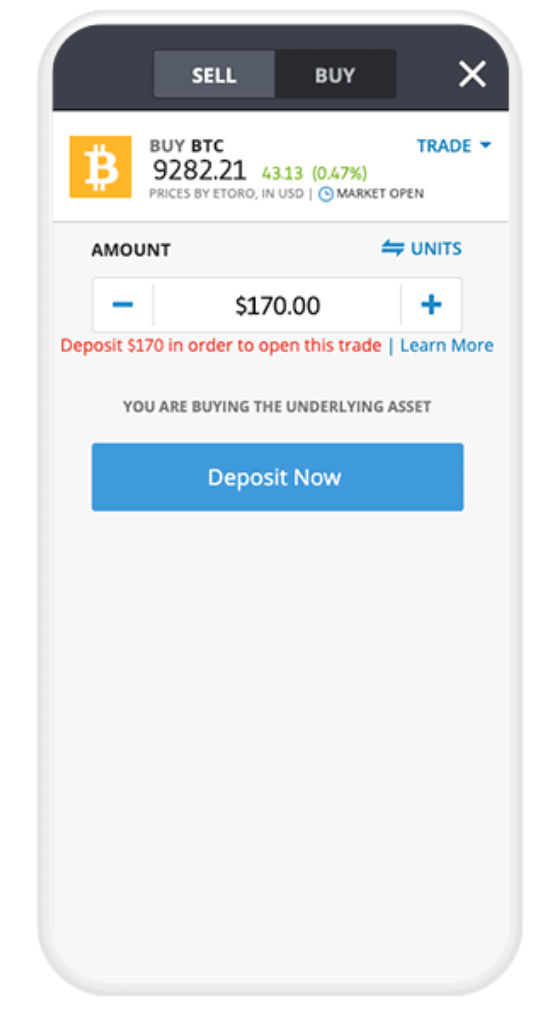 The Future of Cryptocurrencies and Blockchain in UAE
The UAE is accelerating its efforts towards building an attractive environment for cryptocurrencies and blockchain technology expecting to gain over 1100 new crypto related businesses registrations only by the end of 2022. As part of the "2022-2027 strategy" to boost their digital economy and investment from blockchain companies, UAE has implemented a modern framework of crypto friendly laws and policies. To back the effort, The Central Bank of UAE has announced to launch its own digital cryptocurrency by the end of 2027 to make their economy look even more crypto adaptive.
A recent survey conducted by NDAM (Nickel Digital Asset Management) showed that institutional investors and fund managers from UAE recognised the trend of a growing crypto friendly environment and allocated their assets to cryptocurrencies and digital coins such as Bitcoin.
The Regulation of Cryptocurrencies in UAE
Currently there is no unified regulation on cryptocurrencies in UAE and trading with virtual assets like Bitcoin still remain Illegal. Following the latest statement of The Central Bank of the UAE saying that crypto or virtual assets are not presently accepted or acknowledged as legal tender in the UAE, the only legal tender in this country recognised by the central bank remains the UAE dirham.
While the legality of virtual currencies is still vague, cryptocurrency exchanges like BitOasis have been licensed to operate in the global crypto market. As of now UAE citizens are allowed to buy, sell and hold cryptocurrencies as investments, but they are not able to buy any physical goods with them.
Buy Crypto in UAE Using Debit/Credit Cards and Paypal
Debit Cards
Buying cryptocurrency with a debit card is one of the safest and most convenient approaches. All online brokers reviewed in this article accept Visa and MasterCard. But when it comes to fees, eToro has the most competitive offers. It lets traders buy cryptocurrency with a debit card at a fee of 0.5%.
Credit Cards
Many traders in the UAE choose to buy cryptocurrency with a credit card. It is a safe and convenient method for new investors. The drawback is that the card issuers charge an advance fee on cryptocurrency purchases of up to 5%.
PayPal
PayPal is another popular option for buying cryptocurrency in the UAE. The best broker to use PayPal transfers with is eToro. It offers competitive fees and instant transfer at a fee of 0.5%.
Crypto-to-Crypto
Another option for investing in cryptocurrency is to use tokens to buy digital assets. For example, if you have Bitcoin but want to buy Dogecoin, this exchange is possible in a matter of minutes. You will have to deposit the funds into a preferred cryptocurrency exchange.
Related:
How to Buy Bitcoin in UAE, Best Bitcoin Trading Platform, How to buy Ethereum in UAE
How Much Does It Cost To Buy Cryptocurrency In the UAE?
Your broker of choice sets the commission fee for your cryptocurrency trading. Check our in-depth reviews to discover additional information on online brokers and trading fees.
Deposit Fees
Cryptocurrency brokers usually charge 3-5% for debit or credit card deposits. eToro has a competitive fee structure with a 0.5% commission for both Visa and MasterCard.
Trading Fees
Many brokers have additional trading fees for buying cryptocurrency in the UAE. For example, Coinbase has a standard trading commission of 1.49%, while at eToro, a fee of 1% is added to the spread when buying or selling crypto assets on eToro. The fee is included in the price shown when users open or closes a position.
Related: Best cryptocurrency exchange UAE
How To Sell Cryptocurrency In UAE?
Selling cryptocurrency in the UAE is a straightforward process. For example, if you use eToro, you'll have to access your portfolio and click on the Sell button. The best way to make money from a cryptocurrency investment is with capital gains. Capital gains refer to selling your crypto tokens for a higher price than you originally paid. Check our in-depth reviews to learn more about buying and selling cryptocurrencies in the UAE. 
Related: Best cryptocurrency to invest
Related:
Best AI Trading Platforms
Best Algorythmic Trading Platforms
Best Leverage Trading Platforms
Best Crypto Staking Platforms
Best UAE Crypto Exchange
How to buy Ethereum in UAE
How To Buy Cryptocurrency in UAE – A Step by Step Guide
Best Cryptocurrency Exchange Dubai
Best Cryptocurrency to invest
Best Bitcoin wallets
Best Crypto Day Trading Platform
Best Crypto signals telegram groups
Best Crypto trading bots
Best Crypto portfolio trackers
How To Buy Bitcoin in UAE and Dubai
Best Cryptocurrency Exchanges for Bitcoin Trading