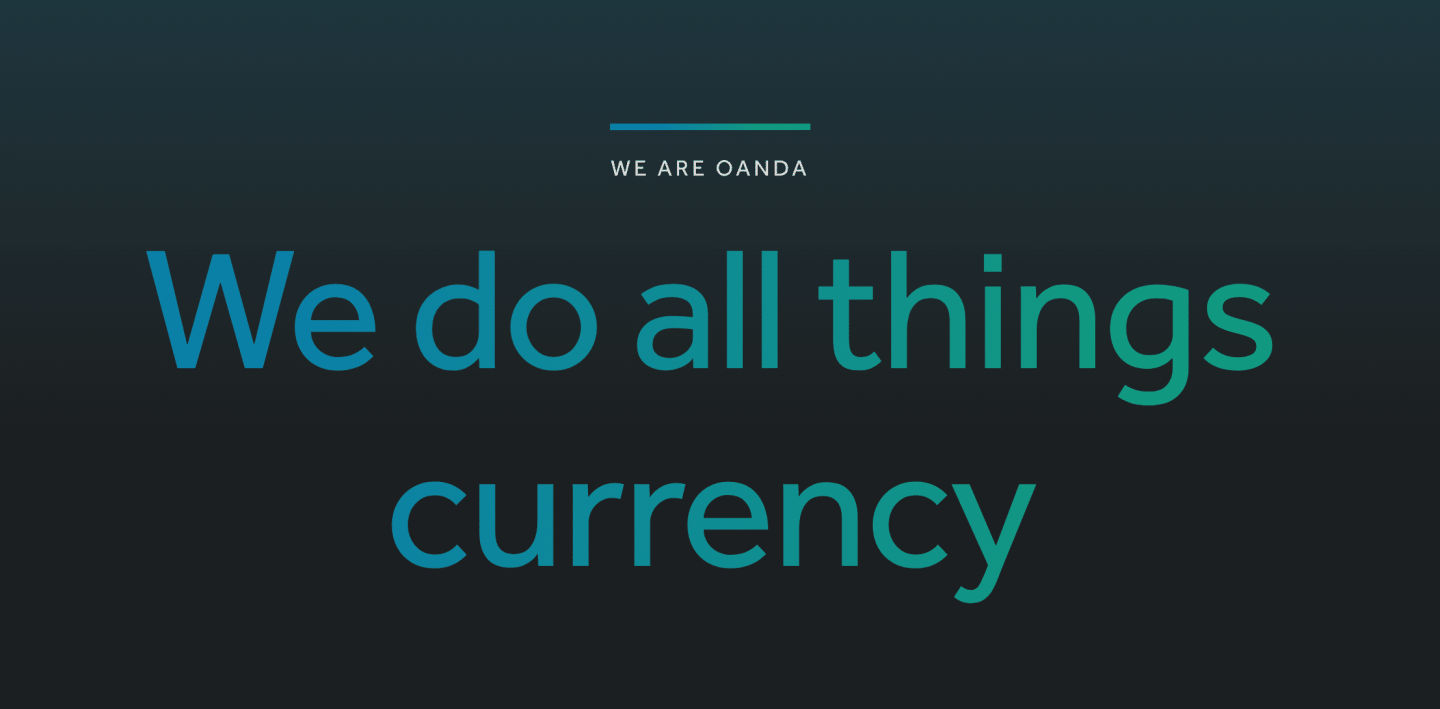 In a nutshell
The US-based forex broker Oanda has been on the market for 20 years and is one of the top brokers in 2020. It allows its customers to use index, commodity, CFD, and forex trading all over the globe. In the following review of Oanda, you will find detailed information about regulations, accounts, fees, trading platforms, and much more.
Disclaimer: CFDs are complex instruments and come with a high risk of losing money rapidly due to leverage. 76.4% of retail investor accounts lose money when trading CFDs with Oanda. You should consider whether you understand how CFDs work and whether you can afford to take the high risk of losing your money.
Oanda Review and Insights
The following brief history about the Oanda corporation will help you better understand our Oanda trader review. This firm started small in 1996 as one of the first online forex brokers on the market. After the initial success, Oanda offered to its customers' access to CFDs and spot forex.
Now in 2020, Oanda is one of the most reliable online forex brokers on the market. It gives its customers access to corporate FX services, 124 trading instruments, currency management solutions, and data on exchange rates for international business.
Oanda is headquartered in the United States, but there are numerous international offices in cities such as London and Tokyo. Altogether, this online broker has 8 international financial hubs and customers from more than 196 countries. Oanda has licenses from leading regulatory jurisdictions in the United States, the United Kingdom, Australia, Singapore, Japan, and Canada.
The company allows for spread betting, but you can only use this if you are an Oanda European customer and living in the Republic of Ireland or the United Kingdom.
Note: Even though there is no mention in any Oanda review about their FxTrade platform, it was the first entirely automated forex trading platform. Launched in 2001, FxTrade helped make Oanda one of the leading brokers on the market.
1. Fees and Spreads
Oanda has a transparent spread structure that has been customized to all of its locations. It also has certain non-trading fees, such as overnight funding.
No matter if you're searching for prices in the United States, Europe Limited, the Philippines, or Singapore, Oanda is highly competitive for all locations. Its spreads are similar to other leading firms, including FxPro and FXCM.
Oanda relies on sophisticated software to analyze international prices and offer the best quote on the market. It comes with responsive spreads based on market volatility and liquidity, which is why spreads can widen during high volatility. You can always access historical and current spread data, which may help some traders worry less about hidden fees.
The CEO of the OANDA Global Group, Vatasa Narasimha, said about this transparent policy that the retail trading industry receives more benefits from a straightforward approach. Brokers are responsible for their actions, such as falsely disclosing their interests or making questionable affirmations.
Remember that Oanda spreads differ from many other brokers because there is no dealing desk. That means analyzing spreads individually might not offer a clear result since several other aspects can influence the price of trades in a timeframe.
Leverage
You can trade on margin at Oanda, but if you are a retail client, you should know that regulators determine the maximum leverage in your area. You are free to use less leverage, but you cannot use more leverage than legally allowed in your area.
Always remember that you might boost your revenues by trading on margin, but at the same time, you might end up increasing your losses. So, the best trading approach is using stop-loss orders. This technique limits potential losses with leverage.
Other Fees
When it comes to fees, Oanda is transparent and highly competitive. Notably, Oanda instituted an inactivity fee in September 2016. This additional fee is for those users who haven't made any trades over the past two years.
Another aspect worth mentioning is that Oanda has no deposit bonus for signing up. But it might be a good idea to look for the latest news concerning financing charges on their official website.
2. Oanda Account Opening
There is no minimum account size, meaning that you can create an account starting with $1.
Account Types
At Oanda, you have only a single, basic account with no minimum deposit needed. This standard account might make experienced traders with significant capital disappointed. Still, the advantage is that each trader benefits from more than seventy precious metal and currency pairs, and trades of any size.
Demo Account
The demo account at Oanda provides customers with access to the main features of a standard account and is available for as long as you need it. (You won't find this with many other forex brokers, as the usual practice is to offer a demo for a specific period.)
We like that the demo login details are almost the same as live account holders. This practice account is useful to make yourself familiar with the market and Oanda's amenities for its traders. So, you can upgrade to a live account with ease when you feel like you've mastered currency heat maps, backtesting, and volume indicators.
3. Oanda Withdrawals and Deposits
Deposit and withdrawals with Oanda are friendly, especially for beginners.
Methods Of Payment
More and more day traders search for direct withdrawal and deposit systems. With your Oanda account, you can use any of the following methods of payment:
PayPal
Bank wire transfer
Credit & debit cards
You can always use the guides on Oanda's website to understand more about the process.
Minimum Initial Deposit
Oanda has no minimum deposit for its accounts, which is rare among forex brokers. Also, the smallest lot size is 1 unit of the standard currency of the quote. (Oanda offers nano-lots, too, along with a useful lot size calculator.)​
Withdrawals
Also, their customer service team will help you overcome any withdrawal issues you encounter. Additional payment methods are available depending on your country. As an example, China residents can use Bpay and UnionPay. We recommend checking the website for further information.
Keep in mind that you might have to pay for withdrawal costs. The fees for bank transfers can end up between 20 to 35 euros. Also, you benefit from one card withdrawal per month without extra charges.
Customer testimonials for Oanda reveal that most traders are happy with the payment methods and transfer processes.
4. Trading Platform
Traders can use Oanda's applications and desktop software, including MetaTrader4. Also, there are frequent updates to improve the customer experience.
FxTrade represents the leading trading platform that Oanda has to offer. It is a user-friendly system, simple to understand, and easy to use with robust analytics and tools.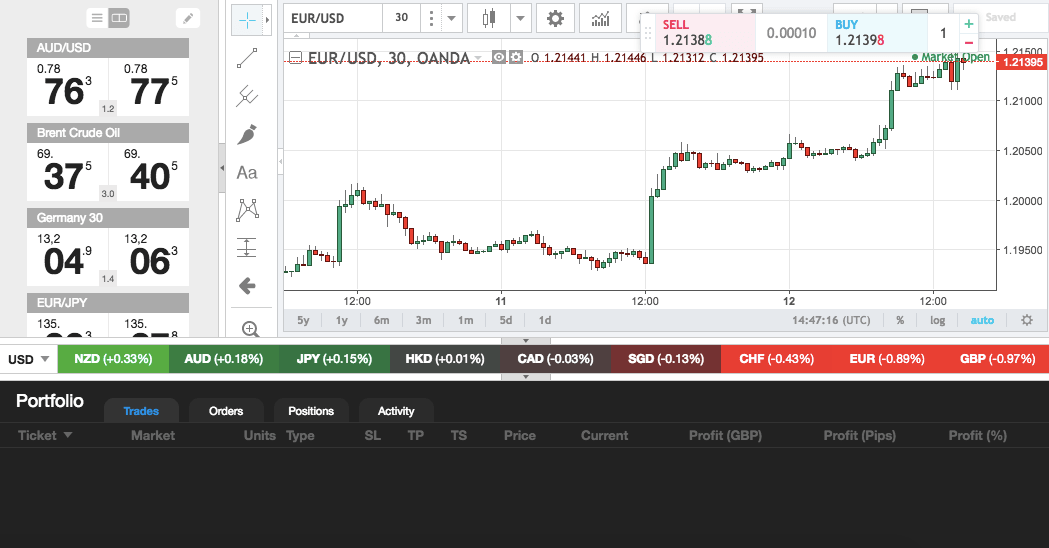 You can use the charts to trade, or you can explore complex order types (plus trailing stops, purchase or sell). Also, you can check out account analytics at any time. We like that this trading software features charts from MultiCharts. These charts are useful for professional and advanced studies. Besides this, you will access news feeds, watch lists, and economic analysis. We believe that live or historical exchange rates are simple to understand, too.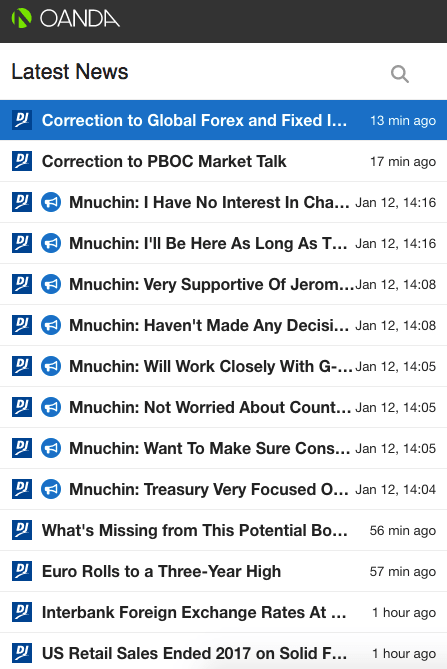 We think that the main downside of this platform is its design. Some tools are not modern or user-friendly. As an example, you can't open economic analysis, forums, and news inside the platform. These open in distinct browser windows as individual pages. This drawback means that you will use Oanda's order book outside the platform, which complicates the process. Speed tests reveal that Oanda meets the industry standard for execution rates and server times.
We conclude that the FxTrade platform meets the requirements of any trader no matter his or her experience. There are plenty of useful tools you can use to trade, along with several extra features.
FxTrade API Libraries
Subscribing to Oanda will allow you to use automated trading. You can learn about this with online API python tutorials, which will help you understand API Instruments. Automated trading is excellent for performing more trades than it is achievable by hand and allows you to be active in multiple markets at the same time. You can trade anything ranging from oil and gold to bitcoin CFDs and binary options.
You can customize notifications for entering or existing positions. Also, you can pre-program some features with Algo labs. This tool gets you extra time to check out tick data, download historical data, and create successful strategies.
If you're a technophile or a professional trader, the FxTrade API libraries will let you:
Look at historical and current market data;
Submit orders, take-profit, and stop-loss;
Check out previous trading transactions;
Perform risk-free tests;
Add trade requests;
MetaTrader4
If you don't like the desktop platform, Oanda lets you use MetaTrader 4 (MT4). While reviewing this option, we found out that it complies with industry standards. So, you can use watch lists, professional charting, and trade automation with an 'expert advisor' (EA) plugin. You can also create chart profiles, save layouts, create swap rates, and look up monthly or live exchange rates in the charts section.
The downside is that using and creating EAs might turn out to be complicated. Unexperienced trades might be unfamiliar with the programming language. Beyond that, the audible notifications can be irritating.
We like the following trading tools at Oanda:
MotiveWave – This technical analysis and professional charting platform has over 250 built-in indicators/studies and 30 integrated trading approaches. It is a user-friendly and high-performance trading suite.
Oanda Market Reports –This tool is offered by Autochartist, and it consists of a short sum-up of the markets. You will receive an email before the analysis for the day starts. Market Reports monitors asset movement, as it offers a surprisingly accurate representation of the forex markets for the following two days.
Other fast and easy-to-use features include creating a potential strategy, indicators, and a forex order book. And if you plan to hedge, you are allowed to. You can analyze all short and long positions for the same item on the MT4 platform.
Keep in mind that there are various other platforms in Oanda Marketplace, such as the plus algorithmic trading platform (like the Seer trading system) and third-party apps. Though, Oanda doesn't get you access to Metatrader5 (MT5).
Mobile Apps
If you're one of those traders on the move, a mobile app can help you exiting or entering positions. The FxTrade mobile trading platform is outstanding, as you can use it with a wide array of mobile devices, ranging from Apple products to Windows Phone 8.
With your web login details, you can look at forwarding rates, download historical quotes, and speculate on Nasdaq or FTSE 100. We like that this mobile app is simple to use, and it has a user-friendly design. You can use Oanda's trading instruments, complex order types, spread history, and account insights.
Also, you can trade straight from charts, or you can use price overlays or charts with indicators. This mobile app lets you select a display style that matches your trading technique for the best user experience. In addition to all these features, you receive access to financial reports, economic calendars, and news.
It is a great platform to use since they do frequent maintenance tests to keep instrument lists updated. Also, any problems within the platform are solved as fast as possible. So, we believe that the mobile app makes the transition from the desktop app smooth.
5. Markets And Products
A day trader needs several products, and Oanda has plenty to offer.
At Oanda, you can use more than 71 currency pairs, 23 metal CFDs, 16 stock index CDs, 6 CFD bonds, and 8 commodity CFDs.
Accepted Countries
Oanda is available for traders from Australia, Thailand, Canada, United Kingdom, Norway, Germany, Denmark, Italy, Sweden, Luxembourg, South Africa, Singapore, Hong Kong, India, United Arab Emirates, Saudi Arabia, Kuwait, Qatar, and most other countries.
Oanda isn't available in the United States, Cyprus, Belgium, France, Netherlands.
Trading Hours
The trading hours at Oanda are similar to most of the global financial markets. You can trade from approximately 17:00 on a Sunday to 17:00 on a Friday UTC-5.
Keep in mind that the division where you hold your account influences the available trading hours. As an example, Asia Pacific traders have all the key markets open for business on their trading account at Oanda.
Oanda is a market maker and not an ECN broker. Many people think that ECN brokers come with lower spreads.
There are some missing tools, such as no single-stock CFD trading or cryptocurrencies.
6. Research
Oanda has one of the most robust research offerings in the market.
We like that Oanda offers transparent access to historical average exchange rates. Also, analyzing long, short, and open positions ratios is fast and straightforward. You can check out yearly and monthly averages, along with historical classic interest rates. As a result, you can conduct reliable trading research with no obstacles.
Oanda uses several sources for its news reports, like 4Cast, MarketPulse, or Dow Jones FX Select. Some of the information you can read in the news feed, including policy commentary, trend analysis, and breaking news. Also, it is simple to access leverage and margin calculators so that you estimate a potential loss and profit for your trading.
The only disadvantage we noticed is that it is somewhat challenging to identify the research resources on the platform.
7. Customer Service
The customer service team at Oanda is highly capable, if a bit slow.
Every trader looks forward to fast and reliable customer service. A thorough look through Oanda's reviews reveals that most customers liked the multilingual support and 24/7 availability. Besides holiday trading hours, you can reach the customer service team at Oanda at all times with an email. The phone support and live chat are available between trading hours. You can look for additional information for your location on their official website.
Customer service is available in:
English
German
Spanish
Italian
French
Portuguese
Russian
There is a downside noted in Oanda's customer reviews. Some people complained that the response time is not as fast as it should be. Their team is knowledgeable and polity, looking forward to helping you overcome any challenge.
We can say that users can trade with confidence since their customer service is highly-capable if a bit slow.
8. Education
Educational resources are wide ranging, multi-level, and highly valuable.
If you pay close attention to what Oanda offers, you will see that this broker has a vast range of trading and research tools. This offering is better than many retail trading platforms. As an example, Oanda's academy gets you:
Webinars, which discuss several subjects, ranging from 'Getting Started in Trading' to professional trading topics like 'Fibonacci Retracements and Clusters: An Advanced Look at Trend Formation.'
Interviews, which discuss strategies and trading plan tips from experienced traders.
Articles written for traders of all experience levels.
Tutorials to help traders understand several trading topics, like understanding data feeds, correlations, or how to trade bitcoin. Besides, you can find out how to compare and scalp recent live spreads. These tutorials are great to boost your trading revenue.
9. Safety
Well-regulated by top tier authorities, Oanda is a safe broker.
Cybercrime reached impressive rates recently, which is why brokers look for reliable digital security. With Oanda, your trading activity and personal information are secure. They use the latest encryption technology to protect its traders.
Regulations At Oanda
As you probably know, there are quite a few unethical brokers on the market. So, it is more than necessary to use a regulated and licensed broker. Oanda's transparent policy to regulation makes this broker trustworthy. Besides the international awards and customer testimonials, Oanda is regulated in:
The United States by Commodity Futures Trading Commission (CFTC)
Canada by the Investment Industry Regulatory Organization (IIROC)
The United Kingdom by Financial Conduct Authority (FCA)
Australia by the Australian Securities and Investment Commission (ASIC)
Singapore by Monetary Authority of Singapore (MAS)
Japan by Financial Services Agency (FSA)
Keep in mind that even though a broker has several licenses, account protection is different based on where you hold your account.
As mentioned above, Oanda has several regulatory oversights across the world. So, this broker complies with the following regulations and rules to protect its traders. It reduces the possibility of scams and frauds.
Oanda follows regulatory standards, but there is room for improvement for deposit and slippage protection and negative balance protection.
10. Bottom Line
The customer support is responsive and helpful – one of the best in the industry.
So, if you're asking whether or not Oanda is a reliable forex broker, here's what you should know…
They have a high score in reviews and ratings.
They have a user-friendly platform, several products available, competitive fees, and professional trading tools.
Several aspects might benefit from improvement. As an example, if you value customer service and fast responses, you will feel like Oanda doesn't meet your expectations.
The verdict is that Oanda is an excellent trading broker for customers all over the world.
Oanda User Reviews and Trading Experience
We want to hear your personal story and trading experience with this broker. If you want to share your thoughts and your personal trading experience with the wider trading world than feel free to post your comment below.
If you like this article than you might also like: