IronFX Works Best For New to Intermediate Traders
$100 account minimum
0 to 1.2 pip fee
Best for novice traders
Operating in more than 180 countries, IronFX opened its doors for business in 2010. They are registered and licensed as an investment firm in the United Kingdom, South Africa, Australia, Cyprus, and the European Union. IronFX also has one of the most diverse investment product offerings on the market including a broad selection of Forex, CFD and spot trading, cryptocurrency coverage, commission vs. no commission and fixed versus floating fee schedules. In 2018, IronFX announced plans to open an exchange for cryptocurrency through a partnership with EmurgoHK; however, an official launch date has not been announced.
Pros
Wide range of investment options
Transparent fees and spreads
Robust third-party plug-ins
Cons
Limited cryptocurrency trading
No to factor authentication
Neglected research materials
Trading Platform
Desktop
MetaTrader 4 is the standing platform used by IronFX. Although there is not a dedicated third party platform, there are limited copy and social trading options through the Trader's Dashboard on the website, which shows the positioning of other clients. However, there is no tool for acting on that information. To take advantage of that client positioning data, traders are required to use the MetaTrader platform.
While the outdated nature of the MetaTrader platforms is a concern, the extendability of the MetaTrader platform through plug-ins and add-ons provides wide-ranging functionality that can benefit frequent traders.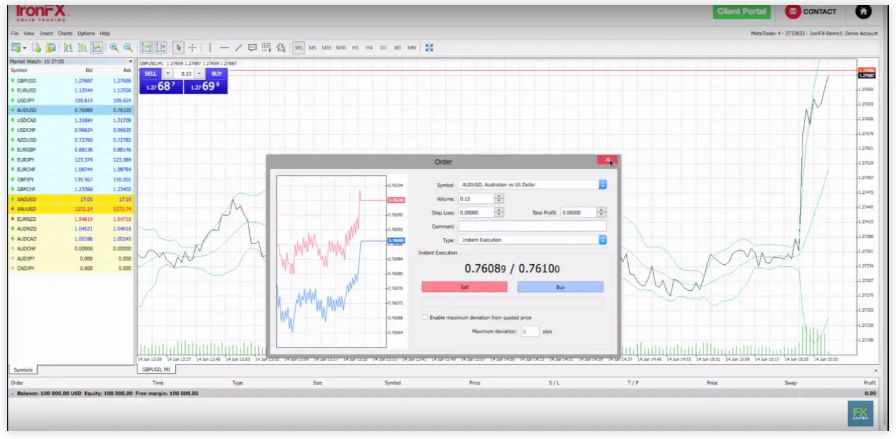 Mobile
Android, iOS, and Windows Mobile all benefit from native applications for MetaTrader 4. These applications integrate easily with both the tablet and the desktop versions. In addition to these trading applications, IronFX offers a free research app which, surprisingly, has no trading functions and provides outdated information. Security is also a concern as two-factor authentication is not offered in any of the mobile platforms.
Investment products
While not the most comprehensive listing we have seen, IronFX does offer CFD, spot, and Forex instruments that cover the majority of trading strategies. Cryptocurrencies can now be traded directly on the MetaTrader platform. All of the most popular index, spot, and metal investment products are available, but there are no bond CFDs. Spread costs diminish significantly in higher account tiers.
Micro accounts cost $100 to open. Premium accounts start at $2,500 with VIP accounts at $20,000. Each account type benefits from a transparent list that outlines fee schedules and provides comparisons for commission vs. no commission, fixed vs. floating, and dealing desk vs. direct interbank access. All withdrawals incur fees.
Trust
IronFX is licensed and regulated through three major bureaus. In the European Union, the regulating body is CySec (Cyprus, no. 125/10) which requires up to EUR 20,000 in broker default protection through the ICF (Cyprus's Investor Compensation Fund). In Australia, IronFX is regulated through the Australian Securities and Investment Commission (ASIC) (no. 417482). In the United Kingdom, IronFX provides up to GBP 50,000 in insurance protection through the FSCS (Financial Services Compensation Scheme) as well as additional insurance unique to UK clients of up to GBP 1,000,000.
Apart from upper tier account types, which allow for direct interbank trading access, all accounts require the use of a counterparty dealing desk. This raises serious questions regarding conflict of interest. However, the potential for misuse of client funds is significantly reduced by their segregation from company funds. There's also no guaranteed stop-loss protection, but ESMA rules mandate negative balance protection for EU clients. While industry-standard encryption is met as a minimum requirement, the lack of any secondary security features is disappointing. The only secondary authentication security feature found was in MetaTrader's OTPs (One-Time Passwords).
Research
Our single biggest complaint of IronFX is the neglected research materials and areas for all platforms. Though IronFX offers a free, well-designed, and user-friendly research app, the information provided in the app is outdated. Many of the most recent videos and financial viewpoints our nearly two years old. Though Live Economic News, Intraday Comment, and Live Currency Quotes are all listed as tools for research in the app, some tools produce dead links, some have less than five total entries over the past two years, and there does not seem to be any video archive.
The "Market Insights" column on The website is a useful feature for research. However, it's only available on the website along with a solitary "Week Ahead" video. IronFX does seem to have a YouTube channel; however, the content was over two months old and is unavailable on the main website.
Education
An impressive array of educational features is available at the IronFX Academy. This Academy was designed for less-skilled and lower frequency traders. An encyclopedia, five e-books, and instructional videos support a wide-ranging curriculum. Topics covered include signals, technical indicators, market analysis, CFDs, trading psychology, and strategies. One recommendation would be to include articles and resources to support more advanced traders. However, it seems evident that the policy and purpose of the Academy are to help newer traders.
Special features
IronFX provides one of the most robust offerings of special features to date. A variety of account types address nearly every trading style. There are three main account tiers (Micro, Premium, and VIP) based on the amount of capital contributed to the account. Within these tiers, many different variables affect each type of account, including two floating account and two fixed account types, each offering different fees and spread schedules. Retail clients with the right kind of account are also able to sidestep the IronFX dealing desk, reducing conflict of interest concerns.
IronFX also provides hourly updates regarding current client positions for many popular CFDs, spot markets, and Forex pairs. This is valuable information, but the web-based interface does not allow for direct trading, nor does it integrate with either of the MetaTrader trading platforms.
Customer support
IronFX provides industry-standard 24/5 support through phone, email, and live chat. All the support is provided in over 30 different languages to over 180 countries. Phone numbers and email addresses are provided on the website. However, there is no toll-free international phone number, which raises a small concern for charges related to international calling.
While customer support is not provided through Twitter and Facebook, those portals are active with market updates, information, and interaction with current and prospective clients.
Commissions and fees
There is some uncertainty regarding the fees and spreads charged across the wide variety of accounts. For example, while Forex spreads decrease significantly between the micro and VIP Account tier levels, this seems to only apply to major Forex pairs. Minor Forex prayers do not seem to have any decrease in spread fees. In addition, the reduction in spread that applies to the major Forex pairs does not seem to apply to CFDs or spot instruments. There are also several places claiming the availability of cryptocurrency trading, but official documentation does not seem to show fees, contracts, or spread information.
Inactive accounts are charged a $50 fee, and IronFX threatens a hefty 3% charge on all available funds during inactivity. There is also some careful wording that may indicate a possibility for markdown or markup fees. A final surprising detail is that even clients with a fixed spread account may pay for significantly wider spreads during off-market or volatile periods.
IronFX Review and Final Verdict
To sum it up, IronFX provides a wide array of account types and features for almost every trading style. While professional traders may want to look elsewhere, IronFX provides valuable learning tools and educational resources for traders at low to medium skill level. What we found as one of the biggest positives about the platform is the personal multi account manager (PMAM) which enables the trader to separately trade multi Metatrader accounts. The biggest downside of IronFX are the broker research materials which have been almost neglected.
What is next?
If you want to compare IronFX to other trading platforms read: