BitOasis is a leading cryptocurrency exchange with headquarters in the United Arab Emirates. It focuses on UAE residents. BitOasis is a crypto-o-crypto exchange and a broker. It supports Bitcoin, Ethereum, Ripple, Bitcoin Cash and Litecoin. BitOasis has good tools for traders at all levels. Compared to the biggest players in the industry like eToro, its still lacking in features, tradable asset classes and educational materials.
Review Summary: 
BitOasis is a cryptocurrency broker and an exchange. It offers complete services for UAE residents.
It supports eight coins, including Bitcoin, Bitcoin Cash, Ethereum, and Ripple.
It offers a straightforward platform with an intuitive and clean interface.
Compared to the bigger exchanges like eToro, BitOasis is lacking in trading features, assets classes and education.
BitOasis Overview:
BitOasis is a popular exchange in the UAE. It focuses on clients based in the Middle East. BitOasis lets users from six countries deposit funds with fiat money. These include:
The United Arab Emirates
Bahrain
Oman
Kuwait
Saudi Arabia
Qatar

The main currency on this exchange is the United Arab Emirates Dirham (AED). BitOasis offers low fees for traders who use AED for purchases. This exchange has an expensive fee structure for trading in US dollars.
BitOasis stands out as a leading cryptocurrency exchange in the world. It offers professional and secure services. These aim to suit the needs of clients based in the Middle East. The account safety measures available are standard for the industry.
Related content: Best UAE Crypto Exchange
Trading Experience
BitOasis is a top exchange for traders in the Middle East. It has a simple interface for its platforms. Clients receive access to many crypto buying features. BitOasis offers a high-quality trading experience with its intuitive platforms.
Buying digital assets and digital assets trading pairs is straightforward. Beginners have to spend time learning how BitOasis works. But the exchange has quality services and everything a trader needs on the main Dashboard.
BitOasis has different withdrawal fees depending on your account activity. For example, a withdrawal order within the UAE comes with a 65 AED fee. Withdrawing funds with BitOasis is straightforward. Users have to:
Click on the Accounts menu in the left area of your Dashboard.
Choose the digital asset you want to withdraw.
Click on withdraw.
BitOasis offers a dedicated Pro platform for active UAE traders. BitOasis Pro offers 30+ digital assets and fiat pairs. It has professional trading charts and order types. BitOasis Pro is available in the UAE, KSA, Morocco, Egypt, Jordan, Kuwait, Bahrain, and Oman. It lets traders transact in AED and SAR.
Cryptocurrencies Available 
BitOasis offers access to eight different coins. It offers popular digital assets, including Bitcoin. BitOasis offers the following cryptocurrencies:
Bitcoin (BTC)
Ethereum (ETH)
Litecoin (LTC)
Bitcoin Cash (BCH)
Ethereum Classic (ETC)
ZCash (ZEC)
Stellar Lumens (XLM)
Ripple (XRP)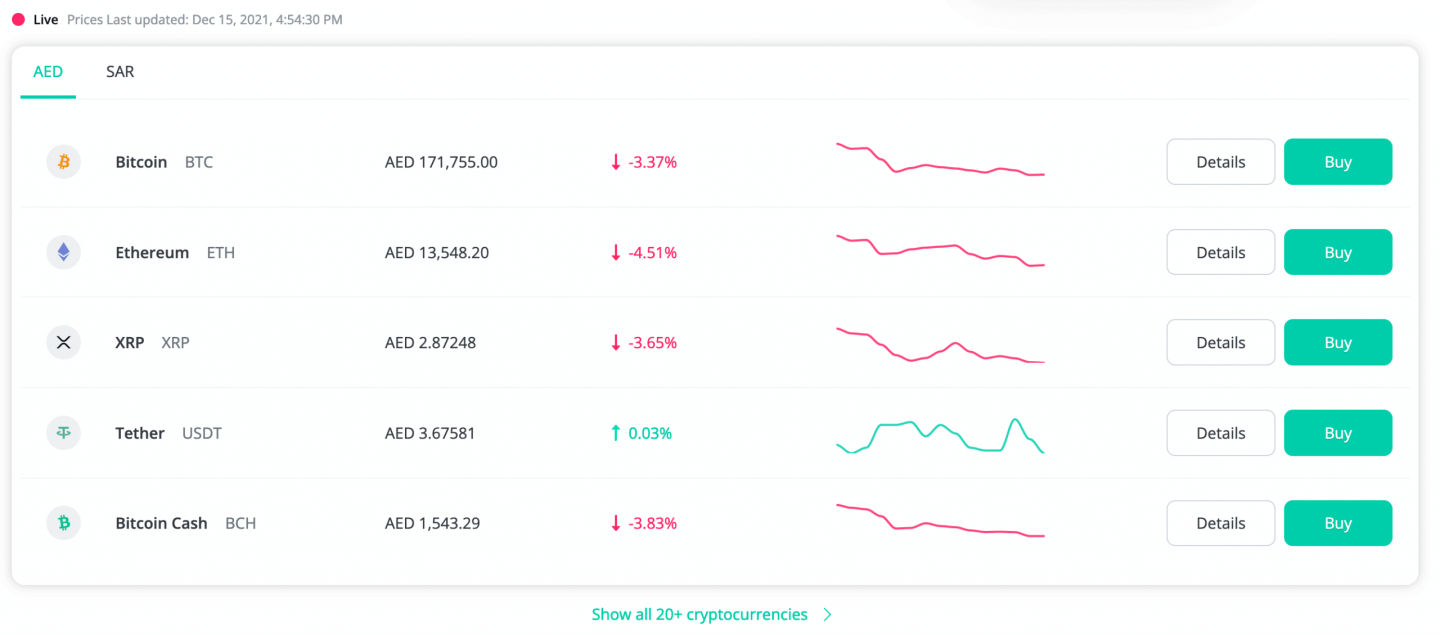 BitOasis supports crypto-to-crypto trading. The digital asset trading pairs available are:
ETH-BTC
XRP-BTC
LTC-BTC
ZEC-BTC
BCH-BTC
ETC-BTC
Fees 
BitOasis has an expensive fee structure. Average traders pay 0.5% in trading fees for each buy or sell action. This exchange offers some incentives. But to receive a discount, traders have to trade more than $250,000 in one month.
The deposit fees at BitOasis vary. A wire transfer deposit has no commission. If you choose to fund your account with a credit/debit card, you will pay a 3.67% fee. The standard withdrawal fee is 65 AED and the deposit limit varies. Check our in-depth reviews for more details on withdrawal fees for UAE residents.
The fee structure at BitOasis varies depending on whether you are a maker or a taker. A market maker is a trader that offers liquidity for the exchange. The market taker is the trader that trades on the prices established by makers.

Withdrawals
Flat currency withdrawal fees at BitOasis are not public for those based outside the six supported countries. Withdrawals take 10 working days to process and additional 3-5 days for your bank to add credit to your account which means that it will take up to 3 weeks to get your money back from BitOasis.
Regulation & Reputation 
BitOasis is a cryptocurrency exchange without licenses from an established regulator. This is a major red flag for traders because there is no security net if the exchange cannot pay its debts. This exchange does its best to keep its users safe and employs the same security measures as a typical bank. The main safety measures at BitOasis are:
Two-factor authentication
Email address confirmation for all logins
Platform encryption to prevent unauthorized access
The largest risk is that BitOasis has full control of your wallet's private keys. This means that if BitOasis has a security breach, you will lose your funds. Hackers broke into five other cryptocurrency Bitcoin exchanges in 2021, and investors lost millions of dollars. Since BitOasis controls all the private keys for your funds, your money is only as secure as their database. We do not recommend BitOasis because of this security risk. Learn more about crypto platforms and safety from our in-depth reviews.
Why Are Private Keys Important?
A private key represents a set of letters and numbers that function as a password. It offers access to your account and managed crypto funds. Your cryptocurrency wallet provides access to a public key and a private key. These are important for trading digital assets.
The public key functions like an email address. Users share it with others to send/receive funds. The private key is like your bank account login information, and you shouldn't share it with anyone.
There are many reasons why private keys are essential:
Coins like Ethereum and Bitcoin are decentralized. This decentralization means no bank or institution is managing your funds. Your assets exist on a blockchain. These blockchains are open, meaning that public keys and data are available to anyone.
Observers might see when a coin is bought or sold. But only the holder of a private key has access to those transactions.
Private keys are easy to store. Most users choose to store them online in a crypto wallet. These are known as hot wallets. It makes investing in digital money convenient and straightforward. We recommend you choose a wallet offered by a trustworthy provider. Use two-factor authentication and any other safety measures available. Another way to store private keys is offline. Professional crypto traders keep their keys offline on paper or on a non-internet-connected device.
Account Opening 
Opening an account at BitOasis is a simple process. The steps you need to follow are: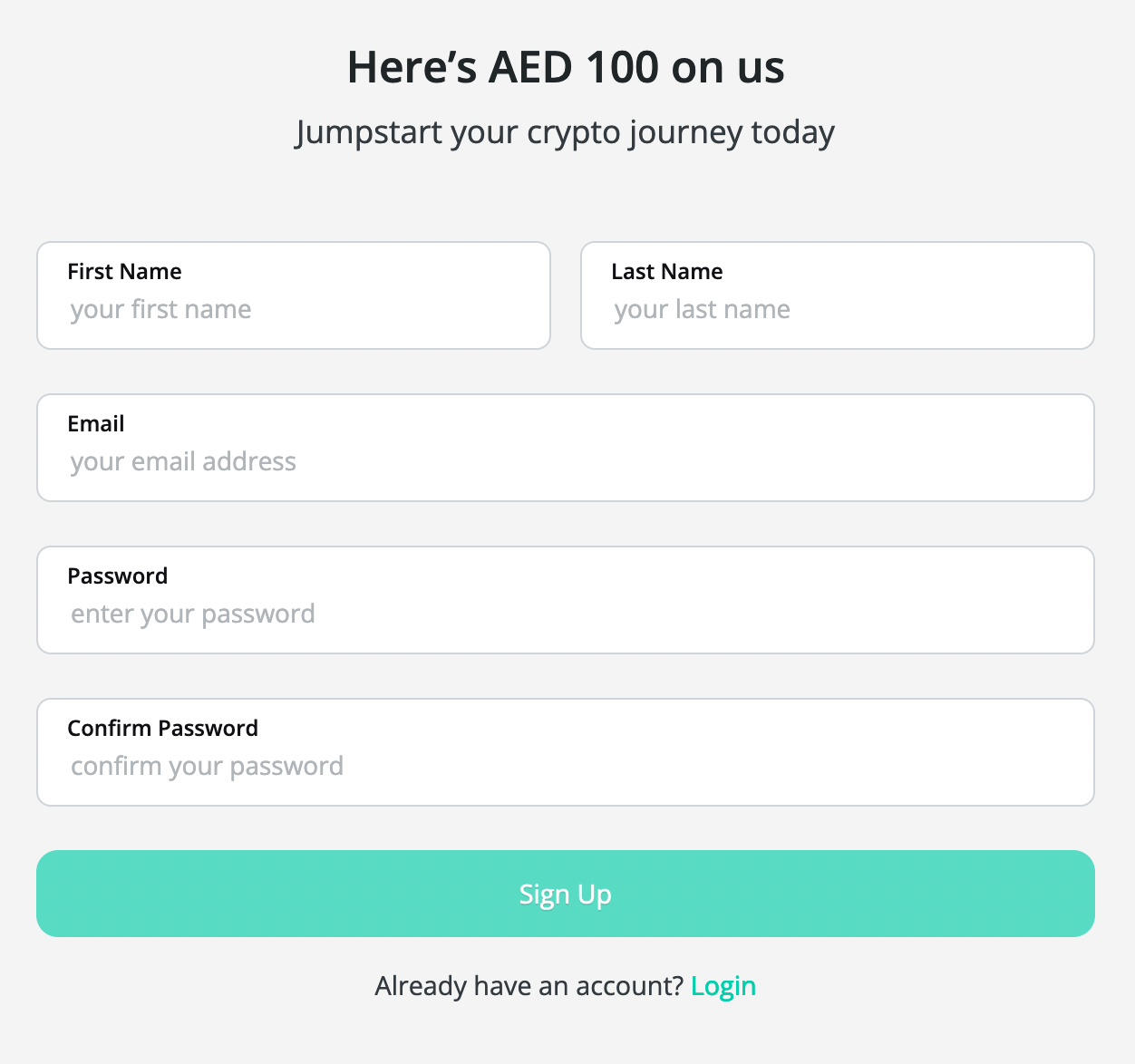 Access BitOasis.com and click on Sign Up.
Submit your name, email address, and password.
Confirm your email address.
Submit and confirm your phone number.
Fund your account.
Customer Support 
Customer service is an important part of our reviews. BitOasis customer service is below-average. Users receive access to support tickets in their accounts. This exchange doesn't offer phone support, live chat, or social media support.
BitOasis Vs. Other Cryptocurrency Companies
BitOasis is a reliable cryptocurrency exchange for UAE residents. It has major competitors like Coinbase, Binance, and Kraken. Experienced crypto traders use many exchanges and digital wallets to access different coins.
Coinbase
Coinbase is the direct competitor of BitOasis. Both offer excellent services, but there are some key differences to consider:
Both providers are centralized exchanges where users buy/sell coins.
Coinbase offers 76 digital coins, while BitOasis has a limited portfolio with popular digital assets trading pairs.
Coinbase offers staking rewards at different interest rates.
Both crypto platforms have strengths and weaknesses. Coinbase has a competitive fee structure. BitOasis has higher fees than its main competitors. Read our in-depth reviews to learn more about the services available at Coinbase.
Related content: Coinbase UAE
Binance
Binance is a leading cryptocurrency exchange with secure platforms. It offers low fees and many services for active traders. Binance offers limited learning tools. The minimum trade at Binance is $10.
Binance is another competitor of BitOasis. Both exchanges are trustworthy but differ in some key aspects:
Binance has average customer service reviews. BitOasis has below-average testimonials.
Binance offers exchange services for high-net-worth clients and institutions.
Binance has a competitive fee structure with fees as low as 0.10%.
Binance is a well-established Bitcoin exchange. It offers a secure platform to trade digital assets. Check our in-depth reviews to learn more about the services available at Binance.
Related content: Binance US Review
Kraken
Kraken is a popular exchange in 185 countries. It is a top choice for beginners and experienced traders. It has two platforms and 50+ altcoins. Kraken is another competitor of BitOasis with key differences worth considering:
Kraken offers beginner-friendly services and premium active trading tools. BitOasis has limited learning tools.
Kraken Pro focuses on professional traders. It has lower fees than the main platform.
Kraken is a leading cryptocurrency exchange. It offers effective services for traders at all levels. BitOasis is one of its competitors, as it has robust safety measures. Read our in-depth reviews to learn more about the services available at Kraken.
Related content: Kraken Review
Summary 
BitOasis is the leading cryptocurrency exchange in the Middle East. It has a powerful interface and standard banking security features. BitOasis offers excellent services for traders in the UAE with average pricing. However, we do not recommend BitOasis for professionals and active traders because it controls the private keys to all your funds. If BitOasis were to get hacked, you would lose all of your funds with no chance of recovering them.
FAQ
Is BitOasis Safe And Legit?
Trading cryptocurrencies is risky. Digital coins remain speculative assets. BitOasis is a safe exchange for traders in the UAE and uses all the standard banking security measures. However, BitOasis controls the private keys to your cryptocurrency wallets. That means if BitOasis gets hacked, you will lose all your funds. Read our in-depth reviews to learn more about safety and cryptocurrency exchanges.
How Do I Get My Money Out Of BitOasis?
UAE residents receive access to bank transfer withdrawals. BitOasis has lengthy processing times. Withdrawals take up to 10 working days to process. Check our in-depth reviews to read more about cryptocurrency exchanges and withdrawals to a personal bank account.
Does BitOasis Offer A Wallet?
BitOasis has a native cryptocurrency wallet. It is available online or in their mobile app. The wallet works like any other wallet on the market. Keep in mind that users don't receive control over private keys. This is a significant security risk. BitOasis uses a three-tier key system. Our in-depth reviews discuss additional information on private keys and wallet security.
Does BitOasis Have An App?
The BitOasis wallet is available as a mobile app. But it is downloadable only on iOS devices. It doesn't let you place trades. Crypto enthusiasts with Android devices or those who want an exchange app might consider using the Coinbase app.
Which Is The Main Competitor Of BitOasis?
The main competitor of BitOasis is Coinbase. Coinbase lists 15 cryptocurrencies. It offers an excellent mobile app and a competitive fee structure. Read our in-depth reviews to learn more about the services available at Coinbase.
Is BitOasis Legal In The UAE?
You should invest cryptocurrency with trustworthy and secure crypto exchanges. We recommend you use platforms like BitOasis. It is one of the safest exchanges to invest in in the UAE with a user-friendly platform.
How To Cash Out Cryptocurrency In UAE?
A crypto withdrawal is a transaction that moves your digital balance to an external crypto wallet. These withdrawals happen through a third-party provider. UAE residents have many options to cash out digital assets. 

If you plan to cash out crypto in UAE, you'll have to select an exchange that supports withdrawal in your fiat currency. BitOasis allows users in the UAE, Kuwait, Bahrain, and Saudi Arabia to withdraw dirham AED to a bank account. Our in-depth reviews offer insights on bank transfers, exchanges, and buy and sell transactions.

A simple way to cash out crypto is with a Uquid debit card. It offers a straightforward conversion process for Bitcoin. Bitcoin ATMs are another way to exchange BTC for fiat currency. One Bitcoin ATM is in the UAE in Dubai. Check our in-depth reviews to learn more about crypto trading in the UAE.
How To Deposit AED On BitOasis?
AED deposits are available with a credit/debit card or a wire transfer deposit. Wire transfers have a 0% deposit fee. This service is available in the UAE, Bahrain, Kuwait, Oman, and Jordan. Verify our in-depth reviews to read more about depositing dirham AED on cryptocurrency exchanges.
What Is The Invite & Earn Program?
BitOasis has a reward program, Invite & Earn. It is a competitive reward system. If you invite a new user to BitOasis and join, your account will receive 500 AED. Keep in mind that you will receive the reward only if the new user deposits and buys digital assets. Both the inviter and the invited people receive the rewards.
Which Are The Advantages Of Using BitOasis?
BitOasis is a popular cryptocurrency exchange with many advantages. It offers debit card deposits for 6 Middle East countries. It is a top choice to trade in AED. Read more about deposit fees in our in-depth reviews.
Which Are The Disadvantages Of Using BitOasis?
BitOasis has high trading fees depending on your trading volume. It doesn't offer live chat or phone support. BitOasis has a higher spot-rate price for USD Bitcoin than other cryptocurrency exchanges. Read our in-depth reviews to learn more about strengths and weaknesses at cryptocurrency exchanges.
Related:
Crypto.com Review
Binance US Review
Kraken Review
Coinbase UAE Review
BitOasis Review
Cex.io Review
Bittrex Review
Bitfinex Review
BitPanda Review
Bitstamp Review
Gemini Review
Coinmama Review
HitBTC Review
Kucoin Review
Huobi Review
Uniswap Review
Gold Age Review
Liberty Reserve Review
CoinSpot Review
Coinjar Review
Coinfloor Review
CoinCorner Review
FTX Review
Bitso Review
BitMex Review
BitFlyer Review
BitClout Review
Bittylicious Review
Poloniex Review
Shapeshift Review
Coin Nerds Review
CoinSwitch Review
Cryptopia Review
Changelly Review
CoinMena Review
Luno Review
Mercatox Review
Okex Review
Paxful Review
VirWox Review